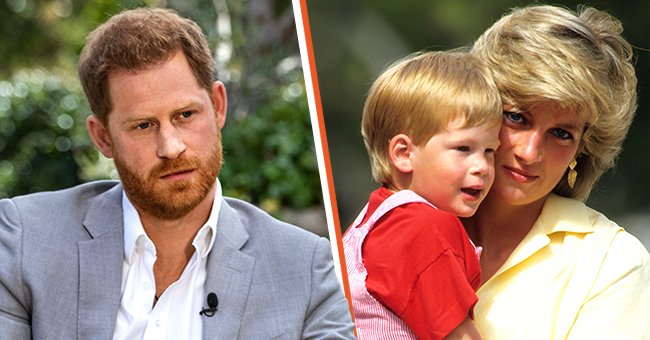 Getty Images
Prince Harry Was Cut Off from Royal Funding - Princess Diana Took Care of Him from the Grave with $10M
Prince Harry and his wife, Duchess Meghan, now live their best lives since stepping back from their senior royal roles. They've appeared in documentaries, written books, and so much more!
In January 2021, Duchess Meghan and Prince Harry shocked everyone when they took to their Instagram page to announce that they were stepping back from their senior royal work.
The couple said they would become financially independent. The Duke and Duchess of Sussex also revealed that they planned on splitting their time between North America and Harry's native UK.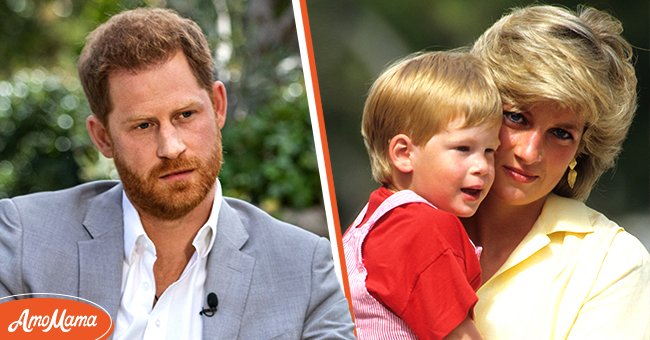 Prince Harry being interviewed for a CBS Primetime Special on March 5, 2021, and Princess Diana with Prince Harry on holiday in Majorca, Spain on August 10, 1987 | Photos: Harpo Productions/Joe Pugliese & Georges De Keerle/Getty Images
The couple's decision to step down was ultimately named "Megxit" by malicious media sources who wished to blame the whole move on Meghan. Harry and Meghan hoped to continue their duties but have financial autonomy in working externally.
They hoped to work for the monarchy when needed and retain their patronages. Instead, they were made financially independent of the taxpayer, but Harry's father, Prince Charles, was set to support them financially privately.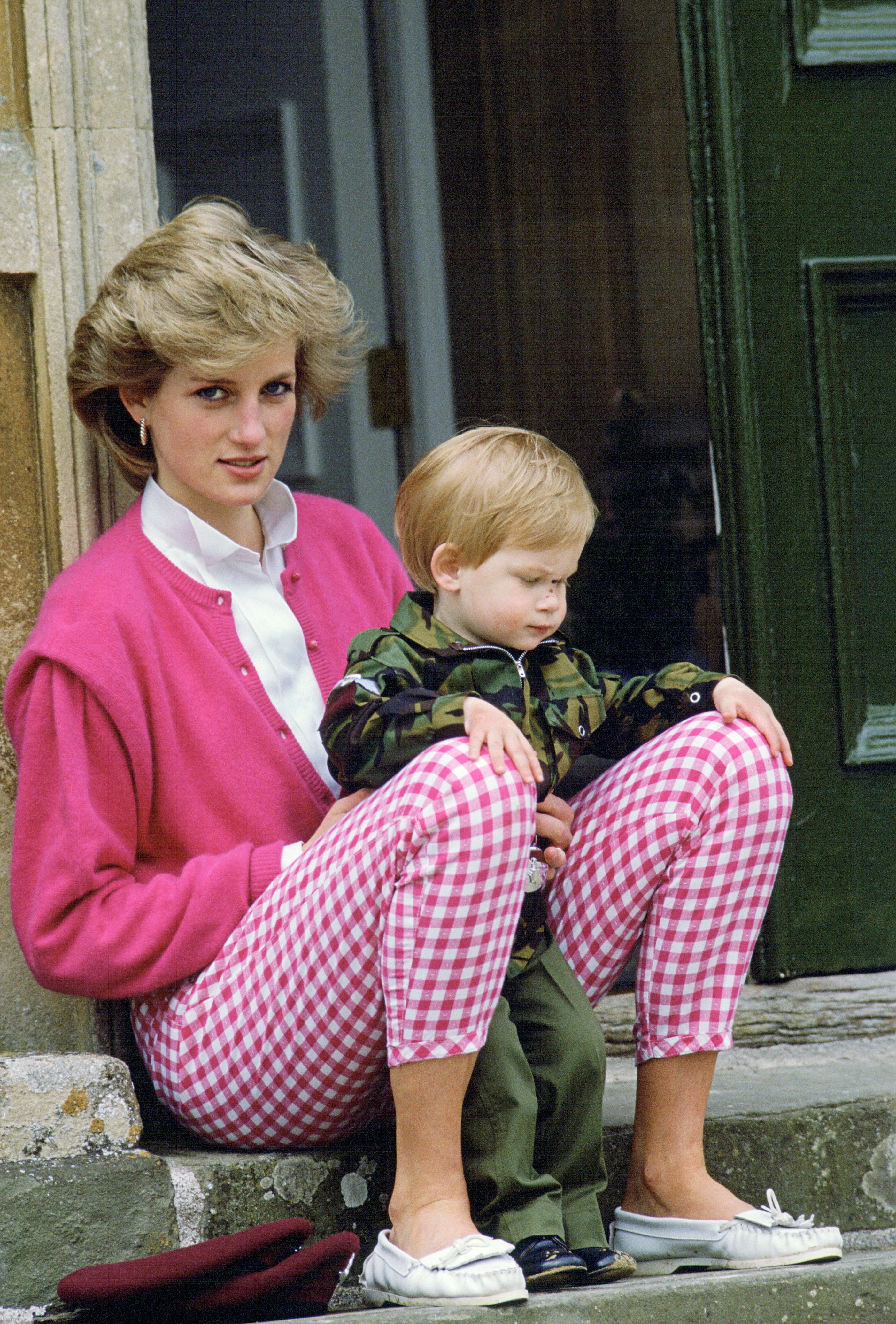 Princess Diana and Prince Harry sitting outside Highgrove in Tetbury, United Kingdom on July 18, 1986 | Photo: Tim Graham Photo Library/Getty Images
Another thing the couple was ordered to do was to pay back over $3 million in public funds that were used to renovate Frogmore Cottage, their home in Windsor. Their staff members were already being deployed elsewhere.
In March 2021, Prince Harry and Duchess Meghan shocked the world again when they had their first sit-down interview. During the interview, the couple opened up about leaving the Royal Family, their home, and shared some of the family drama that led to them stepping down in the first place.
The duke confessed to Oprah Winfrey that he and his wife were literally "cut off" from any financial assistance from his family. Instead, they lived on the money left to him by his late mother, Princess Diana.
Part of what he used the money for was for security for his family, including his young son, Archie. Harry noted how the People's Princess had anticipated such a thing happening to her sons, therefore making provisions and sharing gratitude, the duke stated:
"Without that, we wouldn't have been able to do this."
The royal was probably referring to his relocation to California early last year. Luckily for Harry and his wife, they signed deals with Netflix and Spotify not long after relocating to the US, and Meghan got a book-writing deal!
The duke also disputed that his family was blindsided by his and his wife's decision to step down. He explained that he'd never do such a thing to his grandmother, the Queen, because he had too much respect for her.
The Duke of Sussex confessed that he'd had two conversations with Prince Charles and three talks about the subject with the Queen. His father eventually stopped taking Harry's calls about the matter.
Then the Prince of Wales later asked his last-born son to write his and his wife's plans. The duke did as he was instructed and told the Royal Family the date he planned to announce the news in public.
HOW MUCH DIANA LEFT FOR HARRY & WILLIAM
According to Forbes, Princess Diana allegedly left her sons, Prince William and Harry, a whopping $10 million after taxes. The siblings apparently started receiving annual dividends from the age of 25.
The two royals received an estimated $450,000 annually. They were set to accept their total sums when they turned 30, but in 2011 William also earned between $68,000 and $74,000 yearly as a flight lieutenant with the Royal Air Force.
In turn, as a helicopter pilot for the Army Air Corps, the Duke of Sussex took home between $50,000 and $53,000 annually. Harry and William also have Ducati Superbikes that they are sometimes seen riding for charity.
Part of the rules about stepping down from Harry's royal role meant as a former soldier; he would need to give up his honorary military appointments. That includes his title as the captain-general of the Royal Marines.
The Duke of Sussex inherited the position from his now-late grandfather, Prince Philip - the Duke of Edinburgh and the Queen's husband. Sadly, stepping back also meant Harry would no longer receive his army salary.
In June 2021, Vanity Fair tackled the claims made by Harry that his family cut him off financially when he stepped back from his royal roles. The publication was able to get a hold of the royal expenditure reports for the fiscal year beginning of April 2020.
They showed that the Prince of Wales provided his two son's families over $6 million. Charles spokesman at Clarence House said that Charles prearranged "a substantial sum" to support Harry and Meghan as they transitioned out of their senior royal roles, adding:
"That funding ceased in the summer of last year."
The spokesperson revealed at the time that the Duke and Duchess of Sussex were now entirely financially independent. The source said that Harry's statement about being financially cut off and what the royals were saying were dramatically different.
The Duke and Duchess of Sussex [Prince Harry and Duchess Meghan] officially ceased being working senior members of the Royal Family [the British Royal Family] at the end of March 2020.
RESPONSE TO CLARENCE HOUSE STATEMENT
The spokesman shared that they could only reveal the facts. The Sussexes spokesperson explained that Harry's comments during the Winfrey interview were about the first quarter of the fiscal reporting period in the UK.
It was the same date that the "transitional year" of the Sandringham agreement started. The couple's source said it was aligned with the timeline that Clarence House, Charles, and his wife, Duchess Camilla, referenced.
WHERE CHARLES' MONEY CAME FROM
Prince Charles' allotted money for his sons came from the Duchy of Cornwall. The funds also funded Harry and Meghan when they were working royals, and another 5% came from the taxpayer-funded Sovereign Grant.
The Duke and Duchess of Sussex officially ceased being working senior members of the Royal Family at the end of March 2020. The move happened just before the new financial year began.
Please fill in your e-mail so we can share with you our top stories!