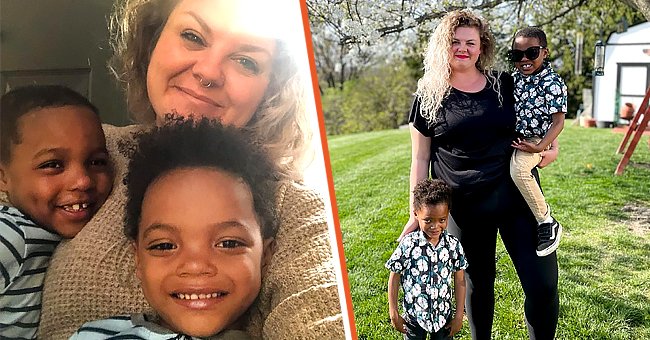 instagram.com/kaely.elisabeth
Single Mom Adopts Two Toddlers Abandoned by Their Family: 'I Will Always Fight for Them'
One foster mother slowly but surely fell in love with two little toddlers, ready to take the next leap -- but what beautiful background story led her down this path in the first place?
Tragically, at only 2 years old, Kaely's picture-perfect family life came crashing down when her dad died in a car accident.
Following his passing, this little girl was taken by the Bible verse that connected to her and her family's situation. It partially reads "look after orphans and widows."
Kaely and her two toddlers. │Source: instagram.com/kaely.elisabeth
TURNING PAIN INTO PURPOSE
Taking this to heart, her father's death and the subsequent quote led her to become a foster parent when she grew up. Kaely's first foster child was a 7-week-old girl -- the beginning of a crazy journey. In December 2018, the foster mother penned:
"I've had 4 kids in my home. 2 placements and one respite. I've had more joy and more wild plot twists in the last year than I was prepared for."
Kaley revealed that she had to turn to her faith and surrender to it to cope but that, although a difficult path, she would not have had it any other way. What this doting foster mom didn't know was that her life would soon be turned upside down by two boy toddlers.
THE CHILDREN ALWAYS COME FIRST
It was not easy, with having to help the boys work through trauma combined with many visits to social workers and doctor appointments; however, she expressed that she would continue to honor the promise she made to herself:
"I will always fight for them to have everything they need in life, including giving them as much of myself as I could."
Although the two boys were eventually meant to return to their relatives, the toddlers' family decided that they couldn't take the tiny duo in. Then the loving foster parent made a shocking decision -- to adopt.
ONE BIG HAPPY FAMILY
Eventually, after around 2 years of the boys living with her, the adoption was approved; she took to Instagram to celebrate the great news. Taking to the description, Kaely wrote:
"These boys are home forever. I still can't believe we have a date and I get the honor of being their mama forever!✨"
The adoption became official in May of 2020, with the new mom revealing that the whole family has opened their arms wide to the new family additions.
A NEW CHAPTER
In another bold move, Kaely decided to close her foster care license to look after and focus on her little boys. In another post, she stated:
"It's been a wild ride foster care. I loved you and hated you sometimes (iykyk) but i would never change my experience because it created my family.[sic]"
You May Also Like: Parents Force Teen Couple to Put Daughter up for adoption, 51 Years Later She Finds and Reunites Them
Kaely embodies the spirit of turning one's pain into purpose, allowing her loneliness as a child to inspire her to help other kids -- a beautiful transformation to behold.
Please fill in your e-mail so we can share with you our top stories!