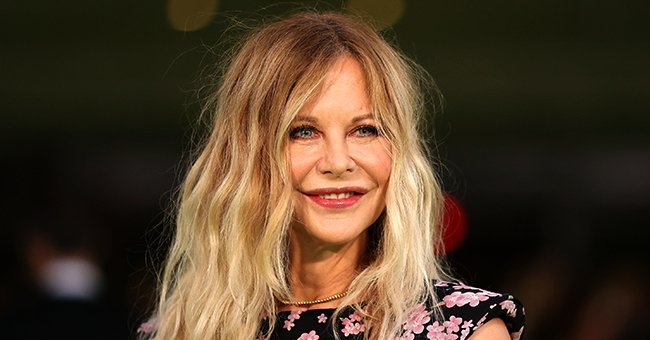 Meg Ryan | Source: Getty Images
Meg Ryan Adopted Her Daughter through a Lottery System & Said Biological Son Came to Her the Same Way
American actress Meg Ryan is a doting mother who unconventionally became a mom of two. Ryan adopted her second child in a foreign country, and it was a rather bizarre process.
Meg Ryan was born Margaret Emily Hyra in Fairfield, Connecticut, to Susan Duggan, an English teacher, and Harry Hyra, a math teacher.
Ryan graduated from Bethel high school in 1979 and relocated to New York, where she enrolled at New York University and majored in journalism.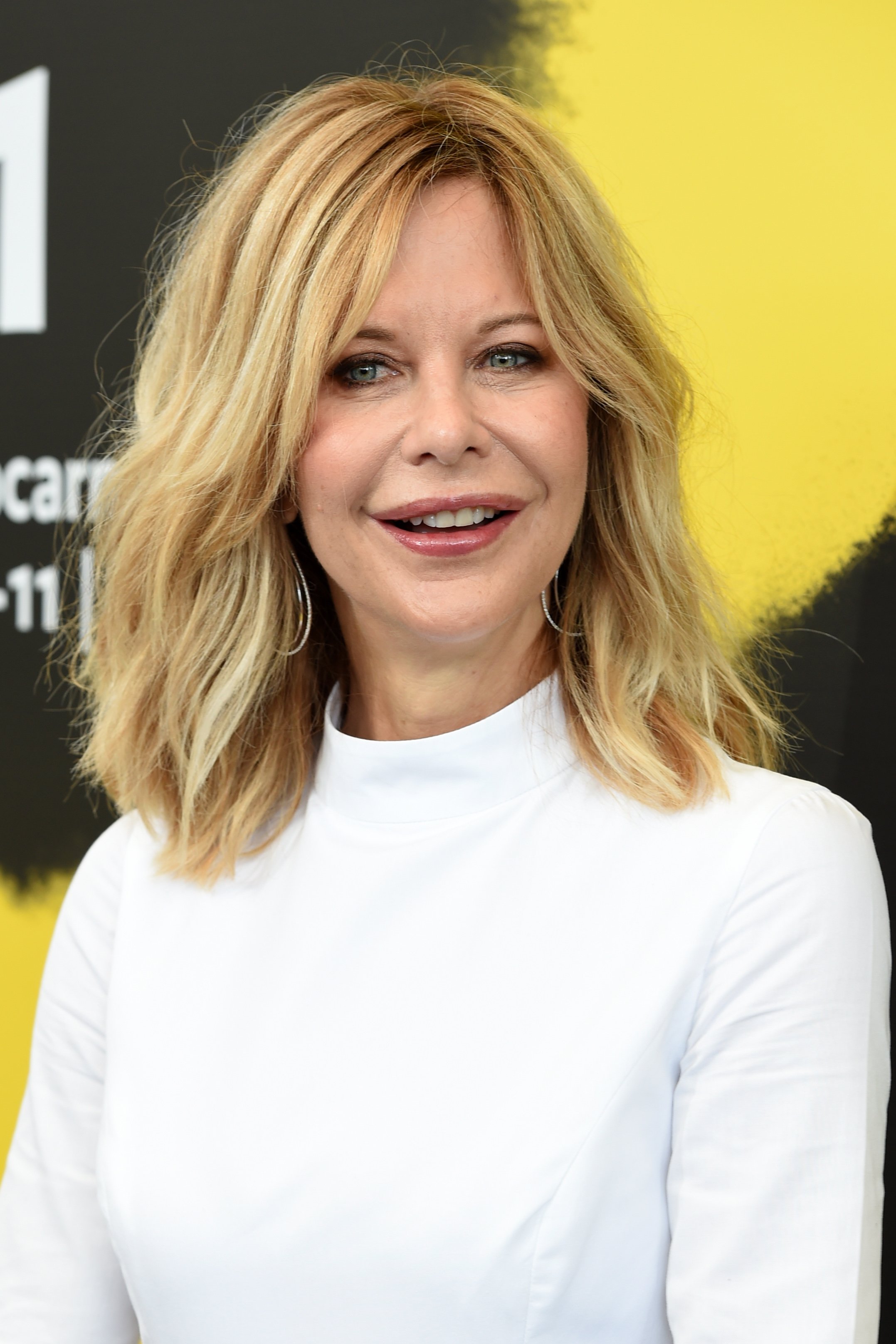 Meg Ryan attends a conversation with the public during the 71st Locarno Film Festival on August 4, 2018 in Locarno, Switzerland | Source: Getty Images
To earn money while working on her degree, she pursued acting. In 1981, she made her big-screen debut with a brief appearance as Candice Bergen's daughter in the movie "Rich and Famous."
Ryan was later cast as Betsy in the daytime television soap "As the World Turns" (1956) and was part of the show from 1982 to 1984.
The 61-year-old also had a role in "One of the Boys" in 1982, but the show was soon canceled. She moved to tinsel town in 1984 and bagged a job in the western series "Wildside" (1985).
Ryan ended up being cast in Steven Spielberg's "Innerspace" (1987), where she co-starred with her future husband Dennis Quaid and later co-starred alongside him again in the remake of "D.O.A." (1988).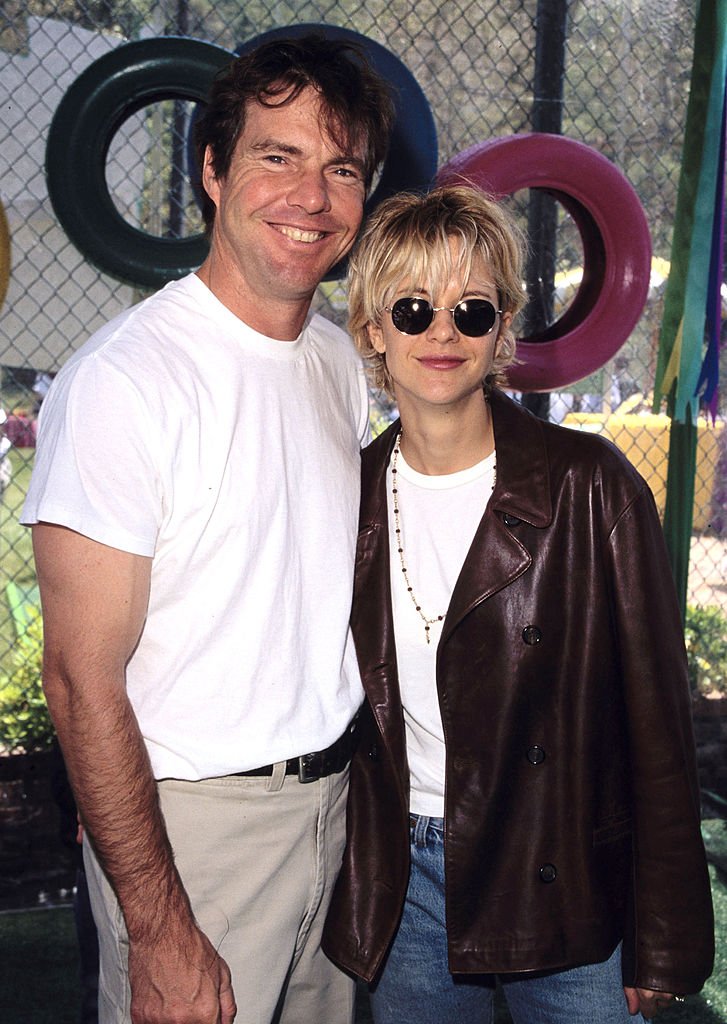 Actor Dennis Quaid and wife Meg Ryan during '95 Pediatric Aids Foundation Annual Picnic at Private Home in Los Angeles, California | Source: Getty Images
TUMULTUOUS LOVE STORY WITH DENNIS QUAID
During that period, they began dating and later walked down the aisle on Valentine's Day in 1991. Ryan and Dennis were an admired couple in Hollywood and dominated the '90s as a duo.
But things later went south, and they filed for divorce. Soon after, Ryan was linked to fellow co-star Russell Crowe, and it was believed her marriage fell apart because of her affair.
Ryan seems to be a content single mom as she never remarried but has had an on-and-off relationship with musician John Mellencamp over the years.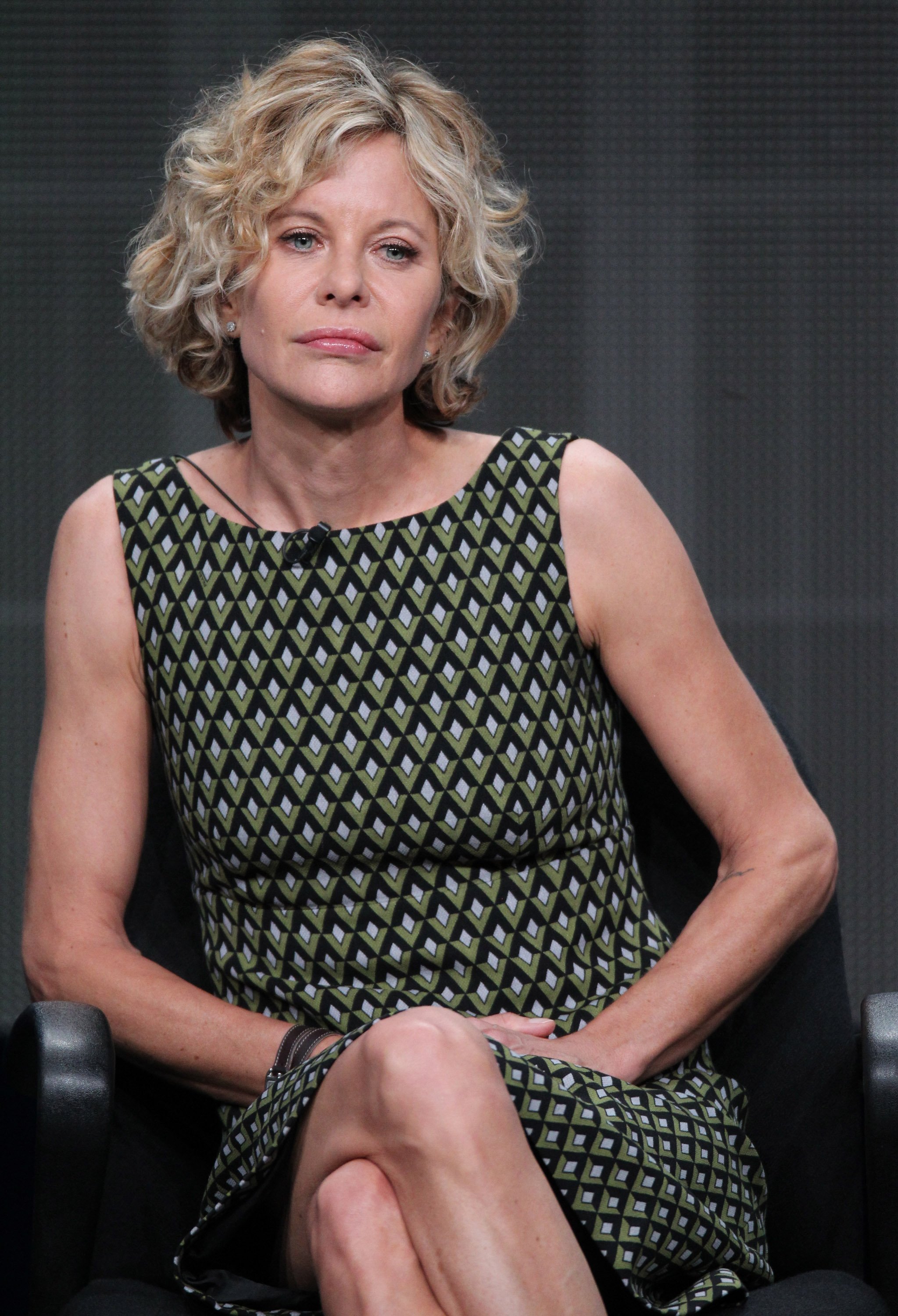 Meg Ryan speaks onstage at the "Half the Sky, a Special Presentation of Independent Lens" panel during day 2 of the PBS portion of the 2012 Summer TCA Tour at the Beverly Hilton Hotel on July 22, 2012 in Los Angeles, California | Source: Getty Images
She received a lot of backlash from the press, and her good-girl image got heavily tainted. Ryan told W magazine in October 2000:
"So, this is what it feels like to be the Scarlet Woman. I'm having that experience now!"
Amid the intense tabloid drama, the "Sleepless in Seattle" star insisted that her relationship with Crowe had nothing to do with the end of her marriage:
"It dissolved before it became a sport for the press. The public and the press tuned in way after. The reasons we broke up have nothing to do with another person."
Ryan kept mum about her split from Dennis for nearly a decade, but it was not until 2008 that she started getting candid about what went on in their union. She told InStyle:
"Dennis was not faithful to me for a long time, and that was very painful. I found out more about that once I was divorced."
Dennis, 69, was not impressed by his ex-wife's transparency and told The New York Daily News how disappointed he was in Ryan for rehashing the past in public:
"I find it unbelievable that Meg continues publicly to rehash and rewrite the story of our relationship. Also, I find it regrettable that our son, Jack, has to be reminded in a public way of the turmoil and pain that every child feels in a divorce."
The former couple was married for nine years before breaking up in 2001. Despite the issues between them, the "Vegas" actor still considers their union "the most successful relationship of my life."
Meanwhile, Ryan expressed a positive outlook on their divorce, saying, "It's a real gift when you know you can't ever really manage an image or a story, and you stop caring. Divorce is hard. Love is hard."
The exes welcomed their son Jack Quaid in April 1992, who later followed in their footsteps and ventured into acting as well. The 30-year-old was raised in Santa Monica, California, and tries hard to avoid living in their shadows while making it Hollywood.
As a teenager, Jack became determined to forge his path and studied acting at New York University before returning to Los Angeles to pursue his career:
"I did think about changing my name at one point, but then I was like, 'A: People are going to know you anyway, there's no getting around that. And B: I like my last name. I'll keep it.'"
Apart from contemplating a name change, Jack managed to land his first role in "The Hunger Games" franchise, a part he booked during spring break, his freshman year of college.
He revealed the role was more than what he expected and compared the experience shooting in North Carolina to summer camp. Jack also starred in "Logan's Lucky" and "Vinyl."
He was described as friendly, relaxed, humble, and grateful for every opportunity as an individual. Despite growing up in the spotlight, his childhood was typical.
RYAN'S ADOPTED DAUGHTER DAISY
Even though his parents' failed marriage became a public spectacle, "The Boys" star expressed gratitude to them for keeping the elements of their divorce away from him.
A few years following her failed relationships and despite having a grown son already, Ryan decided to try out single motherhood once again when she adopted a child.
Ryan adopted a baby girl named Daisy, now nineteen, in China back in 2006. She revealed an adoption process in the East Asian country includes a lottery system and that her daughter was randomly assigned to her.
The movie star shared she was convinced that there was nothing random about how she got her and that it was meant to be. Ryan explained she was never on a mission or anything and only wanted a baby and yearned to connect to somebody, and luckily, she found Daisy.
Initially, she wanted to adopt an American child, but the events that transpired afterward led to the adoption of Daisy. The mom of two had planned on going to India, and while she was on her way there, she received a picture of her future daughter and fell in love.
But the adoption process became overwhelming for Ryan because her emotions were all over the place at the time, and she ended up admitting that:
"I have never laughed harder or cried more…I was so nervous about the whole thing."
After putting all the stress behind her, she shared two years later, she found her child funny and dubbed her an exciting kid. "I can't imagine what it was like before she came. Life is good; it's so good with her in it."
BEING A CONTENT SINGLE MOM
On raising her, Ryan revealed Daisy was an easy child and described her as intelligent and generous, adding she and Jack get along great, and they all fit in well as a family unit.
She also compared how she found Daisy to how she welcomed Jack into the world. Ryan explained her eldest child is different from her, Daisy, and his dad, emphasizing his individuality.
She added that children come into the world as they are. "It's just as much of a lottery with your biological children as it is with an adopted child half the world way. There's no difference in the love you feel."
ROCKY RELATIONSHIP WITH JOHN MELLENCAMP
Ryan seems to be a content single mom as she never remarried but has had an on-and-off relationship with musician John Mellencamp over the years.
The private pair began dating in late 2010 following the singer-songwriter's divorce from his third wife after eighteen years of marriage.
The couple was spotted for the first time out and about in 2011, in New York City. A year later, while they rarely made any public appearances together, they watched Dale Watson perform live at the start of Farm Aid in Hershey, Pennsylvania.
But in 2014, things turned sour as they split after three years. A friend of Mellencamp revealed to Closer Weekly at the time that one of the factors was the overwhelming spotlight he received because of dating the Hollywood starlet.
Another issue was distance; Ryan lived in NYC, and Mellencamp was an Indiana resident. In 2015, while she was happy being single, Mellencamp dated model Christy Brinkley before parting ways in 2016.
He and Ryan rekindled their romance in July 2017 and were spotted grabbing dessert in NYC. A few months later, they were seen packing up on the PDA and having a laugh.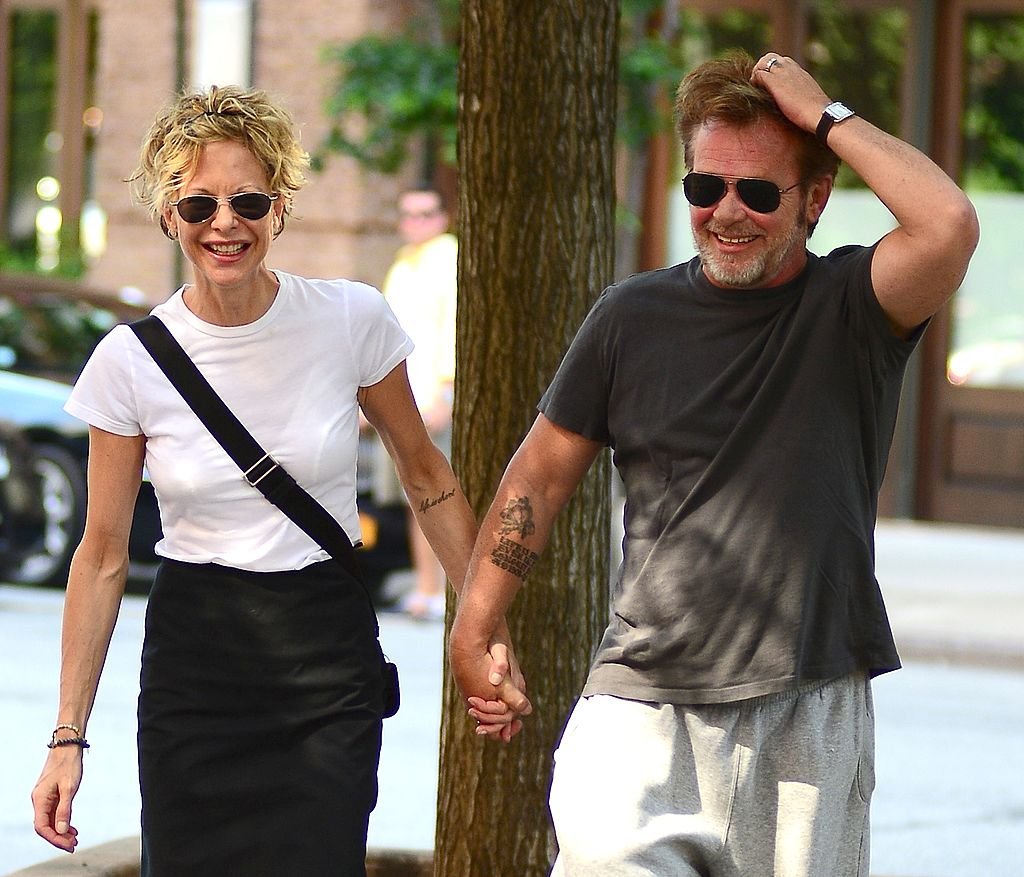 Meg Ryan and musician John Mellencamp are seen in Tribeca on June 24, 2013 in New York City | Source: Getty Images
In 2018, Ryan announced that they were engaged to be married on social media. Their kids were thrilled about the news and could not stop raving about it in interviews. Even Dennis was elated for his former wife.
In August 2019, fans anticipated their wedding day and were eager to know more details about the planning, but the duo kept it under wraps.
To their dismay, three months down the line, Ryan shocked everyone when she ended the engagement, and according to an insider, she had had enough.
Even though things ended abruptly, a close source revealed to Closer Weekly that the two still loved one another, but that Ryan thought it best they lived their lives separately.
Please fill in your e-mail so we can share with you our top stories!