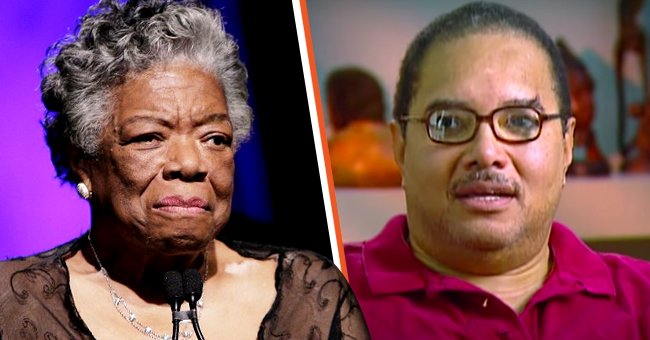 youtube.com/OWN | Getty Images
Maya Angelou's Son Guy Johnson's Tragedies: From a Terrible Car Crash at 17 to Kidnapping of His 4-Year-Old Son
Well-known poet Maya Angelou only had one child, her son Guy Johnson. Unfortunately, Johnson faced a few tragedies in life, including a terrible accident as a teen and the kidnapping of his son.
American poet and civil rights activist Maya Angelou welcomed her son, Guy Johnson, at 16 years old. The two shared an incredible bond that helped them through a few difficult times in their lives.
The two explored the world together, however not all the trips panned out as planned. When Johnson was 17 years old, the two were visiting Kenya when he got into a terrible car accident that broke his neck.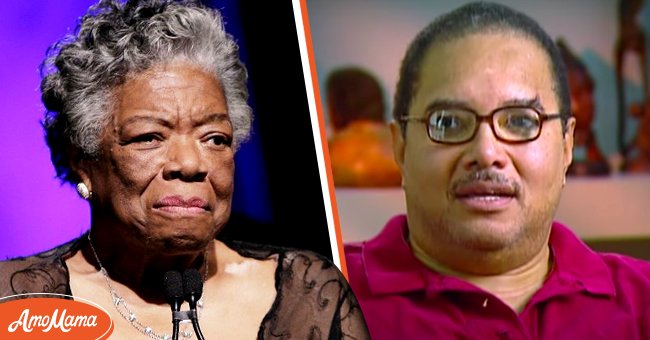 Dr. Maya Angelou on stage during the 33rd Annual American Women In Radio & Television Gracie Allen Awards, 2088, New York [Left]. Guy Johnson during an interview for OWN in 2013 [Right] | Photo: Getty Images & YouTube/OWN
Fortunately, the teenager survived the ordeal. But the injuries of the accident plagued him during his life. Twenty years after the accident, the damage had caused him to have calcium deposits on his spinal cord.
Consequently, the tall and athletic Johnson found himself experiencing severe coordination problems. Soon, Angelou's only child was at the Children's Hospital in San Francisco, paralyzed from the neck down.
The situation was not looking good, and Johnson had hit an emotional rock bottom. Angelou once recalled a conversation she had with him, in which he asked her to let him go if needed as he said:
"Mother, I refuse to live a talking head... I have to ask you something no one should ever ask a mother. If there's no chance of recovery, I have to ask you to pull the plug and let me go."
At the time, Johnson's emotional stress was caused by another source. Johnson was desperate to see his son, Colin. The boy's mother kidnaped him at the age of five in 1981.
Angelou spent four years and a lot of financial resources to find her missing grandson. After police failed to find any leads, she contacted private detectives to help with the case, but unfortunately, his whereabouts remained a mystery.
Finally, while on a trip to Columbus, Ohio, an anonymous woman contacted Angelou and stated that she knew Colin and his mother were. His mother had now changed his name to Luke Clark.
The woman explained she previously lived with Colin and his mother and wanted to help Angelou and Johnson connect with the child. So with help from the woman and Angelou's lawyers, the family was finally reunited.
Much later in life, Colin and his father set up a company, Caged Bird Legacy, to manage Angelou's intellectual property and legacy.
Please fill in your e-mail so we can share with you our top stories!