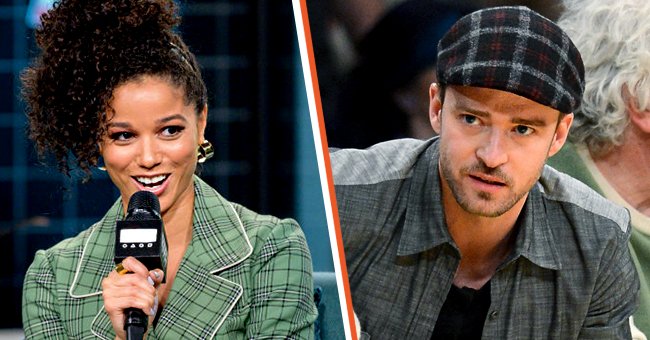 Getty images
Raising Dion's' Alisha Wainwright Once Sparked Rumors after Being Spotted with Married Justin Timberlake
While fans loved them as lovers on the set of drama film "Palmer," a drunken night out for singer Justin Timberlake and Alisha Wainwright raised eyebrows a few years back.
Justin Timberlake portrays Eddie Palmer, a former high school football star and ex-felon who'd just got out of prison after serving 12 years for attempted murder and armed robbery. Wainwright plays Palmer's love interest, Maggie Hayes.
The costars raised questions in 2019 after a video emerged of the two enjoying a night out at The Absinthe House on Bourbon Street in New Orleans, where they shot the movie. The video showed the duo sitting on the balcony, having drinks.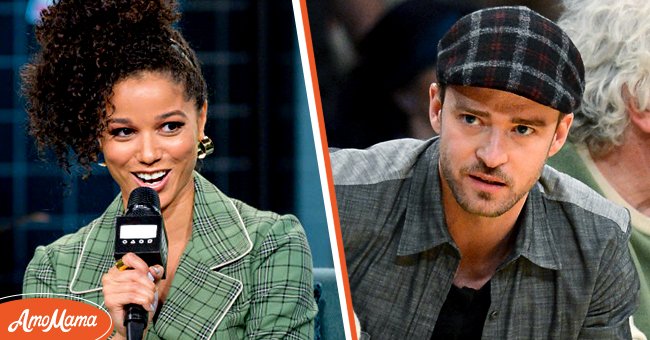 Left: Actress Alisha Wainwright discusses the Netflix show "Raising Dion" with the Build Series at Build Studio on October 02, 2019 in New York City. Right: Actor and Singer Justin Timberlake. | Photo: Getty Images
They were snapped at around midnight, chatting for a bit before holding hands. Sources spoke to The Sun, saying that at one point, Timberlake grabbed Wainwright's hand and rested it on his knee before she started stroking his leg.
Soon after, the "Cry Me A River" singer held Wainwright's hands in his and started playing with them. Reports also claim that Timberlake did not have his wedding ring on during the night out.
Timberlake, who has been married to Jessica Biel since 2012 and shares sons Silas and Phineas with her, appeared intoxicated and unsteady on his feet. The pair hang out on the balcony for about 40 minutes before going back inside.
They reportedly left the bar at around half past midnight via the rear exit. Following the controversy surrounding their night out, Timberlake denied the rumors saying their interaction was entirely innocent.
APOLOGIZING FOR A "LAPSE IN JUDGMENT"
Later, the star took to his Instagram to apologize to his wife and family for causing them pain with his "strong lapse in judgment."
He stated that he loved staying away from gossip, but he needed to address the rumors for the sake of his family. He added that nothing happened between him and the "Married" actress. He wrote, as reported by The Sun:
"I drank way too much that night, and I regret my behavior. I should have known better."
Long after the rumors came to a rest, Wainwright praised Timberlake for being a megastar and one of the most recognizable faces there is. She couldn't help but admire what a professional Timberlake is.
Following the dating rumors between the costars, fans are now curious to learn more about the woman behind it all. Majorly recognized for her role as Nicole in "Raising Dion," Wainwright is also a science nerd.
The actress was born in Florida and studied Botany at the University of Florida. She then studied seedling recruitment and reproductive biology at Panama's Smithsonian Tropical Research Institute.
Wainwright says she had a weird anthropological-botanical focus, but a lack of funding meant she could not study it further. Her challenges did not stall her dreams as she channeled her inner action into acting.
Today, she has starred in episodes of "Criminal Minds," Switched at Birth," "Major Crimes," "Lethal Weapon," and "General Hospital." Her film credits include "Murder on her Mind" and "Second Rate Deal."
Please fill in your e-mail so we can share with you our top stories!