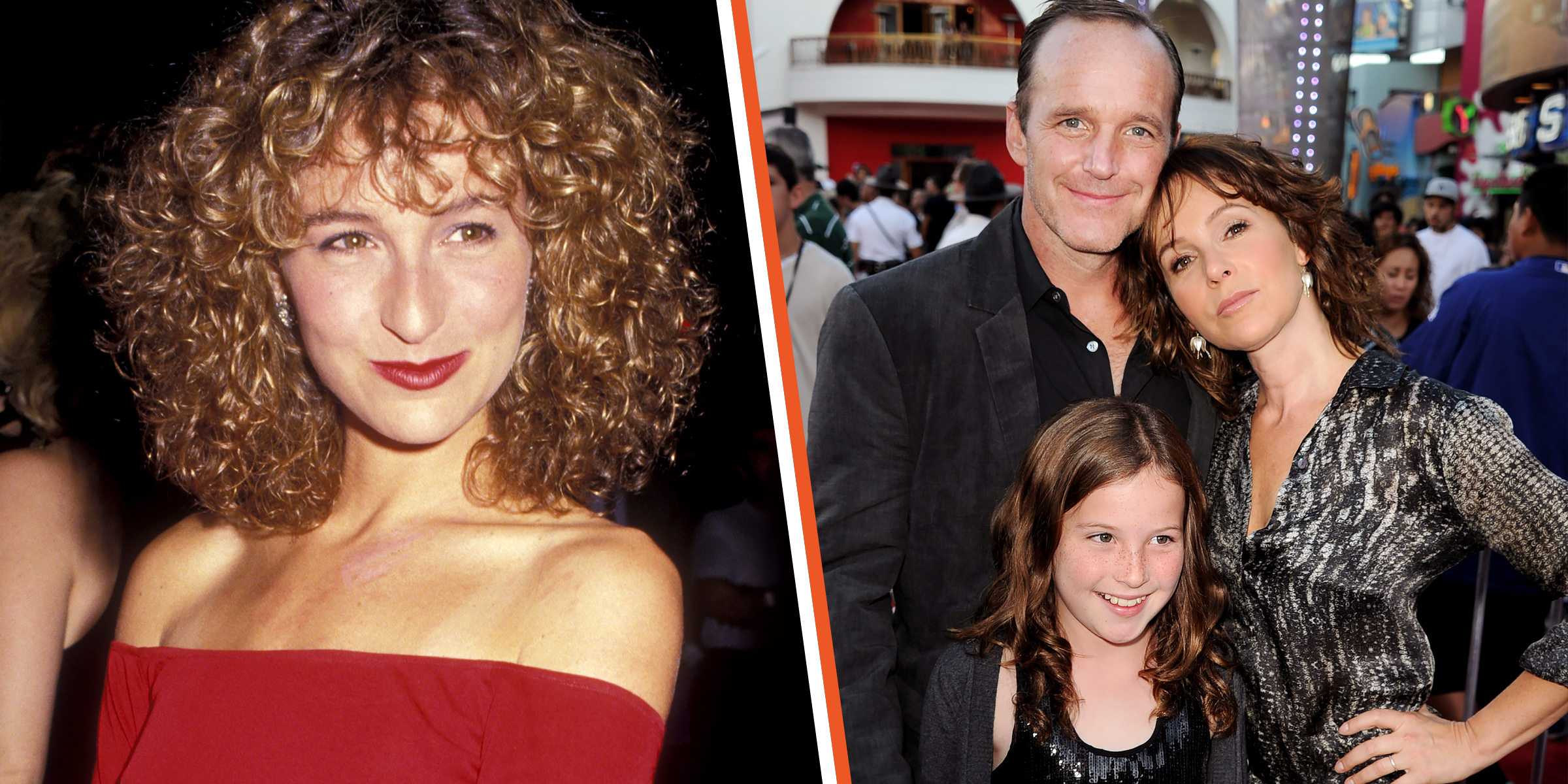 Jennifer Grey | Clark Gregg, Stella Gregg and Jennifer Grey | Source: Getty Images
Jennifer Grey Was Married to Clark Gregg for 19 Years and Share a Child — She Cried When They Separated
"Dirty Dancing" star Jennifer Grey, who played a young lady ascending into womanhood, had a non-provocative personal lifestyle. She cherished family and was married to Clark Gregg for nineteen years.
Jennifer Grey gained fame after starring as Toni in the World War drama "Red Dawn." She later appeared in "The Cotton Club" and "American Flyers" before her career-defining moment in "Dirty Dancing."
The 1987 film featured Patrick Swayze, and it became a hit, with a return of more than $214 million, becoming the first film with a million sales worldwide. Grey's success in the film catapulted her to a level of success she has maintained.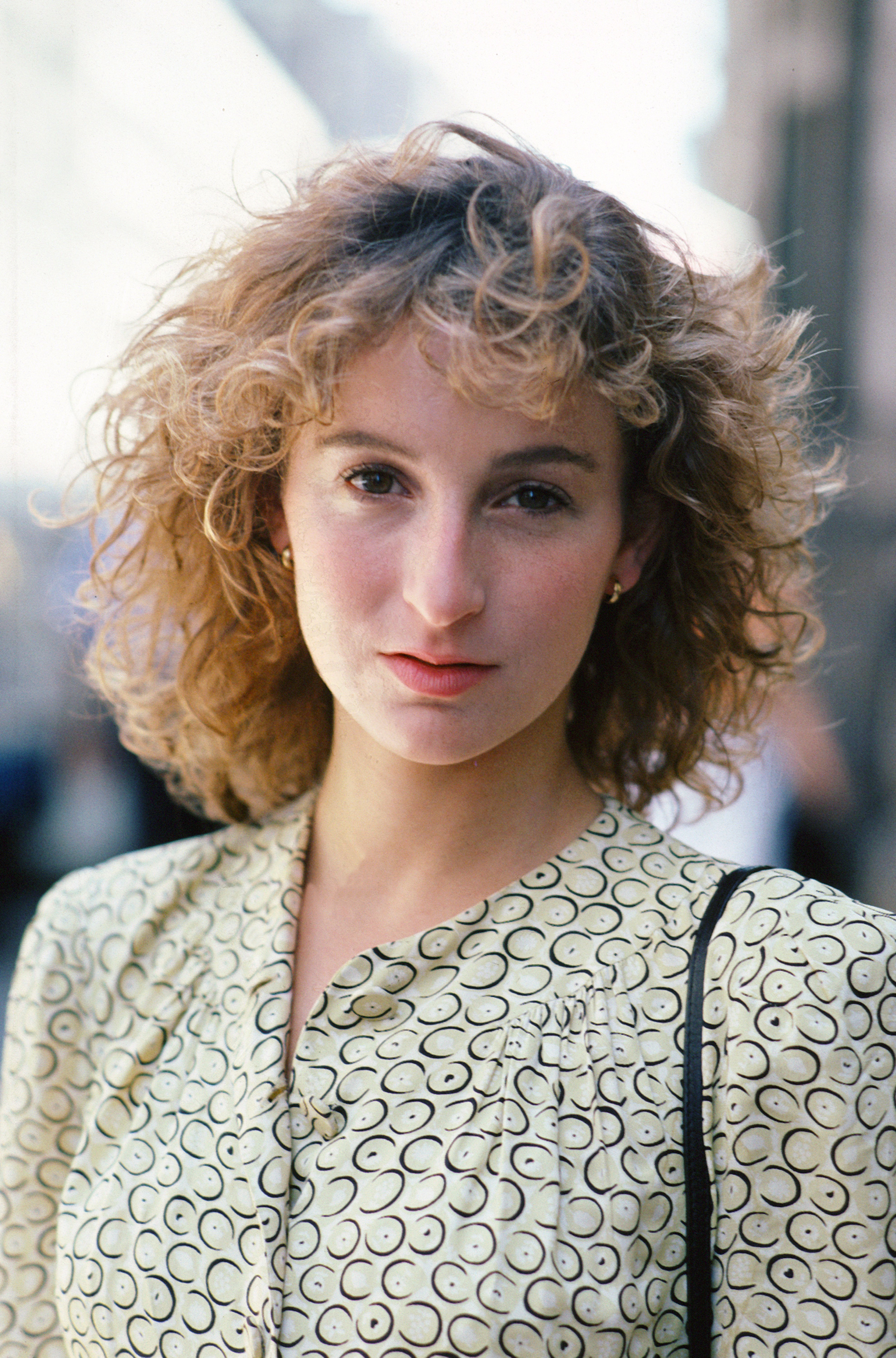 Jennifer Grey in the set of "The Equalizer," in 1986 | Source: Getty Images
Grey on "Dirty Dancing"
Grey's role as Baby in the dance film won her the hearts of many viewers and a Golden Globe nomination. She was from a family familiar with acting. Her dad, Joel Grey, was an Academy Award winner.
This enabled her to get first-hand acting experience by watching him on set. After learning from the older actor, she charted her course in a similar direction, which landed her the lead role in "Dirty Dancing."
The young actress considered herself lucky and was grateful to play the lead character. However, she described working on the project as a curse. In her words: "Everything went wrong, and everything was hard. Everything was on a shoestring." She continued:
"We really were struggling with rain delays and people getting fired and quitting... But everyone was great at their jobs, and they just did them well in spite of how challenging it was."
Grey admitted that working closely with Swayze, a professional dancer and actor, offered a comforting experience despite the struggles. She trusted him with her weight during their dance routines even though she was terrified.
While filming, the actress confessed that she thought the movie would do poorly in the ratings and was surprised when movie lovers found her act intriguing. Decades later, "Dirty Dancing's" Baby commended the film's themes, adding that it made it an all-time favorite.
Jennifer's Chapter before Meeting Clark Gregg
Grey and Swayze's combination on the big screens showed how much they complemented each other, with Swayze being a macho man and a pro, while Grey was naive, young, and emotional. However, these two never had a romance outside the set.
The actress had met another co-star, Matthew Broderick, before working with Swayze, and they dated. Unfortunately, they were involved in a tragedy. The pair were in an accident that killed a mother and child. Shortly after that, they went their separate ways.
A Different Romance with Another Actor
Decades after her success in "Dirty Dancing," the actress became romantically involved with Clark Gregg, an actor-director. Considering her tales of being attracted to TV guys, it did not seem unusual.
But it was the only different love story. Gregg had a Jewish background; his dad was an Episcopal preacher. Over the years, he starred in a series of Marvel films, including "The Avengers," "Captain America," and "Agents of SHIELD."
The duo met in 2000, and despite Gregg being two years younger than Grey, he committed the following year. The couple planned to spend their lives together forever while getting ready to welcome their first and only child.
They proceeded with a beach-themed Jewish ceremony under the traditional Jewish "chuppah" with their loved ones in attendance. Grey's dad and grandmother paired to dance, and her father-in-law officiated the wedding.
Grey and Gregg Worked for the Best Marriage
Their marriage lasted for nearly two decades. While they separated in the end, the couple had the best moments of their lives as a team. They spent time going on dates, eating sushi, and enjoying the theaters during their nineteen years of marriage. Grey and her ex-husband were also loyal to their dance rituals created from her role in "Dirty Dancing."
Whether at home or out to enjoy the evening, these two are often ensured to hold hands, join bodies, and move to the rhythm in the air. According to Gregg, that categorized their happy marriage.
Did Anything Go Wrong in the Perfect Union?
This was the question on fans' lips following the shocking divorce announcement in July 2020. The seemingly content married man filed divorce documents at the Los Angeles County, but the details remained private.
They made public a joint statement sharing the heartbreaking news on their respective social media accounts while revealing that they had separated in January of that year after 19 years of marriage. Showing that it was done amicably, Grey shared a photo where she locked her arms around Gregg.
The duo looked happy, but the revelation that followed portrayed them in an emotional state. The "Dirty Dancing" star wrote that they will always cherish their bond despite making the difficult decision to part ways. In the end, she quipped:
"But we remain close and are deeply grateful for the life we've shared and the wonderful daughter we've raised.- jennifer & clark p.s. totally crying as we post this."
The Divorce Settlement Favored Their Child
Following their divorce, the court ordered Grey to retain her wealth, including proceeds from "Dirty Dancing" and its 2004 sequel "Dirty Dancing 2: Havana Nights."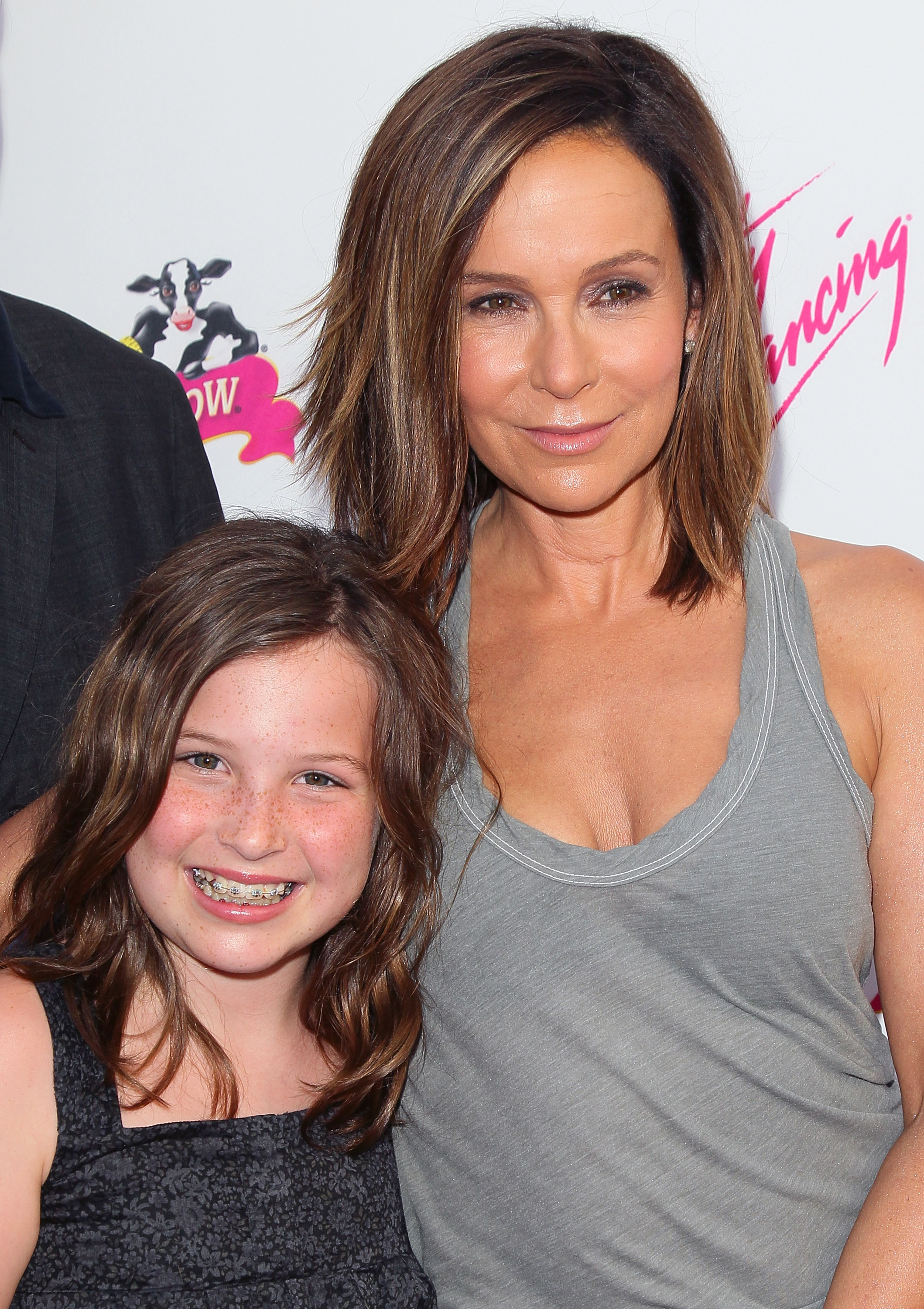 Stella Gregg and Jennifer Grey at the 25th anniversary of "Dirty Dancing" at Grauman's Chinese Theatre on August 21, 2012 in Hollywood, California. | Source: Getty Images
She is also entitled to half of Gregg's royalties and residuals for his on-screen productions: ABC's "Agents of SHIELD" and Marvel's "Avengers," "Captain America," and "Iron Man."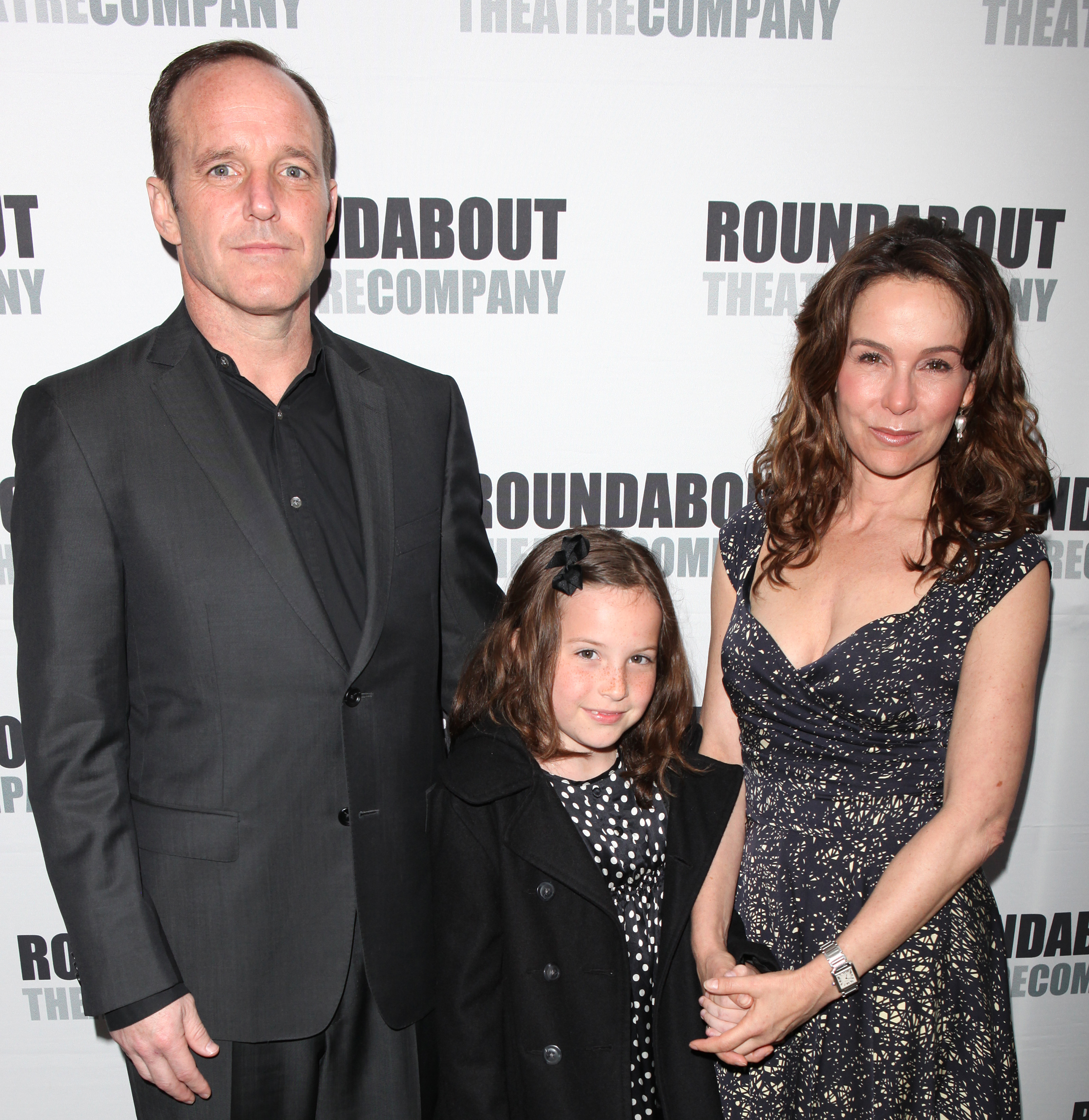 Clark Gregg, Stella Gregg and Jennifer Grey at the Opening Night Performance of "'Anything Goes" on April 7, 2011 in New York City. | Source: Getty Images
The former couple agreed to own their home and split the earnings equally in case of a future sale. After finalizing their divorce in February 2021, they chose to share the responsibility of their daughter until she turned 24.
Proud and Protective of Their Only Child
The celebrities have set a perfect example of how quiet and civil divorce can be, even when a child is involved. They are still hands-on in caring for their only child despite the separation. When Stella turned 20 in December 2021, the doting mom flaunted a headshot post of her doppelganger with the caption:
"I love this person.happy birthday my darling Stella #thisis20 @stellagregg slow yer roll, it's going too fast!"
Grey, who called her daughter a "beautiful soul" and a "gift to the world," is also intentional about the lessons she instills in Stella. During her reign as a "Dirty Dancing" star, she was not confident in her dance steps, so she gave up on it. Years later, after perfecting her moves, the actress wanted nothing but to show it off.
While speaking to a reporter, she confessed that this was a poor way of handling imperfection and vowed that Stella would learn to do things even if she was not good at it. Grey's thoughts were:
"What about just doing it for the love of doing it, because you want to learn?"
In the time past, Gregg has recapped his concern for his daughter on dating, showing how overprotective he can be. In a 2019 "The Ellen De Generes Show" interview, the father of one admitted to being scared when his daughter would bring a boyfriend home, adding that the family is open to her thirst for boys. He said:
"[ ...] and she said, 'I think I'm getting thirsty for boys.' So that's a thirst we're not going to let her quench for a while."
While she is yet to be seen publicly with a lover, Stella is making her parents proud by following in their footsteps. She has featured in some TV productions with her dad. Her film credits include "Trust Me" and Marvel's "Agent of SHIELD. "
Please fill in your e-mail so we can share with you our top stories!