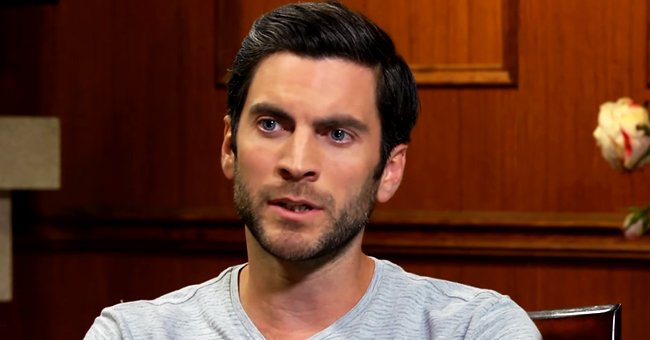 youtube.com/Larry King
'Yellowstone' Star Wes Bentley's Children Saved His Life Following His Addiction and Unemployment
"Yellowstone" actor Wes Bentley was fortunate to get the lucky side of life, especially after his addiction dilemma and unemployment. The actor is now a happy family man with two kids. Here is how his children saved his life.
Wes Bentley had a great start in life. He was born in a religious home with two older siblings and a younger one. But, during his teenage years, the Arkansas native found a passion for acting and prose.
Bentley later formed a group, the "B(3) +C," with his brother and friend, and they dominated competitions across Arkansas. In his senior year, he displayed his talent for poetry and prose and also won a list of contests.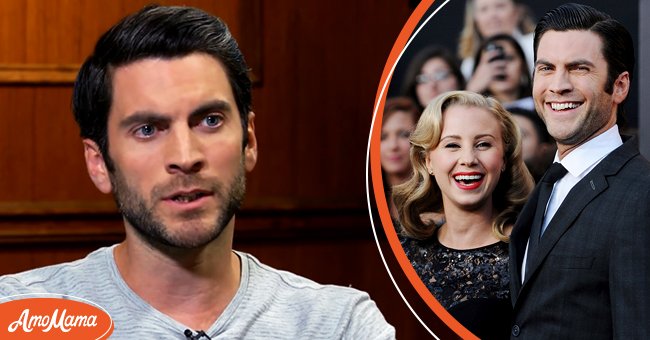 Wes Bentley at an interview with Larry King [left], Wes Bentley and wife Jacqui Bentley arrive at the Los Angeles Premiere "The Hunger Games" at Nokia Theatre L.A. Live on March 12, 2012 [right] | Photo: Youtube/larryking Getty Images
Towards the end of the 1990s, he earned a chance to prove his worth on the big screens. After starring in "Beloved" in 1998, he caught a career-defining moment in the Oscar-winning film "American Beauty."
Other additional features include "Ghost Rider," "The Game Of Their Lives," "The Hunger Games," "Lovelace," and "Yellowstone."
After his big break in "American Beauty," he gave in to his inner demons; Bentley became addicted to drugs which nearly cost him his career. The actor also lost his first marriage.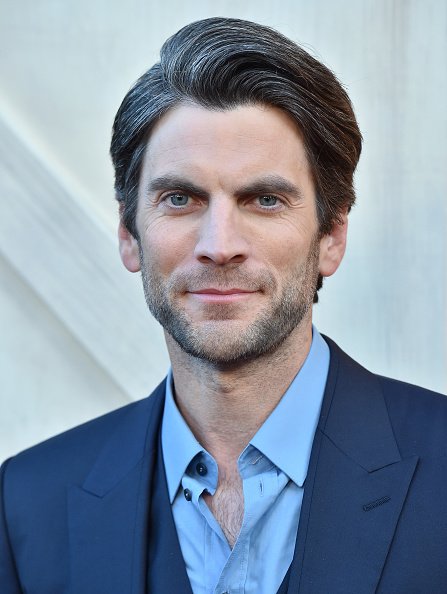 Wes Bentley at Lombardi House on May 30, 2019 | Photo: Getty Images
THE ACTOR'S DARK BOUT WITH ADDICTION AND UNEMPLOYMENT
Before stardom, Bentley had studied in Julliard—after his mother persuaded him to further his education, but he did not complete it. Instead, he pursued fame which eventually came to him after the "American Beauty" appearance.
The "Yellowstone'' alum got his wish but was not prepared to cope with the struggles of fame. Bentley, who had ministers as parents, gave up their spiritual doctrines to enjoy partying and drug use. He said:
"At 20, I was too young and too unprepared for stardom. I took myself too seriously."
What started as the seasonal consumption of marijuana and alcohol metamorphosed into abusing cocaine and other addictive pills quickly.
While Bentley's drug addiction worsened, he was lucky to have some producers ready to work with him and appeared in "The Four Feathers," The Game of Their Lives," and "Ghost Rider."
However, the actor spent more time feeding his demons than putting his best into acting. Bentley confirmed that he lost passion for acting and was merely coasting. Eventually, friends left too, and Bentley would go around alone, looking for cocaine.
At this point, he was not bothered about loneliness; all he wanted was to earn money to buy drugs. In 2001, he married Jennifer Quanz but lost her a few years later due to his drug addiction. The Arkansas native would hide away from home for hours while doing drugs.
In 2008, he was arrested and pleaded guilty to heroin possession during his divorce. The actor was ordered to take counseling and apply himself to community service; this did not help him.
A few months later, after downing a bottle of scotch at a hotel room, Bentley confided in his friend, explaining that he was an addict and needed help. After the sober reflection, the actor checked into rehab and attended a 12-step program.
FATHERHOOD BAILED HIM OUT OF A MISERABLE LIFE: A SECOND CHANCE
Thankfully on the second attempt and personal choice, Bentley became clean. The actor was also lucky to succeed as a family man. Bentley married Jacqui Swedberg, a producer, in 2010. That same year, the couple welcomed a son, Charles, and daughter, Brooklyn, four years later.
While Bentley reorganized his personal affairs, the actor brought his A-game as a comeback; by appearing in several works, including "The Better Angels." He worked tirelessly for a year yet was grateful for the opportunity. He said:
"I've been given this second chance, and I'm going to do everything I can with it. And with Chris Nolan giving me an opportunity, I am working with people that I can really learn from."
As he padded his resume, the father of two went as far as learning new skills such as dive training while working in a Scandinavian film, despite his fear for water.
Bentley also confessed that he is constantly aware that he suffered addiction and that it is lurking around the corner, even with being sober and having a happy family. This has somehow checked his behaviors, and for the actor, it is a good feeling. In his words:
"And I'm happy to do it with addiction, because it's the most dangerous thing I face everyday."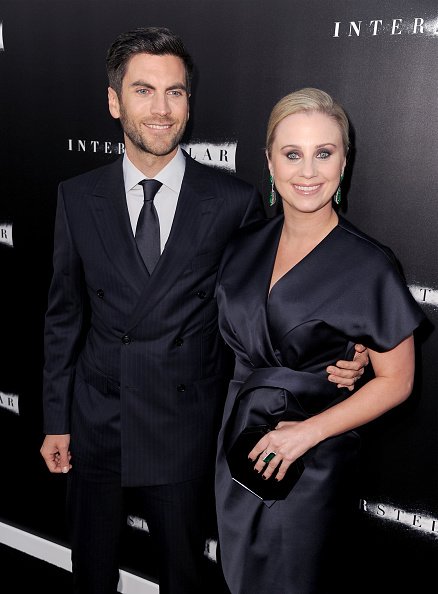 Wes Bentley and Jacqui Swedberg at TCL Chinese Theatre IMAX on October 26, 2014 | Photo: Getty Images
While being alert helps uphold his principles, Bentley is thankful that he has two incredible mini-mes to share the great life with. He explained that he was unaware of how great fatherhood was and how he would love it. The "Yellowstone" alum maintained that life with the kids keeps him going.
"Anytime I lose my head or feel stressful, I remember I'm doing this for my kids and think about them. It lightens my heart."
BENTLEY IS NOW A PROTECTIVE DAD & DEDICATED HUSBAND
Fatherhood is rather an intriguing experience for the actor, and he has chosen to play his roles excellently, especially with the help of his producer wife, Swedberg.
Swedberg, who worked on the series "Corner Gas," met the actor during recovery. Although he relapsed, he quickly entered rehab. The pair started dating in 2008, and by 2010, they tied the knot.
The birth of their son was not a secret; however, when they welcomed their daughter in 2014, the couple kept it hidden. It was not until Brooklyn turned four months old that they shared the news.
Wes Bentley during an interview with "Young Hollywood" in July 2013. | Photo: YouTube/Young Hollywood
After that, the couple decided to keep their kids away from the public. Bentley, who loves being a father and confesses that fatherhood changed him, cherishes alone time with the bunch.
Bentley schedules soccer games with his son and makes it to their private dance parties with his young daughter. While the father of two creates memories via these quality times, he never thinks of watching his shows with the kids, especially "American Horror Story: Hotel!"
A HEARTFELT ADVICE TO ACTORS WHO ARE FIGHTING THE SAME DEMONS
Bentley's story does not provide odd content as it is common in Hollywood. However, he has used his struggles to inspire the younger generations and those battling addiction problems.
Amid his confessions and confirmations are the bits of advice guiding those struggling with sobriety. Bentley directed his message to young artists who think they must do drugs to be creative. The actor added that he was once like that, and it never ends well.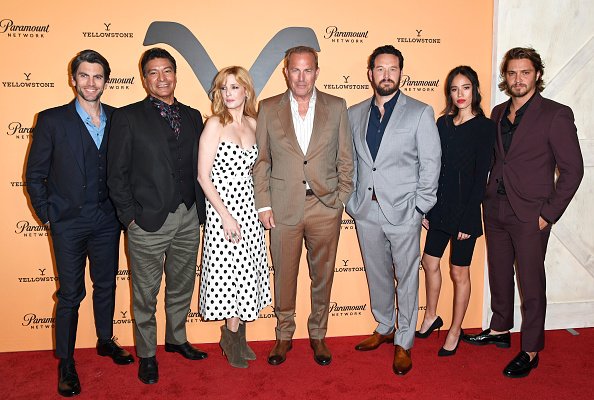 Wes Bentley, Gil Birmingham, Kelly Reilly, Kevin Costner, Cole Hauser, Kelsey Chow, and Luke Grimes at Lombardi House on May 30, 2019 | Photo: Getty Images
Furthermore, the father of two stated that while one may have made a mistake, there is always a chance to turn things around, despite the shame and guilt that comes with it.
In the end, he maintained that creativity has no ties with getting high. Instead, doing drugs can hamper one's growth, which he learned by experience and not advice.
Please fill in your e-mail so we can share with you our top stories!
The information in this article is not intended or implied to be a substitute for professional medical advice, diagnosis or treatment. All content, including text, and images contained on news.AmoMama.com, or available through news.AmoMama.com is for general information purposes only. news.AmoMama.com does not take responsibility for any action taken as a result of reading this article. Before undertaking any course of treatment please consult with your healthcare provider.