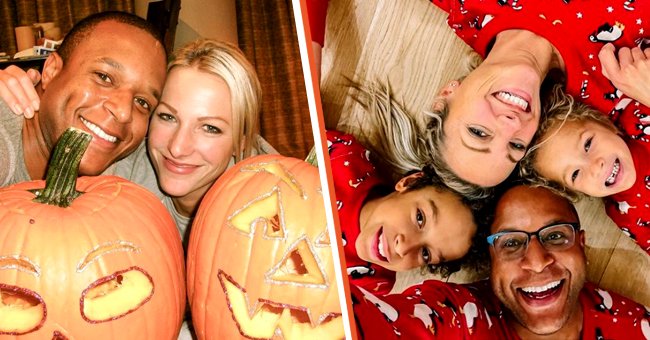 Instagram.com/lindsaycz | Instagram.com/craigmelvinnbc
Craig Melvin and Wife of 10 Years Hid Their Romance for Months - Now They Are Parents of 2 Biracial Children
Craig Melvin and his wife Lindsay Czarniak have biracial children who haven't questioned their parents about their skin color yet. However, Melvin has some concerns about their future.
According to The Washington Post, Lindsay Czarniak had just arrived back at work and hadn't had time to meet her new colleague, Craig Melvin. She had to get ready before cameras started rolling on set.
She'd spent three weeks covering the 2008 Beijing Olympics. As the new NBC4 anchor introduced Czarniak's sports segment on the air told viewers that his colleague was back from China.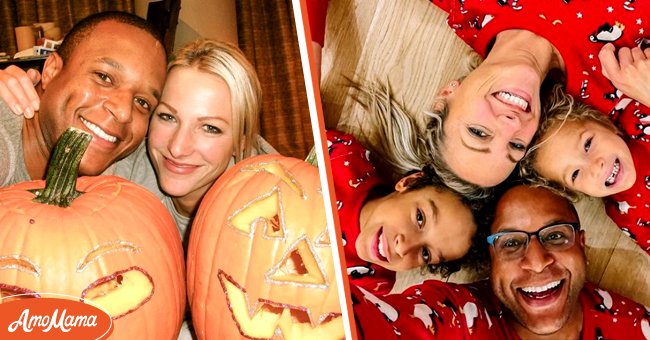 Craig Melvin and Lindsay Czarniak posing together with Halloween pumpkins while celebrating their 10th wedding anniversary on October 15, 2021, and them celebrating Christmas with their children on December 26, 2021 | Photos: Instagram/lindsaycz/craigmelvinnbc
She responded by greeting him by his full name and noted that she'd never met him before, sharing how good it was to meet him. Czarniak thought Melvin seemed like a "cool guy with good energy."
In turn, he thought she was beautiful and decided her needed to know her better. He found reasons to bump into her even though their desks weren't close; after a month, she mentioned a charity gala that she would be hosting.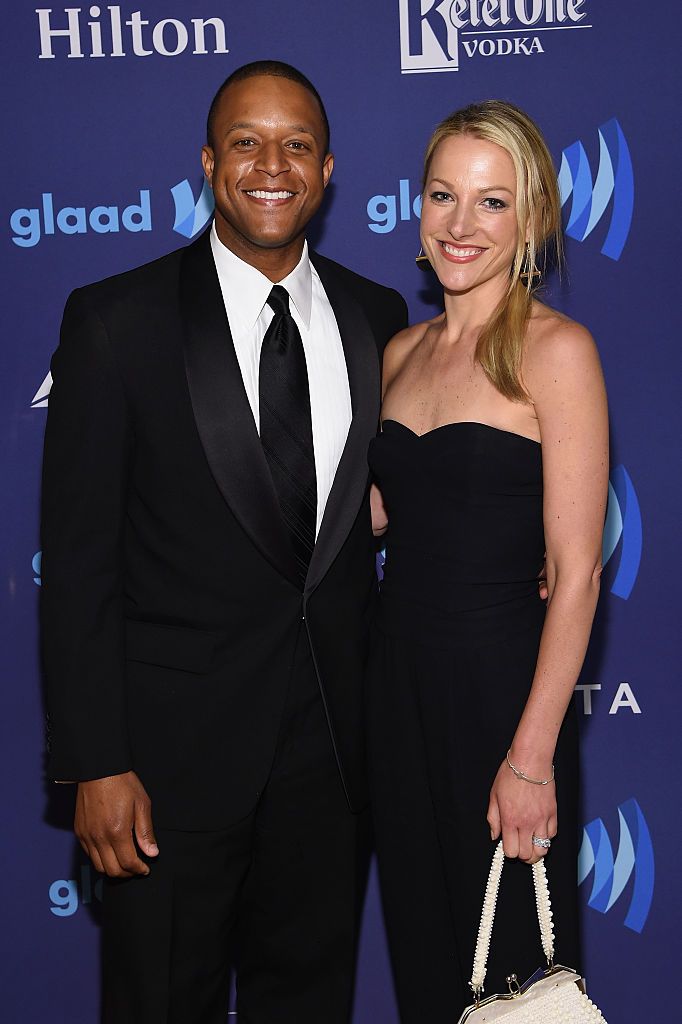 Craig Melvin and Lindsay Czarniak at the 26th Annual GLAAD Media Awards in New York on May 9, 2015 | Photo: Mike Coppola/Getty Images
Czarniak invited Melvin along with other NBC colleagues. At the event, she and the "Today" show anchor walked through the silent auction as a pair, and she thought he was fun.
She found it easy to be with him at the gala. Melvin later gave her a ride to the after-party. Afterward, the co-workers went over to her apartment that was close to Dupont Circle.
She became shy when he asked if he could walk her to the door. He explained that it was the decent thing to do for a person who hailed from South Carolina, and she relented; while in the kitchen, Melvin kissed her for the first time.
Czarniak woke up anxious the following day as she'd never dated a colleague before. On the other hand, Melvin was equally anxious and excited about what had happened and left her a message that afternoon to check in.
The colleagues spent the next six months seeing each other casually. They hung out together at home or met up for drinks and enjoyed one another's company but never defined the relationship.
Melvin was the one who ended up wanting to take their relationship to the next level by calling Czarniak in April 2009. Since he gave her an ultimate to either be in or out, she chose the latter because she couldn't wrap her head around dating a colleague.
Melvin was smitten by Czarniak, and it bothered him. However, he respected her wishes, and they kept their distance until he started calling his colleague again to talk about different topics.
They spoke about their careers, families, and the other people they saw as they built a good friendship. However, Melvin couldn't feel the same feelings with other women he felt with Czarniak and decided to go after her again.
He asked for a drink meeting at Bar Pilar, and after hesitating a bit, she agreed. When they met that night, something clicked between them, with the journalist recalling:
"'I don't want to be with anyone else that I'd hung out with.'"
After ending things with the other people they were dating, in October 2009, Melvin asked Czarniak for a date. He came to pick her up for their dinner at Cafe Atlantico, and after that night, they tried to see each other whenever they could.
However, they kept their relationship a secret from their colleagues for months! All they wanted to do was spend time together, and Czarniak felt "calm and cared for" when she was with her boyfriend.
Melvin felt she brought passion into his life and challenged him to try new things! He loved how she loved life and would stop to smell roses, pick a few, and urge him to smell them too!
At that point, Melvin started thinking that their relationship could last. When he looked into the future, he saw her as someone who could change his diaper during his elderly age!
In March 2011, Czarniak and Melvin went to Miami to spend a long weekend together. In the late afternoon, he chartered a sailboat, and while they were out on the water, he proposed!
They knew after getting engaged that their NBC4 jobs would be up in a few months. The couple left, and in May 2011, Melvin's fiancée got a job offer to become an ESPN anchor; a few weeks later, MSNBC hired him.
Leaving their jobs was hard for both of them, with Czarniak noting how working at NBC 4 hadn't been just a job for her. Despite that, the couple found a way to support each other through the transition.
On October 15, 2011, the pair got married at the Church of the Holy City. They traveled in a vintage Bentley to their reception at the Hay-Adams Hotel with 200 guests in attendance.
Some of the people who attended included their former colleagues. Doreen Gentzler, Wendy Rieger, Jim Vance, and Dan Hellie, who suspected the two had been dating, celebrated with the happy couple.
The room was lit in a golden light, and giant orange rose centerpieces were used as decorations. The bride wore a strapless Kenneth Pool dress and was walked down the aisle by her father, USA Today editor Chet.
Czarniak celebrated the occasion by writing a heartfelt dedication to her husband on Instagram. The post included a photo of them smiling as they posed alongside two carved-out Halloween pumpkins.
The second image in the thread was a throwback from their wedding day, where they were seen dancing together. During those years, the duo welcomed two children.
[Lindsay] Czarniak informed the child [Delano Joseph Melvin] that he and his sister [Sybil Ann Melvin] were actually both Black.
COUPLE'S BIRACIAL CHILDREN
On March 11, 2014, Melvin and his wife became parents for the first time when they welcomed son Delano Joseph Melvin. Czarniak shared a Twitter image of her cradling her son in a hospital bed.
Melvin also took to Twitter to share his own photo posing with the newborn baby. In the caption, he joked about Delano already being displeased with his father and shared that the boy arrived at 6:36 a.m.
The couple added another addition to their family on November 5, 2016, when the "SportsCenter" anchor birthed their daughter Sybil "Sibby" Ann Melvin at 12:20 p.m.
In May 2021, Melvin and his wife were interviewed by Parents about the challenges of parenting biracial children. The news anchor revealed that his children hadn't started asking many questions yet.
However, he recalled an incident when Delano commented while watching TV that he had black skin and was Black while his sister was white like their mother. Czarniak informed the child that he and his sister were actually both Black.
Melvin noted that society would view both children as Black and that it was complicated. In a February 2022 "Today" article, the TV anchor shared that he was raised not to see people's skin colors but their actions and thoughts; however, he was afraid that not all people were brought up the same way.
Please fill in your e-mail so we can share with you our top stories!