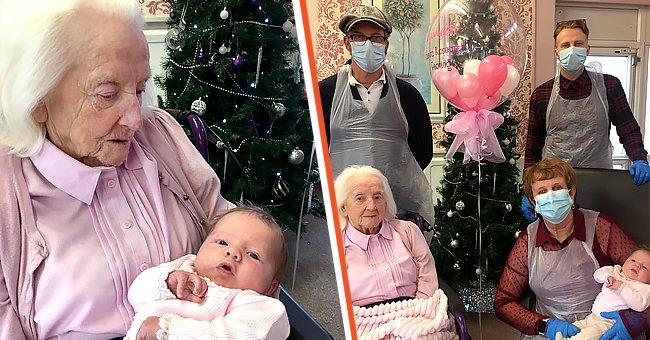 Gwen and Maeva | Gwen and her family with Maeva | Source: twitter.com/rapporthandc
Great-Great-Grandmother, 100, Overjoyed with 1st Baby Girl in Her Family after Waiting 75 Years
A 100-year-old woman, who already had five grandsons, eight great-grandsons, and six step great-grandsons, was super ecstatic and proud to meet the newest member of her family.
It's widely known that grandparents and grandchildren share a unique bond unlike any other. Their special connection gets more profound with time and the envy of parents and other family members.
Most importantly, elderly folks see a part of themselves in their grandkids, and their relationship offers the perfect blend of love, understanding, and playfulness.
Incredibly Heart-Touching
The momentous occasion when an older woman met her great-great-granddaughter for the first time was captured in heart-melting photographs. The newest arrival was the first baby girl born into the family after a long wait of 75 years.
Gwen Smith, 100, first met baby Maeva, born on November 24, 2021, in her room in Dene Holm Residential Care Home in Northfleet, Kent, England, on December 21, 2021.
The Smith family watched as Gwen held the little princess in her arms while surrounded by five generations of her family. Gwen was so taken by little Maeva that she couldn't stop gazing at her.
A Special Occasion
Recalling the special day, the Smith family said: "It was a very special occasion to get all five generations together." The Smiths thanked the care home's manager for allowing the visit in the wake of the pandemic.
It turned out the older woman had been upgraded to the status of a great-grandmother, and the little angel was her great-granddaughter.
The Smiths revealed that Gwen, who was nearing her 101 birthday back then, was delighted and proud to meet the newest addition to the family.
A War-Time Love Story
Even though Gwen's cataracts didn't allow her to see Maeva clearly, the great-great-grandma's facial expressions corresponded to her sheer happiness. Gwen was born in Essex on February 28, 1921.
After she moved to Gravesend in her youth, she became a dancer and performed at several local events while working at her father's seed merchant shops in Kent.
She crossed paths with her husband, Ron, aged 16, an apprentice electrician at Blue Circle Cement Works. Sadly, the couple drifted apart during the war, and Ron went to serve overseas.
Finally Reunited
The lovebirds tied the knot at the peak of the Second World War in 1940 after Ron got a special leave of only eight hours while stationed at the Isle of Grain. After bidding each other farewell, they didn't meet for another five years.
The newlyweds finally reunited after the war and spent many blissful years together. They also raised two girls, Gloria and Sandra. Until baby Maeva's birth, Sandra was the last girl born in the family in over seven decades.
Like Gwen, another older woman was rendered speechless when her granddaughter surprised her. When she opened the door and saw her granddaughter holding a baby, she was frozen.
Another Great-Grandma's Priceless Reaction
It turned out the older woman had been upgraded to the status of a great-grandmother, and the little angel was her great-granddaughter. The newly-crowned great-grandma couldn't contain her excitement as she cherished her time with the little one.
Her incredibly heartwarming reaction was captured by her granddaughter, who then shared the video on TikTok, where it amassed several likes and comments from netizens.
In a world full of uncertainty, chaos, and disarray, coming across heartwarming stories like those of Gwen and the over-excited great-grandmom serve as a breath of fresh air. Please share these incredible stories with your loved ones.
Please fill in your e-mail so we can share with you our top stories!