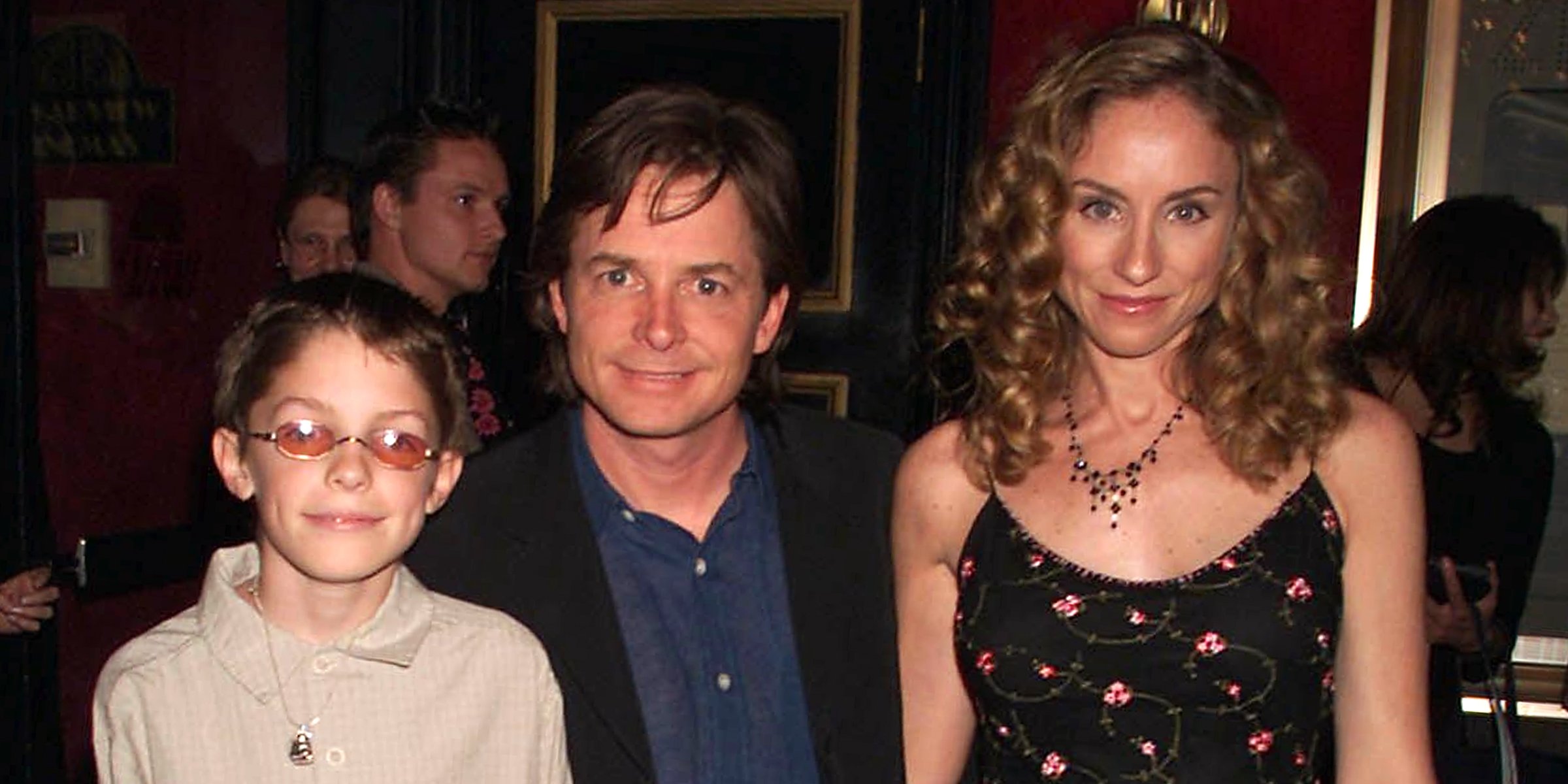 Getty Images
Michael J Fox Was 'Isolating' Himself From Wife of 34 Years & Kids - She Helped Him to Become Part Of Family Again
Michael J. Fox is a former teen idol who gained prominence starring in "Family Ties." That is how he met his one and only wife, Tracy Pollan, as they played love interests. The couple has been together ever since and has gone through turbulent times.
Actor Michael J. Fox is known for his memorable role as Alex P. Keaton in the 1982 sitcom "Family Ties." His wife, Tracy Pollan, co-starred alongside him as his girlfriend, Ellen Reed.
While playing love interests, the pair fell head over heels in love with each other. Speaking about their first on-screen kiss, Pollan said her character was more nervous about it while she was not.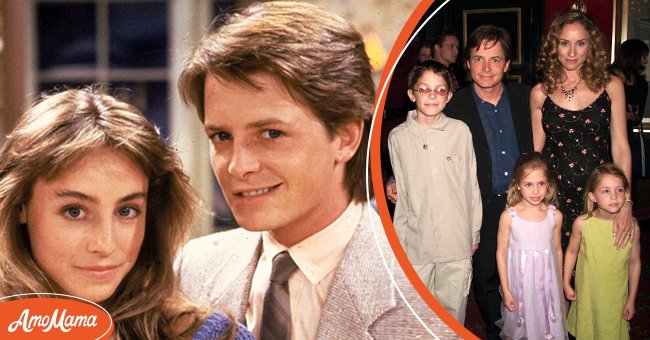 (L) A promotional portrait of actor Michael J. Fox and co-star actress Tracy Pollan on the set of the TV series, "Family Ties." (R) Michael J. Fox arriving with his family, wife Tracy Pollan, son Sam, and twin daughters Schuyler and Aquinnah, at the New York premiere of "Atlantis: The Lost Empire," at the Ziegfeld Theater on June 6, 2001 in New York City. / Source: Getty Images
At the time, the tabloids speculated that there was more to her relationship with Fox off-screen, and she denied it as well as the Canadian American native who said:
"I wouldn't be so arrogant as to believe that could happen."
Though they were friendly on set, Fox and Pollan did not socialize, said the actress who dated actor Kevin Bacon at the time. She and Fox hid their affair from co-stars.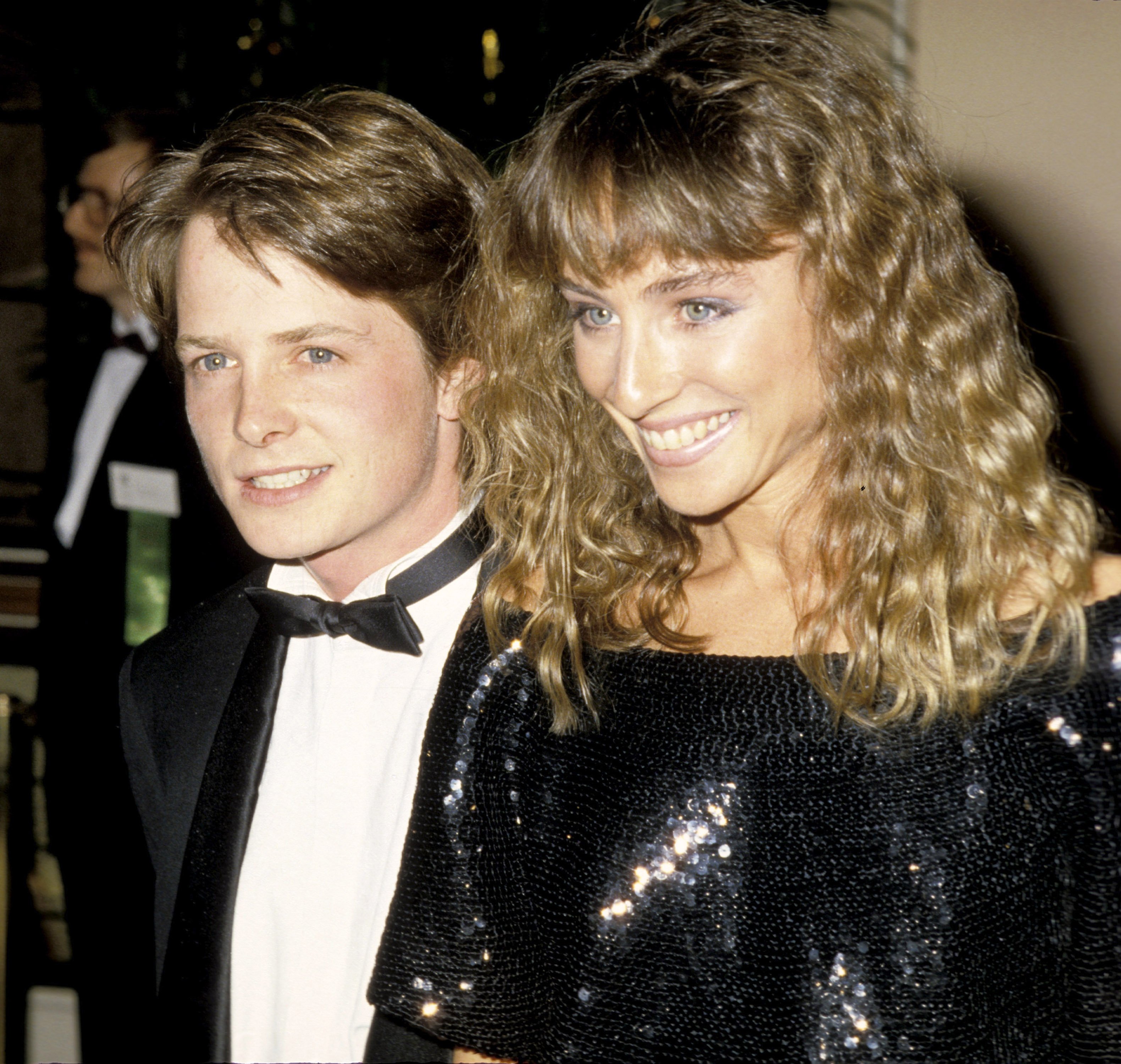 Michael J. Fox and Tracy Pollan pictured at the 43rd Annual Golden Globe Awards. / Source: Getty Images
According to the casting director, Judith Weithorn, the production looked over 300 young females searching for the perfect match for the charming Keaton as the lead star. On the other hand, Fox said Pollan was intense and explosive, referring to her personality, making her a perfect fit for Keaton. Weithorn added:
"We were determined to transcend the traditional sitcom girlfriend – you know, the generic blond bimbo."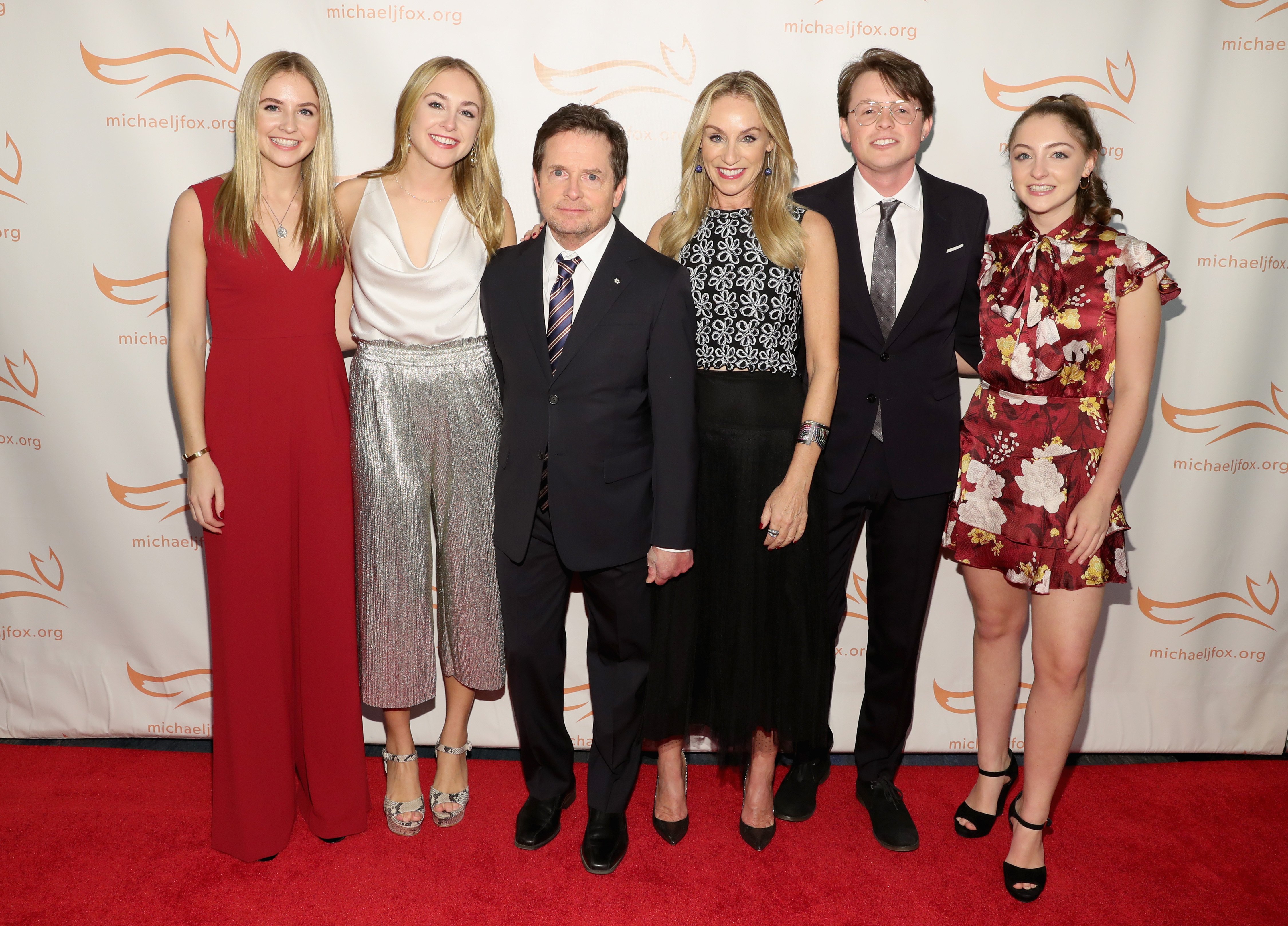 From left to right: Schuyler Fox, Aquinnah Fox, Michael J. Fox, Tracy Pollan, Sam Fox, and Esme Fox on the red carpet of A Funny Thing Happened On The Way To Cure Parkinson's benefitting The Michael J. Fox Foundation at the Hilton on November 10, 2018 in New York. / Source: Getty Images
Fox optimistically voted for Pollan, who was against five other finalists for the role. In real life, he was 24 playing a 19-year-old, and she was 25 playing an 18-year-old, a factor that helped build empathy because they were the same age group. He added:
"Tracy had strength, but she wasn't overbearing."
In February 1986, Fox told People that Keaton and Reed had an old-fashioned relationship. However, their romance did not last, whereas he and Pollan found a forever after in real life.
ROMANCE ROCKED BY HEALTH ISSUES
But before they went all in their now blossoming relationship, they were each seeing other people. Pollan was in a five-year relationship with Bacon, and Fox was also in a long-term relationship with actress Nancy McKeon.
After his relationship with McKeon ended, he was rumored to be dating "Friends" actress Courteney Cox. She played Keaton's new steady girlfriend, Lauren Miller. It was during that period that he and Pollan were an item.
In December 1987, Fox brushed off the speculations of him dating Cox at the time, saying he had a good personal relationship with Pollan and a great professional relationship with Cox.
With a particular focus on his future wife, he said: "Tracy is a fish out of water in LA. She's so unassuming and natural that it is hard for her to fit in."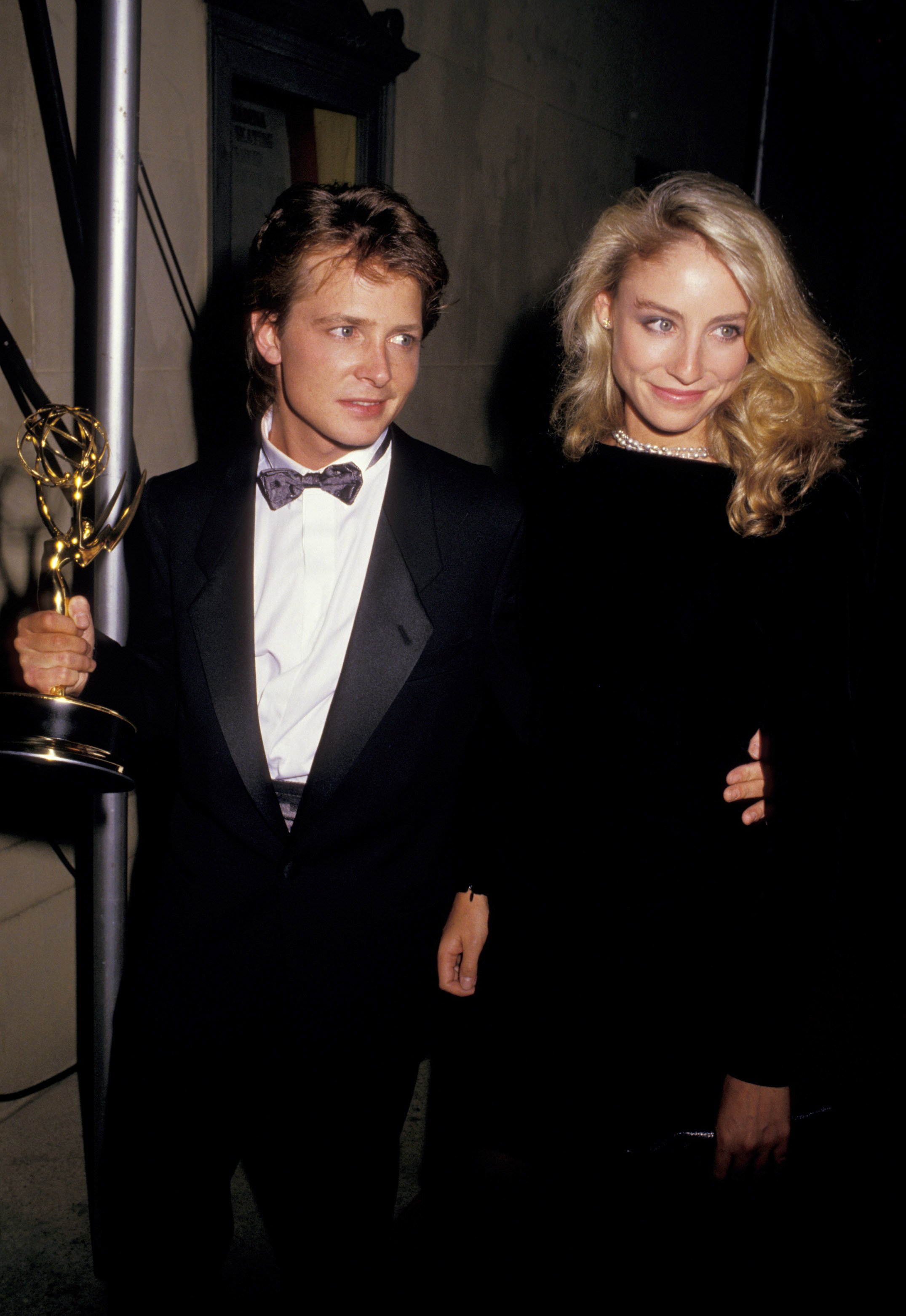 Michael J. Fox and wife Tracy Pollan at the 39th Annual Emmy Awards on September 20, 1987. / Source: Getty Images
Pollan and Fox's romance blossomed on the set of the film, "Big Lights, Big City," which came out in 1988. Pollan, a New York native, told Oprah Winfrey about Fox in 2002, saying that she fell in love with him because of his sense of humor and intelligence:
"From the beginning, I loved his sense of humor and that brain of his. He's so smart."
While the retired actor told People in 1989 that even though it sounded insensitive on how he courted Pollan, it was one of those things where someone told him she and Bacon were not together anymore, and he instantly made his move.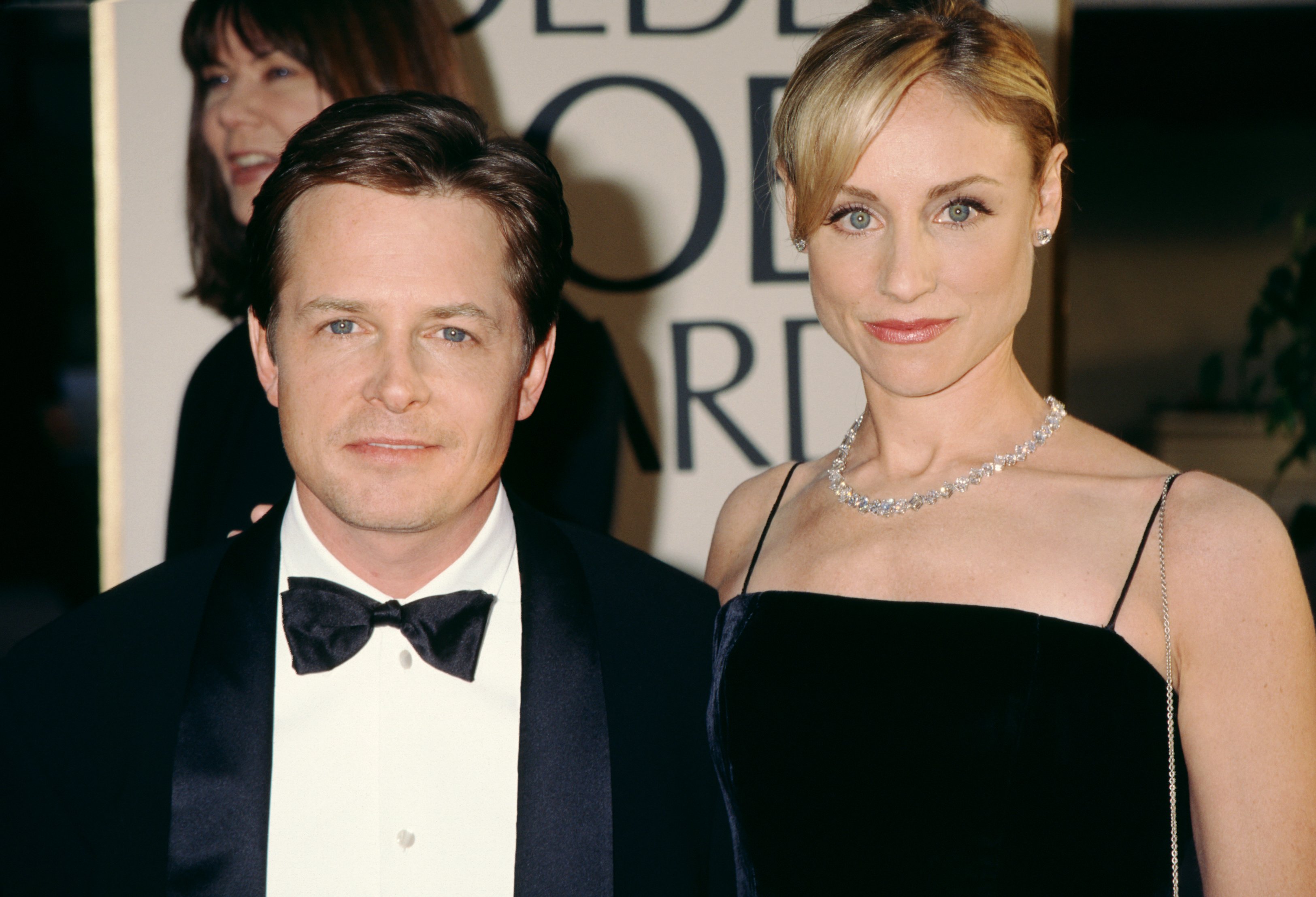 Michael J. Fox and Tracy Pollan attending the 54th Annual Golden Globe Awards at the Beverly Hilton Hotel on January 19, 1997 in Beverly Hills, California. / Source: Getty Images
Fox, 60, proposed Pollan on December 26, 1987, only seven months after they became official. He was confident in knowing that she would say yes to his proposal:
"I wasn't worried that she would say no. The toughest part was trying to figure out when to get married, and then figure out how nobody else could know about it."
The duo had cause for concern because Pollan had started receiving threatening letters in February 1988 from a young woman. The unidentified female was eventually charged with making terroristic threats and locked up in a psychiatric facility for nine months awaiting trial.
The frightening messages promoted the soon-to-be-married couple to amp up security wherever they went. Pollan even opted to use an alias when she traveled. But the pair refused to put their lives on hold.
The couple eventually tied the knot on July 16, 1988, at West Mountain Inn in Arlington, Vt. When Pollan fell pregnant with their first child, the father-to-be was so supportive that he squeezed Lamaze classes into his shooting schedule.
Their son, Sam, was born on May 30, 1989, and in December that year, Fox revealed to People that his wife had an uncomplicated pregnancy and a good delivery.
When asked about the possibility of expanding their family at the time, the Golden Globe award winner revealed he and Pollan had an agreement that while they were still changing diapers, they would not even mention the idea.
Within a short period in their union, Fox and Pollan experienced some tough times as a married couple. Fox was diagnosed with Parkinson's disease when he was 29.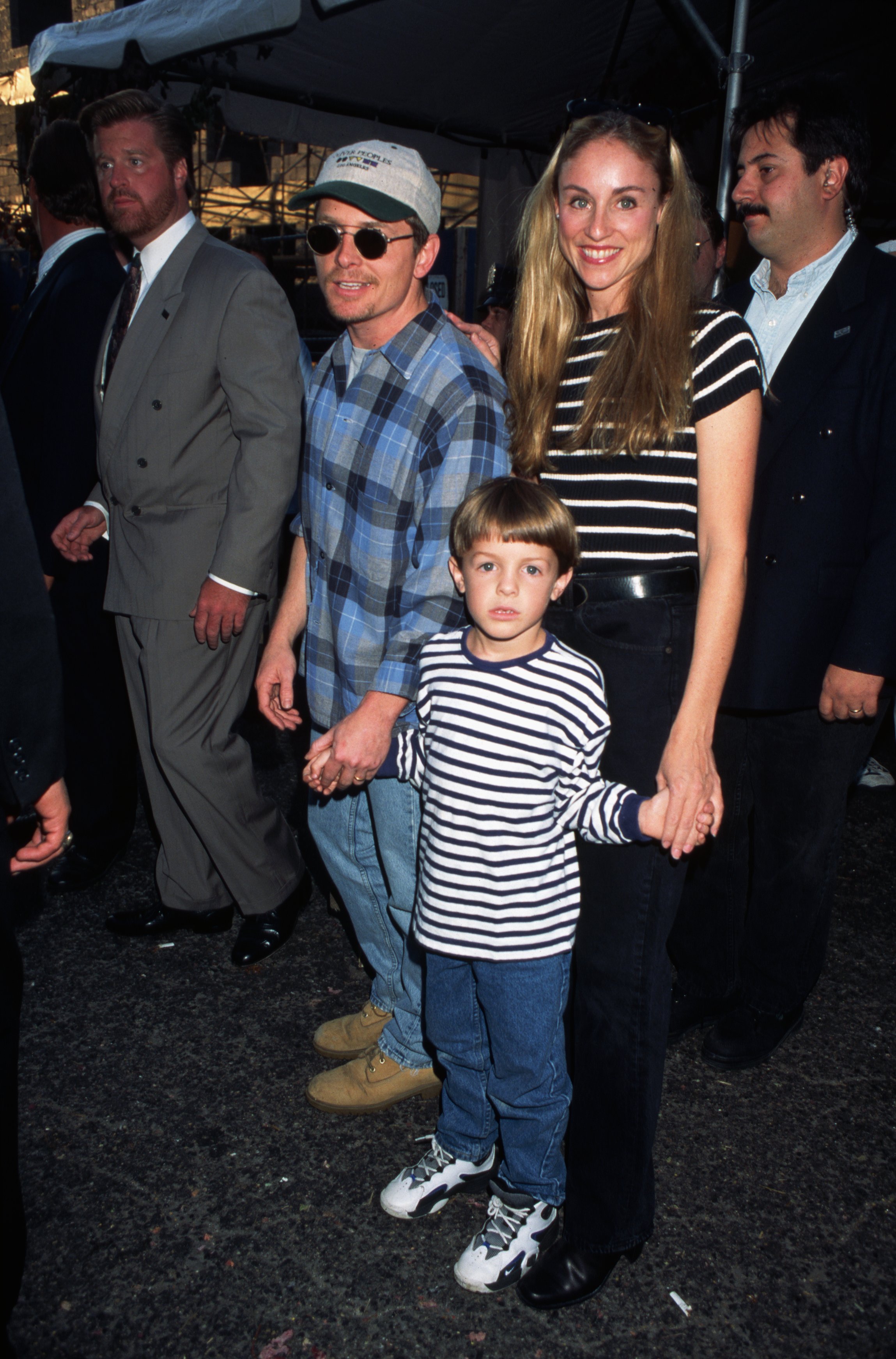 Michael J. Fox with Tracy Pollan and their his son, Sam, at the Kids for Kids benefit in 1995 in New York. / Source: Getty Images
In 1990, he woke up one morning and noticed his left pinkie twitching uncontrollably. A year later, a Manhattan neurologist diagnosed Fox with Parkinson's disease.
Parkinson's disease is an incurable degenerative condition of the nervous system that affects motor function over time. Fox kept the news close to his heart and only told his inner circle. His family handled it quietly, but it became unbearable for him to deal with it.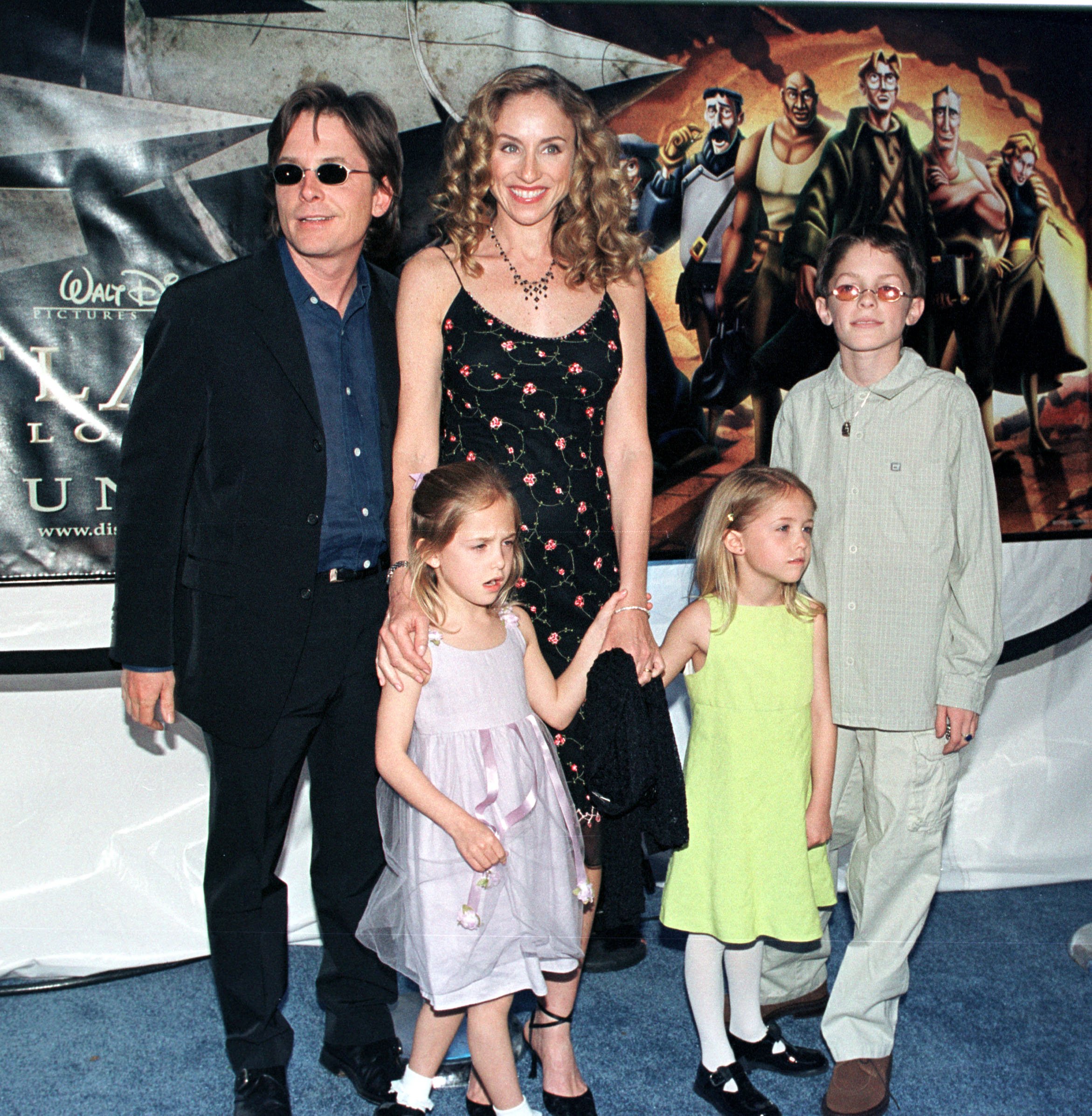 MICH
As a result, the "Back to the Future" star fell into depression and found comfort in drinking alcohol excessively, which he had cut back when he married Pollan. He hid empty bottles from his wife at home and admitted:
"I was isolating myself from my family."
It was a massive setback for the young couple, and 61-year-old Pollan recalled the traumatic experience in an interview with People in August 2018, saying it was scary because their future seemed uncertain.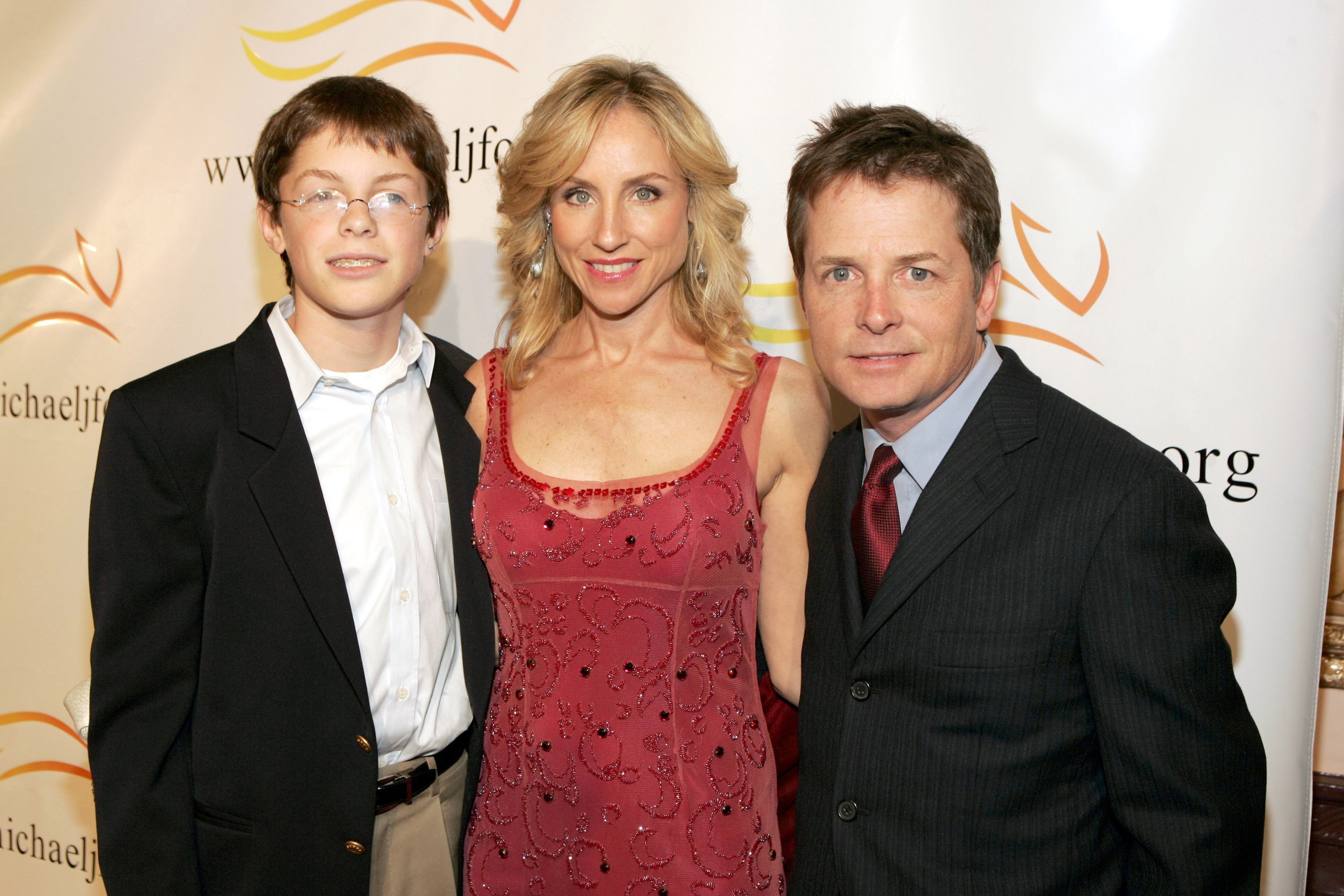 Sam Michael Fox pictured with mother Tracy Pollan and father Michael J. Fox. / Source: Getty Images
One night in 1992 changed it all for Fox. He came home late from having a few drinks with pals after his spouse had gone to sleep and passed out on a sofa with a can of beer spilling on the rug next to him.
The following day, Pollan found her husband down and out on the couch, who, awake this time, scanned her from her feet to her face thinking she was angry. But the "Natalee Holloway" star was not. Instead, she appeared bored, said Fox.
Pollan asked him if that was what he wanted to do with his life, and before he could respond, she walked out the door. From that significant moment, Fox never drank again. He finally got sober and started seeing a therapist, who helped him accept life with Parkinson's.
A few years ago, Fox got involved in an accident that greatly tested his positive outlook on life. He fell and broke his arm and underwent spinal cord surgery.
In October 2021, he said when the incident occurred, he felt sorry for himself at that moment, lying on the floor and helpless. Fox said he remembered telling people to cheer up but that it sucked for him at that moment.
Ultimately, Fox realized that he had a lot to be grateful for, noting one could be a realist and an optimist at the same time, adding if he could not accept it, then he would not be able to move forward.
Eventually, he did move forward, looking at the bright side of life. Fox and his beautiful wife Pollan have been married for 34 years. When asked about the key to their long-lasting marriage by People in 2018, Pollan revealed they give each other the benefit of the doubt, while her spouse added:
"Find the best things about you and the best things about life and celebrate them."
Pollan shared Fox's optimistic world perspective about everything is powerful. She explained that he did not worry about the future while she was the complete opposite.
Meanwhile, he admitted that that mentality could add a lot of work for a significant other because the next person could be relaxed, knowing the other would handle it. The pair believe they are going to be together forever.
Pollan and Fox are parents to four children, their eldest child, son Sam, 32, twin daughters Aquinnah and Schuyler, 27, and their youngest child, Esme, 20.
The couple welcomed their twins in February 1995 and their youngest daughter Esme in November 2001. They told People in November 2019 that they would become empty nesters as Esme was off to college and revealed they planned on traveling.
The kids have undoubtedly played a significant role in their parents' lives, including persuading their father to play the iconic Marty McFly from "Back to the Future" again, in a Christmas song for rapper Lil Nas titled "Holiday."
In an interview with James Corden during an appearance for "The Late Late Show," in November 2020, Fox told the host that the singer's team reached out to his agent and that his children took over from there:
"They're young adults. They went crazy."
His brood encouraged him to take the plunge and do the music video if he was not busy with anything else that year. The father of four admitted he had not met Lil Nas yet, but when he and his team came over to shoot the video, they were great, adding he enjoyed it.
While on the subject of parenthood, when Pollan and Fox welcomed their first child, they were excited to be first-time parents. Today, Sam is the spitting image of his dad, and though he diverged from his parents' acting route, he was once Mister Golden Globe in 2013.
Per his Instagram account, the California native enjoys traveling and spending time with his loved ones. He also often shares photos of his famous father.
Like her older brother, one-half of the twin girls, Aquinnah, has yet to pursue an acting career in Hollywood. However, she does update fans about her everyday life on Instagram, sharing snapshots of her adventures.
Schuyler is more private than her other half, and there is not much information on how she spends her time. But she has joined her family on red carpet events over the years.
The youngest member of the family, Esme, has remained out of the limelight for the most part and has been accomplishing things behind the scenes.
Please fill in your e-mail so we can share with you our top stories!
The information in this article is not intended or implied to be a substitute for professional medical advice, diagnosis or treatment. All content, including text, and images contained on news.AmoMama.com, or available through news.AmoMama.com is for general information purposes only. news.AmoMama.com does not take responsibility for any action taken as a result of reading this article. Before undertaking any course of treatment please consult with your healthcare provider.