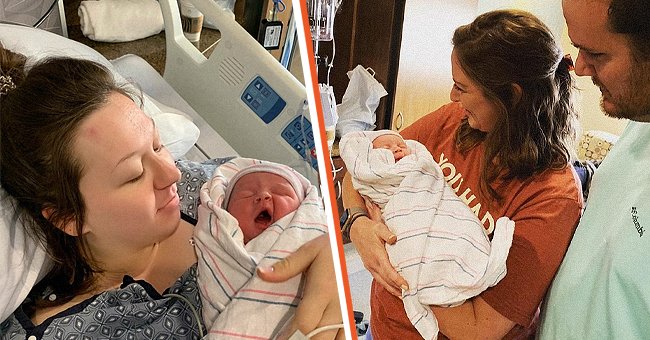 instagram.com/audreynfontaine
'God Wanted Me to Take This Path': Mom Gives Her Baby to Another Woman Hours after Giving Birth
Twenty-year-old Audrey Fontaine thought her life was in shambles until she grabbed a second chance to make things right. She was delighted to give up her son for adoption to a loving couple, believing that it was God's plan.
Audrey Fontaine was 20 when she realized her first and only pregnancy. The young adult was living in a car, had sabotaged her relationship with her family, and had no one to call her own.
She had frustrated close relatives and friends, and Fontaine maintained her distance even though they lived not too far away.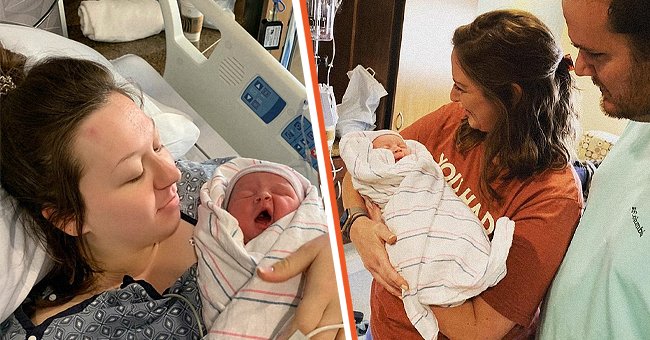 [Left] Audrey Fontaine holding her child in her arms after delivery; [Right] Audrey Fontaine child's adoptive parents holding her child after delivery. | Source: instagram.com/audreynfontaine
Upon the discovery, the expectant mother, with no job, considered an abortion. However, her decision was reversed after living in a maternity home.
Fontaine contacted an adoption service that linked her with her son's adoptive parents. Thankfully, after the birth, she re-evaluated her relationship with God and her family.
AUDREY FONTAINE HITS ROCK BOTTOM
For Fontaine, her life witnessed a complete change once she fell pregnant. Initially, she lived in her car, with no support system. Neither her family nor her baby's father wanted to see her.
She had severed ties with blood relatives and was shamefully whisked away by the police when she shared news of the baby with his dad.
This broke her heart, and without remorse, the young mom considered abortion. But while lying curled up in the car after her first clinic appointment, an idea about open adoption sprung up in her heart.
In her words: "I immediately went to Google search, and I clicked on the first ad that popped up and quickly called. After two rings, I was greeted by a kind woman who transferred me to her son."
"For the first time in a long time, I felt hopeful after he explained how adoption worked. I knew God wanted me to take this path, but I wasn't sure."
Audrey had trouble forging ahead despite it being thought of as a God-initiative. However, she reconciled with a relative and camped with her for a few days.
Throughout Fontaine's stay at her great aunt's home, she felt immense support from everyone. Still, the 20-year-old often toyed with the idea of terminating the child.
Finally, she summoned the courage to see a nurse, who painstakingly convinced her to keep the child after offering the expectant mom a place to stay.
Fontaine was placed in a maternity shelter but was later kicked out due to her rudeness. During her stay at the maternity home, her dad advised her to give up the child.
Eventually, the young adult contacted the abortion attorney, who sent her profiles of potential parents. One stuck out because they promised to maintain communication and displayed genuine compassion in their profile.
Fontaine soon connected with the couple she chose, and they bonded well following several phone calls and visits. The baby arrived two days earlier than scheduled to his biological mother, maternal relatives, and adoptive parents, who were excited and ready to receive him.
A year after his birth, Fontaine still shared a close relationship with the adoptive family, and they kept her abreast of his development. She added:
"This journey has taught me about strength and sacrifice. Love makes a family, and it's the truest thing I know. I am a birth mother, and adoption is a brave love."
Raquel McCloud's story cuts across every angle of adoption. From the biological mother, the adoptive parent, and the child. She was abandoned by her mother and nurtured by her grandparents.
The older adults wasted no time highlighting that her biological mom did not want her. But this did not change how she viewed her mother, who honestly did not care about parenting due to her addiction problem.
Like her mother, McCloud fell pregnant as a teenager and gave up the baby. However, the biological mom maintained a close relationship with the adoptive parents.
Nine years later, she reunited with her daughter. This relationship persisted and further influenced McCloud when she adopted her youngest child at three weeks. She said:
"We have the privilege of personally knowing her biological parents, which has made many of her behavioral issues clearer."
The adoptee turned mom and the adoptive parent admitted that her past is full of unpleasant memories. However, she chose to bask in the excellence of her present, acknowledging that God influenced her situation.
Please fill in your e-mail so we can share with you our top stories!