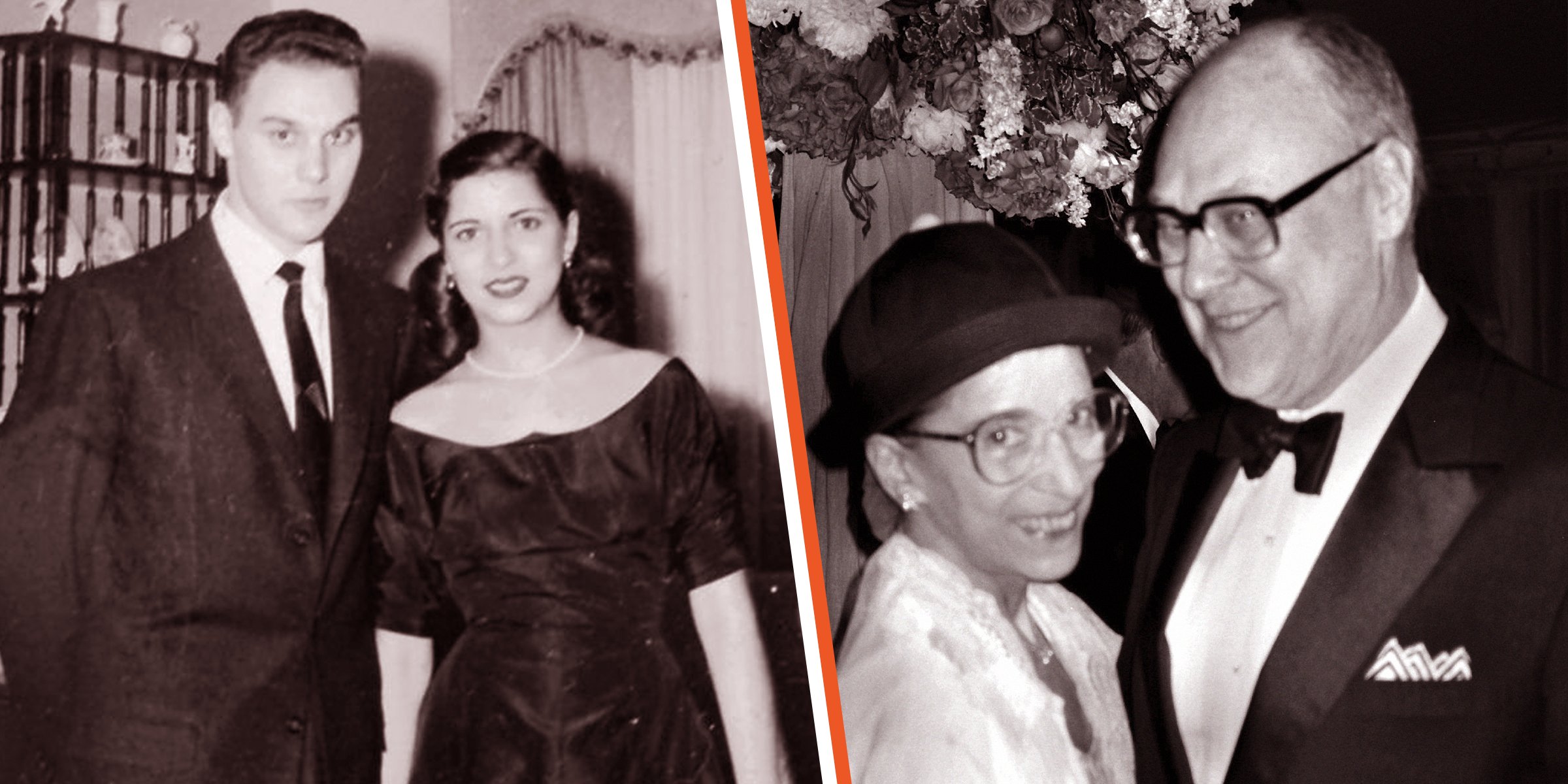 Instagram/Ruth Bader | Getty images
Ruth Bader Ginsburg Split Her Time to Care for Young Daughter & Sick Husband — She Only Slept 3 Hours a Day
Between studying law, caring for a young child, and looking after her sick husband, Ruth Bader could only manage three hours of sleep every night, and yet, she still topped her class. She later became the second female ever to serve in the US Supreme Court.
Ruth Bader became a lawyer and jurist who served as the Supreme Court Justice from 1993 until she died in 2020. But how did her love story, one driven by respect and equality, begin?
Bader and Martin Ginsburg were both undertaking their undergraduate at Cornell University in 1950 when Ginsburg's roommate set them up for a blind date.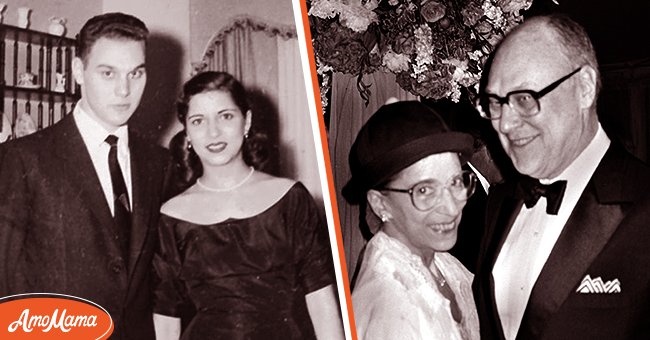 Supreme Court Justice Ruth Bader Ginsburg with her husband Martin Ginsburg at their engagement party in 1953 [Left] The couple on June 8 1998 in Washington D.C. [Right] | Source: Instagram/Ruth Bader & Getty Images
Ginsburg's first thoughts after seeing her were that she was cute, but he soon realized there was more to her. She was also brilliant, something none of her previous boyfriends had acknowledged. She would later say of her husband:
"Marty Ginsburg was the first boy I met who cared that I had a brain."
THE MAKING OF A 56-YEAR MARRIAGE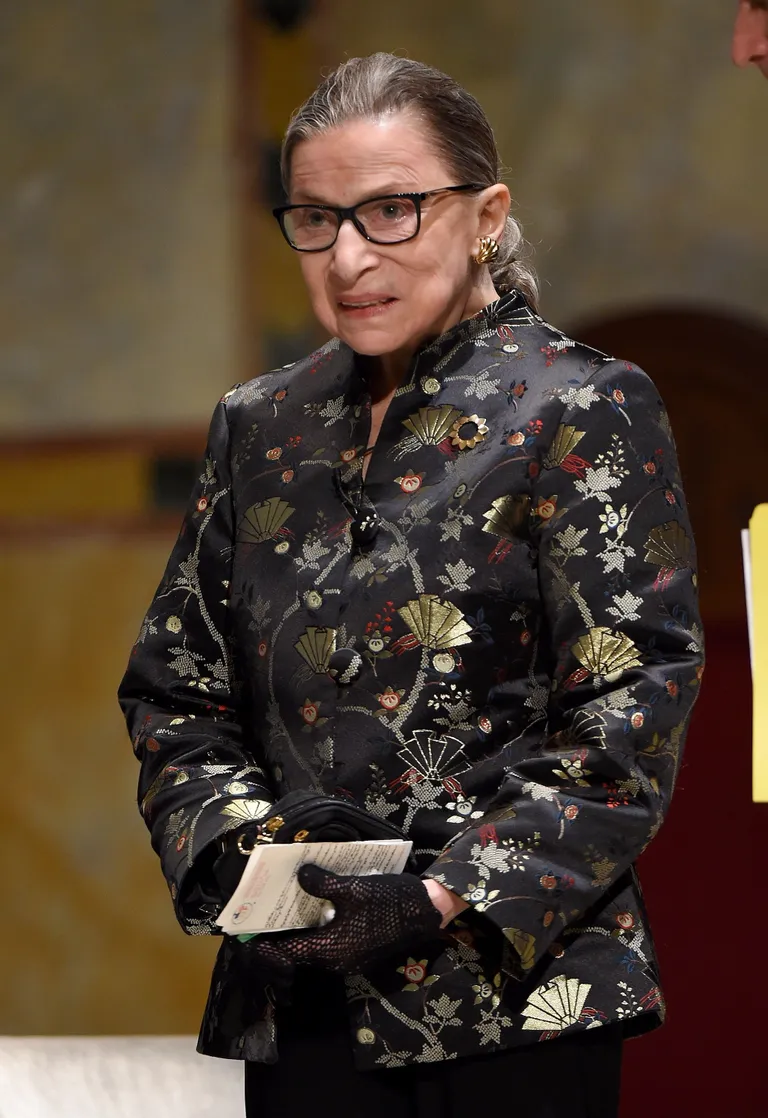 Ruth Bader Ginsburg attends A Historic Evening with Supreme Court Justice Ruth Bader Ginsburg event at the Temple Emanu-El Skirball Center on September 21, 2016 in New York City. | Source: Getty Images
As soon as the two graduated from Cornell in 1954, they tied the knot at Ginsburg's home. After their wedding, Ginsburg's mother took Bader into her bedroom and gave her a few wise nuggets about the secrets of a happy marriage. She told the new bride:
"It helps sometimes to be a little deaf."
Soon after, the two moved to Fort Sill, Oklahoma, where Ginsburg went to complete his assignment as an artillery officer. By the end of 1954, Bader confirmed she was expecting their first child.
Despite the good news, Bader began to worry that she would not start law school the following year while caring for an infant. But her father-in-law comforted her, saying that no one would shame her if she chose to raise her child instead of going to law school, but then added:
"If you really want to study law, you will stop worrying and find a way to manage child and school."
The advice came in handy, and Bader decided she would start school. In 1955, Bader and her husband enrolled in Harvard and engaged a nanny to care for their daughter during school hours.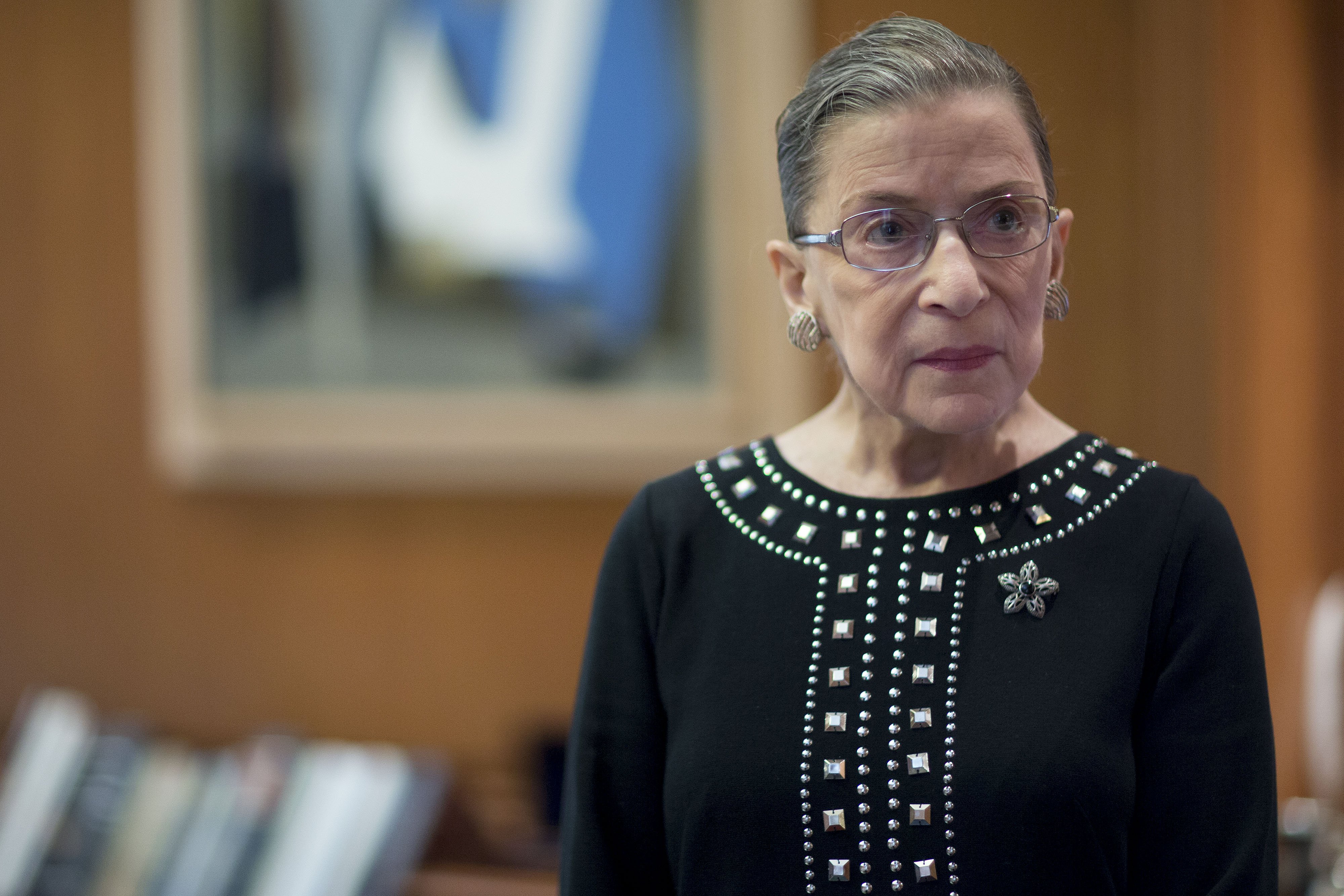 Supreme Court Justice Ruth Bader Ginsburg on August 23 2013 in Washington D.C | Source: Getty Images
Bader would study up until four and use the rest of the time to care for her child. She played silly games, spent time at the park, and sang funny songs with her daughter, Jane, but as soon as her daughter slept, she would be back at her law books.
BADER MANAGED ONLY THREE HOURS OF SLEEP EVERY NIGHT
Despite juggling more than anyone else in her class at Harvard, Bader became the first woman to have the honor of doing a law review.
Unfortunately, terrible news awaited her, and around the same time, Ginsburg got diagnosed with testicular cancer. The treatments were brutal, and after surgery, he had to undergo weeks of harsh radiation treatments.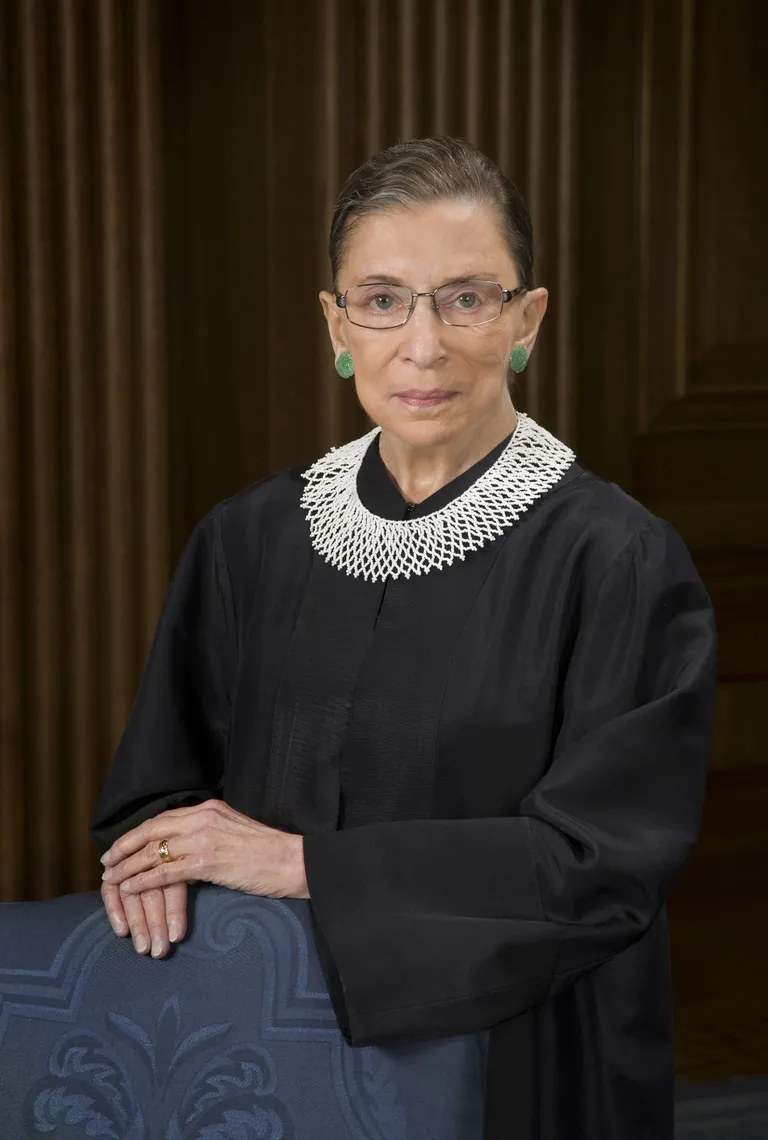 Supreme Court Justice Ruth Bader Ginsburg | Photo: Getty Images
Several of Ginsburg's classmates helped him study. They rallied around him and gave him individual tutorials to help him prepare for his exams, while Bader chipped in and helped provide him with notes from his classmates.
Never once did the couple think about the possibility of Ginsburg not surviving. Bader was hell-bent on helping her husband through the semester, and despite the odds against him, her husband got the highest grades that semester.
Bader, however, had a tough time. Between caring for her daughter, helping her sick husband prepare for his exams, and studying for her own, she would get barely three hours of sleep.
Because of the radiation, Ginsburg could not eat anything until midnight, and so between midnight and two in the morning, he would have his dinner, dictate his senior paper for Bader to type, and then go back to sleep.
On the other hand, instead of going to bed, Bader would whip out her law books and start reading in preparation for the following day's classes. But despite her short rest time, she managed to remain top of her class.
HER HUSBAND CAME TO HER RESCUE WHEN SHE COULD NOT FIND WORK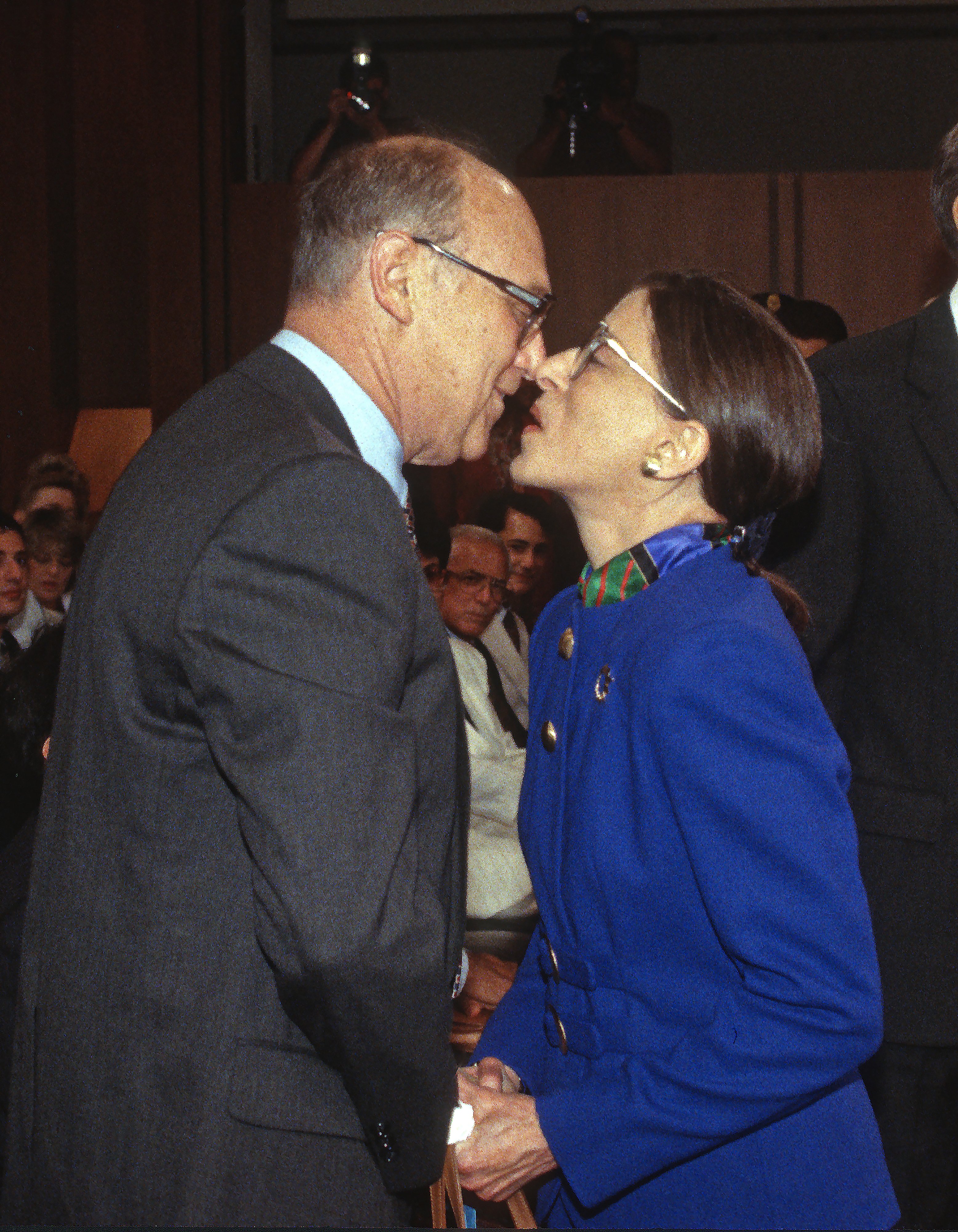 Supreme Court Justice Ruth Bader Ginsburg with her husband Martin Ginsburg on July 20 1993 in Washington D.C. | Source: Getty Images
Ginsburg recovered, graduated, and soon after, he landed a good job offer in New York. At the time, Bader still had a year of school left. To be close to her husband, she transferred to Columbia for her final year of law school.
After graduating, and despite topping her class and the glowing recommendations from her professors, finding a job became difficult for Bader. While her merits were commendable, she was a woman, and Jewish at that, which seemed to work to her disadvantage.
Luckily, her husband never stopped supporting nor believing in her. When she could not find work, Ginsburg presented her with one of his cases — a tax case involving gender discrimination against a man. The case became Bader's first big win.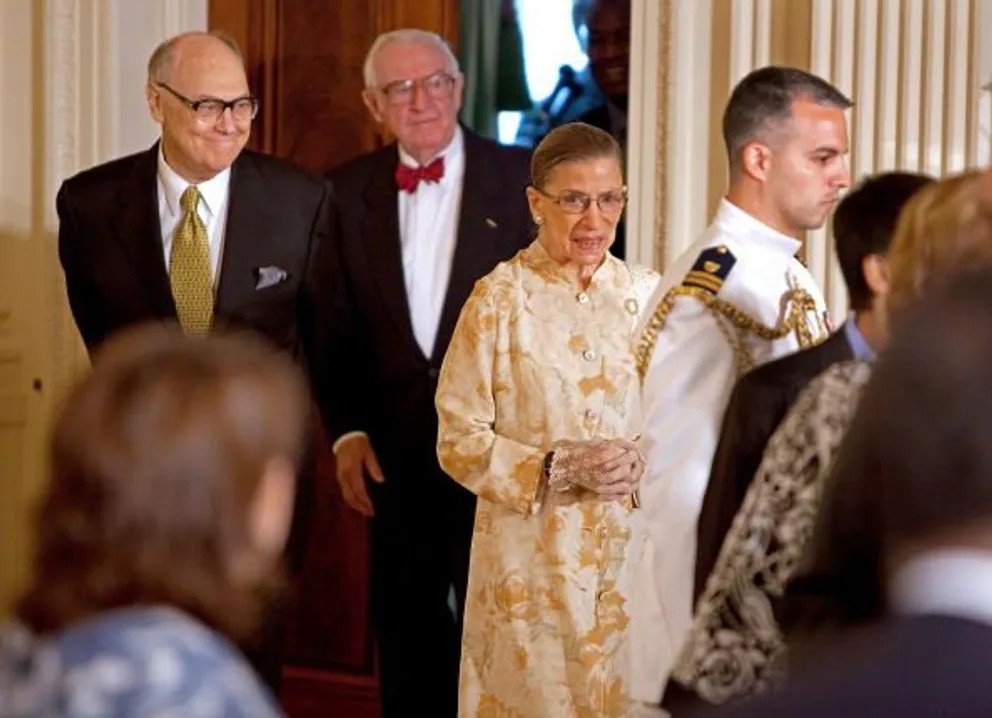 Martin Ginsburg [far Left] accompanies his wife, Supreme Court Justice Ruth Bader Ginsburg [Centre] to the East Room of the White House on August 12, 2009 in Washington D.C | Source: Getty Images
And yet, the 1972 case was not the last time Ginsburg showed support for his wife. He also helped secure Bader's nomination to the Supreme Court as her campaign manager. And she never once downplayed his support. She would say:
"I suppose he thought, 'Well if I decided I want to spend my life with her, she must be pretty good!' So he was at every stage of my life my strongest supporter."
GINSBURG'S LOVELY WORDS TO HIS WIFE BEFORE HIS DEATH
All was going well for the couple until Ginsburg was diagnosed with metastatic cancer. When the family knew it was time for Ginsburg to go, they transferred him home from the hospital.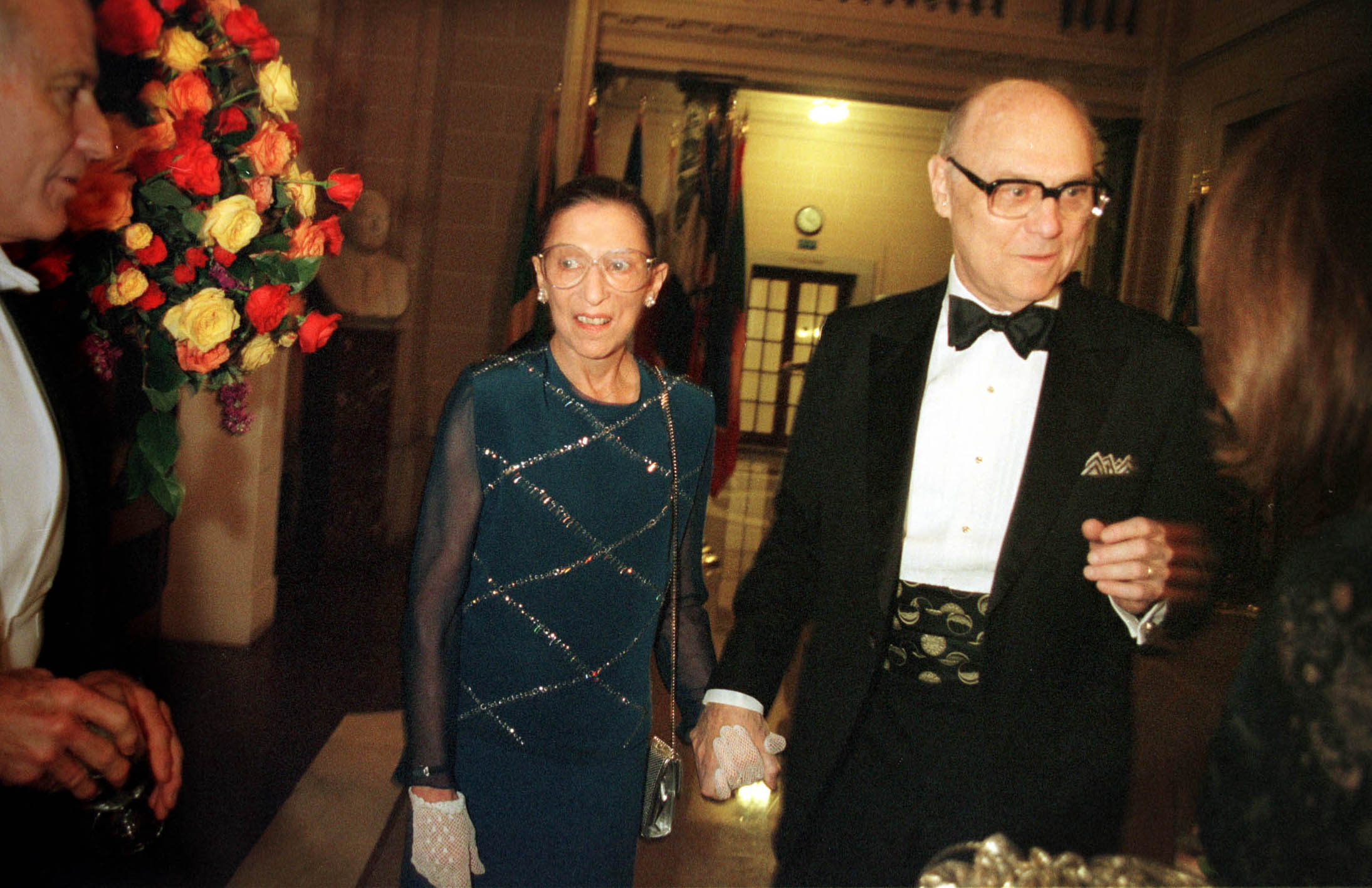 Supreme Court Justice Ruth Bader Ginsburg with her husband Martin Ginsburg on October 21 2000 in Washington D.C. | Source: Getty Images
As Bader looked into the drawers in Ginsburg's hospital room to check if they had left anything behind, she found a yellow pad with a letter for her from her beloved husband. It read:
"My dearest Ruth, you are the only person I have loved in my life - setting aside a bit, parents and kids and their kids - and I have admired and loved you almost since the day we first met at Cornell some 56 years ago."
On June 27, 2010, Ginsburg passed on at his home in Washington. On the day after he died, his wife had to appear in court for a hearing. She shared that her decision to show up was informed by an experience she had had years back.
Supreme Court Justice Ruth Bader Ginsburg on September 29, 2009 in Washington D.C | Source: Getty Images
Bader disclosed that she had undergone pancreatic cancer surgery a long while back. As she was still recovering, she shared her fears about sitting on the bench with her husband, but Ginsburg had encouraged her to do it anyway. She sat still for two hours because of the strength her husband gave her.
And so, going by that, Bader, who had an important announcement to make at work a day after her husband died, decided that she would do it herself because that is what her husband wanted.
Bader continued making headlines long after, but in 2020, she passed on from pancreatic cancer. Today, the world remembers her for her incredible journey to becoming the second woman to ever serve on The Supreme Court. Her story is retold in the film "On the Basis of Sex" with English actress Felicity Jones playing Bader.
Please fill in your e-mail so we can share with you our top stories!
The information in this article is not intended or implied to be a substitute for professional medical advice, diagnosis or treatment. All content, including text, and images contained on news.AmoMama.com, or available through news.AmoMama.com is for general information purposes only. news.AmoMama.com does not take responsibility for any action taken as a result of reading this article. Before undertaking any course of treatment please consult with your healthcare provider.