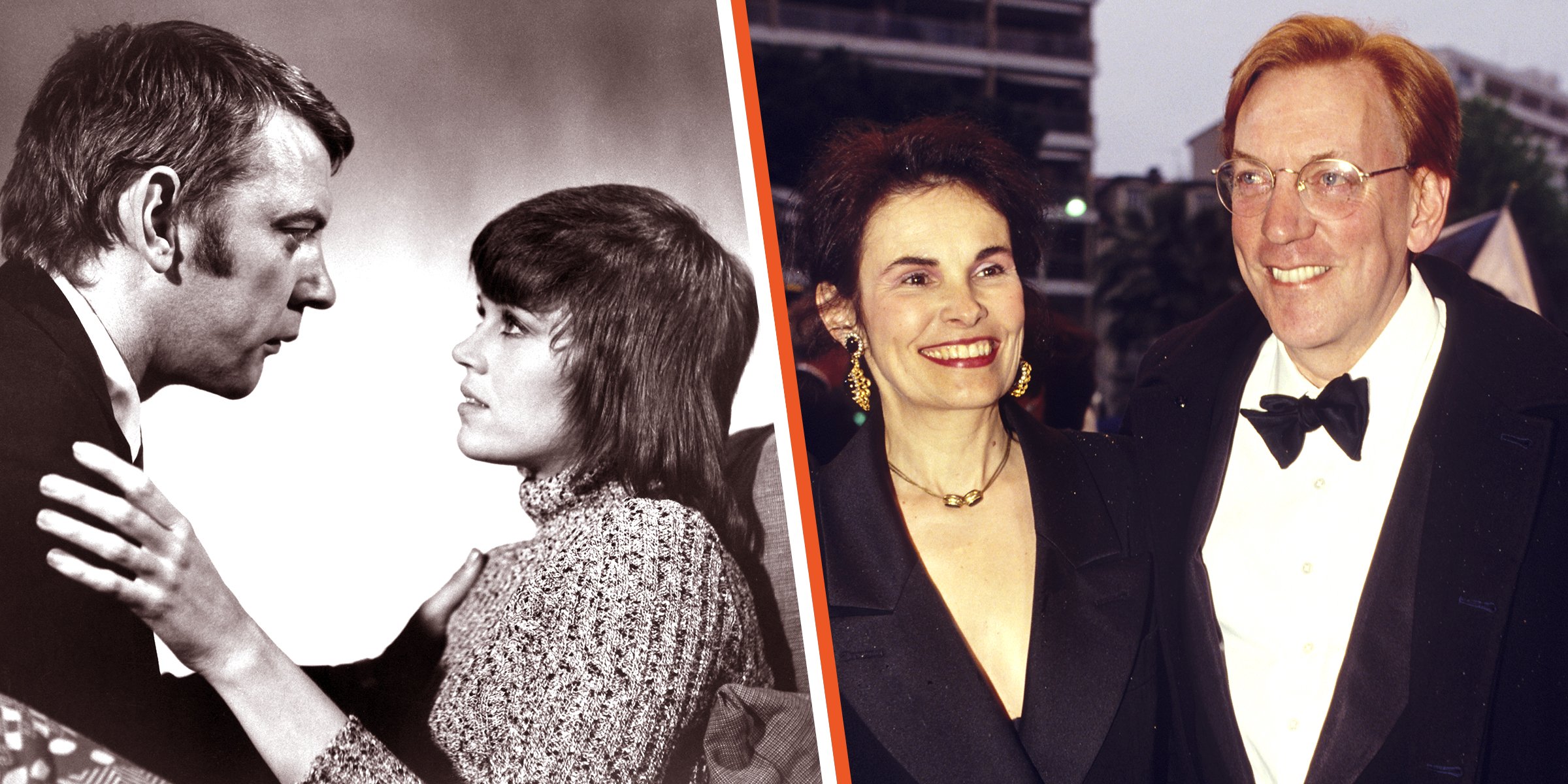 Getty Images
Donald Sutherland's Split with Jane Fonda 'Eviscerated' Him — He Later Fell for Wife of 49 Years
After being married and divorced twice, Donald Sutherland is finally enjoying marital bliss with his wife of 49 years. Continue reading to learn about the actor's relationships before his long-term marriage.
Donald Sutherland has enjoyed a stellar career in the movie industry, spanning over six decades. He is one of the most diverse Hollywood actors and is most famous for appearing in productions like "Space Cowboys," "Cold Mountain," "The Italian Job," and many others.
The star was at the peak of his career in the '70s, starring as Captain Benjamin Franklin Pierce in the 1970 film "M*A*S*H." Not only was Sutherland a cinematic icon, but he was also considered a sex symbol at the time.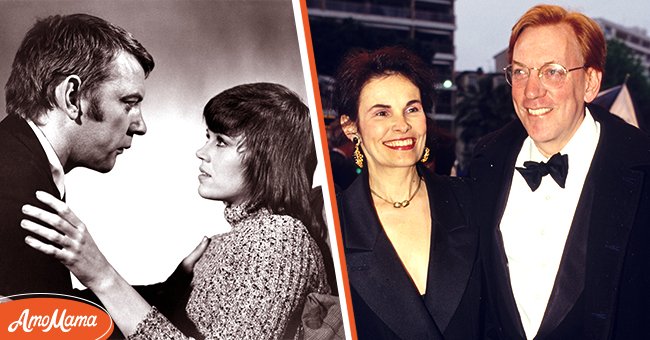 [Left] Actor Donald Sutherland and American actress Jane Fonda on the set of 1971 movie, Klute; [Right] Picture of Donald Sutherland and Francine Racette | Source: Getty Images
Even to this day, his significant white hair and beard bestow a dignified air and a captivating charm. A favorite of the ladies, the actor was romantically involved with many women, including Jane Fonda.
At the time, Sutherland thought his romance with Fonda would lead to a happy ending, but it ended worse than he expected.
However, today, the actor is happily married to his wife of 49 years, Francine Racette. Here are more details about Sutherland's romantic involvements.
UNSUCCESSFUL EARLY MARRIAGES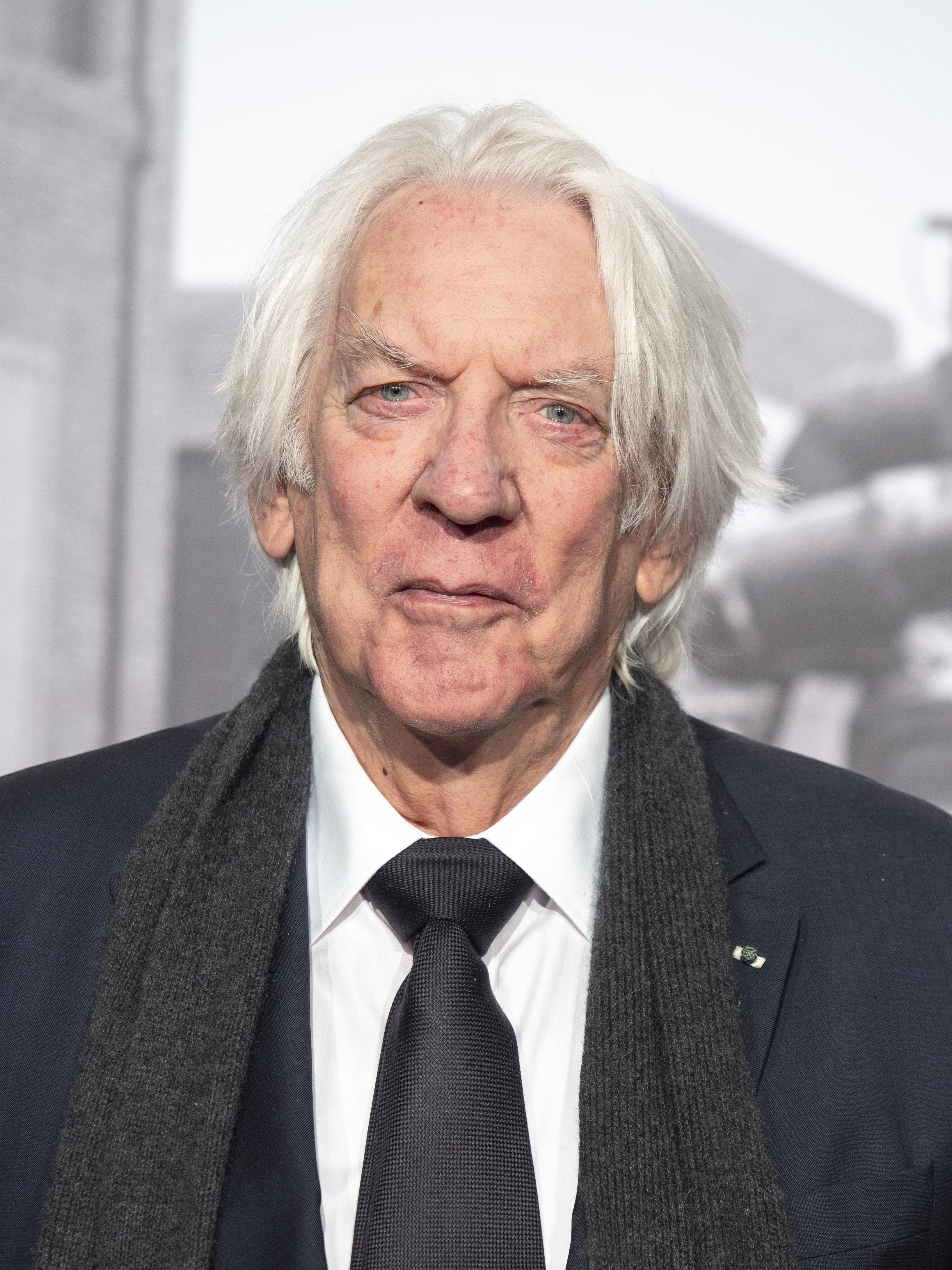 Donald Sutherland attends the Opening Ceremony of the 11th Film Festival Lumiere on October 12, 2019 in Lyon, France | Source: Getty Images
In the entirety of his lifetime, Sutherland has been married thrice. His first marriage was to Lois Hardwick. A child star, Hardwick is known for featuring in ten "Alice Comedies" films and the "Buster Brown" series. According to The Guardian, she first met Sutherland when the latter was in university.
They dated for a while before tying the knot in 1959. Unfortunately, the marriage was destined to crumble, and after a few years, the former couple divorced in 1966 without having any kids. Two years after the split, Hardwick passed away.
Picture of actor Donald Sutherland, with his first wife, actor Shirley Douglas, circa 1968 | Source: Getty Images
After Sutherland and Hardwick's marriage unraveled, the actor met Shirley Douglas, the daughter of Tommy Douglas, a socialist politician who was the architect of Canada's welfare state.
Like her ex-husband, Douglas was no stranger to the spotlight. She was an actress and appeared in films like "Kubrick's Lolita," "Dead Ringers," "Wind at My Back," and "Dancing."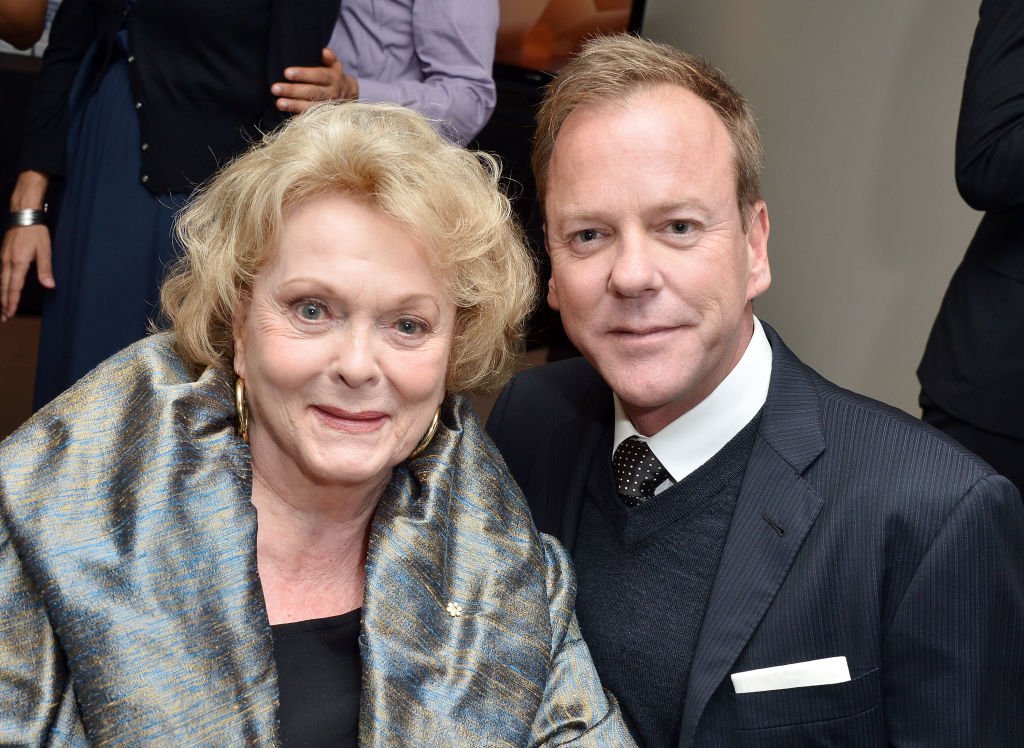 Kiefer Sutherland and Shirley Douglas attend "The Reluctant Fundamentalist" premiere during the 2012 Toronto International Film Festival on September 8, 2012 in Toronto, Canada | Source: Getty Images
She walked down the aisle with Sutherland in 1966 and welcomed twins Rachel and Keifer. Unfortunately, the duo's marriage was short-lived and ended four years later in 1970. Douglas died at 86, five decades later in 2020.
Before Douglas and Sutherland officially divorced, the actor had already begun an affair with Actress, Jane Fonda. Continue reading to know more about Sutherland and Fonda's fiery love affair.
SUTHERLAND'S FIERY LOVE AFFAIR WITH FONDA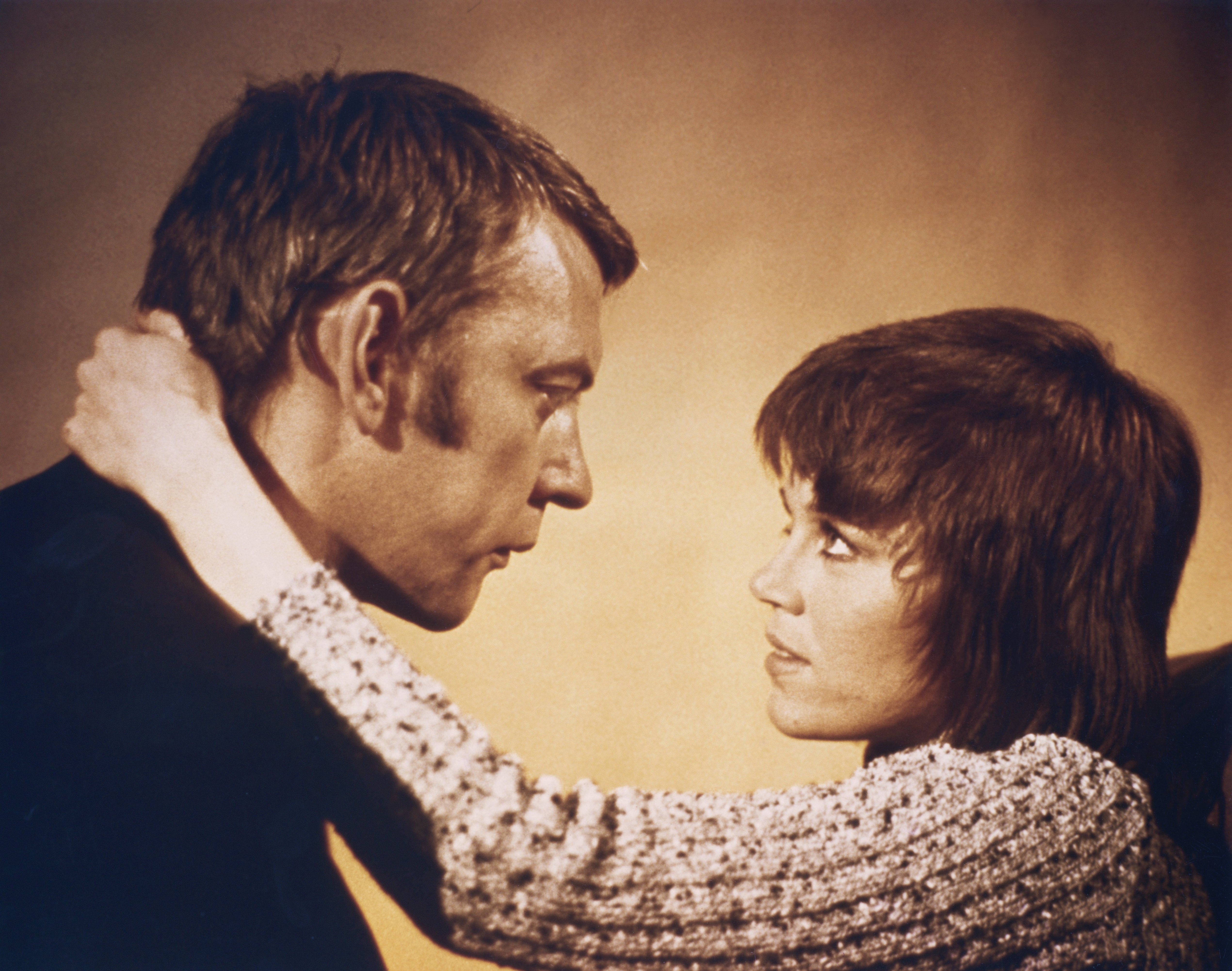 Actor Donald Sutherland and American actress Jane Fonda on the set of 1971 movie, Klute | Source: Getty Images
Fonda and Sutherland first encountered each other at a Black Panther benefit in Los Angeles. However, they only started seeing each other romantically when they were cast in the movie "Klute" in 1970.
Initially, Sutherland thought the infamous romance would be his happy ending, but the relationship ended after three years. Speaking of their breakup, Sutherland told The Guardian:
"We got together shortly before we made Klute, and then we were together until the relationship exploded and fell apart in Tokyo. And it broke my heart. I was eviscerated. I was so sad. It was an excellent relationship right up to the point we lived together."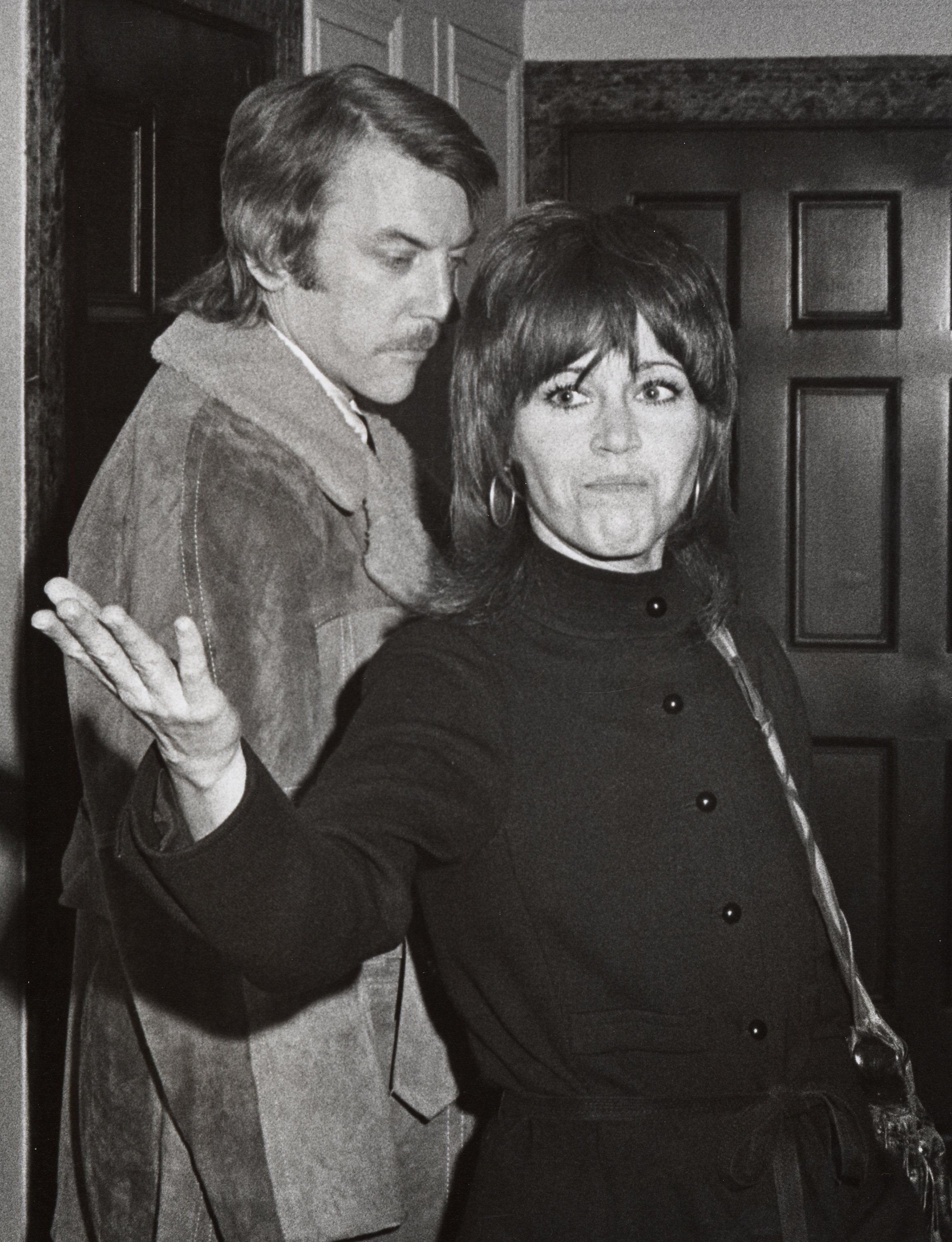 Donald Sutherland at the premiere of "Space Cowboys" on August 1, 2000 in Westwood, California | Source: Getty Images
During a 2006 interview with Rolling Stone, Sutherland's son, Keifer, also shared his thoughts on his father's relationship with Fonda while married to Douglas.
He revealed that he and the actor never discussed the affair. However, Keifer confessed that it was hard to judge his dad because he might have genuinely fallen in love with Fonda.
HAPPY LIFE WITH "EXTRAORDINARY" WIFE OF 49 YEARS
Francine Racette and actor Donald Sutherland arrive to the premiere of Lionsgate's "The Hunger Games" at Nokia Theatre L.A. Live on March 12, 2012 in Los Angeles, California | Source: Getty Images
After his relationship with Fonda ended, Sutherland did not stay too long before meeting and marrying Francine Racette in 1972.
The third time was the charm for the actor, as the pair are still married to date. Speaking about marrying the right woman, Sutherland confessed:
"I don't know… It's not something that you can communicate. She's an extraordinary woman."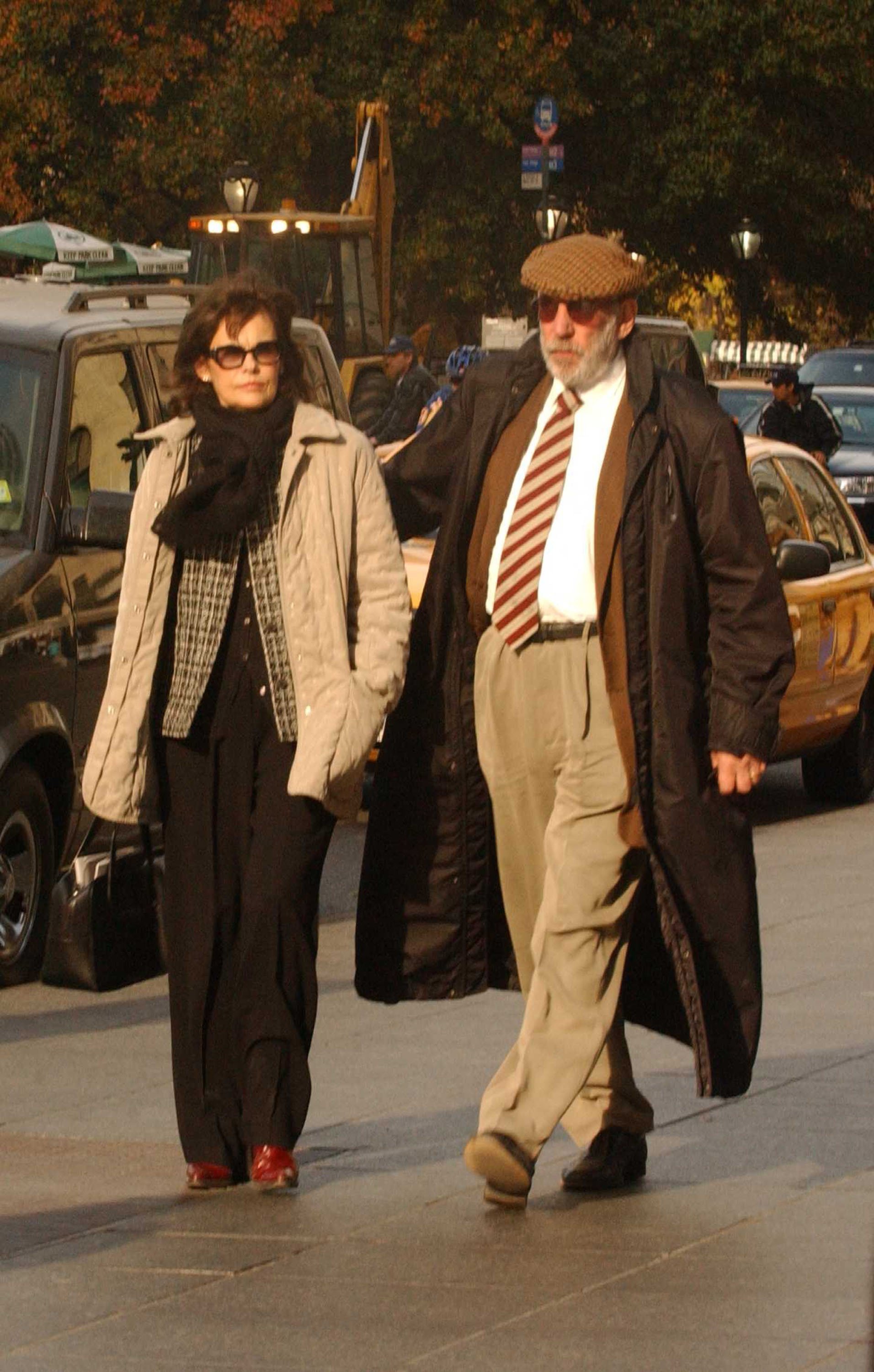 Donald Sutherland walks with his wife, Francine Racette in New York City on November 15, 2002 | Source: Getty Images
On the other hand, Racette also explained that Sutherland makes her laugh every day. Constant laughter is only one secret to the couple's long-lasting marriage.
During an interview, the actor was asked what the secret of his marriage was, and he jokingly replied, "Answer the phone."
MEET THE LOVE OF HIS LIFE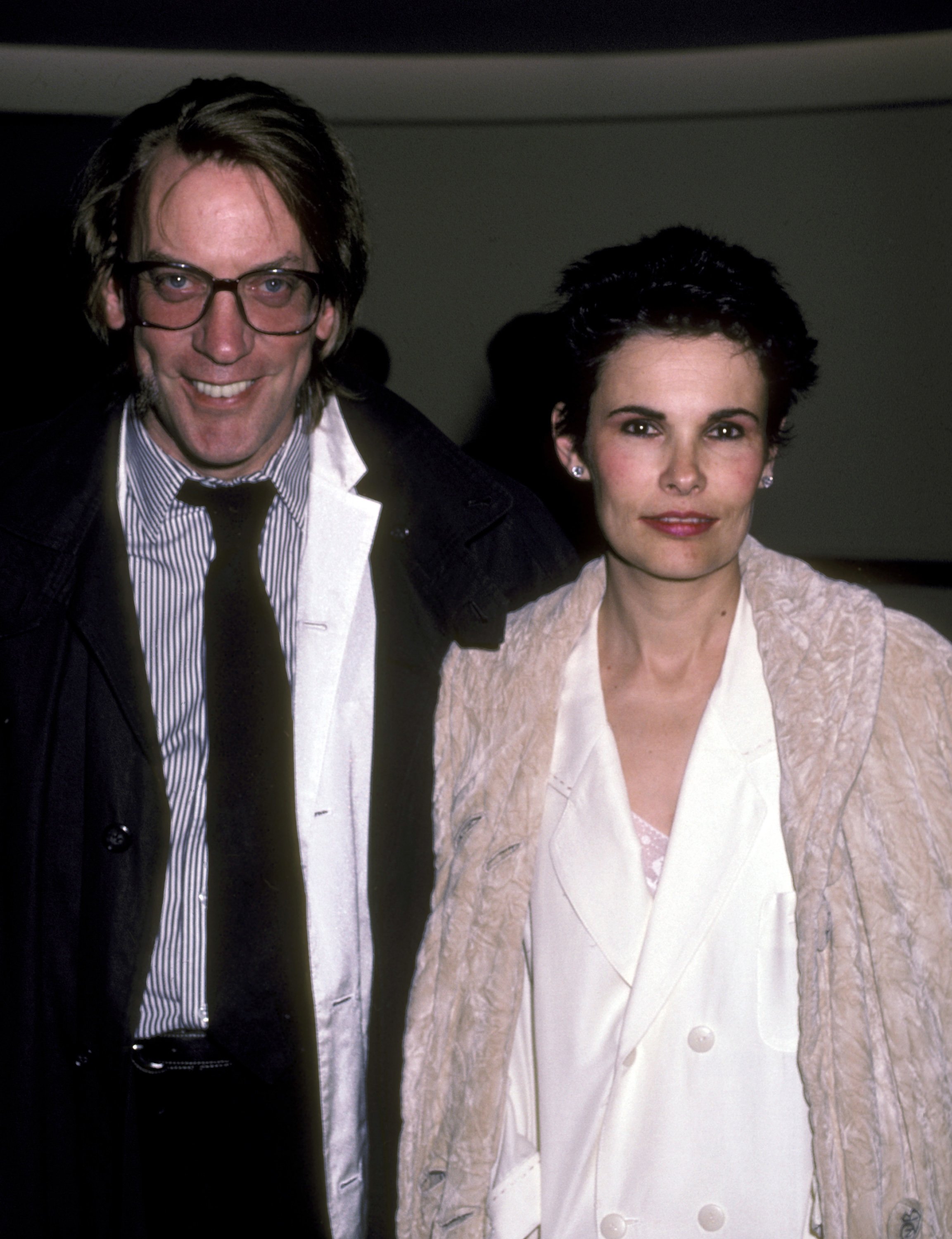 Donald Sutherland and wife Francine Racette during 10th Anniversary Celebration of American Film Magazine on May 23, 1985 at Home Box Office NY Headquarters in New York City, New York | Source: Getty Images
Over the years, Sutherland has been open about his love for Racette and how much she inspires him in whatever he does. He once relayed:
"I live with my wife. My inspiration, my judgment, it comes from my wife. She has…truth. And it's humbling. And so it's necessary that whatever ertions I make meet with her… not necessarily her approval, but at least her acceptance."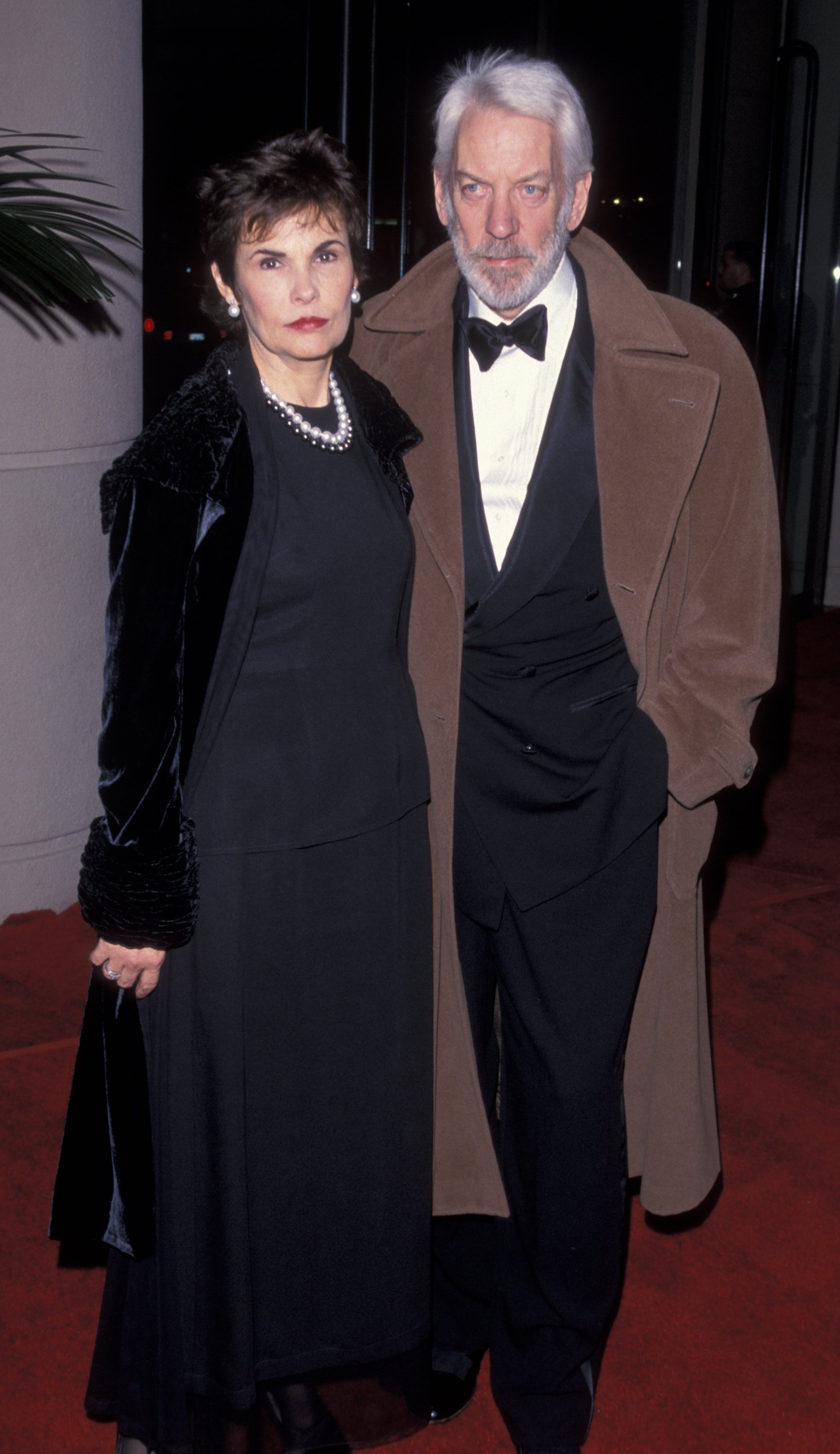 Francine Racette and Donald Sutherland attend 27th Annual American Film Institute Lifetime Achievement Awards on February 18, 1999 at the Beverly Hilton Hotel in Beverly Hills, California | Source: Getty Images
Racette is not only an inspiration to her husband, but she also inspires her fans. Born September 23, 1947, in Québec, Canada, Racette is an actress.
She has featured in movies like "Goodbye Children," "Lumiere," "The Disappearance," and "Four Flies on Grey."
PARENTHOOD WITH FIVE CHILDREN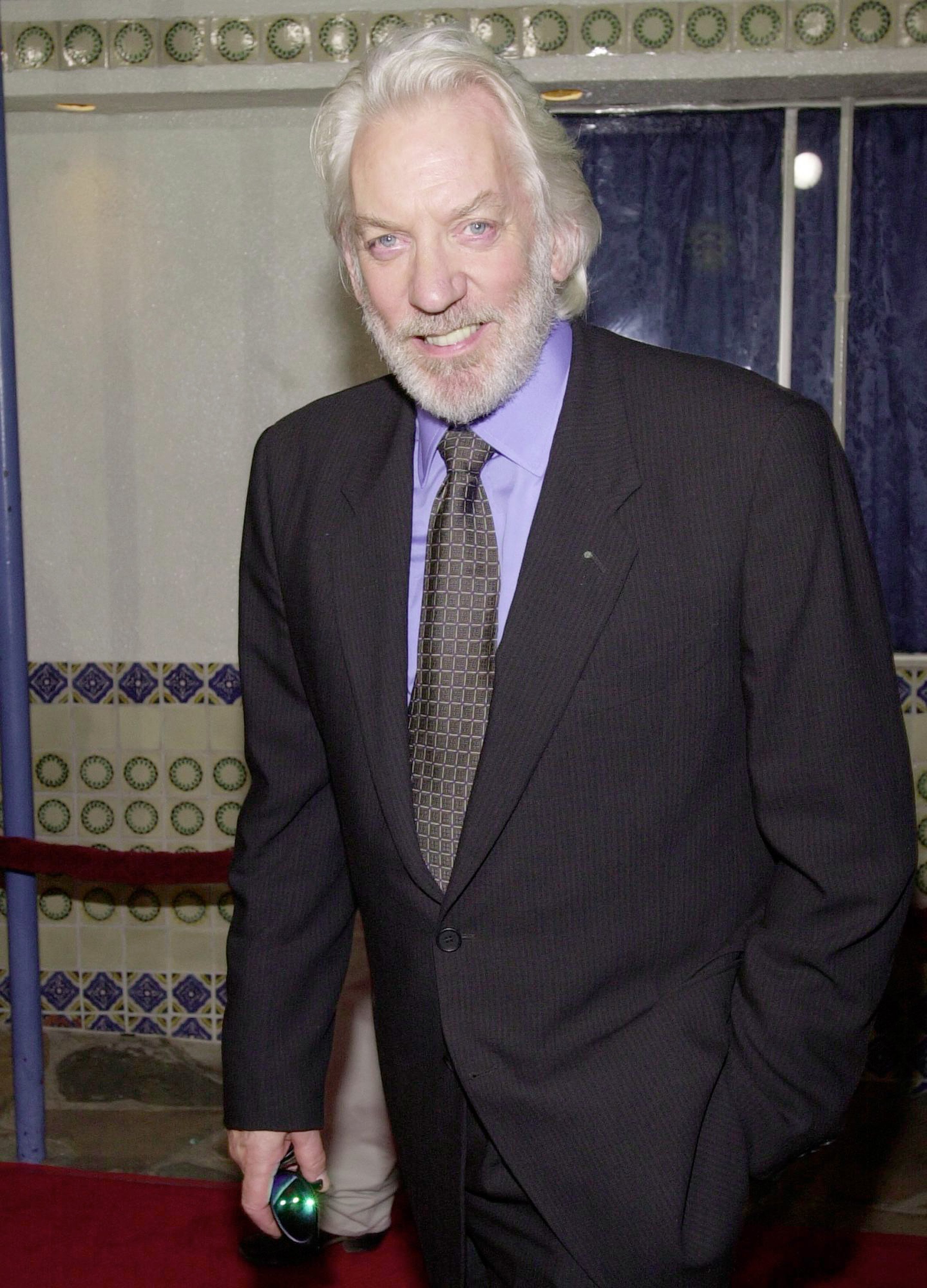 Donald Sutherland at the premiere of "Space Cowboys" on August 1, 2000 in Westwood, California | Source: Getty Images
Time and again, Sutherland and Bacette have spoken candidly about parenthood. Once, the actor revealed that he didn't think he was a good father during an interaction, but his wife was a wonderful mother. Sutherland said:
"I'm not a bad father, but I'm not a terribly good father."
However, Bacette admitted that her husband is a good father. The couple share three children, Rossif, named after French Director Frédéric Rossif; Roeg, named after the Director, Nicholas Roeg; and Angus Redford, named after Redford.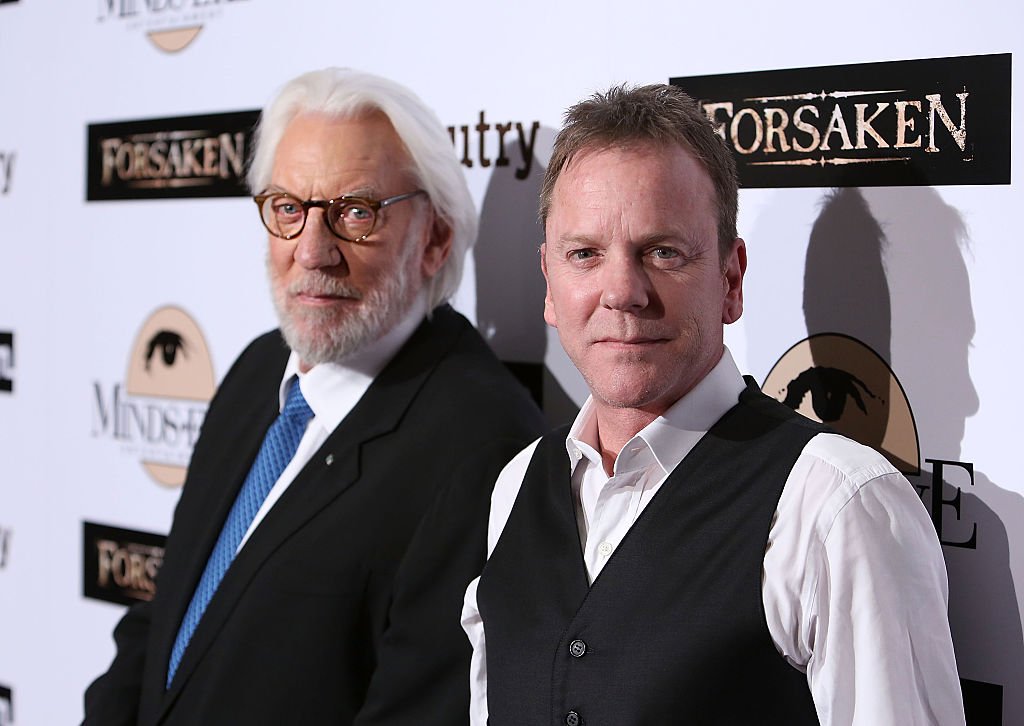 Donald Sutherland and Kiefer Sutherland attend the Momentum Pictures' screening of "Forsaken" at the Autry Museum of the American West on February 16, 2016 in Los Angeles, California | Source: Getty Images
Also, Sutherland named his son Keifer after Warren Keifer, who directed "Castle of the Living dead." The pair share a great relationship and have worked together on "Forsaken." Speaking about working with his dad, Keifer explained:
"Working with him is something I have wanted to do for 30 years."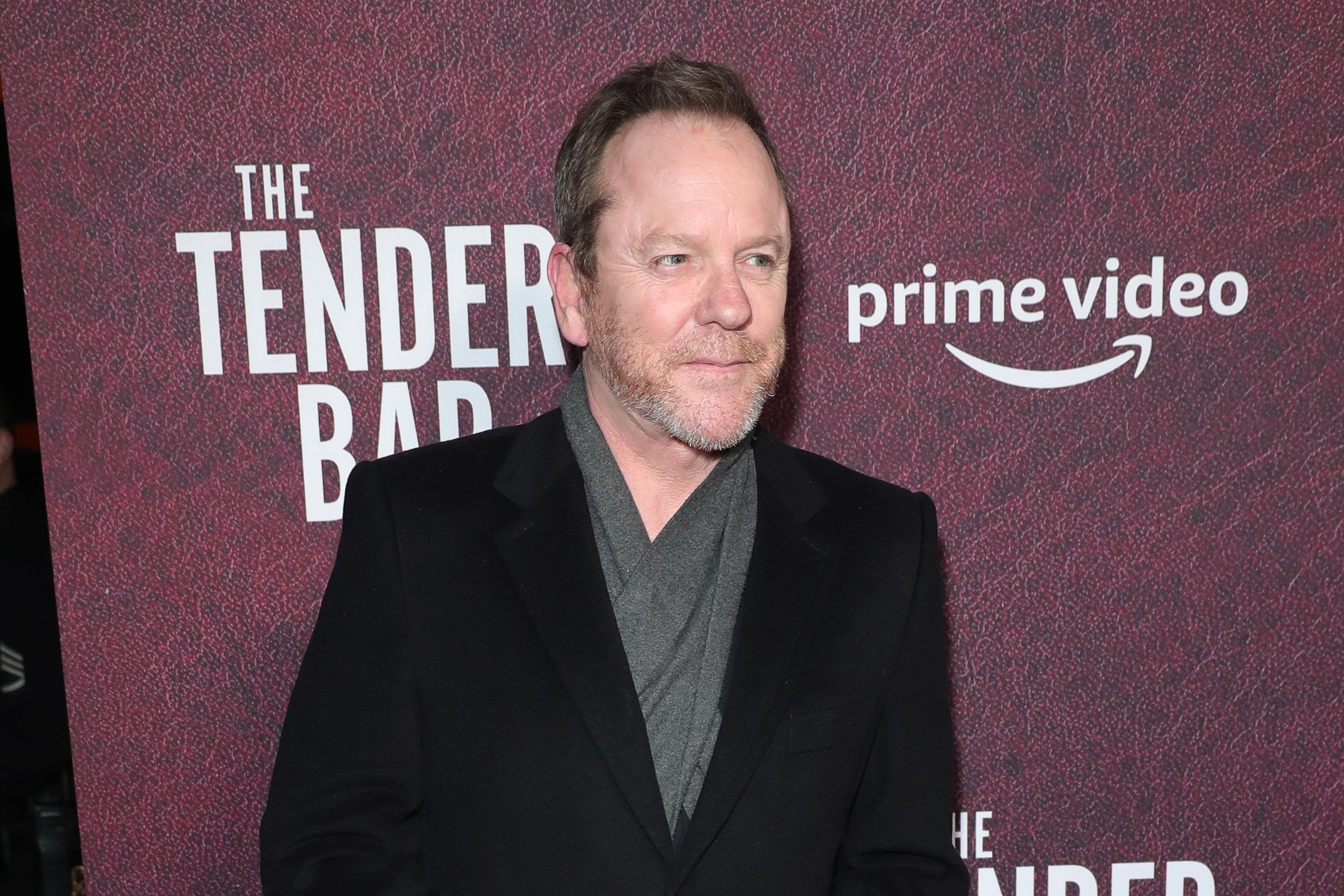 Kiefer Sutherland attends Los Angeles Premiere of Amazon Studio's "The Tender Bar" at TCL Chinese Theatre on December 12, 2021 in Hollywood, California | Source: Getty Images
Although Keifer's mom raised him, it is great to see him and his father relate better. The father and son had a strained relationship after the actor and Douglas' divorce. Hopefully, their bond will last a lifetime.
Please fill in your e-mail so we can share with you our top stories!