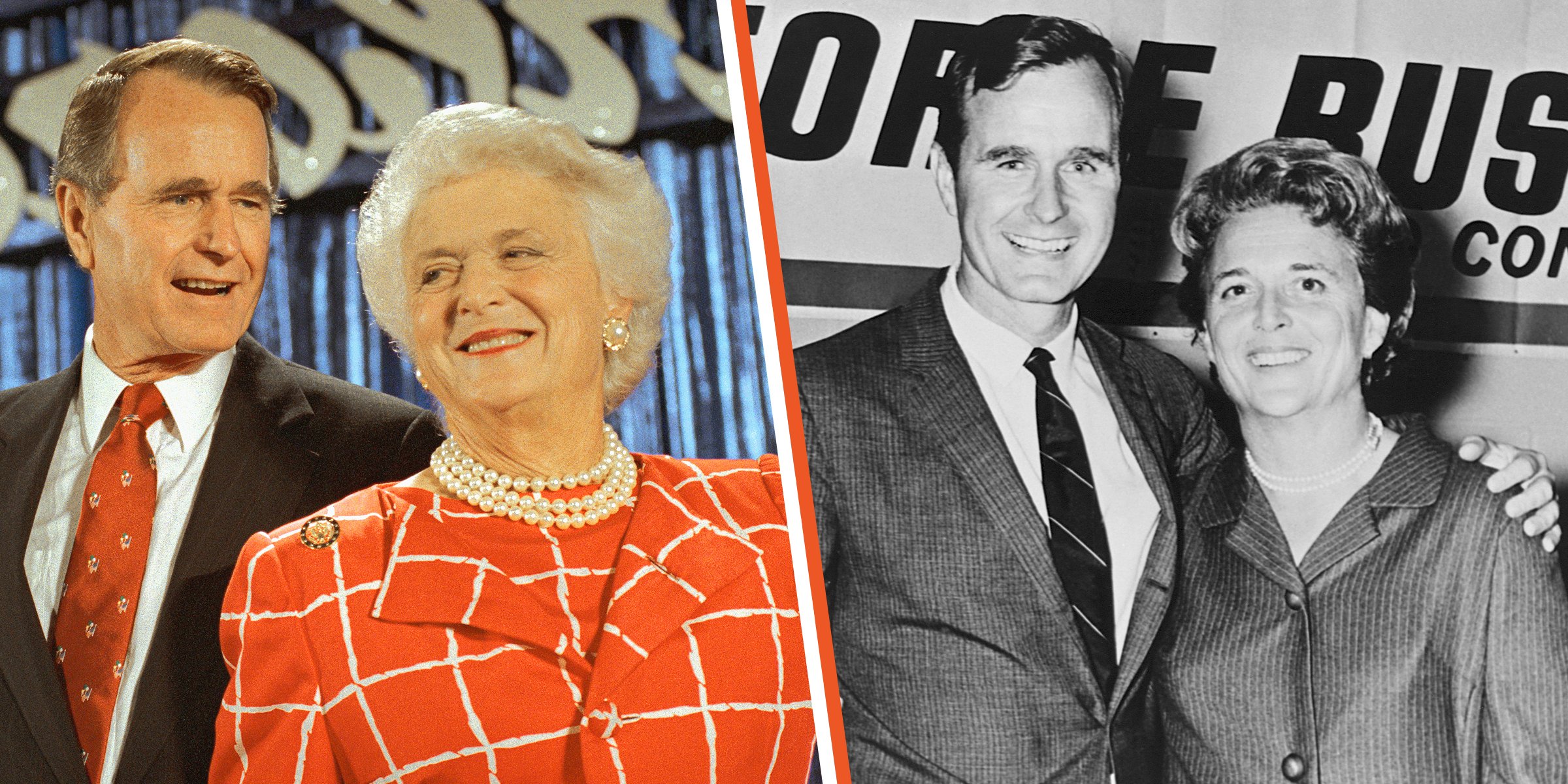 Getty Images
George H W Bush's Wife of 76 Years 'Married the First Man' She Ever Kissed — Inside Their Marriage
When Barbara Pierce met her future husband, George H.W. Bush, they were both teenagers, and he became the first boy she ever got intimate with. The couple ended up marrying and stayed together until death.
George H.W. Bush was 17 when he met Barbara Pierce, only 16. The pair met in 1941 during a Christmas school dance, and in a past interview, Pierce confessed that she practically fell for him at first sight.
She revealed that she opened up to her mother about George when she got home. Pierce jokingly noted how her mother should've been part of the Central Intelligence Agency (CIA) because of her ability to dig up information on people.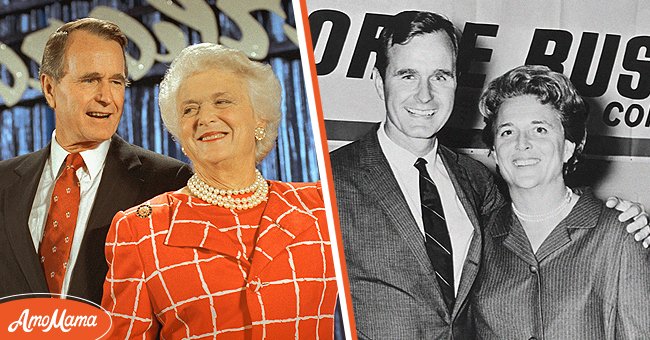 Vice President George Bush and Barbara Bush at a tribute to Mrs. Bush, on August 18, 1988, in New Orleans, Louisiana, and the couple at his 1966 election to the House of Representatives for Texas' 7th Congressional District in Houston. | Source: Bettmann & © CORBIS/Corbis/Getty Images
The teenager's mother knew everything about George by the following morning! Pierce also confessed something quite extraordinary about her relationship with George and what she used to tell their children, leading them to almost vomit; she said:
"I married the first man I ever kissed."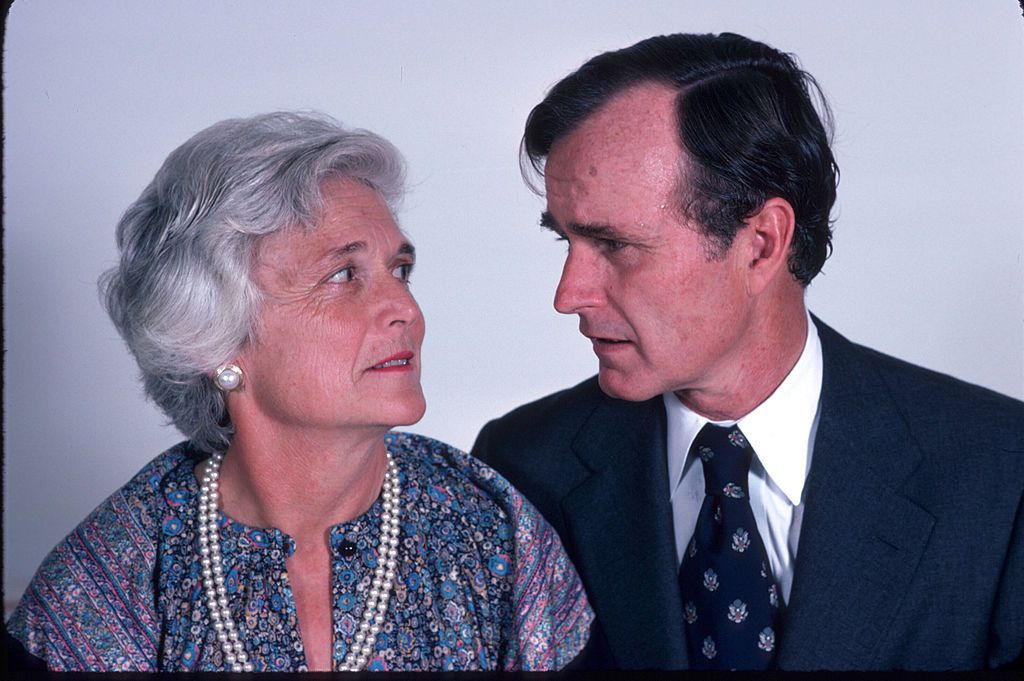 Barbara and George Bush on November 1, 1978, in Houston, Texas. | Source: Dirck Halstead/Liaison/Getty Images
Jenna Bush Hager, the future granddaughter of George and Pierce, described her grandparent's love story as "remarkable." Throughout their relationship, the couple wrote letters to each other, and in 1999 a collection of them was published.
In one of those notes, George confessed to Pierce that she'd given him joy that only a few men knew. He shared his love for her by sharing that he'd climbed the highest mountains, but that didn't hold a candle to him being her husband!
One of George's heartfelt letters to Pierce was published on Twitter. The letter was written by him on December 12, 1943, when he was serving as a Navy pilot while Pierce was his fiancée.
Later in life, during a "The Oprah Winfrey Show" episode, George read that letter aloud. In it, he declared his love for Pierce, whom he called "precious," before noting that he knew in his heart she loved him too, adding:
"How often have I thought about the immeasurable joy that will be ours someday. How lucky our children will be to have a mother like you. I still feel the same way."
Eight months into their relationship, George and Pierce had already met each other's families! The couple was so much in love and so sure that they got engaged in August 1943.
Three years after their first meeting, the pair tied the knot on January 6, 1945, four months after George was shot down over the Pacific. At the time, the Navy's youngest aviator was flying his Grumman Avenger torpedo bomber with the name "Barbara" on its wings.
BARBARA AND GEORGE'S TRAGIC LOSS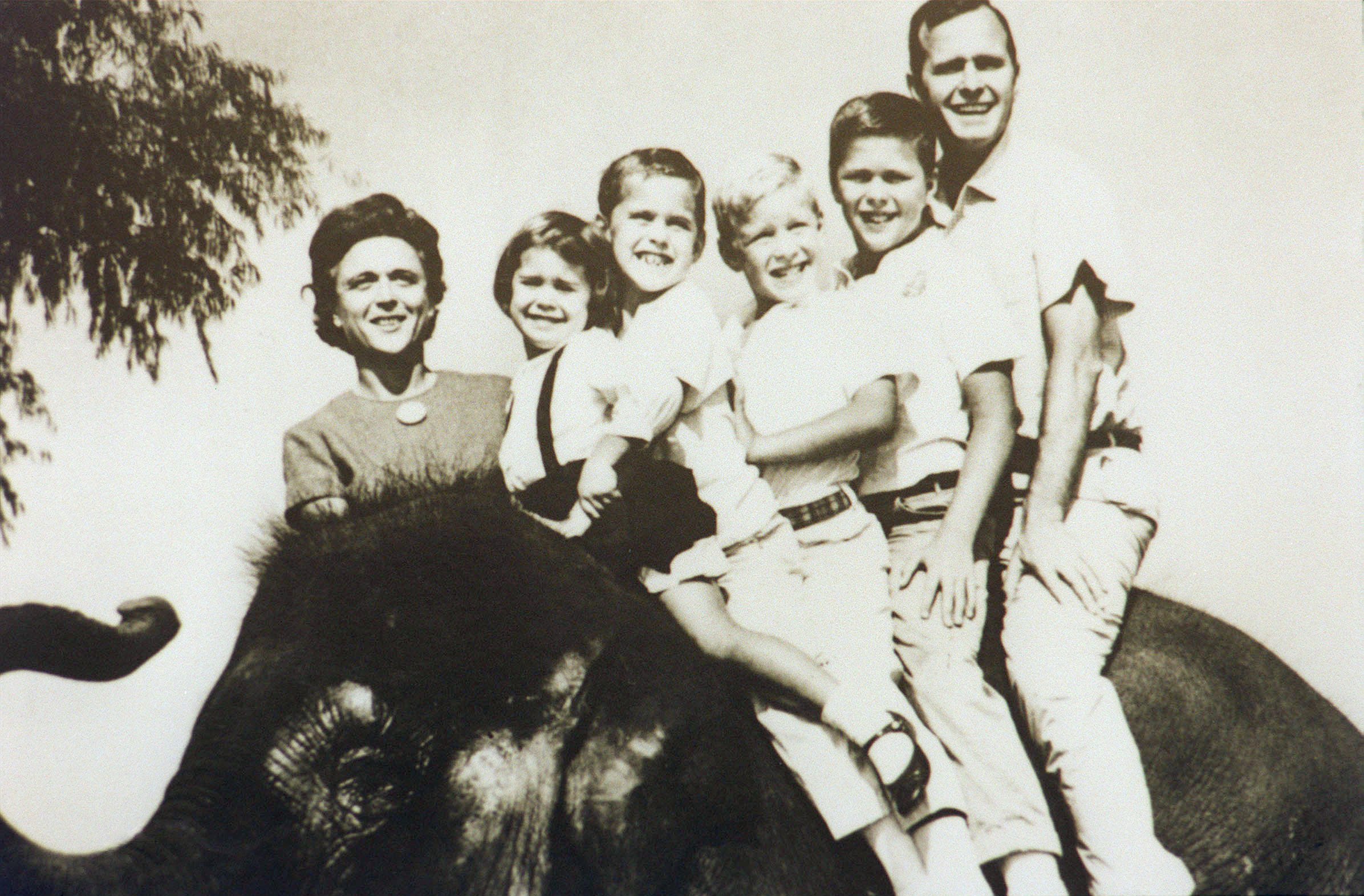 Barbara and George H.W. Bush and four of their children at the 1964 Republican convention. | Source: Robert Daemmrich Photography Inc/Sygma/Getty Images
In 1953, the couple's daughter, Pauline Robinson "Robin" Bush, then-3, complained that she felt tired. Seeing as this was out of character for the little girl, her mother took her for a check-up at a pediatrician.
The Bushes' only daughter was diagnosed with leukemia a few days later. Although Robin only mentioned feeling fatigued, the doctor's prescription was for her parents to take her home to die.
In her 1994 memoir, Barbara revealed that the doctor advised them to tell no one about their daughter's diagnosis and go home. The doctor said they should forget the child was sick, make her as comfortable as possible, and allow her to slip away.
The medical practitioner warned Barbara that the whole transition would happen quickly. Susan Page, USA Today reporter and author of Barbara's biography, got to speak to the focus of her book in 2017 about the loss of her child.
Page noted how the tragedy had been a "very powerful" one in the Bushes' lives. She shared how no mother would be able to forget their child, and Robin remained a "real" presence in her parents' lives.
Robin's parents flew to New York a day after her diagnosis and moved in with George's grandparents. His uncle worked at a leading cancer center when the disease was taboo and barely understood; however, their efforts were pointless, and they lost Robin.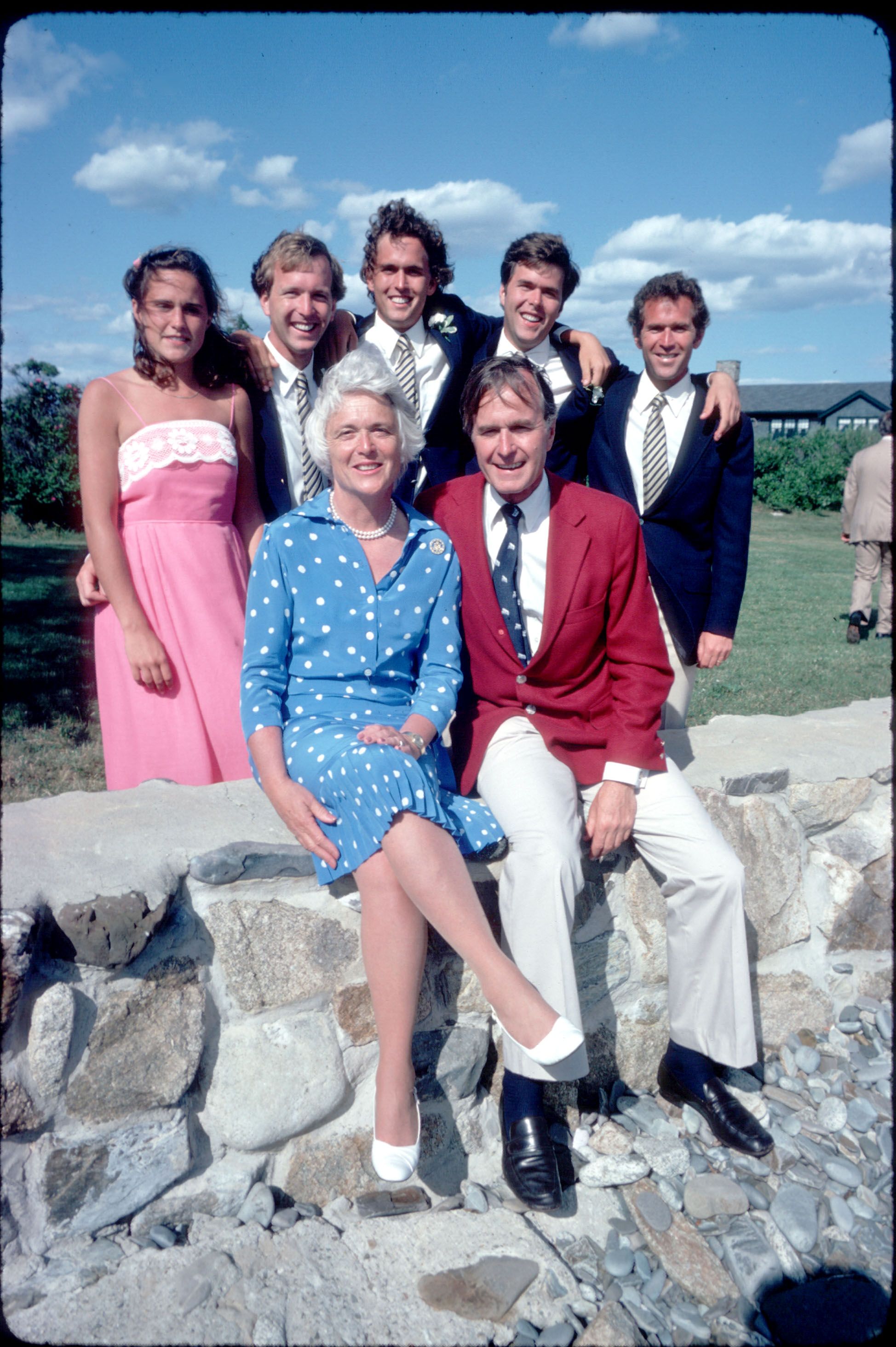 George and Barbara Bush pose with their children Dorothy, Neil, Marvin, Jeb, and George on July 1, 1980, in Kennebunkport, Maine. | Source: Dirck Halstead/Liaison/Getty Images
Robin wasn't the couple's only child as they had two sons, George W. and Jeb. They ended up with six children total, 17 grandchildren, and three step-grandchildren, with some choosing to go into politics like George, who became the US president.
George W. followed in his father's footsteps by becoming the US president, while Jeb became Florida's governor at one point. Other famous Bush family members include grandson George P. Bush, Bush Hager, and Lauren Bush Lauren.
TRIALS AND TRIBULATIONS IN THE BUSH MARRIAGE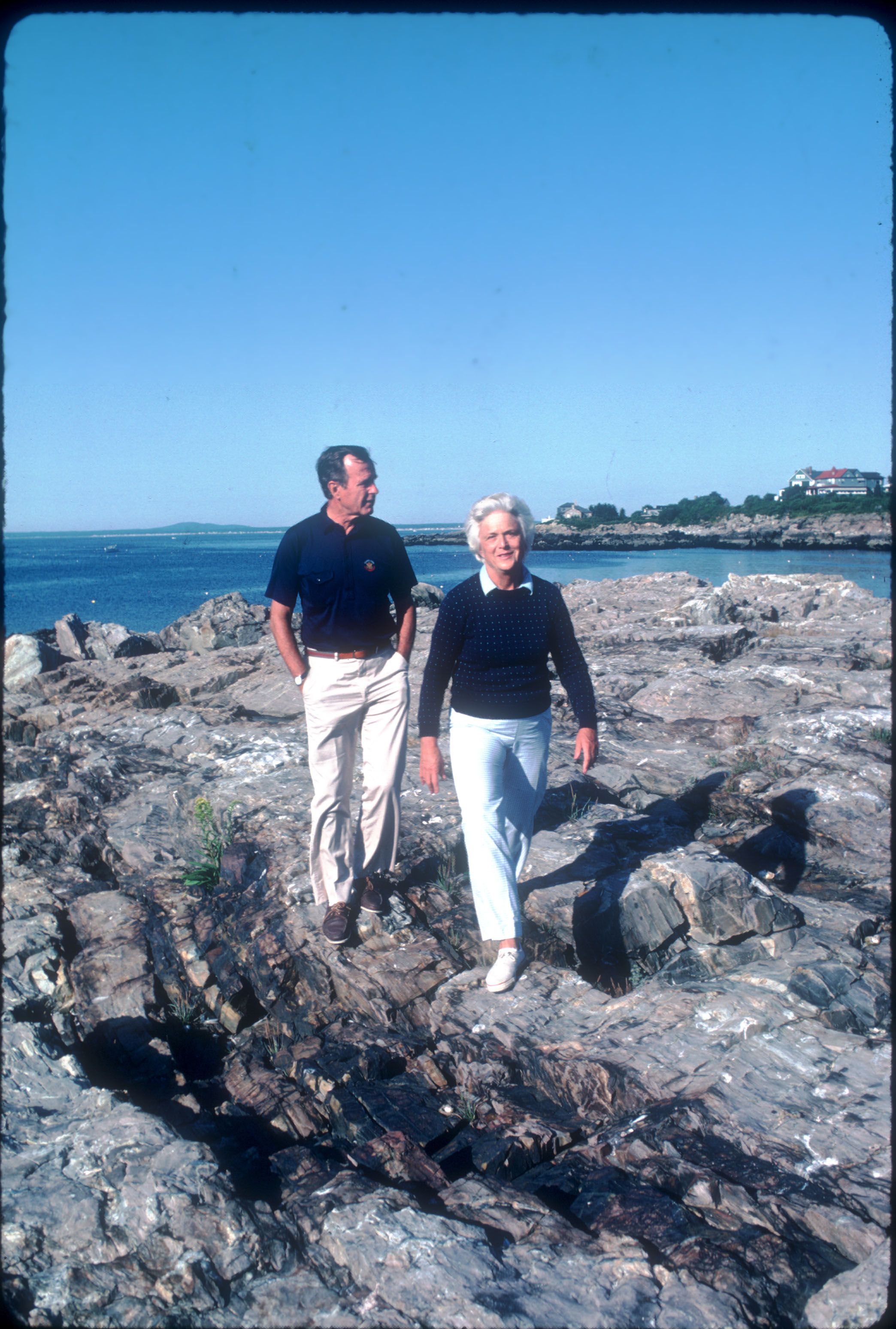 Vice President George Bush and Barbara Bush in August 1983 on vacation in Kennebunkport, ME. | Source: Cynthia Johnson/Liaison/Getty Images
Before George became president in the 1970s, he served as the director of the CIA. During that period, his wife suffered from depression, and every night, he would hold her in his arms as she wept and tried to explain her feelings.
Barbara confessed that she wondered why he hadn't left her during that difficult time. Jeb once attested to his parent's love for one another by revealing how the couple could be sitting at the dinner table and have a loving exchange.
He said Barbara and George would look at each other, and at that moment, they would be having a conversation without using words! Jeb explained that it was what happened when you're, and his mother finished his sentence by stating: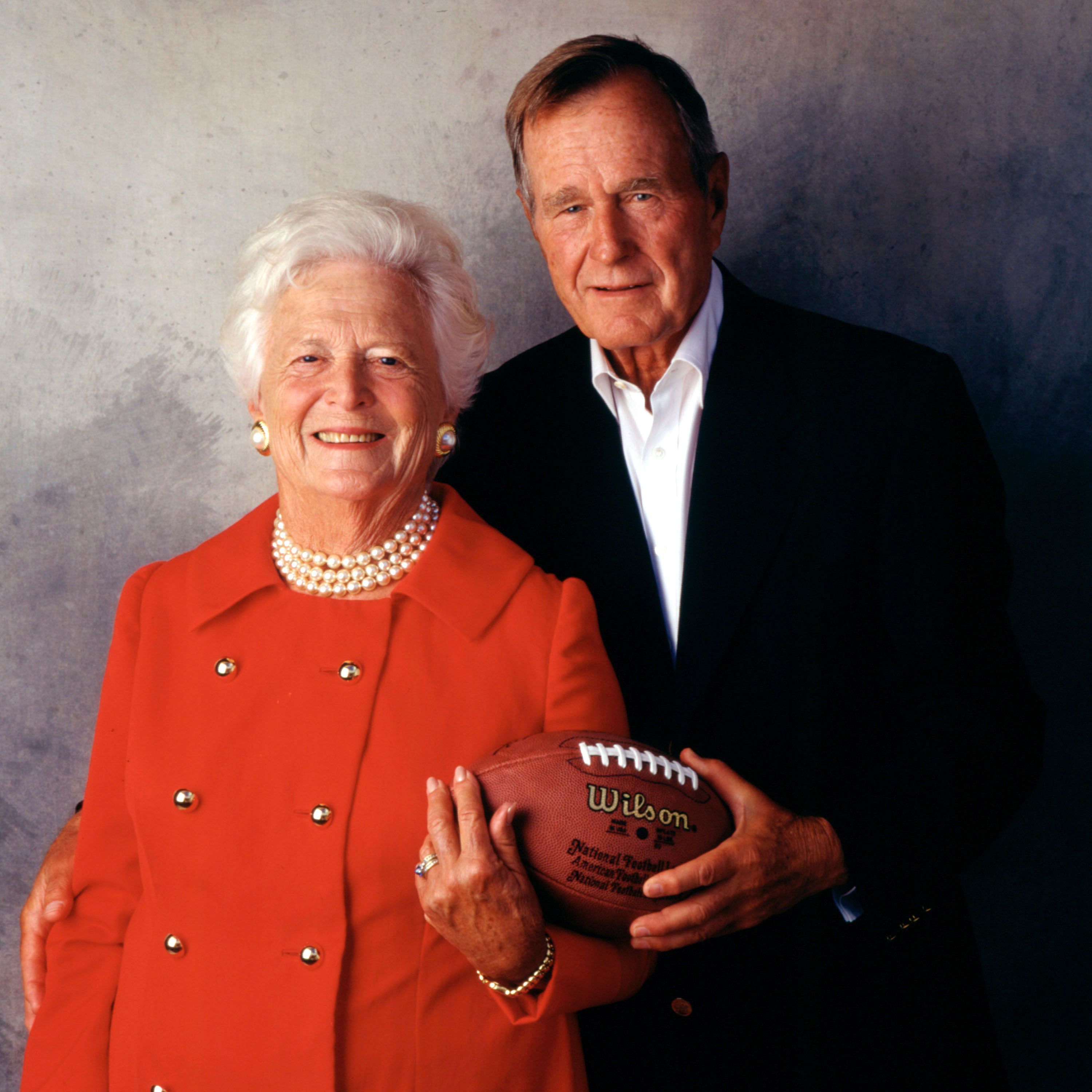 Former President George Bush and Barbara Bush photographed on August 23, 2001, in Houston, Texas. | Source: Pam Francis/Getty Images
During their long-standing marriage, Barabara was there to watch her husband's back. She was also the one who kept him grounded as they tackled different aspects of their union and the challenges they confronted.
The statement concluded with George [H.W. Bush] asking the public to cross the Bush family off their worry lists.
The former first lady of the US was even there for him when their journey together ended. She continued loving him and held his hand; she sadly passed away before he did.
LOSING THE LOVE OF HIS LIFE
On April 17, 2018, Barbara left her husband at 92. The former first lady passed away at her home in Texas, and in his first public statement since her passing, George had a message through Jim McGrath, his spokesman, saying:
"I always knew Barbara was the most beloved woman in the world, and in fact I used to tease her that I had a complex about that fact."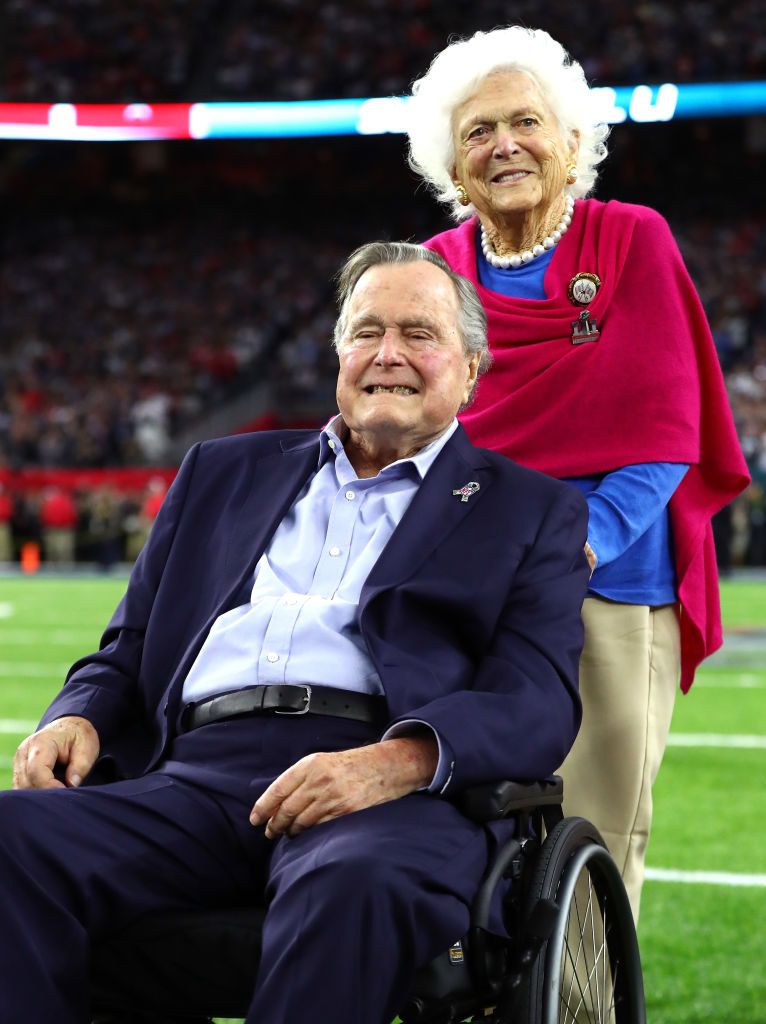 President George H.W. Bush and Barbara Bush at the Super Bowl 51 on February 5, 2017, in Houston, Texas. | Source: Al Bello/Getty Images
The former US president also confessed that the friendship and love they were receiving directed at Barbara was uplifting them. He revealed that his family believed she was in heaven and that life would go on as she expected.
The statement concluded with George asking the public to cross the Bush family off their worry lists. According to a statement released by Barabara's family, she was very ill when she died and had chosen not to take further medication for her ailment.
Instead, she wanted to focus on "comfort care" as she worried more about others than herself. Bush Hager's grandmother spent her last days surrounded by her family and appreciated the kind messages and prayers she was receiving.
Please fill in your e-mail so we can share with you our top stories!