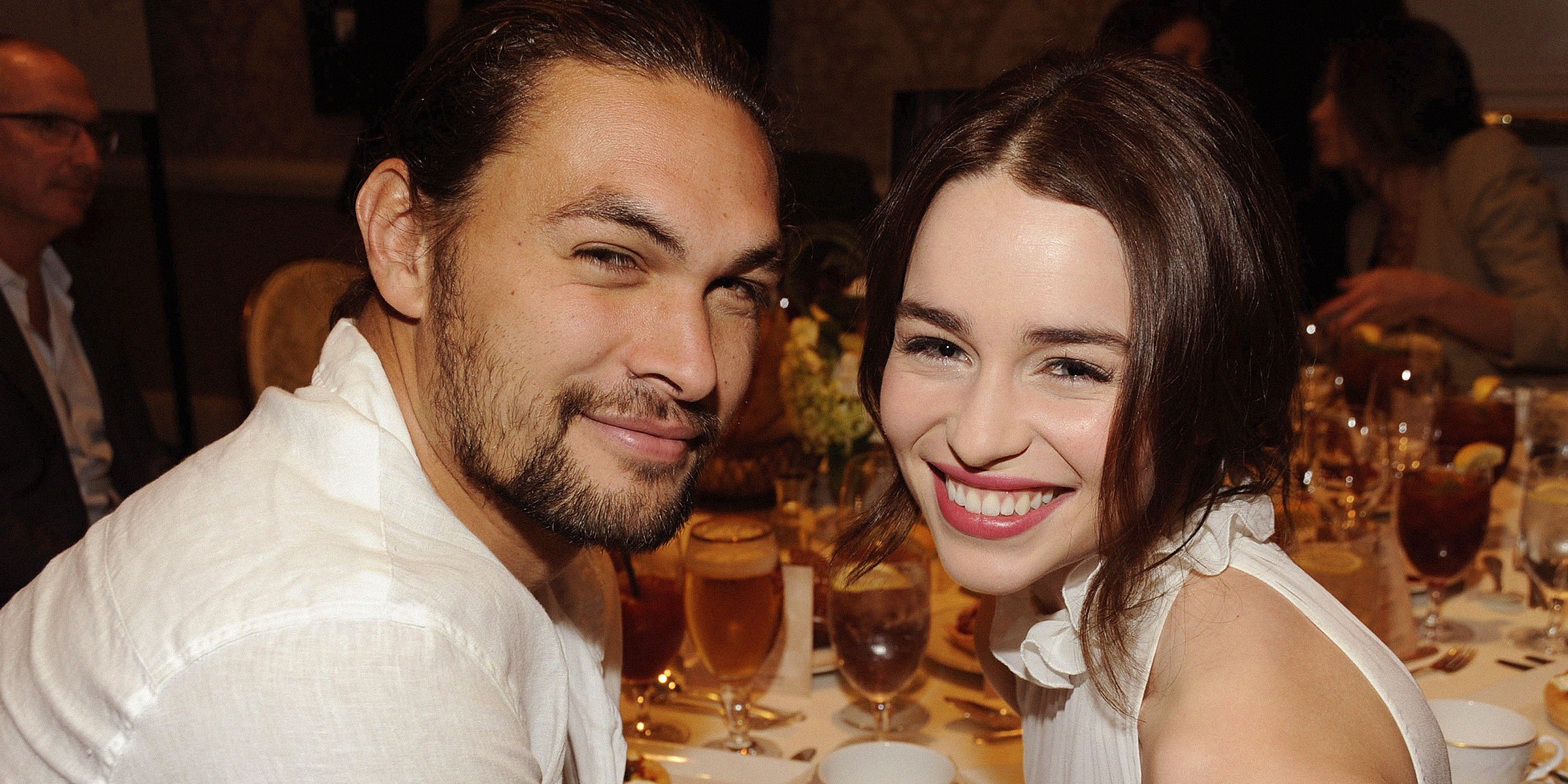 Getty Images
Did Anything Happen between Jason Momoa and Emilia Clarke?

Jason Momoa and Emilia Clarke are some of Hollywood's most famous stars. The pair seems to have a close bond, leading many fans to think they are romantically involved. But are they?
The speculation that Jason Momoa and Emilia Clarke are dating started after his split from his wife, Lisa Bonet.
Momoa and his ex-wife Bonet were married for five years before they announced that they were getting divorced in early 2022.
The former couple had been together for 16 years when they went their separate ways. Soon after their divorce, fans started asking if Emilia Clarke was the reason the pair's marriage ended.
Fans have shared various memes and comments about Momoa and Clarke on Twitter. One fan said that they were hoping that Momoa was okay after the split while also saying they're searching if Clarke is single.
Another fan asked themself why they are still looking through Momoa and Clarke's Instagram comments section. There were other reactions from fans, with another asking if the actors could start dating now.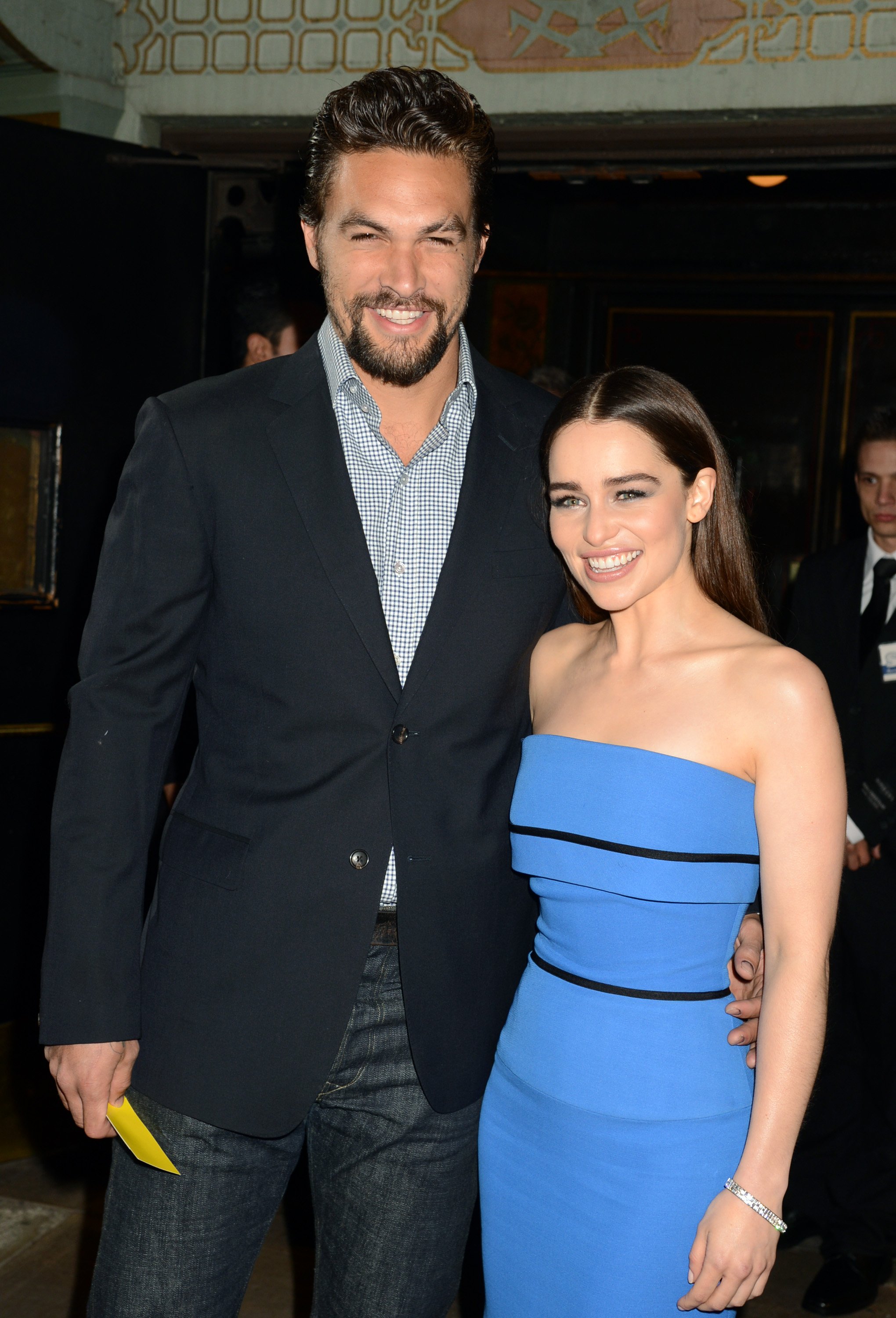 Jason Momoa and Emilia Clarke attend the HBO's "Game Of Thrones" Los Angeles Premiere at TCL Chinese Theatre on March 18, 2013 in Hollywood, California. | Source: Getty Images
One hilarious post said Clarke should go and comfort Momoa, with the comment bluntly stating, "Emilia Clarke go comfort Jason Momoa right now."
ARE JASON MOMOA AND EMILIA CLARKE DATING?
This question has been on many fans' minds for months now. But the simple answer is that the duo is not currently dating.
Jason Momoa and Emilia Clarke have known each other for over a decade now. The actors first met on the set of the first season of "Game of Thrones," where they played love interests in the popular HBO drama. Since the pair have continued to build a strong bond and have seemed to become inseparable.
The "Last Christmas" actress and Momoa have reunited numerous times over the past few years. It's interesting to know that each of their reunions becomes breaking news because they are close friends who are sincerely happy to see each other.
The pair seems to have a lovely friendship; in 2012, the two attended the AFI Awards in Beverly Hills and the season three premiere of "Game of Thrones" in 2013. The duo also stepped out together for the 2013 Emmy's after-party.
Two years later, in 2015, the "Aquaman" star and the actress reunited in the city of love, Paris. The pair shared several photos of themselves having fun together during their reunion in the beautiful location.
After another two years, they had a fun night out and shared photos of their outings on social media. They looked stylish and striking when they attended another "Game of Thrones" event in 2018.
The year 2019 was filled with celebrations and fun for the duo as they were spotted together numerous times that year. Their first event together that year was their Oscars reunion in early 2019, which Momoa attended with his then-wife Bonet.
That same year, Clarke attended the "Frontier" actor's surprise 40th birthday in London, and they celebrated Clarke's birthday later. They were also on "The Graham Norton Show" in 2019 and reunited again after almost two years of not seeing each other in 2021.
WHO ARE JASON MOMOA AND EMILIA CLARKE DATING NOW?
Momoa is reportedly dating Mexican actress and singer Eiza Gonzalez. The two allegedly started dating in May 2022.
On multiple occasions, the famous actor and the Mexican artist were seen together in London in July 2022. They were seen riding a motorcycle in Malibu. This is after reports that the two broke up just a month before, in June.
Clarke, on the other hand, has had a low-key private life. The last time she was seen with a man was in 2020, when she was reportedly dating filmmaker Tom Turner. However, the actress never confirmed their relationship.
Please fill in your e-mail so we can share with you our top stories!