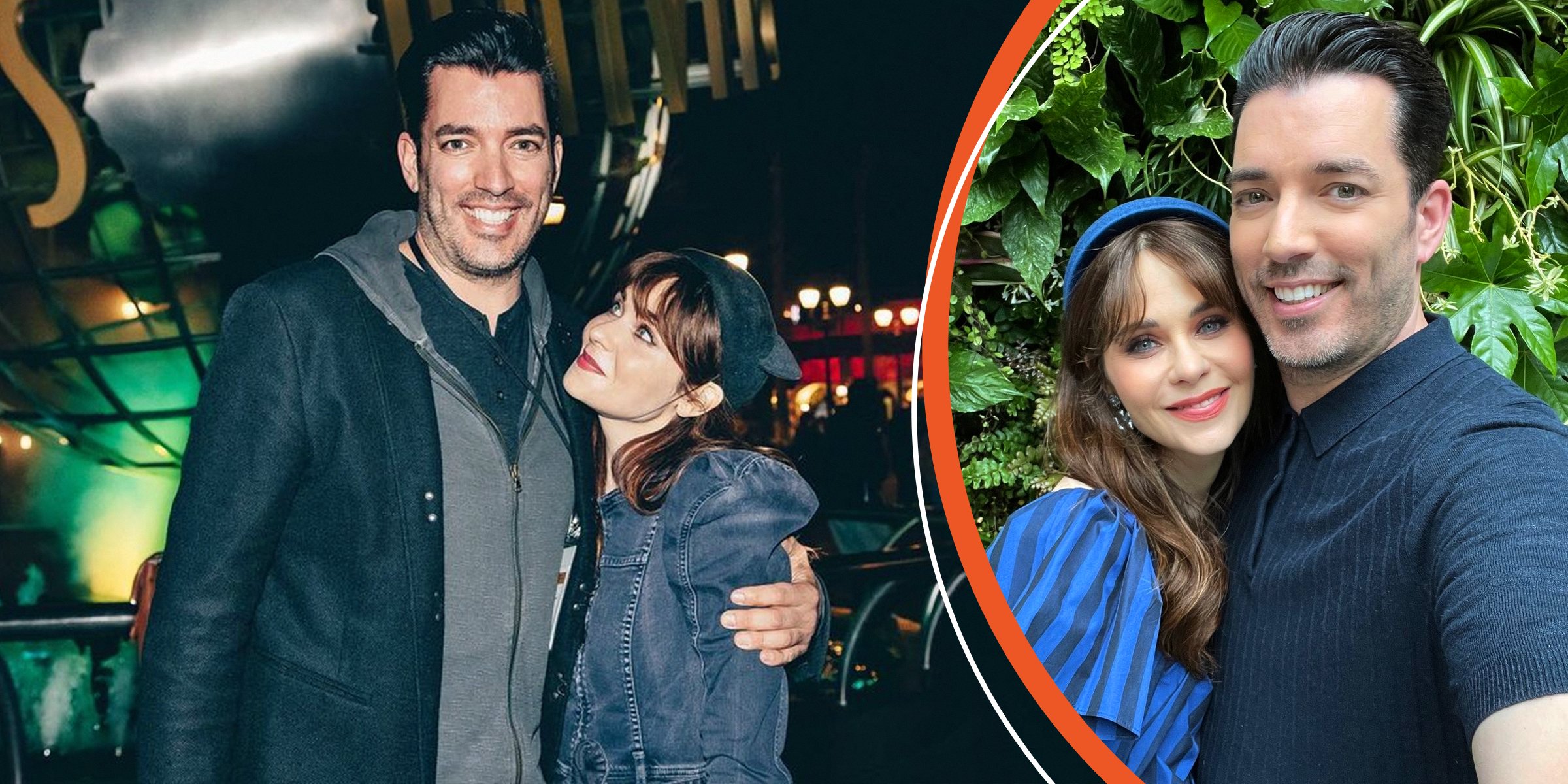 instagram.com/zooeydeschanel instagram.com/jonathanscott
Fans Push for Jonathan Scott to Marry Zooey Deschanel on 3rd Anniversary as His Deadline to Have Own Kids Nears

Jonathan Scott and Zooey Deschanel have celebrated their third year together, and his fans have wondered why the TV star is stalling on getting married to her even though the deadline he set for himself to have kids quickly approaches.
Jonathan Scott, once recognized as one of the world's most eligible bachelors, may be off the market for good, and Zooey Deschanel is the one who belled the cat.
The pair met in 2019 when they joined their siblings, Drew Scott and Emily Deschanel, to film an episode of "Carpool Karaoke." They started dating one week after Deschanel and her then-husband, Pechenik, split up.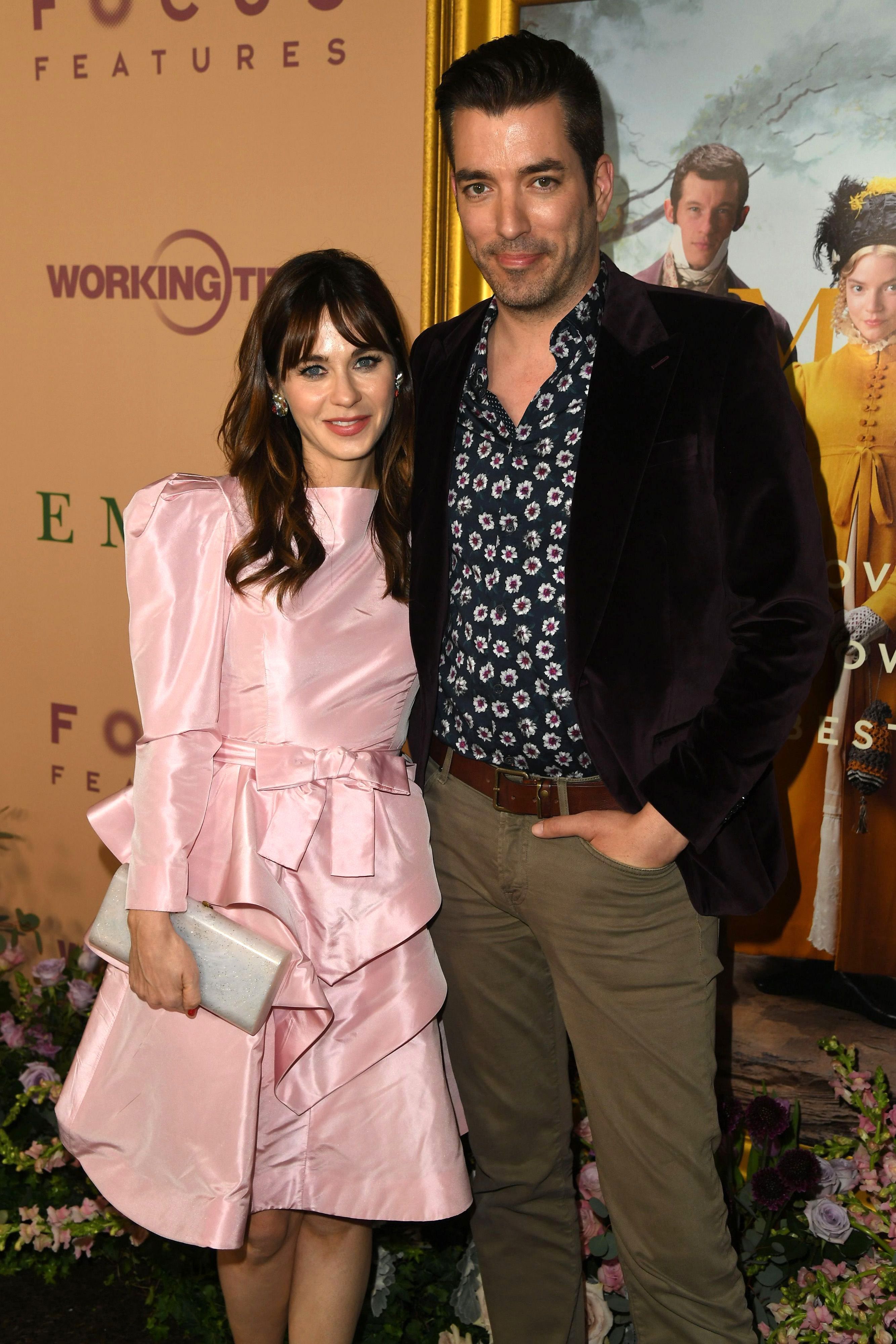 Zooey Deschanel and Jonathan Scott at the premiere of Focus Features' "Emma." at DGA Theater on February 18, 2020 in Los Angeles, California. | Source: Getty Images
Pechenik later filed for divorce in October, but he and Deschanel maintain a cordial relationship as they have two kids from their past romance. It is only one of the things Scott loves about Deschanel, whom he enjoys praising at every opportunity he gets. He once said about her:
"This is somebody who I absolutely love and adore inside."
Scott described himself as a romantic man who enjoys doing romantic things in creative ways, and Deschanel returns the same energy, which he finds thrilling. Scott felt that same thrilling energy from Deschanel the first time she walked over to say "hello" to him.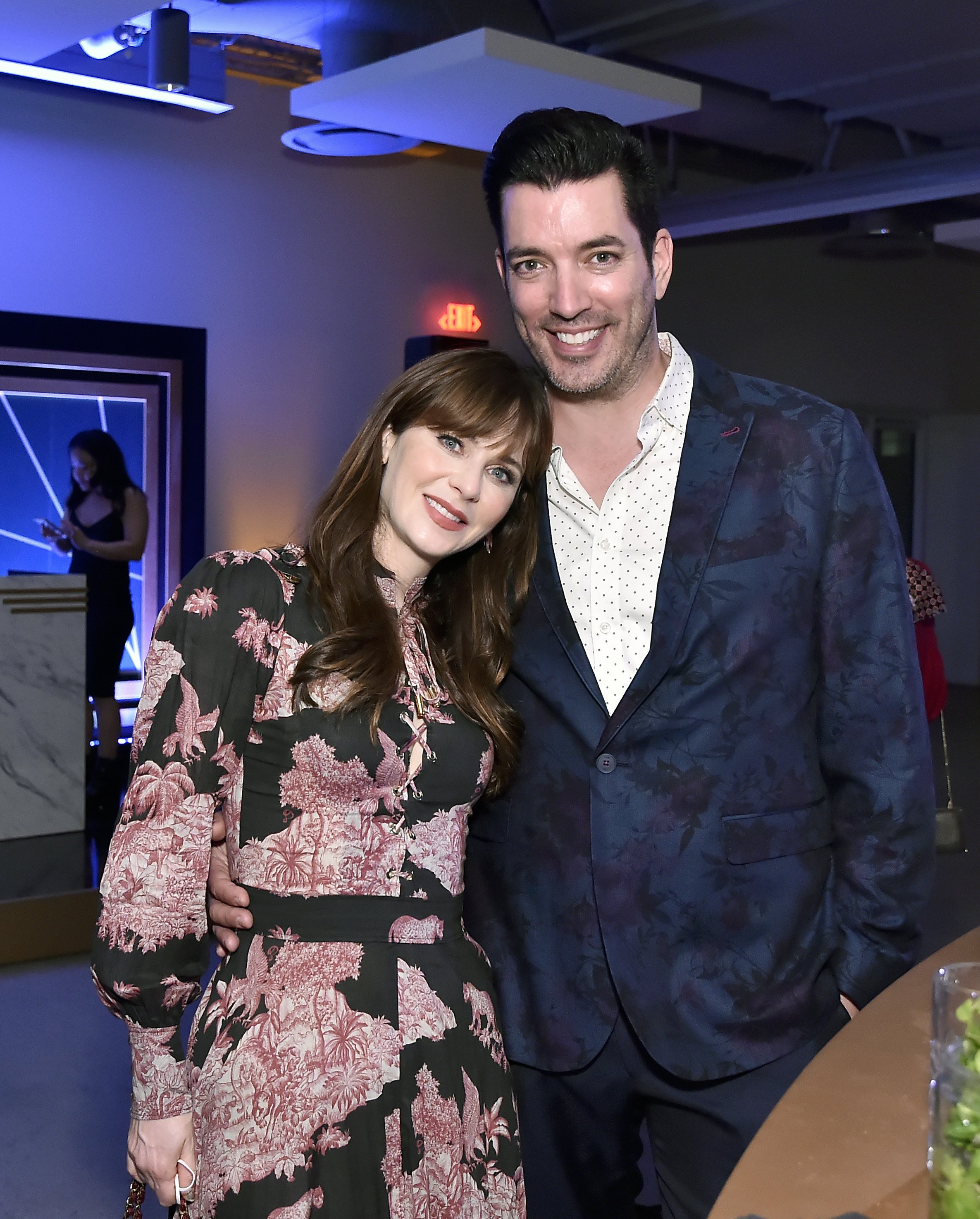 Zooey Deschanel and Jonathan Scott at the Academy Museum of Motion Pictures and Vanity Fair Premiere party at Academy Museum of Motion Pictures on September 29, 2021 in Los Angeles, California. | Source: Getty Images
According to him, she has a "bounce in her step" and an "energy about her" that had him paying attention. From then on, they grew closer and eventually started looking like a power couple fit for the fancy streets of Hollywood.
A couple of months after they went public, Scott and Deschanel had to quarantine together due to the pandemic. The following year, it was revealed that they had purchased and were renovating what would be their "forever" home.
The home is a 1938 Georgian-style home they found while casually scrutinizing the real estate market to see what was available.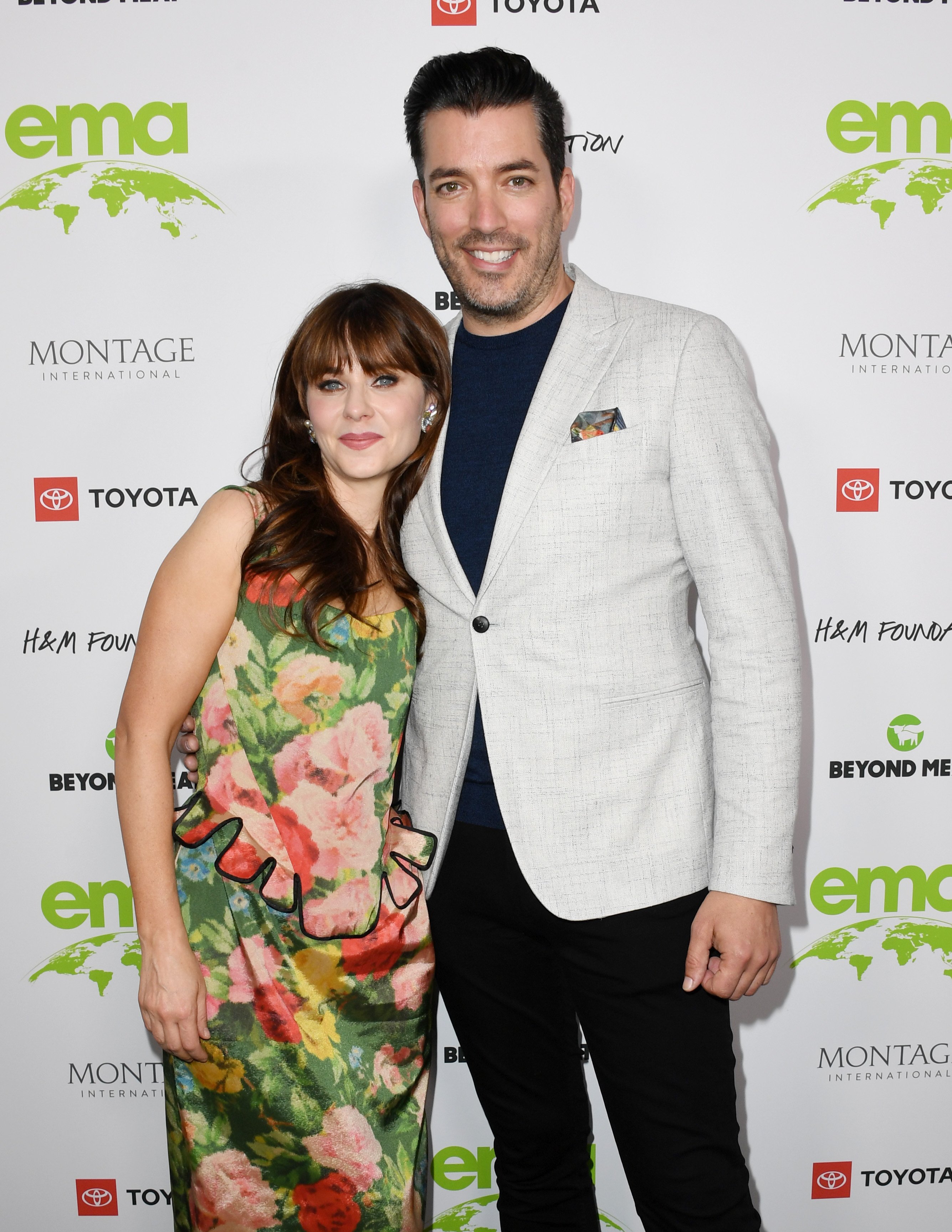 Zooey Deschanel and Jonathan Scott at the Environmental Media Association (EMA) Awards Gala at GEARBOX LA on October 16, 2021 in Los Angeles, California. | Source: Getty Images
Scott tagged the building "magical" after seeing it in person, and the deal was sealed after the kids named the place Park House because of the sprawling grounds reminiscent of a park.
With that, the couple has a home for their family, and everything seems set. As they celebrated their third anniversary, the pair looked happy, and the relationship seemed as strong as ever, which is why fans have been pushing for them to take the next step.
WHAT SCOTT SAID ABOUT A WEDDING
A few days ago, Scott and Deschanel marked their third year together. To commemorate the milestone achievement, they both had a fun night out, after which they took to social media to share the same pictures from their date.
In his caption, Scott confessed how easy it was to believe he had spent three years with Deschanel, whom he referred to as a "beautiful soul" who had an uncanny way of making "everything better."
In her caption, Deschanel declared that she got "the best one" with whom she has spent the "most wonderful three years." In her comment section, Scott wrote, "right back at ya baby," and added a loved-up emoji.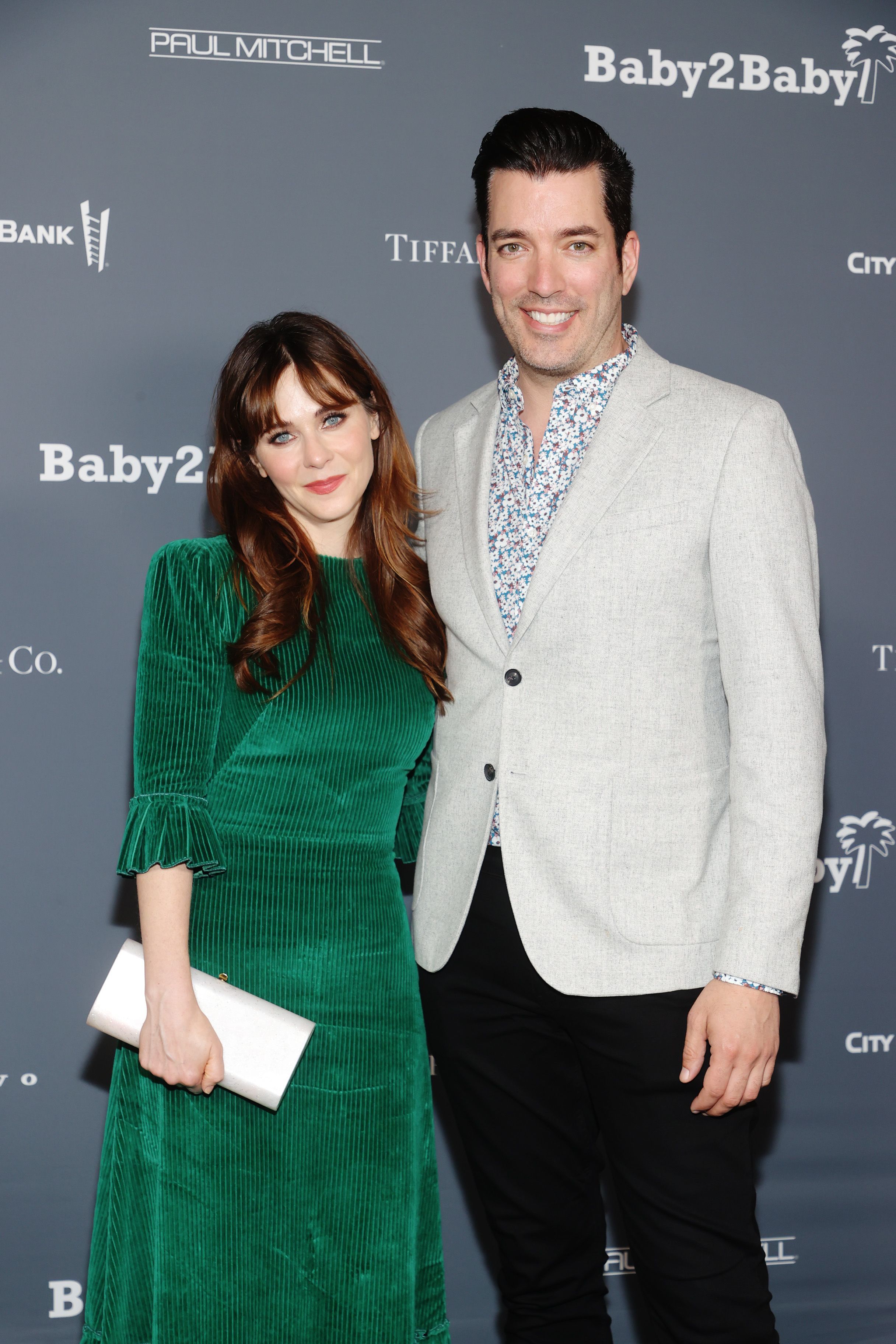 Zooey Deschanel and Jonathan Scott at the Baby2Baby 10-Year Gala on November 13, 2021 in West Hollywood, California. | Source: Getty Images
Fans went crazy at the display of affection between the two lovebirds. The comments section was filled with many expressing their admiration and congratulating the pair on their new milestone; however, two words that kept popping up amid the comments were "propose" and "marry."
One user pointed out how Scott already had a great woman and a beautiful home, so all that was left was a "ring," while another categorically told Scott to put "a ring on it."
There were calls for them to get married, and one tweep penned a question to Scott asking why he was yet to put a ring on Deschanel's finger even though she does not "need a ring to feel loved."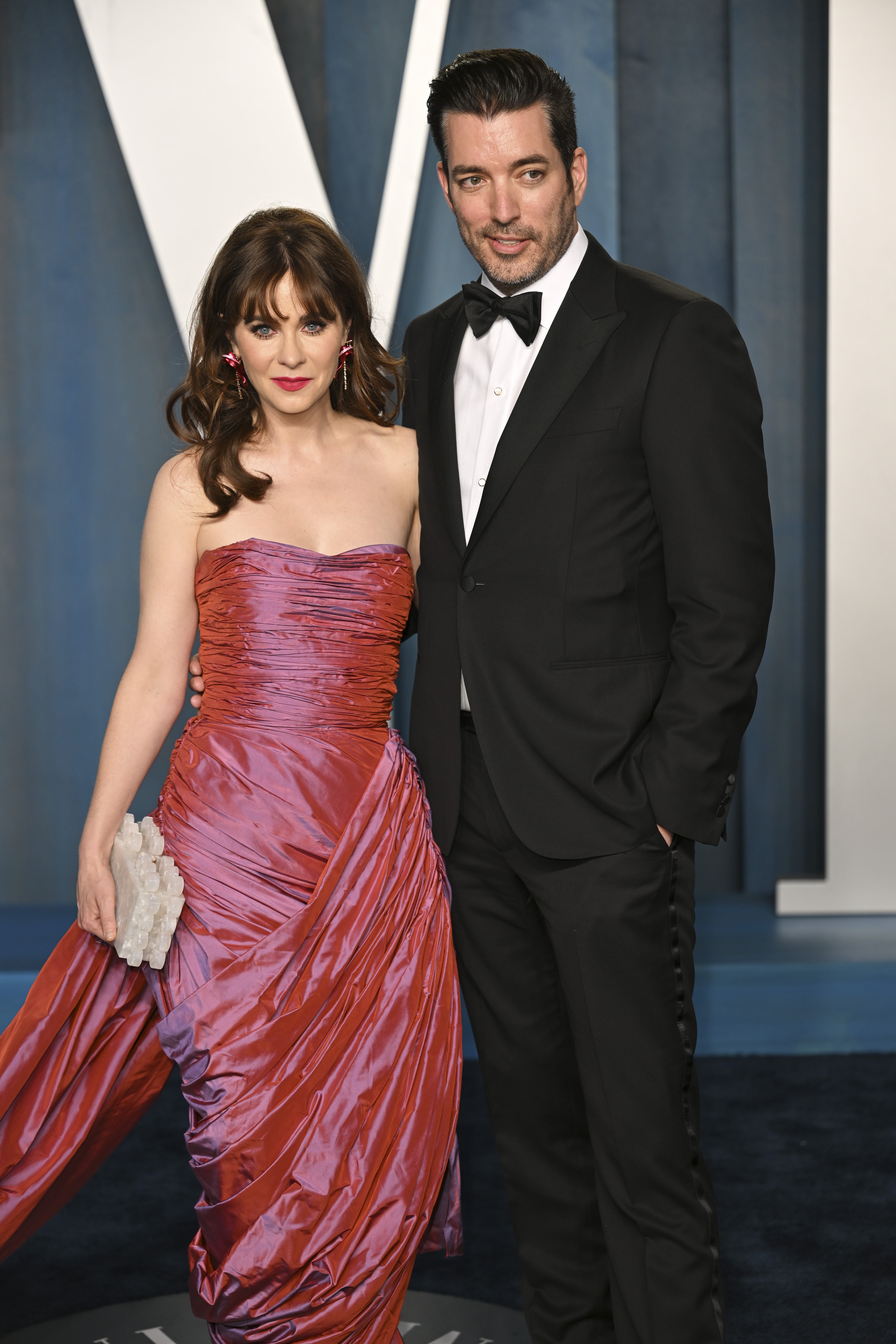 Zooey Deschanel and Jonathan Scott attend the 2022 Vanity Fair Oscar Party hosted by Radhika Jones at Wallis Annenberg Center for the Performing Arts on March 27, 2022 in Beverly Hills, California. | Source: Getty Images
Given how much the comments about proposing and a possible marriage were, it was hard for Scott to ignore the chatter. He once revealed that his fans plagued him with the "when-are-you-putting a ring-on-that-finger" question for a long time.
Such frenzy centered on his relationship status has been fuel for some tabloids in the past, and at some point, they cooked up rumors of the TV star catching the "wedding fever" and proposing to Deschanel.
In 2020, Scott shut it down when he featured on an episode of the SiriusXM podcast "Covino & Rich." He said they were just rumors. In his words:
"I'm pretty confident I will ask my girlfriend to marry me before I tell a reporter."
HE IS ON A DEADLINE
Fans think Scott and Deschanel are a great match, and given how much he adores her, it is safe to say that Scott has found "the one" in Deschanel.
Before they got together, Scott had determined that he would find the right partner with whom he would raise his future kids, and if no woman could tick all his boxes, he had created a backup plan that would be triggered at a certain age. He said:
"I have said to myself that if I don't find the right person I think I would probably adopt on my own because I think I would be a great dad."
He named 45 the age he would like to start having kids and vowed to adopt a child if he didn't have a child to raise by then. A desire to have a family was among the top qualities he had been searching for in a woman, but if none came along, he was ready to become a single father.
Scott made the statement when he turned 41, and as he celebrates his third year with Deschanel, his fans can't help but remember that he is now one year from 45, the age he said he would like to start raising kids of his own.
Fans are hopeful that he still has plans to have children with Deschanel, and Scott keeps that hope alive with some of his actions. He once revealed that their "forever" home was designed with their kids in mind, and he hoped it would remain forever within their family.
While he waits to have his kids with his woman, Scott doesn't mind being a "bonus father" to her two kids from a previous marriage. His bond with them has grown by leaps and bounds since he became their "insta-dad."
He is also a doting uncle to his brother, Drew's newborn child. He has admitted that he plans to spoil him silly when the child grows up a little more.
Please fill in your e-mail so we can share with you our top stories!