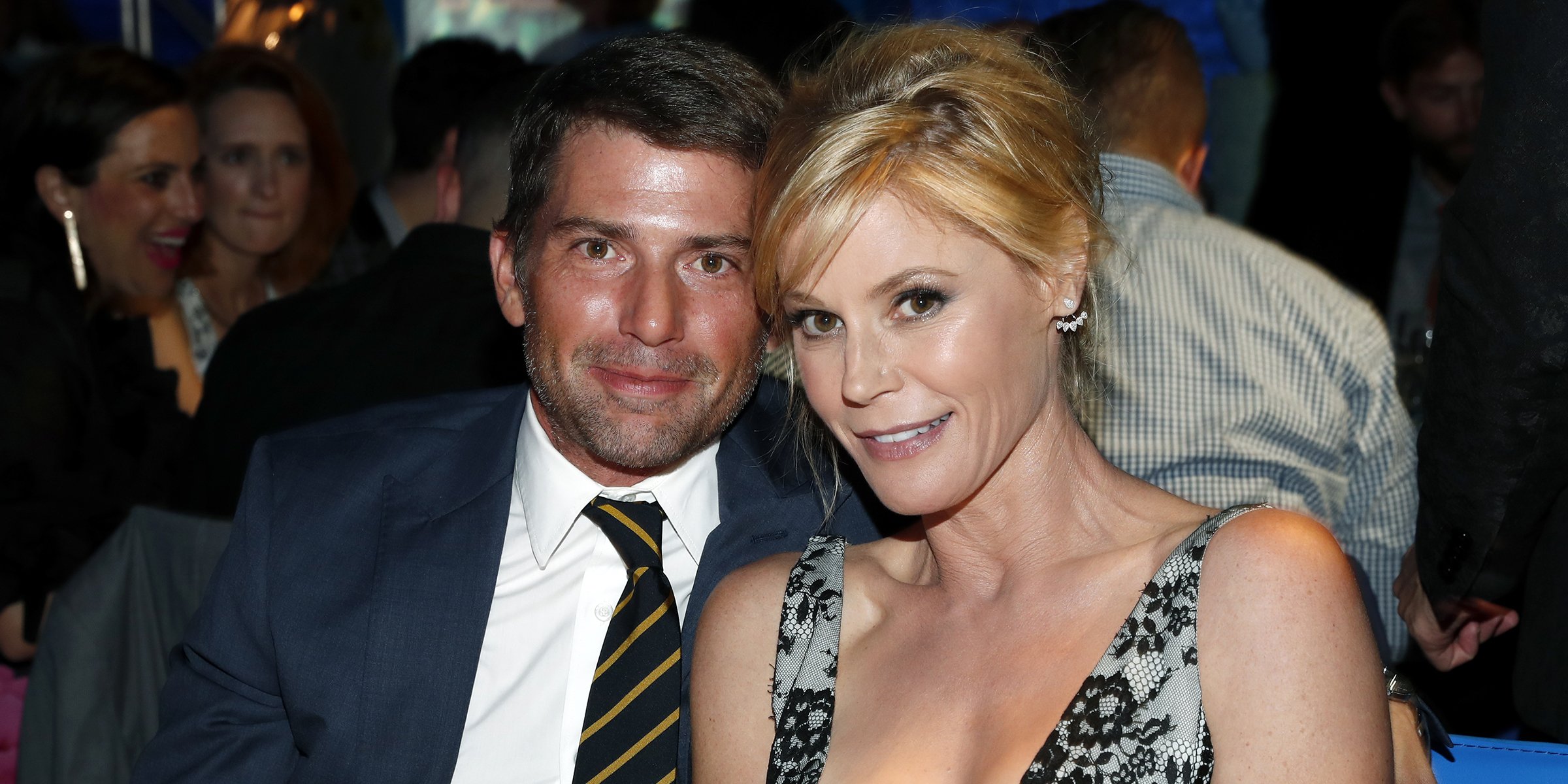 Getty Images
Inside 'Modern Family' Star Julie Bowen's Divorce from Her Husband Scott Phillips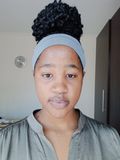 Julie Bowen has performed onstage and on screen. Since young, the "ER" actress has shown a keen interest in the arts and entertainment. Since her success, she has been unafraid to share details of her personal life.
Julie Bowen is well-known for her role as Claire Dunphy in the world-renowned show "Modern Family." In college, she participated in a few stage productions such as "Guys and Dolls" and "Stage Door."
She relocated to New York to study at Actors Studio, and her career has flourished since, making her name in the house of film. However, she also made headlines over her personal life.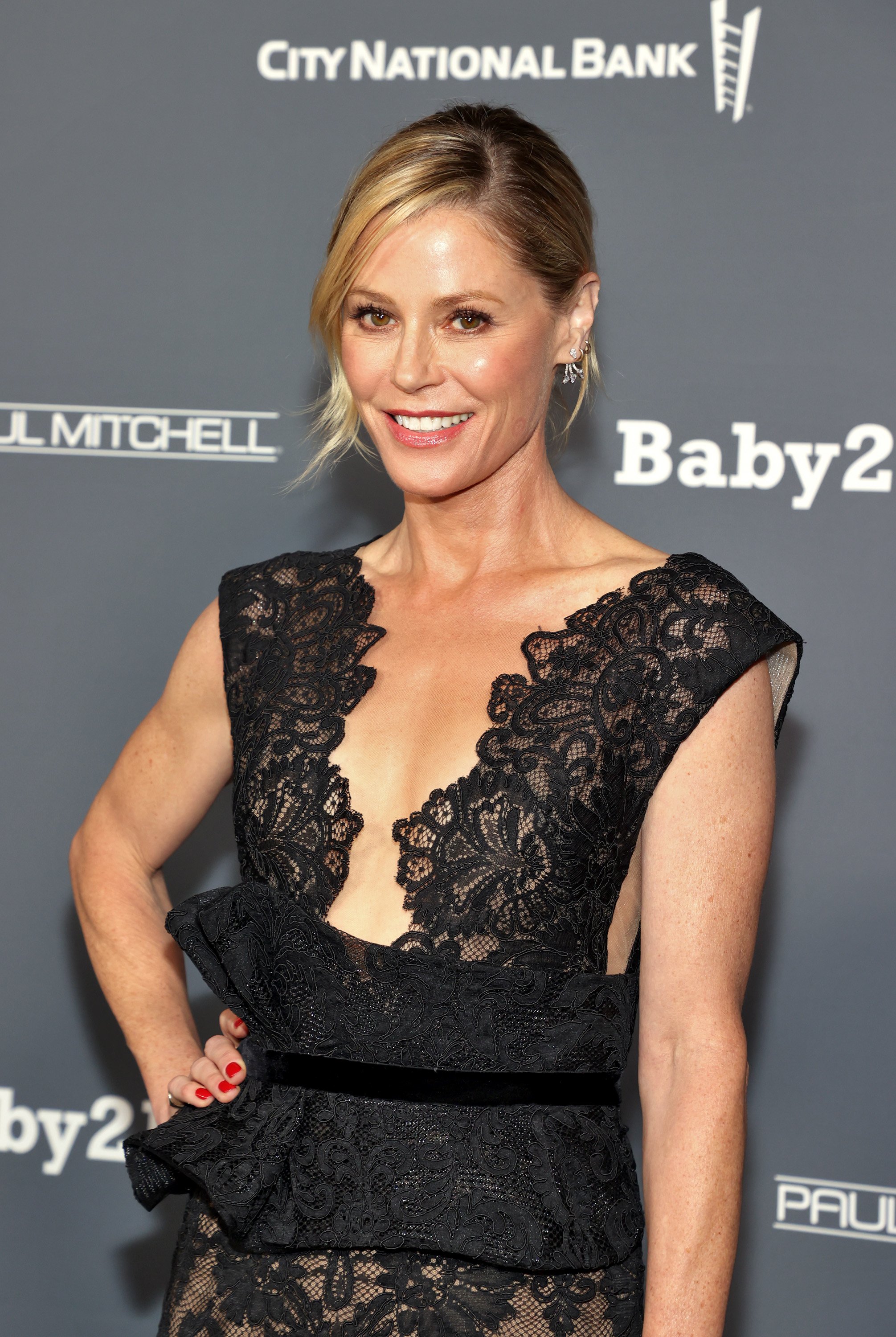 Julie Bowen pictured at the 2021 Baby2Baby 10-Year Gala in West Hollywood | Source: Getty Images
JULIE BOWEN SPLIT FROM HER HUSBAND AFTER 13 YEARS TOGETHER: ALL ABOUT THEIR DIVORCE
Actress Julie Bowen married real estate agent Scott Philips in September of 2004. During their marriage, they had three boys, 15-year-old Oliver and the 13-year-old twins, Gustav and John.
Bowen told People that her husband had always been very supportive of her career and during their marriage. However, it was a surprise to her admirers and the public when her now ex-husband did not accompany her to the Emmys in 2016.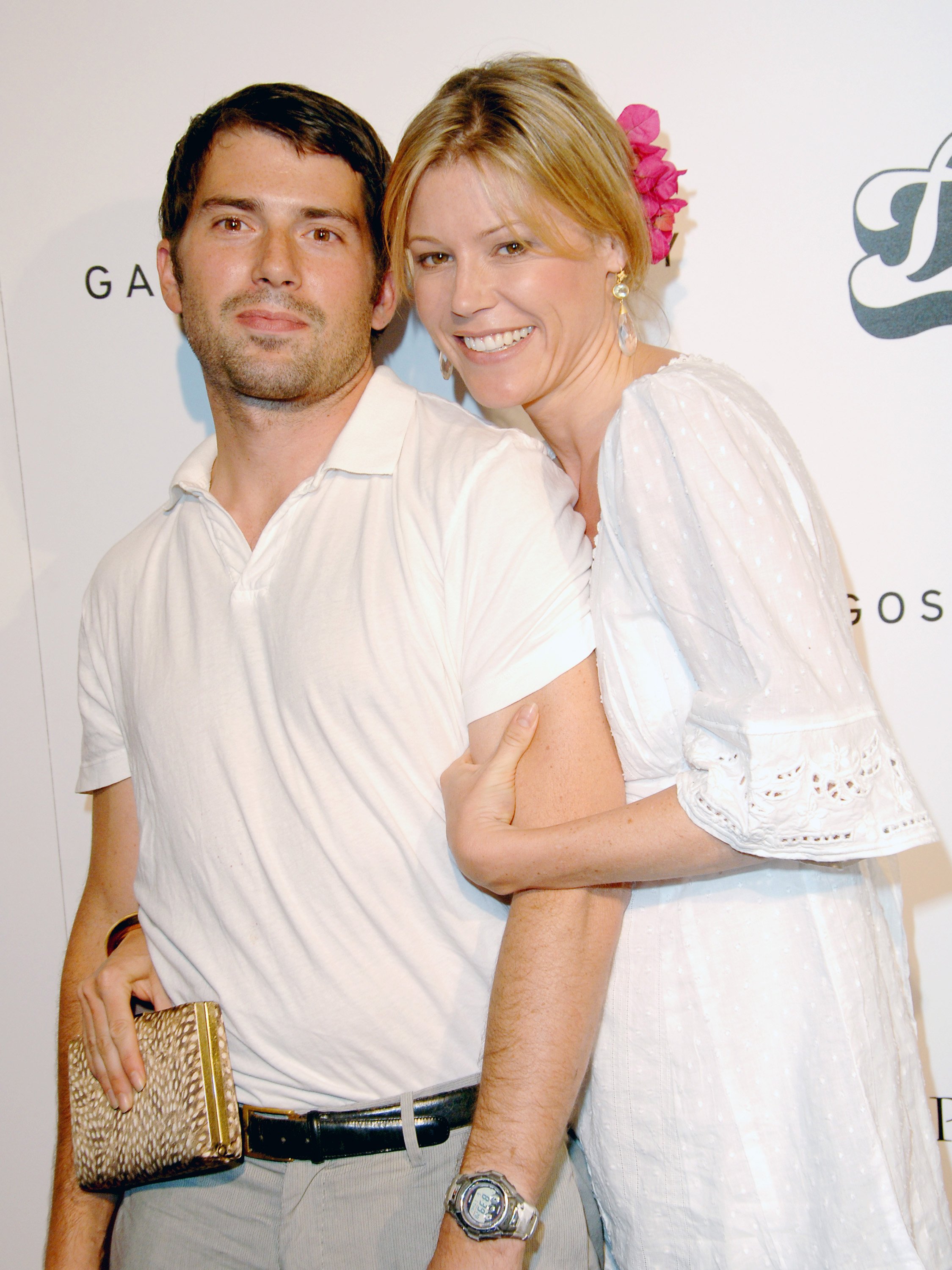 Julie Bowen and ex-husband Scott Phillips at the 2006 Hollywood and Fashion Unite for The Inaugural "Kid Art Event: A Benefit for P.S. Arts" in California | Source: Getty Images
Suspicions arose around the couple's marriage, possibly being on the rocks. According to Nicki Swift, what solidified the public's speculations was that it was their anniversary on the same night that Philips chose not to go with her.
The "Boston Legal" actress insisted that the only reason her husband was a no-show was that he had a tennis tournament that night. They had already discussed doing things differently for that particular anniversary.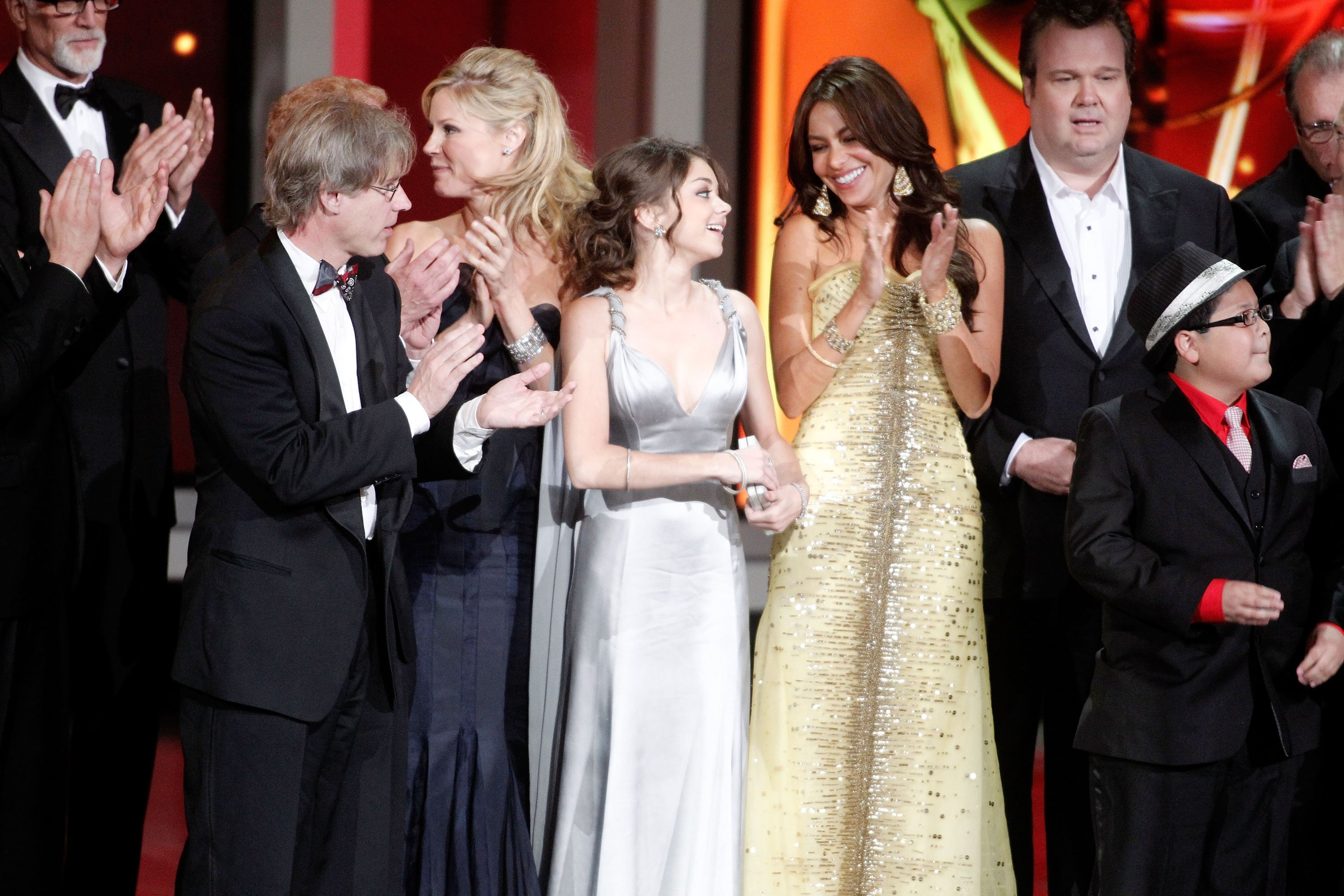 The "Modern Family" cast at the 2010 62nd Annual Primetime Emmy Awards at the Nokia Theater In Los Angeles | Source: Getty Images
Bowen told US Weekly that no matter what her ex-husband wanted to do that night, she would still love him. And it didn't matter all that much since she wasn't individually nominated.
To sway people's opinions about her marriage, Julie joked with US Weekly, expressing that at that point in their marriage, she and Philips were too tired to split.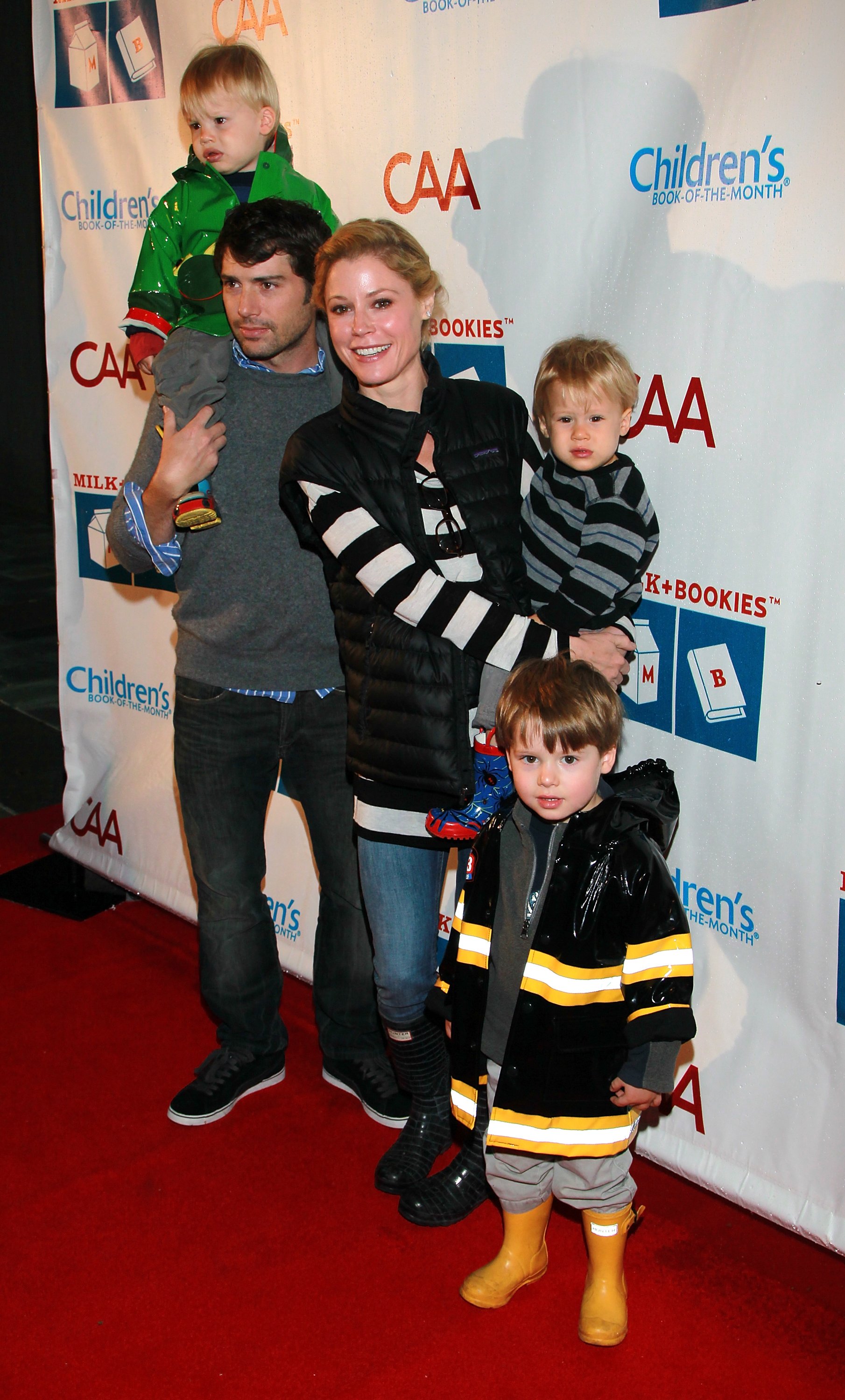 Julie Bowen, her ex-husband Scott Phillips and sons, Gus Phillips (on shoulders), John Phillips and Oliver Phillips (standing) at the 2nd Annual Milk + Bookies Story Time Celebration in Los Angeles in 2011 | Source: Getty Images
Furthermore, she joked with People, saying she couldn't recall her relationship with Scott before having their kids. US Weekly reported that Julie is a hands-on mom who sees taking care of her kids as the hub of her life.
Although looking after her children took up much of their time as the parents of three boys, Bowen and Philips made sure to make time for themselves and their romance.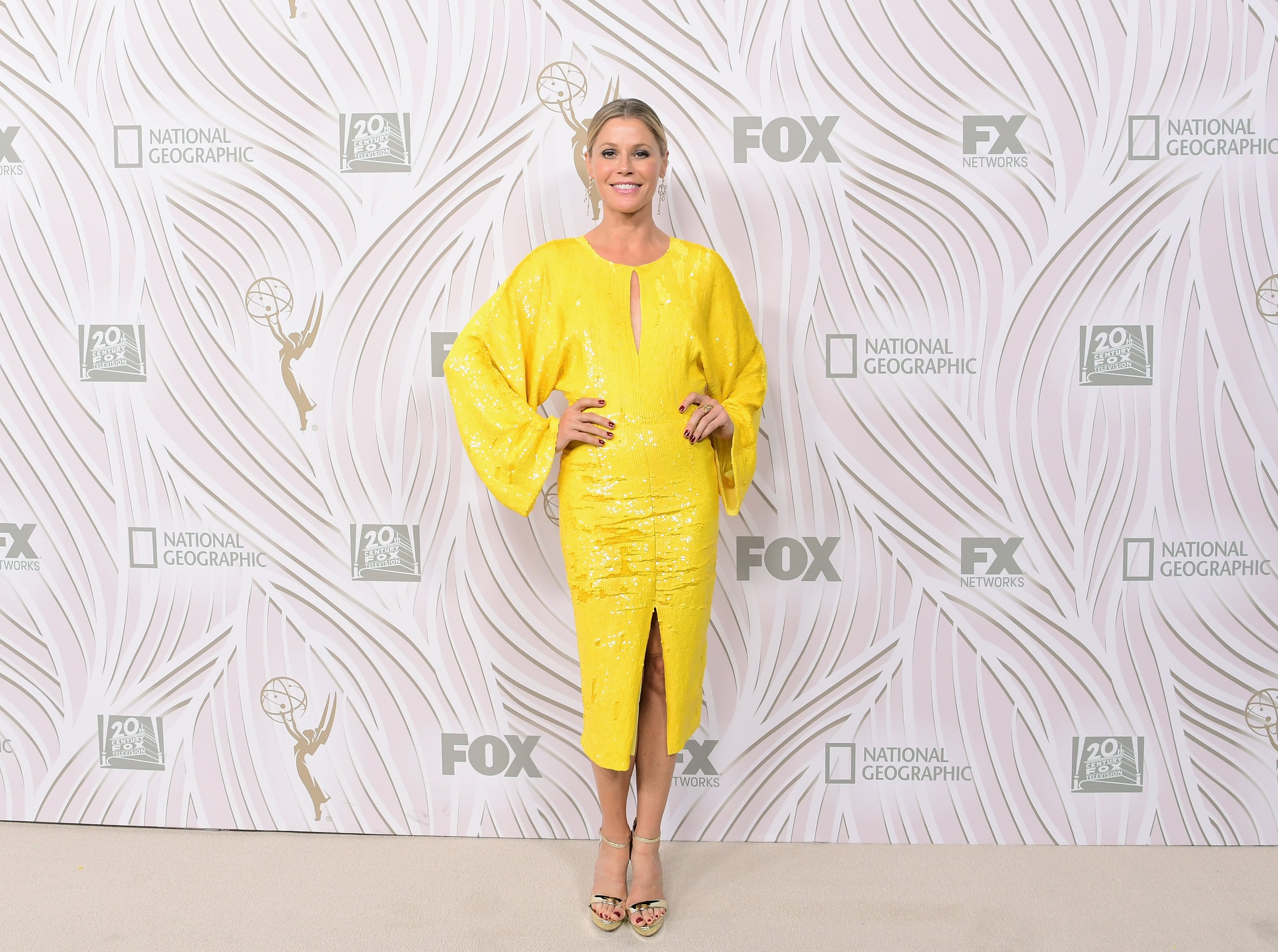 Julie Bowen at the 69th Annual PrimeTime Emmy Awards After Party in Los Angeles in 2019 | Source: Getty Images
After ongoing speculation about the now divorcees' relationship, Nicki Swift reported that Bowen opened up in November of 2017 about frequent squabbles in her marriage. She disclosed that she had been going to therapy for some time.
During her time in therapy, Julie disclosed that she learned how she and Scott did not have to be perfect people. After all, the "Happy Gilmore" actress believed that "butting heads is a part of life."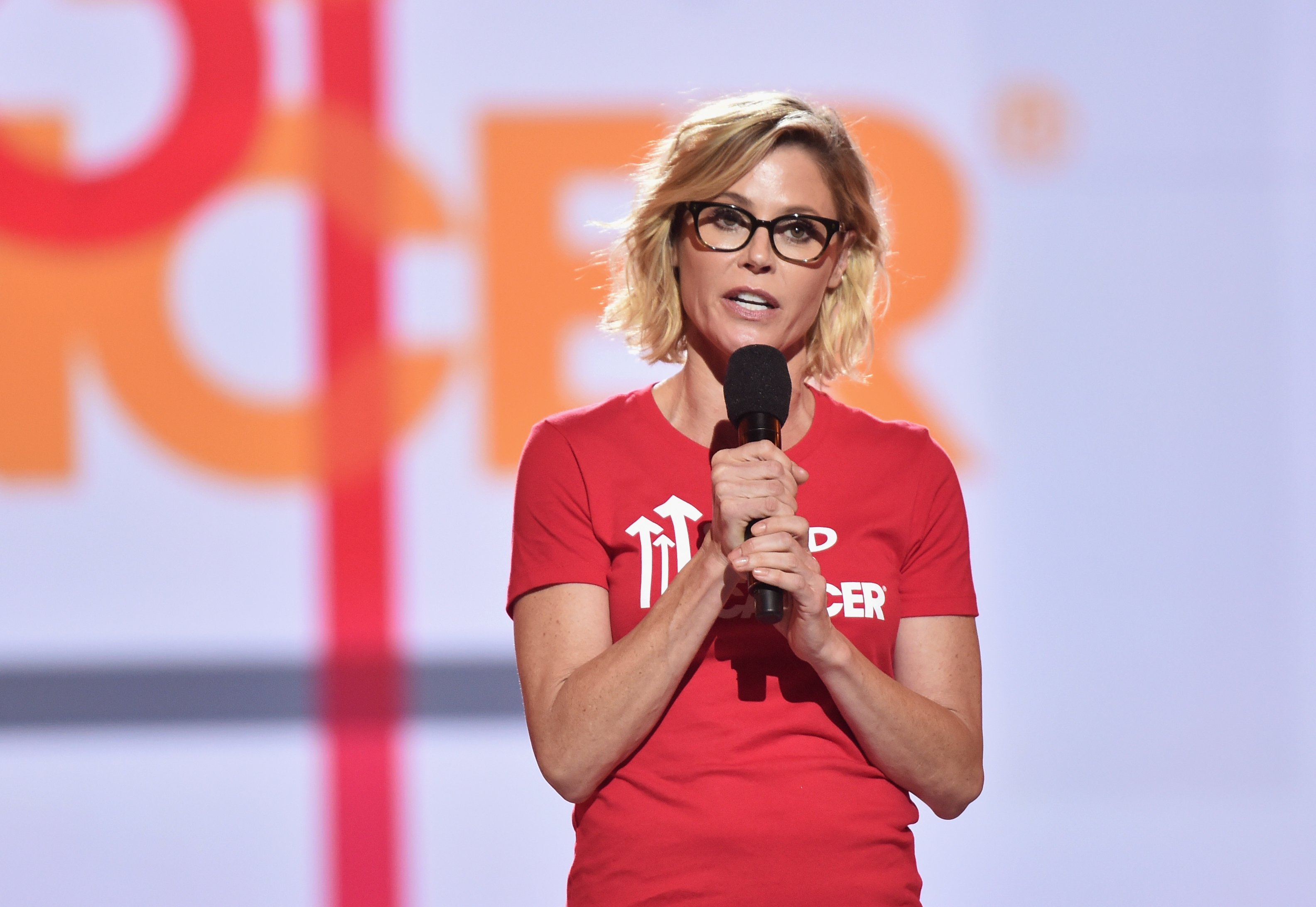 Julie Bowen speaking at the sixth biennial Stand Up To Cancer telekast in Barkar Hangar in Santa Monica | Source: Getty Images
Bowen believed that trying to be perfect would not have been beneficial for their kids. She understood there was value in allowing her kids to see and learn how conflict resolution is made.
Later, a tabloid was released claiming that Julie and Scott had been living separate lives. Nicki Swift reported that the tabloid insider described Julie's marriage as "hanging by a thread."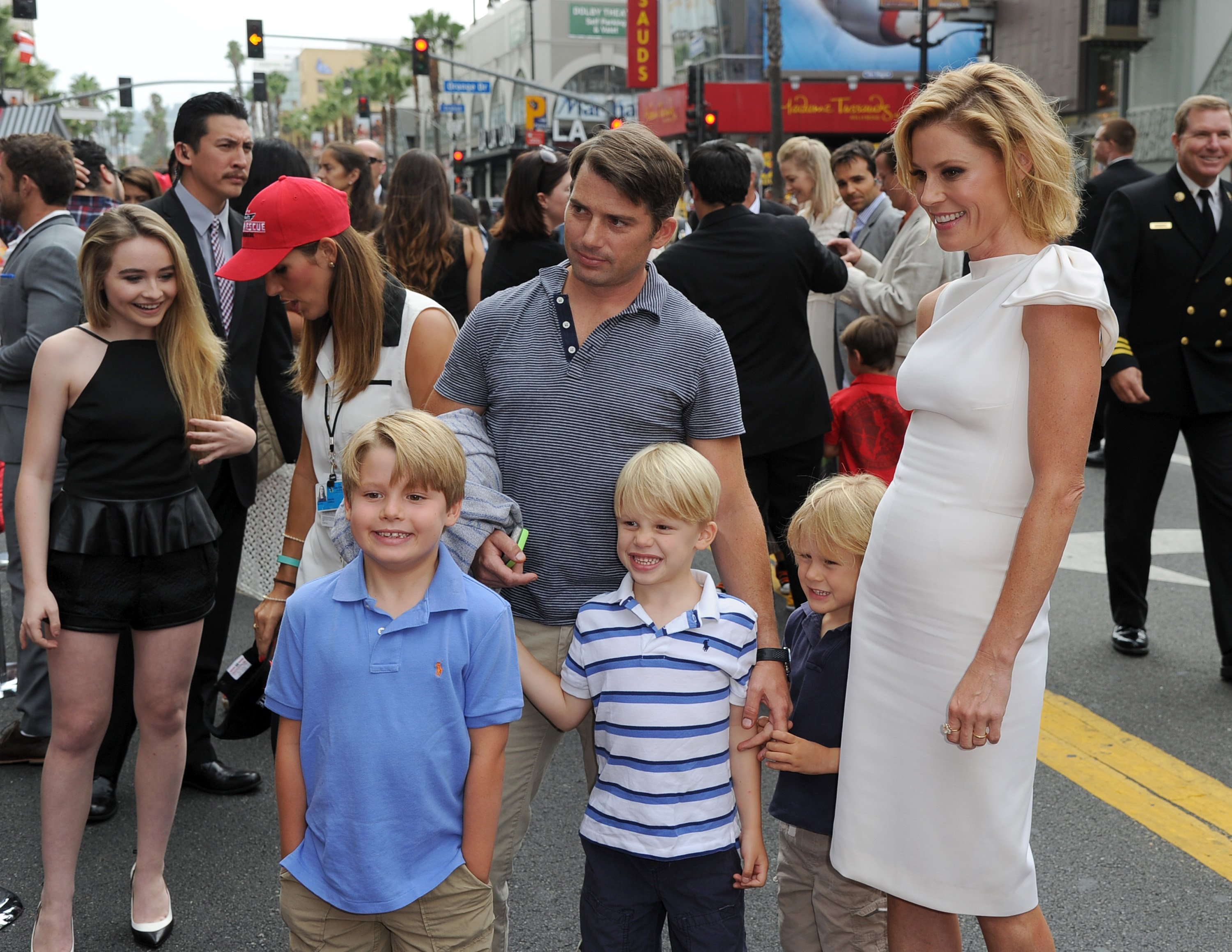 Julie Bowen with her ex-husband Scott Philips and their children at the "Planes: Fire and Rescue" premiere in Hollywood in 2020 | Source: Getty Images
The insider also claimed that the former lovebirds were trying to keep things together for the sake of their children; however, it became too difficult for them.
Therefore, this sparked hope in the hearts of those who admired the ex-lovers. Sadly, after 13 years of being together, Julie filed for divorce just days after officially announcing their separation in February 2018.
Julie Bowen attending the 69th Annual Primetime emmy awards in Los Angeles in 2019 | Source: Getty Images
E! Online obtained documents detailing the terms of Bowen's divorce filing. She marked "irreconcilable differences" as her reason for filing, requested joint physical and legal custody of their children, and for the awarding of spousal support to be terminated.
Although they officiated their separation in early February 2018, the date of their split on the official documents was December 17, 2017. Considering the couple only being sited once together before divorcing, perhaps the tabloid wasn't far off.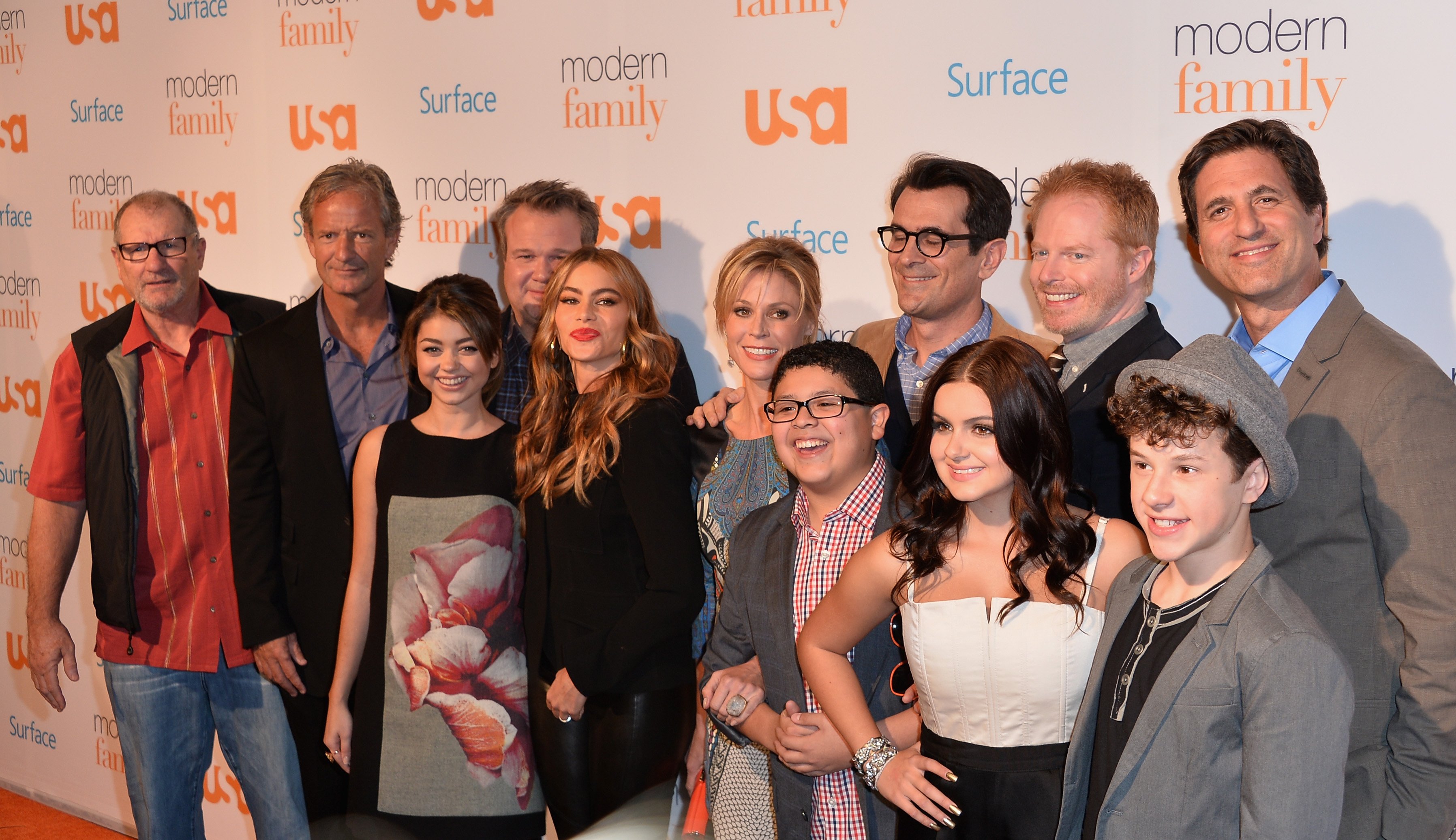 Julie Bowen among "Modern Family" cast attending the "Modern Family" fan appreciation day in 2013 at Westwood Village in Los Angeles | Source: Getty Images
In March 2018, People reported that Philips requested spousal support during their divorce based on how much the actress would earn in the final season of "Modern Family" per episode.
In September of 2018, the magazine wrote about the finalization of the actress's divorce, with $25 million worth of assets being split down the middle. However, the final spousal and custody terms were kept private.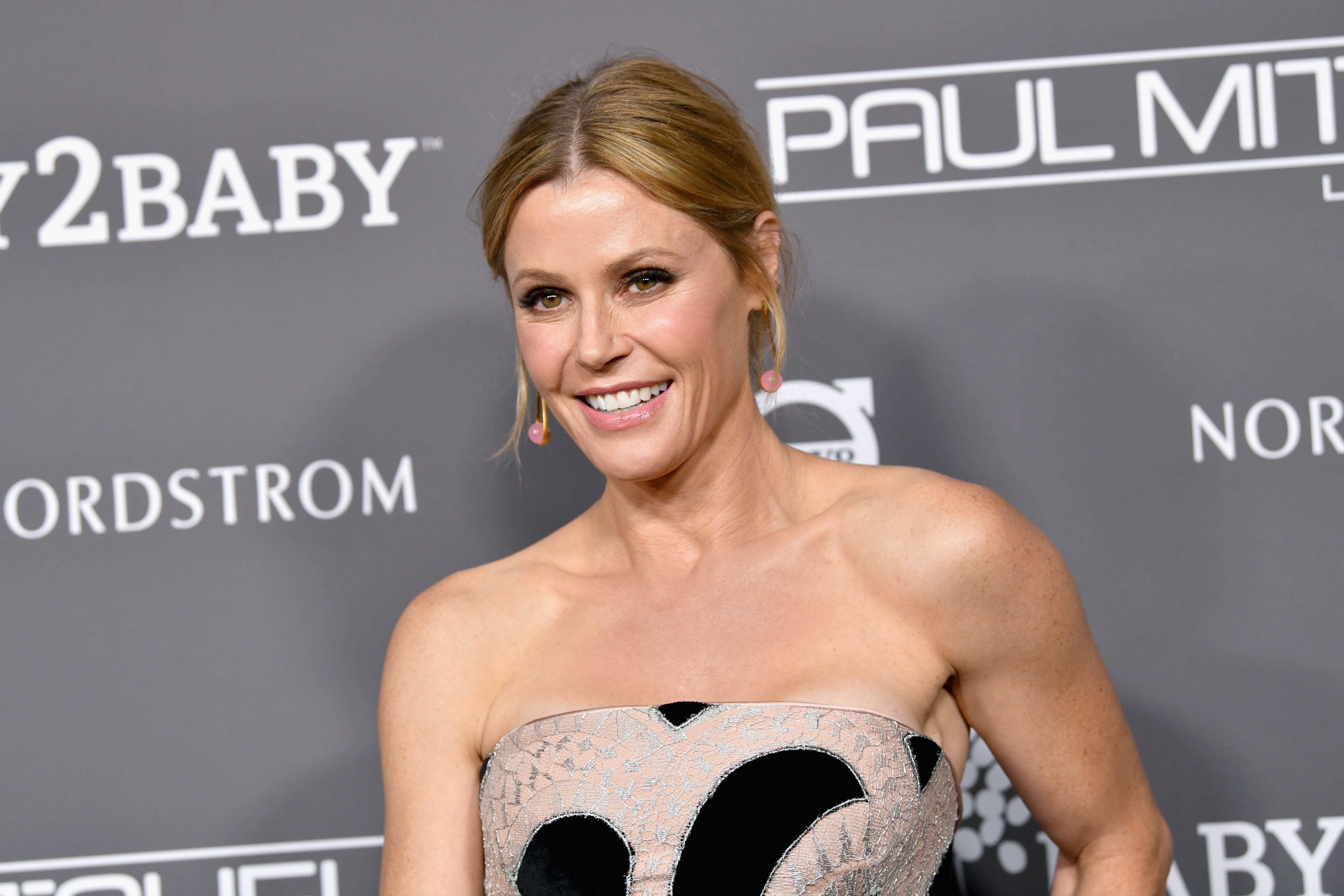 Julie Bowen at the 2018 Baby2Baby Gala in Culver City | Source: Getty Images
IS JULIE BOWEN DATING ANYONE NOW?
Per Distractify and People issues, Bowen is "very single" who has decided to go on "dating retirement." However, the mom-of-three admitted to going on dates with a few guys before her decision.
On an episode of the Ellen DeGeneres Show, she tells guest host and her former "Modern Family" co-star Adam Devine that her adorable pup Gertrude Stein was her "retirement gift."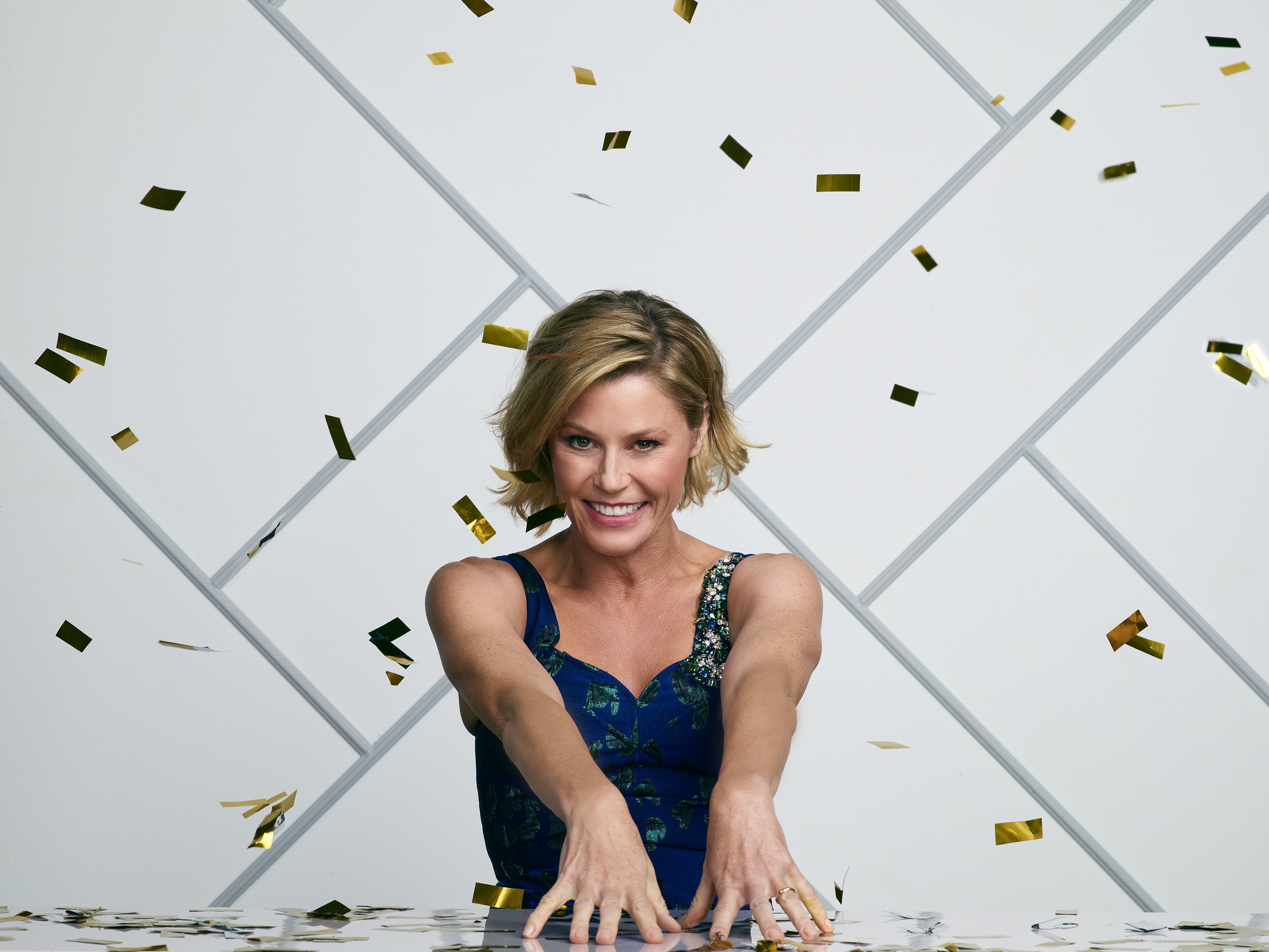 ABC casts Julie Bowen as Claire Dunphy in "Modern Family" | Source: Getty Images
However, contrary to her disclosing her strict relationship status, the actress reveals who she would come out of her dating retirement for, and it's famous musician, Harry Styles.
Julie had been to one of his concerts, and Adam teased her about her crush on the former One Direction member during the show. She expressed her appreciation for his attractiveness, saying:
"He's got the same energy that Twitch does, where they're so gorgeous, and sexy, but there's so much joy that you don't feel bad about what's happening in your pants!"
Please fill in your e-mail so we can share with you our top stories!