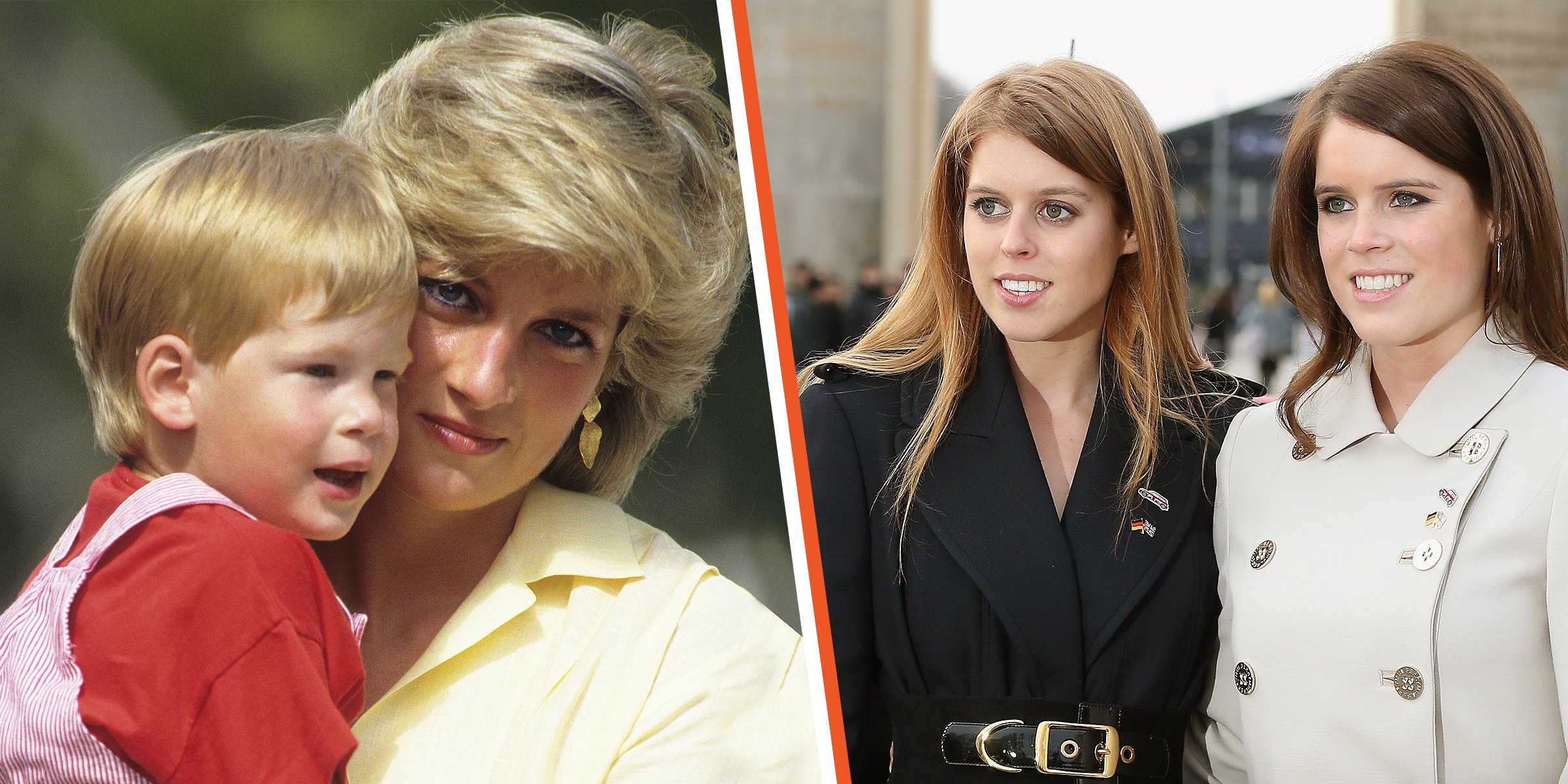 Getty Images
Diana Was a 'Very Jealous Mother' & Banished Her Sons' Favorite Cousins Beatrice & Eugenie, Claims Book

Princess Diana had an overbearing side as a mother to sons, Prince William and Prince Harry. She had a fallout with their nanny, her sister-in-law, including their grandmother, whom she did not invite to a ceremony.
In her book, "The Palace Papers," royal author Tina Brown wrote that the Princess of Wales, Diana was a "very jealous mother" and proved it many times.
She supposedly felt insecure and wanted to take first preference in her sons' lives. Sadly, her children, Prince William, and Prince Harry got used to people they loved suddenly disappearing without saying goodbye.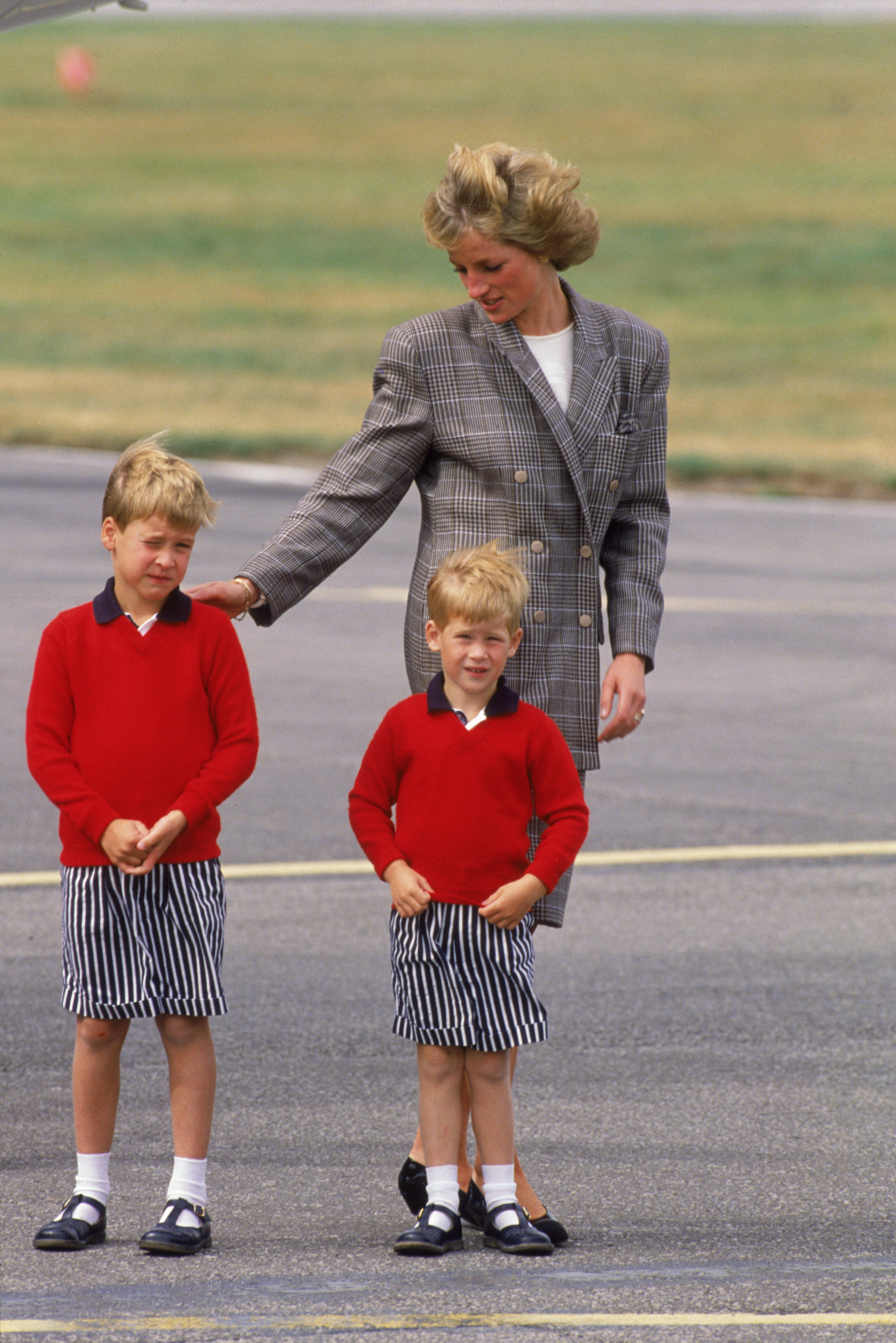 Princess Diana arriving at Aberdeen airport with her sons Prince William and Prince Harry on August 14, 1989. | Source: Getty Images
One prime example was on Prince William's first day of preschool when his nanny Barnes, whom he called "Baba," left. The young prince "had been used to toddling into her bed in the morning for a snuggle before going to wake up his mother," wrote Brown.
Princess Diana had told Barnes that it would be "better" for her to leave and even prevented her from giving the boys last hugs or sending them postcards. Barnes' replacement, who was her deputy, Olga Powell, described the mother of two as a "very jealous mother."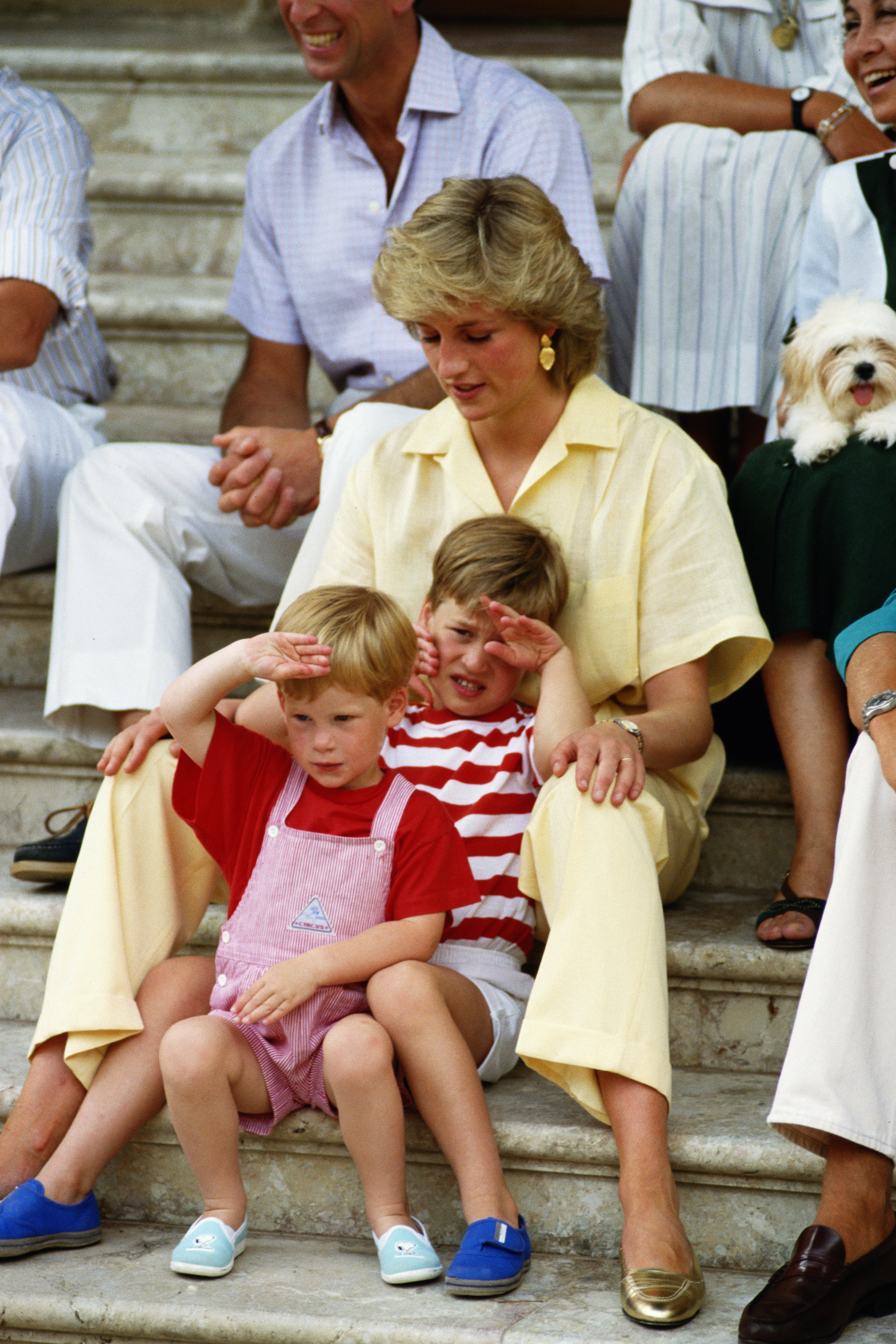 Diana, Princess of Wales photographed with her children Prince Harry and Prince William on holiday at Marivent Palace in August 1987 in Majorca. | Source: Getty Images
Still, more than two decades later, Prince William happily invited his former nanny Barnes to his wedding to Kate Middleton and had her sit in the front row at Westminster Abbey.
However, that was not the last of his mother to cut people away from their lives. She continued to do so throughout their teenage years. Because Prince William and his younger brother Prince Harry doted on their babysitter, Tiggy Legge-Bourke, whom they deemed their "big sister," it did not sit well with their mom.
Princess Diana pictured with her sons Prince William and Prince Harry attending the Heads of State VE Remembrance Service in Hyde Park on May 7, 1995 in London, England. | Source: Getty Images
Consequently, Legge-Bourke got snubbed from Prince William's confirmation ceremony in March 1997. Again, the future king of England showed how much she meant in his life by inviting her instead of his parents to Eton's Fourth of June annual family picnic the same year.
Princess Diana became annoyed by that and even called and informed security that one of the guests was "smoking and guzzling" in front of the cameras. Prince William became so enraged that he "had a go" at his mother, Richard Klay revealed.
PRINCESS DIANA HAD A FALLOUT WITH SARAH FERGUSON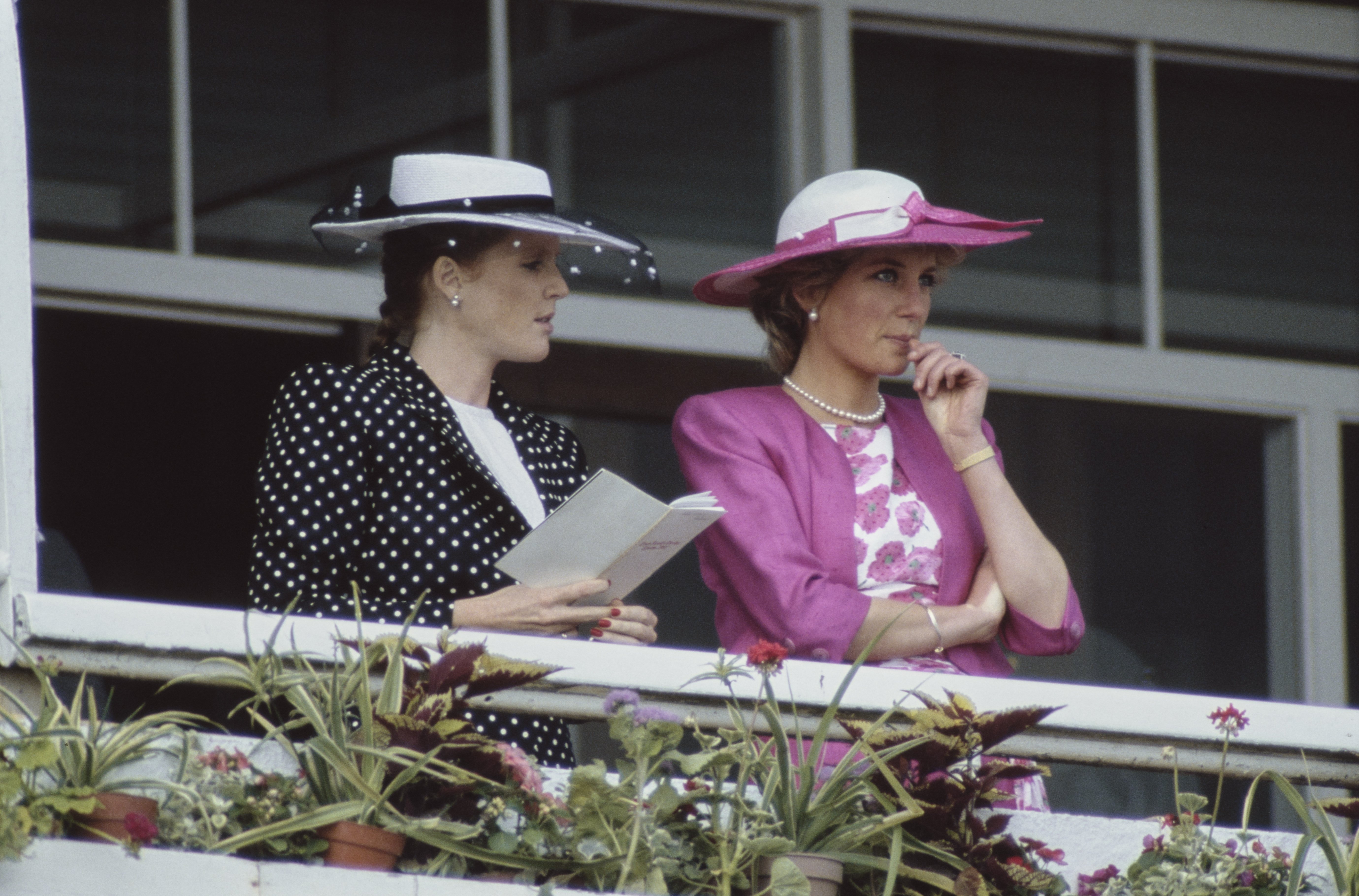 Sarah Ferguson, Duchess of York and Princess Diana attending the Derby Day meeting at Epsom Downs Racecourse on June 3, 1987 in Epsom, Surrey. | Source: Getty Images
Another instance with the princess was when she made some people distance themselves from her kids' lives. The Princess of Wales had a close friendship with Sarah Ferguson in 1980.
The People's Princess was only 19 then, while Ferguson, affectionately known as a Fergie, was 21. The pair were fourth cousins, and both their moms attended the same school.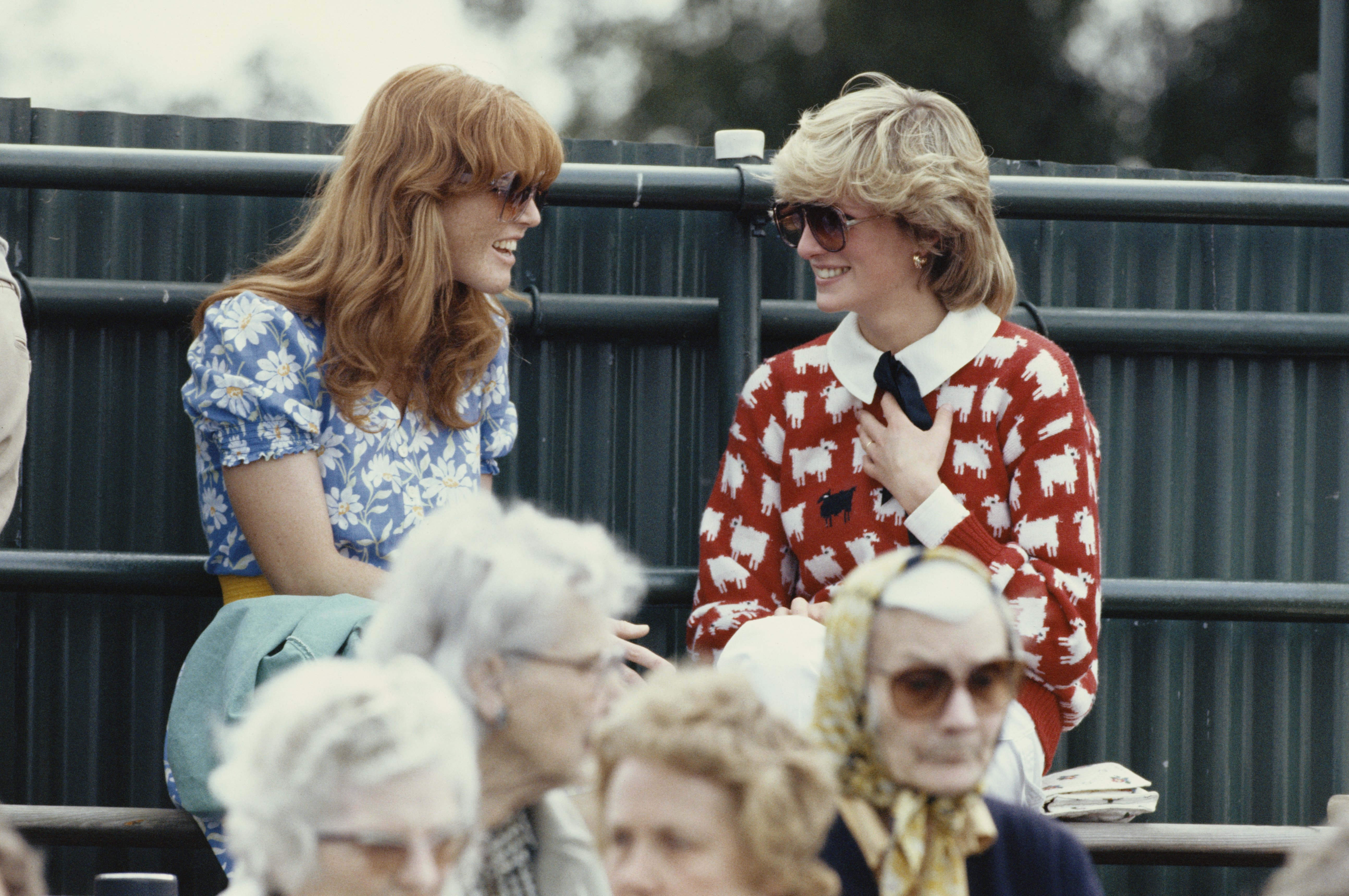 Princess Diana and Sarah Ferguson at the Guard's Polo Club in June 1983 in Windsor. | Source: Getty Images
When speaking about their relationship in her 1996 autobiography, Ferguson said that because the princess was younger than her, she saw it befitting to "protect" her:
"She was two years younger than I, and I strove to support and protect her as I would any younger sister – as I still do today, as a best friend."
When Diana and Prince Charles wed in 1981, she invited Ferguson to the royal wedding, soon becoming her confidante. The princess later introduced her dear friend to her future husband, Prince Andrew, and guided her on everything royal.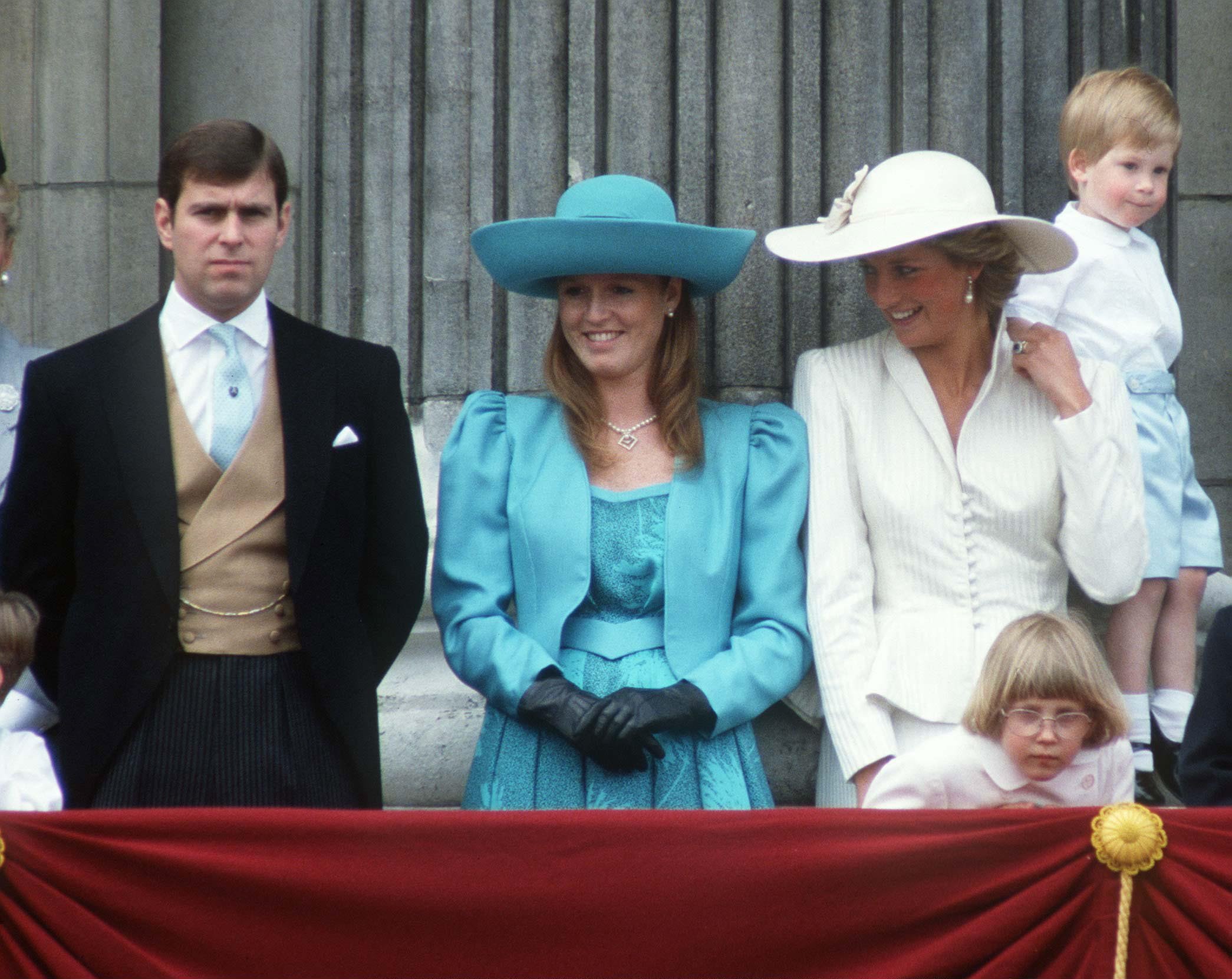 Prince Andrew, Sarah Ferguson, Princess Diana and her son Prince Harry on the balcony of Buckingham Palace for Trooping the Color in London, United Kingdom. | Source: Getty Images
However, their friendship got tested when Ferguson revealed in her book that she had caught plantar warts after borrowing Princess Diana's shoes.
After that, she stopped communication with Ferguson and even took it as far as banishing her daughters, who happened to be her "boys' favorite cousins," Princess Beatrice and Princess Eugenie, from seeing them.
PRINCESS DIANA'S MOTHER WAS ALSO AT ODDS WITH HER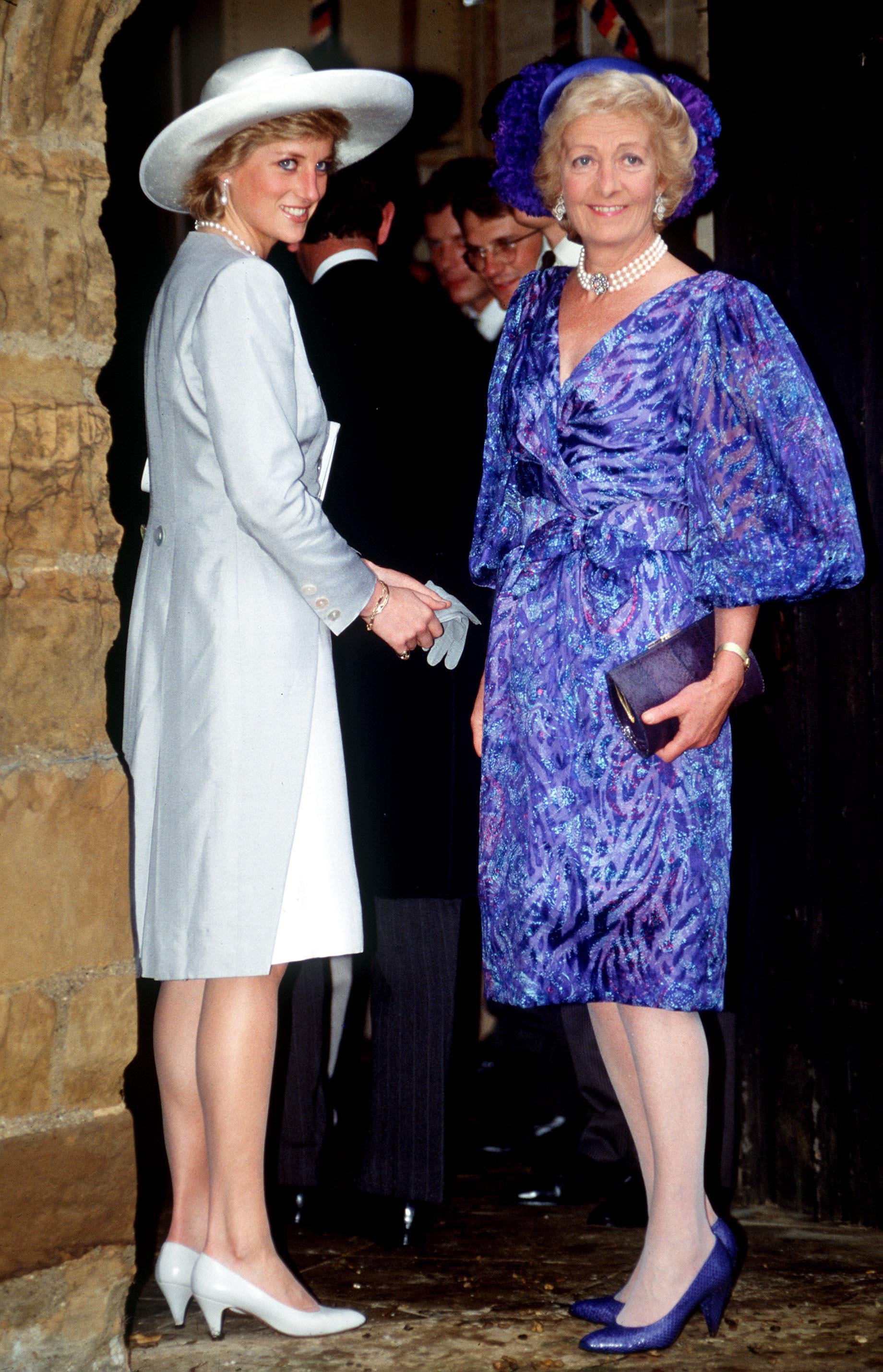 Princess Diana and her mother Frances Shand-Kydd attending the wedding of Viscount and Viscountess Althorp at the church of St Mary The Virgin in Great Brington. | Source: Getty Images
Even Princess Diana's mother, Frances Shand Kydd, was not invited to her grandson's confirmation over a disagreement. Instead, she only posted notice of celebration in the Oban cathedral newsletter.
Asked why she was absent from the ceremony, the mother of five had a bitter response alluding that the question should be redirected to the royal household:
"I am not the person to ask. You should ask the offices of William's parents."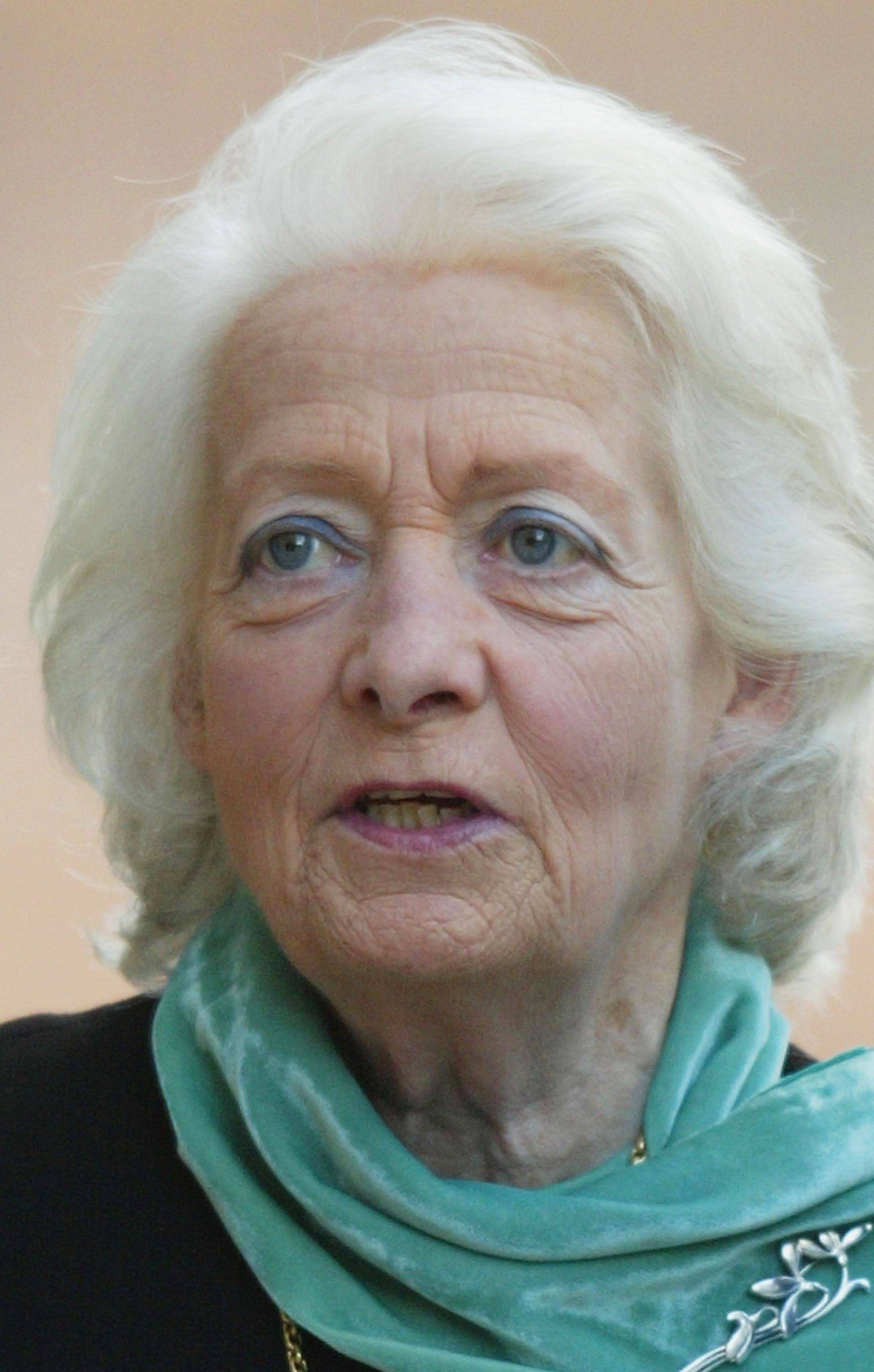 Frances Shand Kydd arriving at the Central Criminal Court, Old Bailey on October 24, 2002 in London. | Source: Getty Images
Prince Harry and his older sibling Prince William sang their mother's praises despite all this. Both princes are adults and have different relationships with their cousins Beatrice and Eugenie.
However, the relationship between the princesses and Prince William and his wife, Kate Middleton, has been volatile. According to Express, royal commentator Neil Sean claimed the sisters had been "struggling" with the Cambridges following their father, Prince Andrew's removal from public life.
Sean revealed that there is a story within the Royal Family that had not been uncovered, involving the royal couple and Prince Charles.
The said conflict reportedly stems from persuasion from Prince William, his father, and the Queen to have the Duke of York removed from royal duties after he disgraced the Royal Family in recent years.
In addition, their mother got snubbed from attending the Cambridges' wedding in 2011, and she was devastated by that. In an interview on "The Oprah Winfrey Show," Ferguson admitted that she wished to be there:
"I wanted to be there with my girls, to be getting them dressed and to go as a family. It was so hard because the last bride up that aisle [Westminster Abbey] was me."
However, the Duchess of York was invited to Prince Harry and Meghan Markle's wedding and shared she felt "honored" and "grateful" for getting an invitation.
Moreover, Prince William and Prince Harry lost their mother when they were only 15 and 12 years old. On the 23rd anniversary of her death, August 31, 2020, they revealed that they had a brief phone conversation with her the day she tragically died in a car accident in Paris in 1997.
The pair, who vowed to never speak about their beloved mom at length again, said that they cut the phone call short because they wanted to play with their cousins at the Queen's Scottish retreat in Balmoral.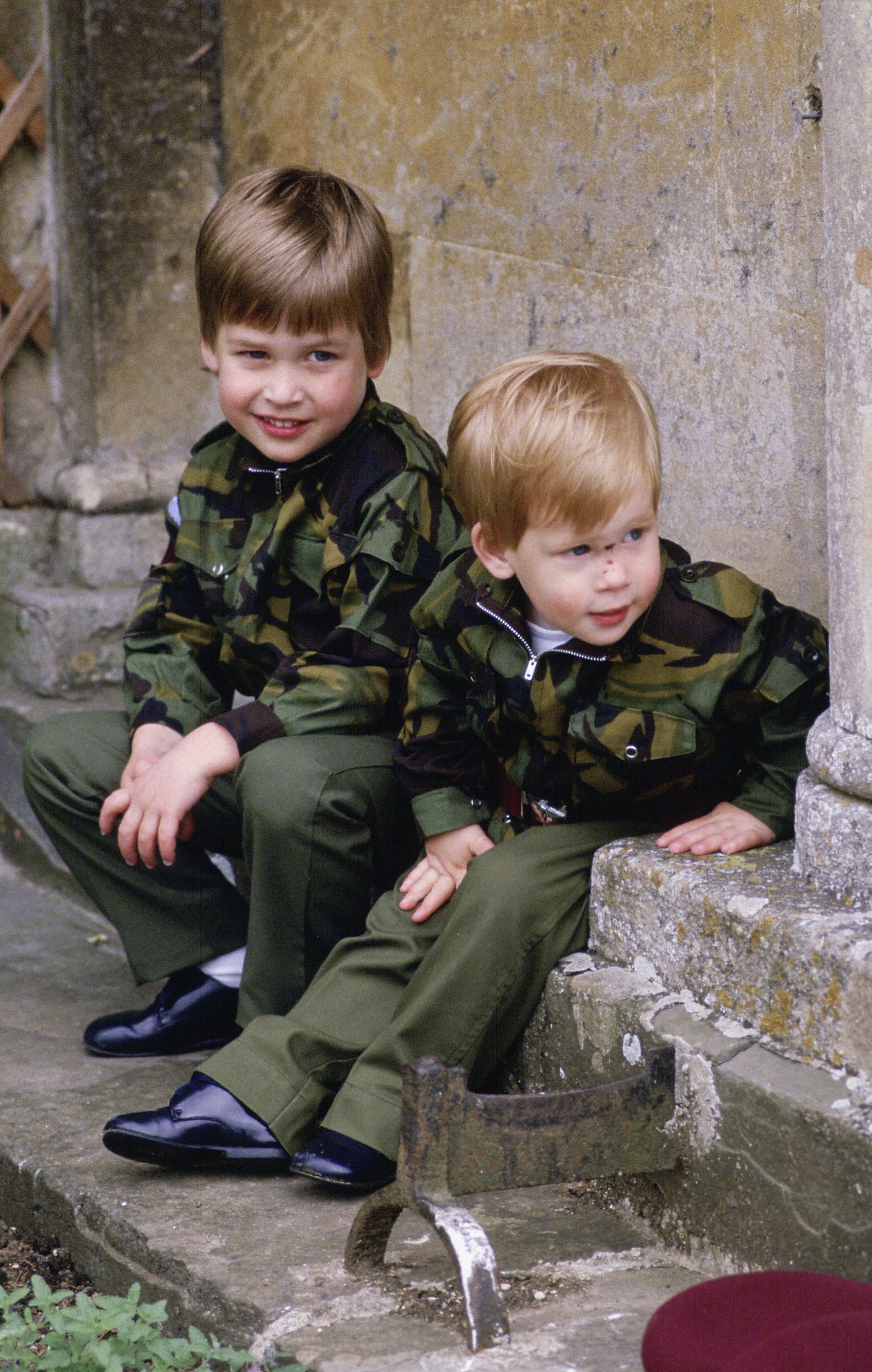 Prince Harry and Prince William pictured sitting together on the steps of Highgrove House on July 18, 1986 in Tetbury, England. | Source: Getty Images
Prince Harry, the Duke of Sussex, expressed deep regret for not knowing the events that would take place after hanging up that day.
Meanwhile, Prince William, the Duke of Cambridge, told reporters while discussing a documentary in memory of the Princess of Wales that it was their homage to her:
"We feel hopeful this film will provide the other side from her close family friends that you might not have heard from before, from those who knew her best, and from those who want to protect her memory and want to remind people of the person that she was."
"The warmth, the humor, and what she was like as a mother, which probably hasn't come across before in many other pieces from other people," the Duke divulged.
Meanwhile, Prince Harry noted that no day goes by without him and Prince William wishing their mother was still alive."There's not a day that William and I don't wish she was still around, and we wonder what kind of a mother she would be now, what kind of a public role she would have, and what a difference she would be making" said the Duke.
Please fill in your e-mail so we can share with you our top stories!