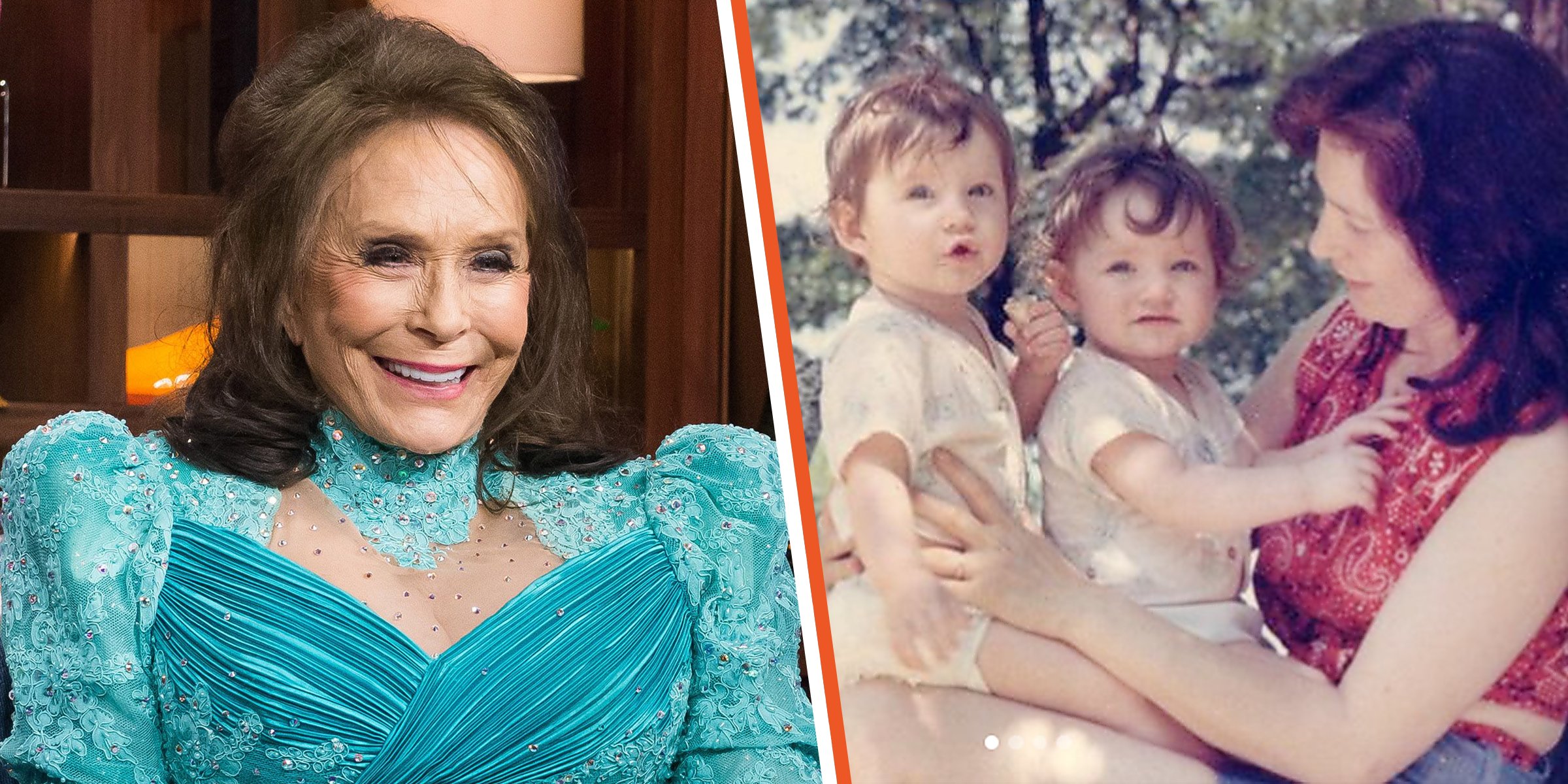 Getty Images
Loretta Lynn's Adult Twins 'Boss Her' Yet She 'Wouldn't Trade 'Em for the World' & Is Proud as Punch of Them

At 90 years old, Loretta Lynn is one of Hollywood's most beloved songstresses and has built a legacy for herself that will last long after she is gone. However, her most outstanding achievement is her children, but giving birth was not a walk in the park for her.
Lynn became a mother at a young age but didn't plan on that initially. The songstress said that she did not know much about reproductive matters as a young woman and would have loved having access to something like the contraceptive pill.
The songstress married at just 15 years old to then-21-year-old Oliver "Mooney" Lynn. Lynn's parents were upset that she married Mooney because he was a heavy drinker and had a reputation as a womanizer.
When Lynn became pregnant at 16, she discovered where babies came from. She grew up in a poor household and was not educated on such matters. Her first daughter, Betty Sue, was born healthy. However, not all of Lynn's pregnancies would be so easy.
The singer had two miscarriages and four children by the time she was in her mid-twenties and admitted that teenage pregnancy took a toll on her. Today, she is a mother of six, but only four of her children are living.
Lynn's children are Betty Sue, Jack Benny, Clara Marie, Ernest Ray, Peggy Jean, and Patsy Eileen. Lynn's last two children, Peggy and Patsy, are twins. However, Betty Sue and Jack Benny sadly passed away.
In 1984, when Jack Benny was 34 years old, he attempted to cross a river while riding his horse. While the horse survived, he passed away. The coroner determined that Jack fell from his horse and struck his head, which led to him drowning. He passed away on the family ranch.
Betty Sue lived much longer, only passing away in 2013. Betty also passed away on the family ranch but died of emphysema. She was 64 when she passed away and left behind children and grandchildren of her own.
Lynn has said many times that she still mourns the loss of her children and says that when she lost Betty Sue, she lost a daughter and a friend. She has also spoken about losing her husband, Mooney, who she still spoke of highly.
Although Mooney and Lynn had a problematic relationship, she said he did what he could for the family. She shared:
"[Mooney] was a good man and a hard worker. But he was an alcoholic, and it affected our marriage all the way through. He was also a womanizer."
LYNN'S EXPERIENCE WITH MOTHERHOOD
Because Lynn was so young when she welcomed her first four children, she found early motherhood difficult. By the time she welcomed her twins, she had said she knew what to do when it had come to birth. However, there was one thing that shocked her.
Lynn said she had no idea she was carrying twins when pregnant with her twin daughters. The doctor who delivered her babies was doing it for the first time, and she reassured him, saying:
"I told him not to worry, that I'd been through it plenty. It wasn't my first rodeo, and I knew exactly what to do!"
This gave her doctor some more confidence, and when Peggy Jean arrived in the world, the doctor announced that it was a baby girl, but it seemed like another child was coming. Lynn was so exhausted by giving birth to Peggy Jean that she told her doctor to leave Patsy Eileen in the womb.
The twins shocked Lynn, but she said they were beautiful. She then revealed that she was on the road a lot when the twins were younger, so their housekeeper became their second mother. They also had a close relationship with their father.
They mirrored him in many ways, and he loved his daughters. Talking about their relationship, Lynn shared:
"Those girls brought out a side of him many never saw. He adored them, and they knew it! They were daddy's girls through and through."
While the young girls looked similar to each of their parents, it was their father that they acted like. Lynn said that they were always up to mischief, and they always had to wonder what the twins were doing.
When the girls had grown up, they had formed the music duo "The Lynns," taking after their mother. However, it did not last long, and they eventually forged their own paths in life. Peggy became a farmer, and Patsy became a producer and songwriter.
Lynn shared that she was not surprised they decided to move on from music and knew they could do anything they put their minds to. She shared that she is "proud as punch" of her daughters' careers.
While Lynn admitted that she loved talking to Peggy about her farming and to Patsy about music, the thing she was most proud of them for was becoming excellent mothers to their children and how fiercely they love their children.
LYNN'S LIFE TODAY AT 90 YEARS OLD
Lynn is now 90 and enjoys a much quieter life than she used to in her early twenties with six young children. She shared that she enjoyed life with all her children and that her twins brought her a unique form of joy.
The songstress said that she loved spending time with her twins and knew that they would always be there for her. She said that she loved having them over, saying:
"I always think, "A visit from a twin can bring a grin!""
On their birthday in 2022, she shared a black and white photograph of herself and her twins on her Instagram page. In the caption, she wished them a happy birthday and encouraged her followers to read what being a mother meant to her from the link in her bio.
The link led to a story where she detailed what it was like to become a mother at a young age and what it meant to have twin girls. In the article, she said she hoped every mother could become best friends with their children as she had.
Please fill in your e-mail so we can share with you our top stories!