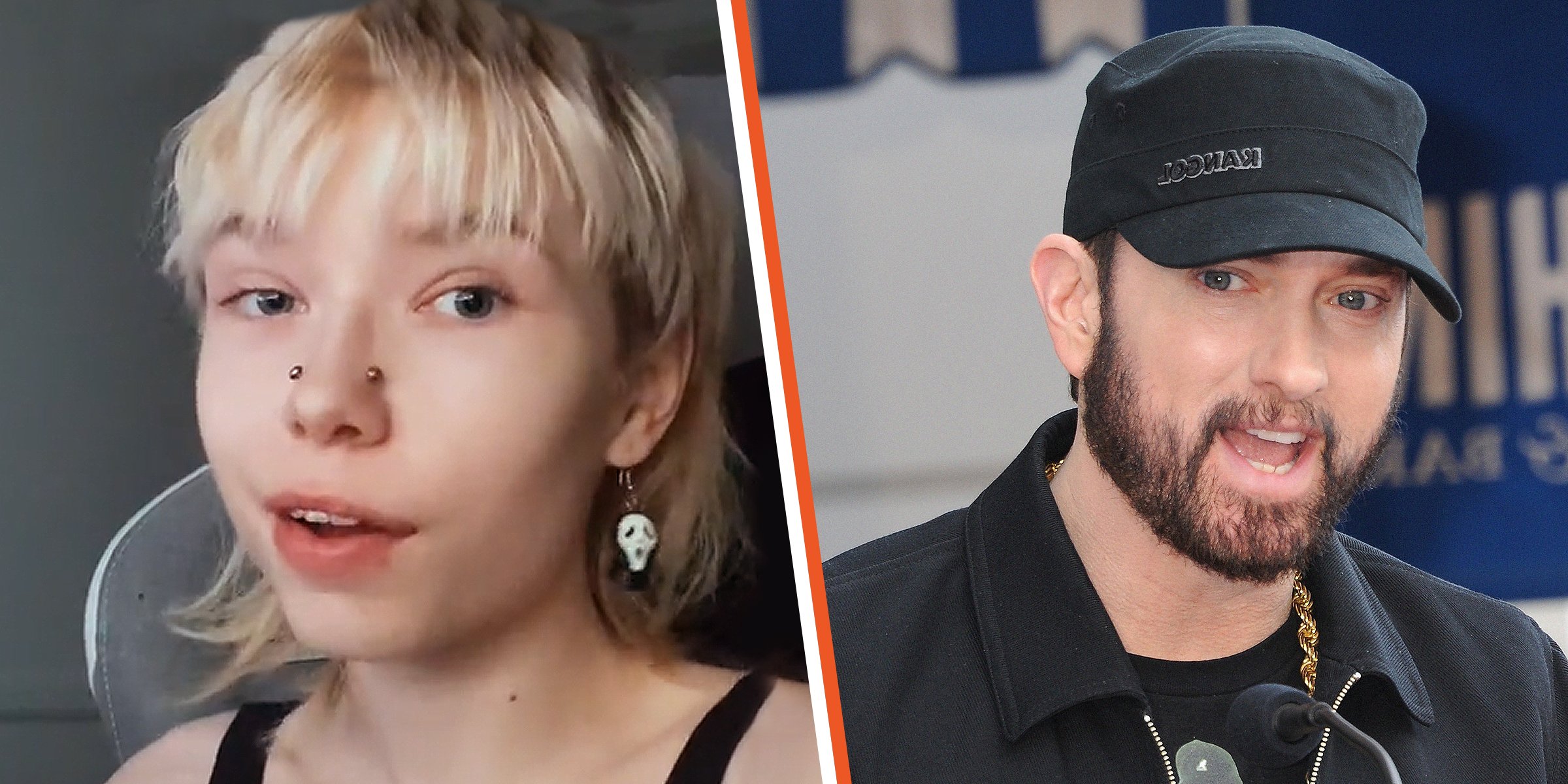 TikTok/st0nedc0w | Getty Images
Whitney Scott Mathers Is Eminem's Adopted Non Binary Daughter - Facts about Her Life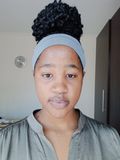 Marshall Mathers III, known as famous rapper Eminem, was once unafraid to boast about his family dynamics. However, when using his daughter Hailie's name in his music backfired, the rapper refrained from revealing too much about his other two daughters, Alaina and Stevie.
Whitney Scott Mathers is Eminem and ex-wife Kimberly Scott Mather's daughter, whom she had a little after their first separation with another man. When the former lovers reunited in 2006, Eminem officially adopted Whitney.
Following their announcements on their social media in October 2017 and August of last year, they are part of the LGBTQ+ community and an ally as a genderfluid and bisexual person who now goes by Stevie Laine. What more do we know about Stevie?
Whitney Scott Mathers Came out as Non-binary
Whitney Scott Mathers was born on April 16, 2002, making them the fire sign Aries. With an active social media presence, Whitney announced their sexuality on a since-deleted Instagram post.
The now-removed post hit the web on "National Coming Out Day," where they wished their followers a happy one. Whitney encouraged her followers to love whoever they wanted to love, saying:
"I would like to say you're perfect the way you are and that love is love!?????????? be yourself!"
In August of last year, Whitney took to the popular video-sharing app Tiktok to share the newest development in their identity, captioning it:
"Watch me become more comfortable with myself
They created a photomontage showing photos of themselves over the years, sporting distinctive looks that indicated different stages of Whitney's evolution.
Every few photos, a text would appear disclosing the pronouns and names they went by during those stages. By the end of the video, it became clear that Whitney was coming out as non-binary, or more specifically, genderfluid. Whitney also changed their name to Stevie Laine.
Although their dad protected them as a child from the public's prying eyes, Whitney has made their presence known on the internet. They have amassed a following of more than 45K followers and counting on their TikTok account, which boasted over 710K likes at the time of the publication.
Whitney is also a gamer who goes by "StevieOnlinee" on their Twitch account, streaming regularly while playing a game titled "Dead by Daylight."
The 20-year-old is also currently in a relationship with 21-year-old Jace, who goes by "puffinstufff" on Instagram, he/they pronouns, and is a Virgo, according to his bio. Jace recently posted a photo of himself with his lover while they were out together, wearing dark-colored outfits and kissing Whitney on the cheek.
Who Are Whitney Scott Mather's Parents?
Whitney Scott Mather's parents are the ex-wife of their adoptive dad Kimberly Scott Mathers and a man named Eric Hartter. Kim and Hartter's romance ensued after she and the rapper divorced in 2001.
When the divorcees got back together in 2005, Eminem took it upon himself to fill the role of a father in Whitney's life as their mom battled depression and substance abuse. However, the rapper emphasized how important it was that his daughter understood that their mothers were sick and needed help.
He explained:
"You can never let a child feel like it's her fault for what's goin' on."
He then concluded that he would always be there for them. However, Eric Hartter was barely involved in his daughter's life.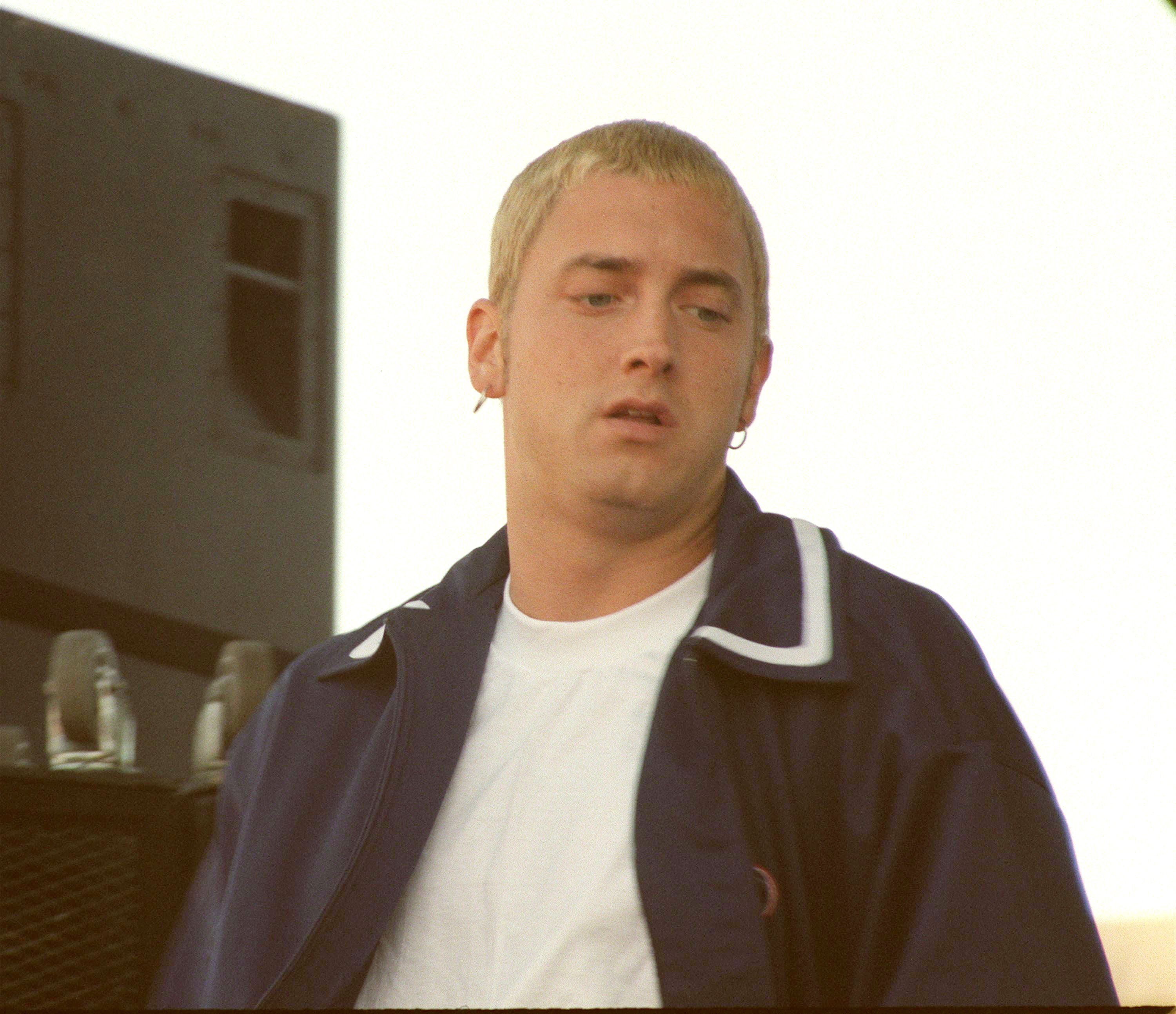 Eminem pictured as he performed on July 3, 1999 in Oakland | Source: Getty Images
According to Meaww, Hartter wasn't even present for Whitney's birth as the late tattoo artist was wanted for arrest as he was suspected of drug dealing, but that wasn't the first of his run-ins with the law.
Hartter had already been convicted a few times before and after his daughter's conception and birth and allegedly struggled with drug addiction. He had also been convicted and served time for drug possession. Unfortunately, Hartter passed on in 2019 at 40 due to a drug overdose.
Meaww also reported that Hartter was involved in a relationship with a woman named Sarah Hubbard, who expressed her grief over the loss of her children's father on Facebook.
She wrote:
"I love Eric w every ounce of me he was my best friend no matter what! Eric has made some sh***y choices in life, but who hasn't! I have yet to meet a perfect person."
According to The Sun, Whitney's biological paternal family claimed they would always love her and would be more than willing to tell them more about their birth dad.
Whitney Scott Mathers Has Two Sisters
Hailie Jade Mathers is Whitney's older sister, who attended Michigan State University and graduated with a 3.9 GPA with a major in psychology. Her parents welcomed her on December 25, 1995.
She is active on social media, with an Instagram following of over 2 million followers and counting. There are no other official social handles in her name. Their eldest sister is Alaine Marie Scott, who recently became engaged to her boyfriend, Matt Moeller.
Alaine announced the good news on a December 2021 Instagram post where she remarked she would agree to marry her fiance a hundred times over. Eminem has not released any public statement about Alaine's engagement.
The rapper adopted Alaine when she was much younger, as her late mom - Kim Scott's twin sister, Dawn - battled with substance abuse. According to "The Real Slim Shady" hitmaker, Alaine was already staying with him and his ex-wife before they officially took her in.
Whitney Scott Mathers's Relationship with Eminem
The artist has shared his sentiments about fatherhood, where he feels that being a dad for him is synonymous with "living a double life." He recalled trying his best to be present as much as possible and ensuring that he raised them correctly.
He believes that Whitney is the sweetest and funniest girl. According to Nicki Swift, Eminem doesn't live with his daughters, seeing as how they're all grown up now. However, the outlet also speculated that they might live close to each other.
Whitney, Hailie, and her boyfriend, Evan McClintock, were seen heading to watch their dad's performance at The Governor's Ball in New York together in June 2018
Whitney only learned of their biological father after his death. Several outlets reported the since-deleted TikTok video they posted recounting how they found out where they received an article announcing Hartter's death.
Whitney was seemingly upset by the news as they were under the impression that their biological father was indeed Eminem. The 20-year-old also posted a green screen video making fun of an experience where a teacher called her to lip sync to one of her dad's popular hits, "Rap God."
Please fill in your e-mail so we can share with you our top stories!