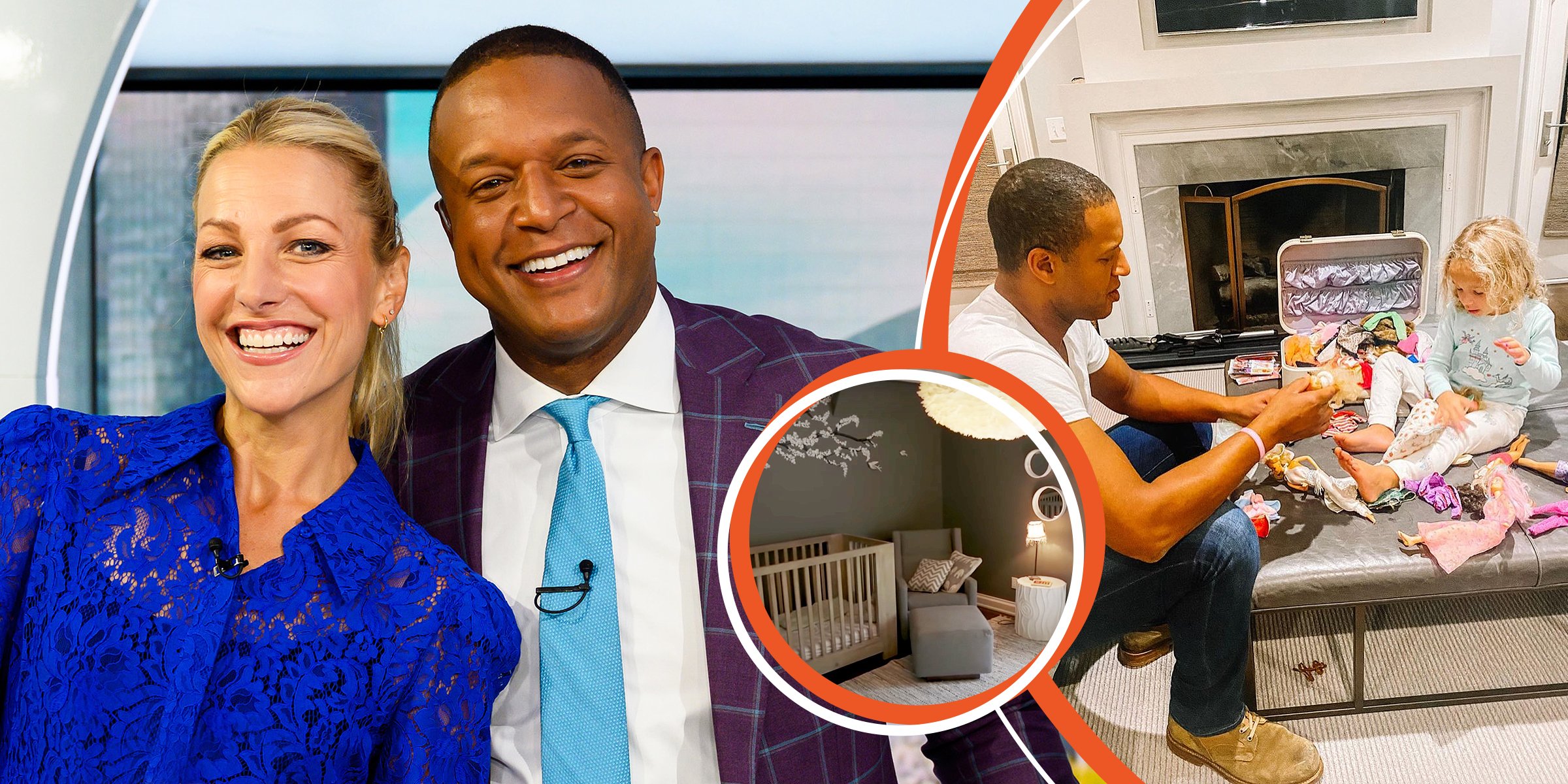 Getty Images - Instagram.com/lindsaycz - Youtube.com/People
Inside Craig Melvin's Unique Home Where He Raised Kids and Expressed His Creativity in the Basement

Craig Melvin is one of America's leading journalists and anchors. But his favorite title is being a husband and father. Together with his adorable wife, he raises their two kids in their uniquely designed dream home. Here is a tour of the property.
"Today's Third Hour" host Craig Melvin is living the American dream. He has the perfect job and family. It all began after he fell in love with a coworker, Lindsay Czarniak.
The duo met in 2008 while working at WRC in Washington, D.C., and their relationship progressed; they became husband and wife three years later.
Despite their grueling work schedule and drive for success, they decided to build a family. Soon, Melvin and his wife welcomed two kids.
Their firstborn, Delano, named after his dad (Melvin's middle name is Delano), was born in 2014. Then, nearly three years later, their only daughter, Sybil Ann, aka Sibby, was born.
Even though the duo is first-time parents, Melvin is captivated by his kids. He once admitted that his best moment on any day is when he arrives home to be welcomed by the entire squad, including their mom. In his words:
"When I get home, and both kids and Lindsay are there and I get the "Daddy!" and the leg grab or the hug and the kiss. It never gets old."
Home for Melvin and Lindsay is where they enjoy family time and as much freedom as possible. In 2016, the couple moved into their dream home, and to date, they are having fun creating memories with their kids in it.
A Tour Into Melvin's Unique Home
Melvin and Lindsay may have a busy schedule, but they were excited about having their own space where they could produce amazing designs individually. So they opted for a 5,308 square-foot home.
However, the couple kept open minds concerning the home's aesthetics, and while they had different themes in mind, they brought in Michelle Hogue of Westport-based Hogue Interior Design.
During the tour, Melvin interrupted his wife to talk about how proud he felt of her painting skills and the entire concept of the room.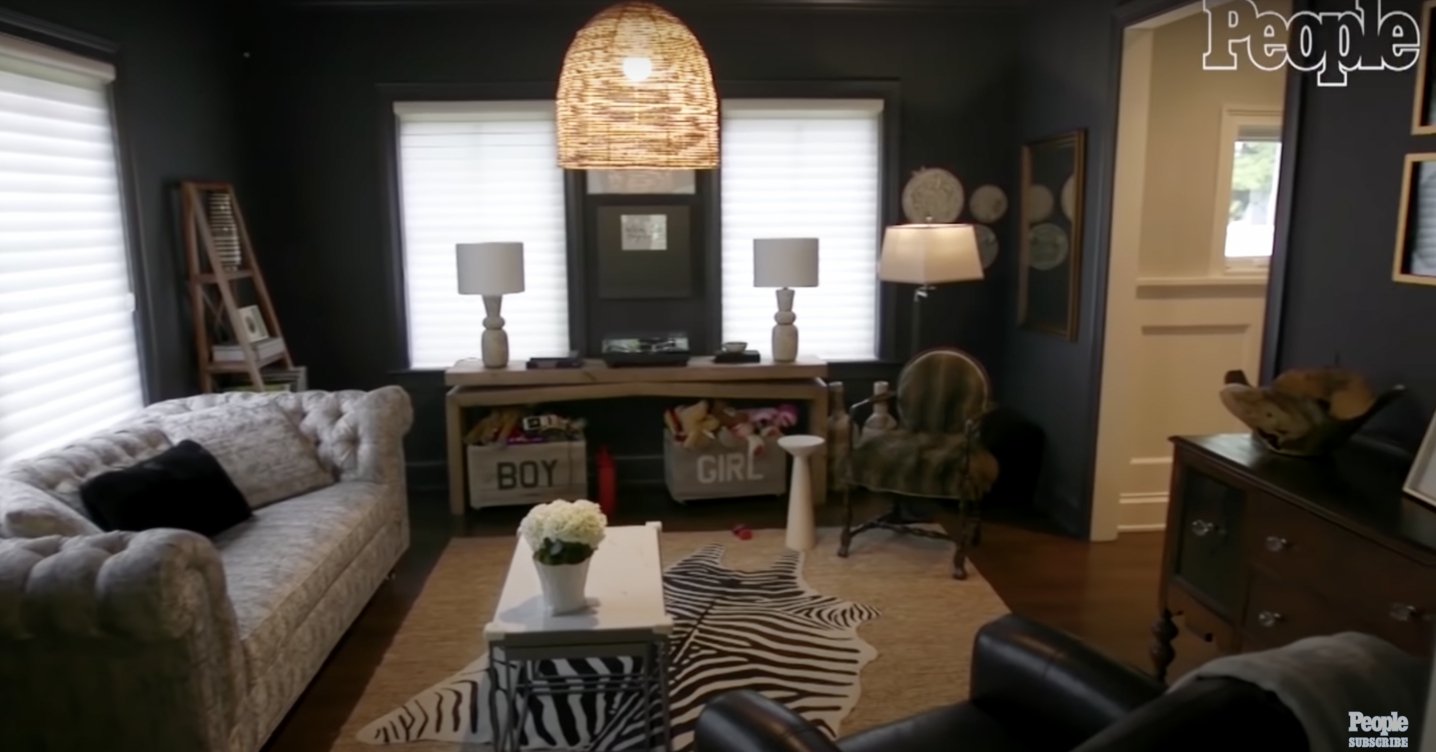 Craig Melvin's house. | Source: Youtube.com/People
In the end, the couple agreed that Hogue evoked the most stunning transformation to their home after she made their home functional for each member of the family. Melvin revealed:
"Michelle deserves a lot of the credit. She forced us to step out of our comfort zone."
In 2018, the couple took People on a detailed tour of their home. It possessed a rustic dining room, and a concise music room painted dark grey.
Czarniak explained that the music room has a "straight-up theme" that connotes music and a calm atmosphere with its walls designed with ageless records from renowned artists.
There is a light-colored three-seater sofa nestled under a covered window. In front of it is a rectangular table on top of a zebra-themed center rug, while the chair is also guarded with wooden racks placed at two sides, holding discs and flower vases.
Inside this special room, Melvin keeps a fond memory of his grandmother. He explained that he inherited her chair after her death, which has since been in his possession.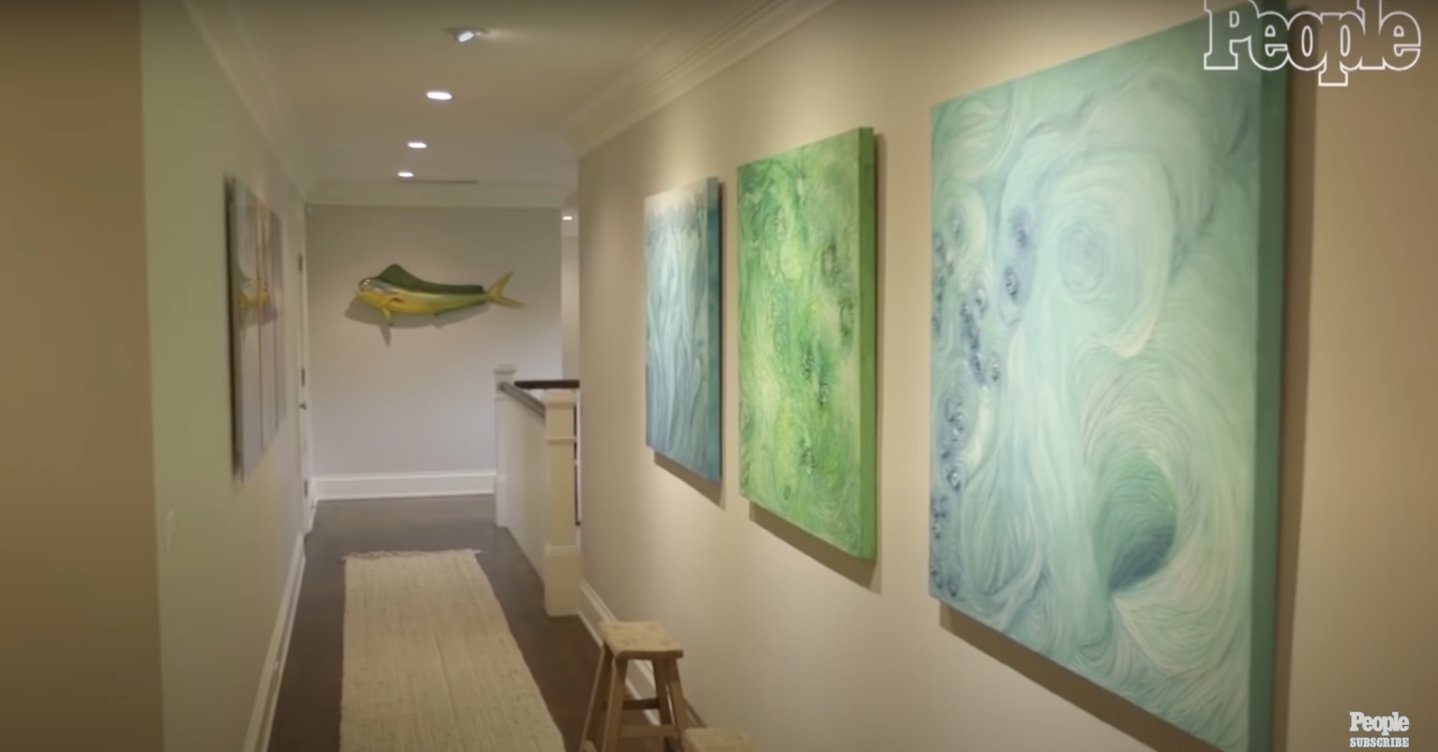 Craig Melvin's house. | Source: Youtube.com/People
The couple's home also has a spacious kitchen, a noticeably large island displaying a walnut countertop, and granite layered cabinets.
Czarniak admitted that initially, it was difficult to accept such a unique design as she expected the typical white marble or granite. However, it soon became her favorite spot.
The reason is simple, "maybe that's because it's a great spot to consume Melvin's creative concoctions…He's a great cook. He will do the main course, and I will make a side," she said.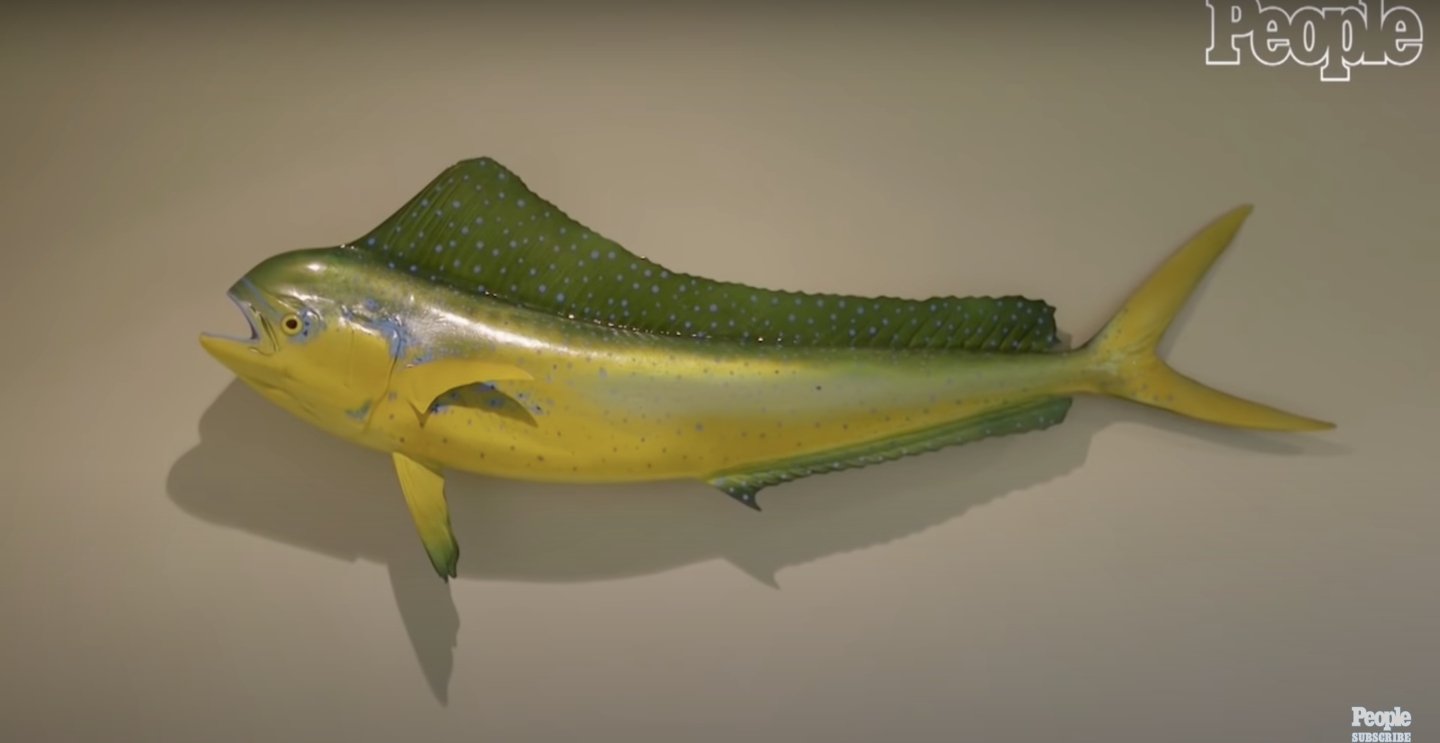 The gigantic fish. | Source: Youtube.com/People
Another favorite place for Czarniak is the hallway with a beach-like theme. This spot is almost like an art exhibition.
The couple has large artworks on the walls, and a fascinating gigantic fish, which is also Czarniak's trophy for being a great fisherwoman; she caught the fish, which according to Melvin, "is the centerpiece of the whole house."
Everything About Their Children's Rooms
Their son's room was designed to suit his passion for cars, but it was also age-appropriate and sophisticated at the time. Delano's personal space had a car theme; a large photo of him at the Indy 500 was placed over his crib.
It also provided a parking space for his rideable fire truck, which often visited his sister's room before bedtime. Sibby's room also beholds an amazing style. Her ceiling is a wallpaper.
The atmosphere in the room speaks of calmness, as there is a feathered-themed lamp, a crisp white footstool, and a customized painting by her mom (she wanted her daughter to have a taste of D.C, where the couple met).
Czarniak's mural painting with birdhouse lighting fits perfectly on the grey painted room wall; she also opted for chevron-print accents and curtains.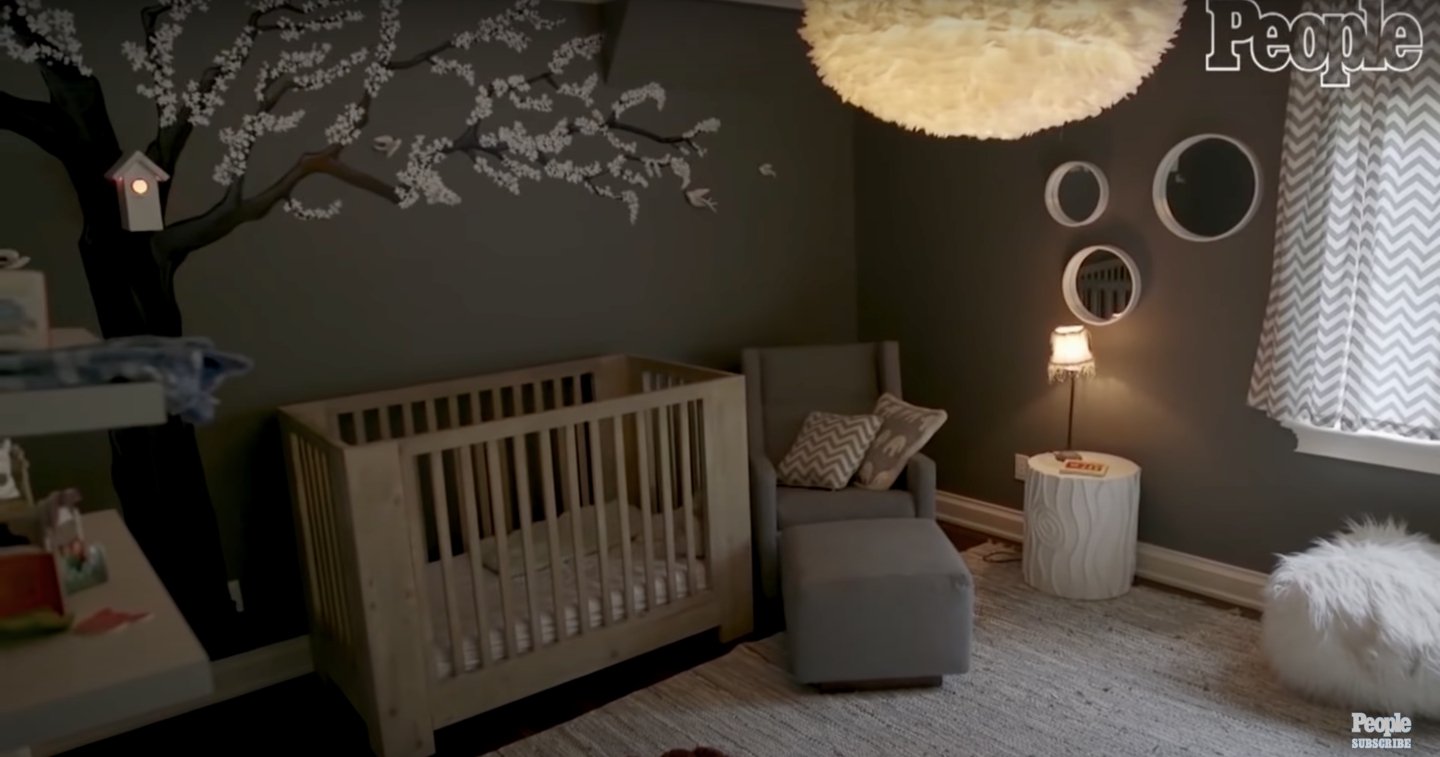 Craig Melvin's house. | Source: Youtube.com/People
During the tour, Melvin interrupted his wife to talk about how proud he felt of her painting skills and the entire concept of the room.
Melvin's Favorite Part Of His Home
In response to his praises, Czarniak thanked her husband and shared that his "art truly lives in the basement." The couple hinted that this is their entertainment quarter.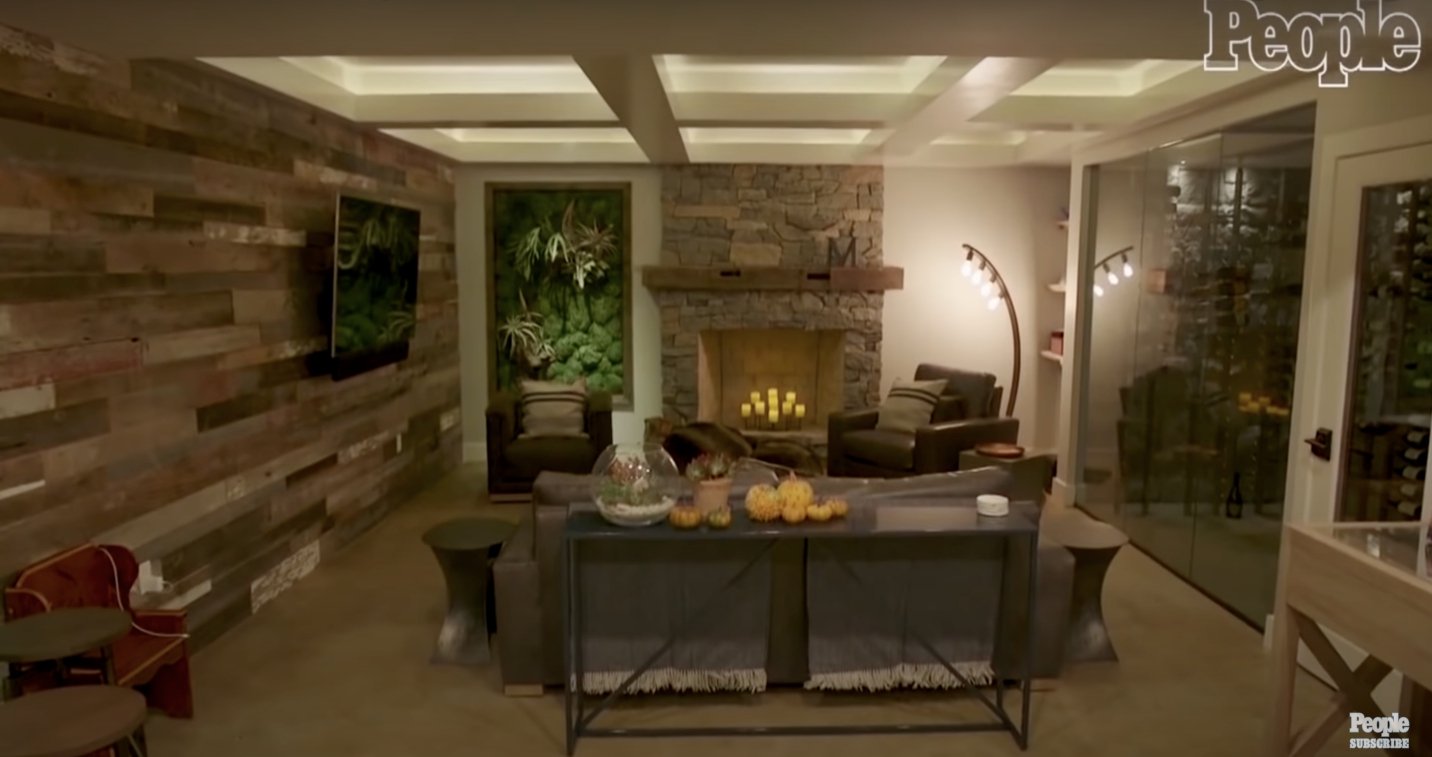 Craig Melvin's house. | Source: Youtube.com/People
There is a large-sized TV above a fireplace; the space also boasts an equipped gym and a standard bar with chairs.
Visitors also see a mini Winehouse with a door lock and a controlled temperature. A sneak peek into this store shows a classic-styled door on the other side.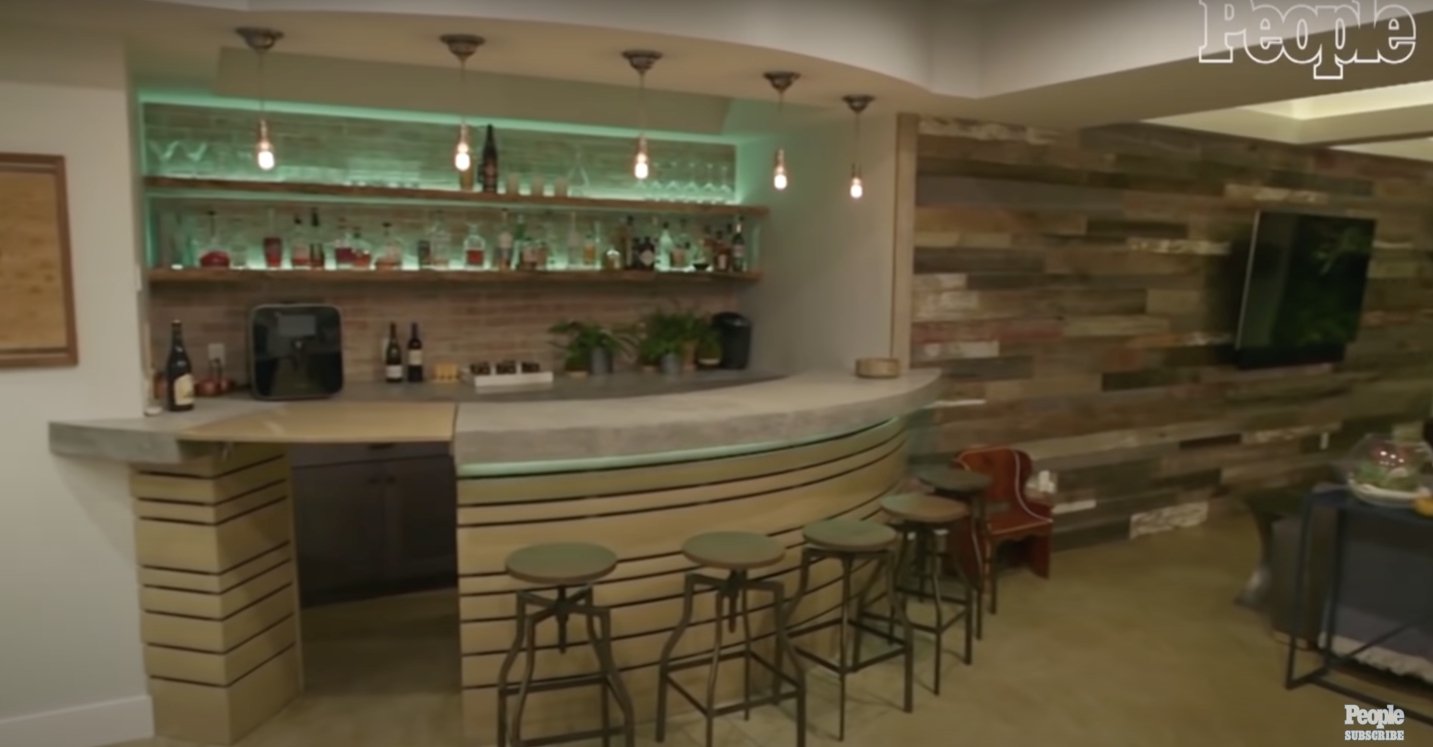 Craig Melvin's house. | Source: Youtube.com/People
Additionally, the couple has many art pieces hanging on the wall and sitting on countertops, mostly from Melvin's creativity. There is a large wall plant on one side of the wall; it was created by a friend, following his instructions.
Despite getting help from Hogue, the couple has shown that teamwork always makes the dream work. Through their efforts and agreement of ideas, they have made their home the best place for their entire family!
Please fill in your e-mail so we can share with you our top stories!