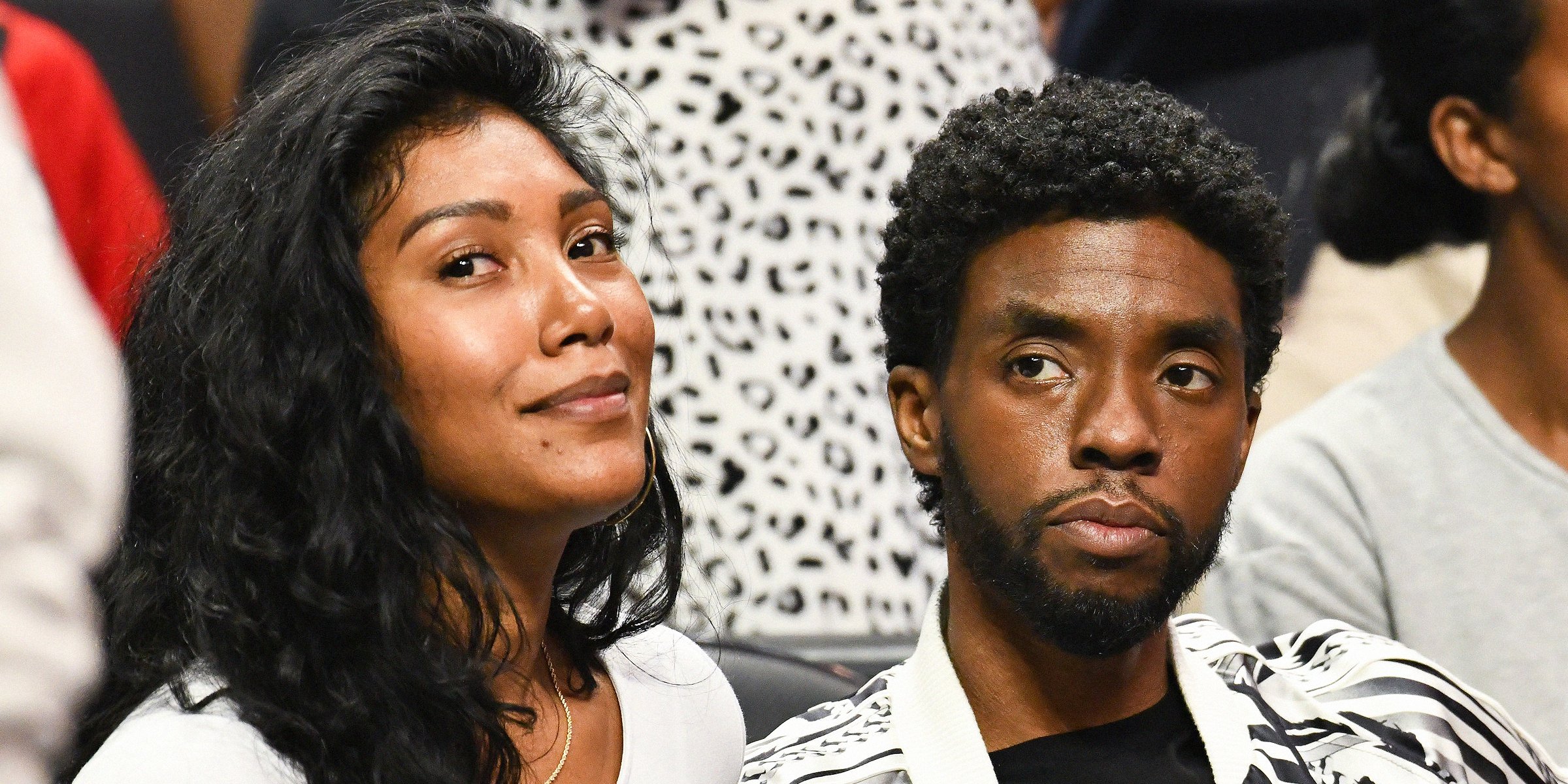 Getty Images
Taylor Simone Ledward: Inside Chadwick Boseman's Discreet Love Story with His Wife and Her Life after His Death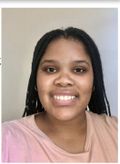 Actor Chadwick Boseman tragically died in 2020 following his star role in "Black Panther." Only after his death did people learn about Chadwick Boseman's wife, Taylor Simone Ledward, and their long-term relationship and marriage.
Chadwick Boseman was born in Anderson, South Carolina. He attended Howard University and studied acting in the Oxford Mid-Summer Program. In 2008 he moved to Los Angeles to chase his dreams.
He landed roles in "The Express" in 2008 and "Draft Day" in 2012. He gained widespread recognition following his starring roles in upscale movies. He played Jackie Robinson in "42" in 2013, James Brown in "Get on Up" in 2014, and Thurgood Marshall in "Marshall" in 2017.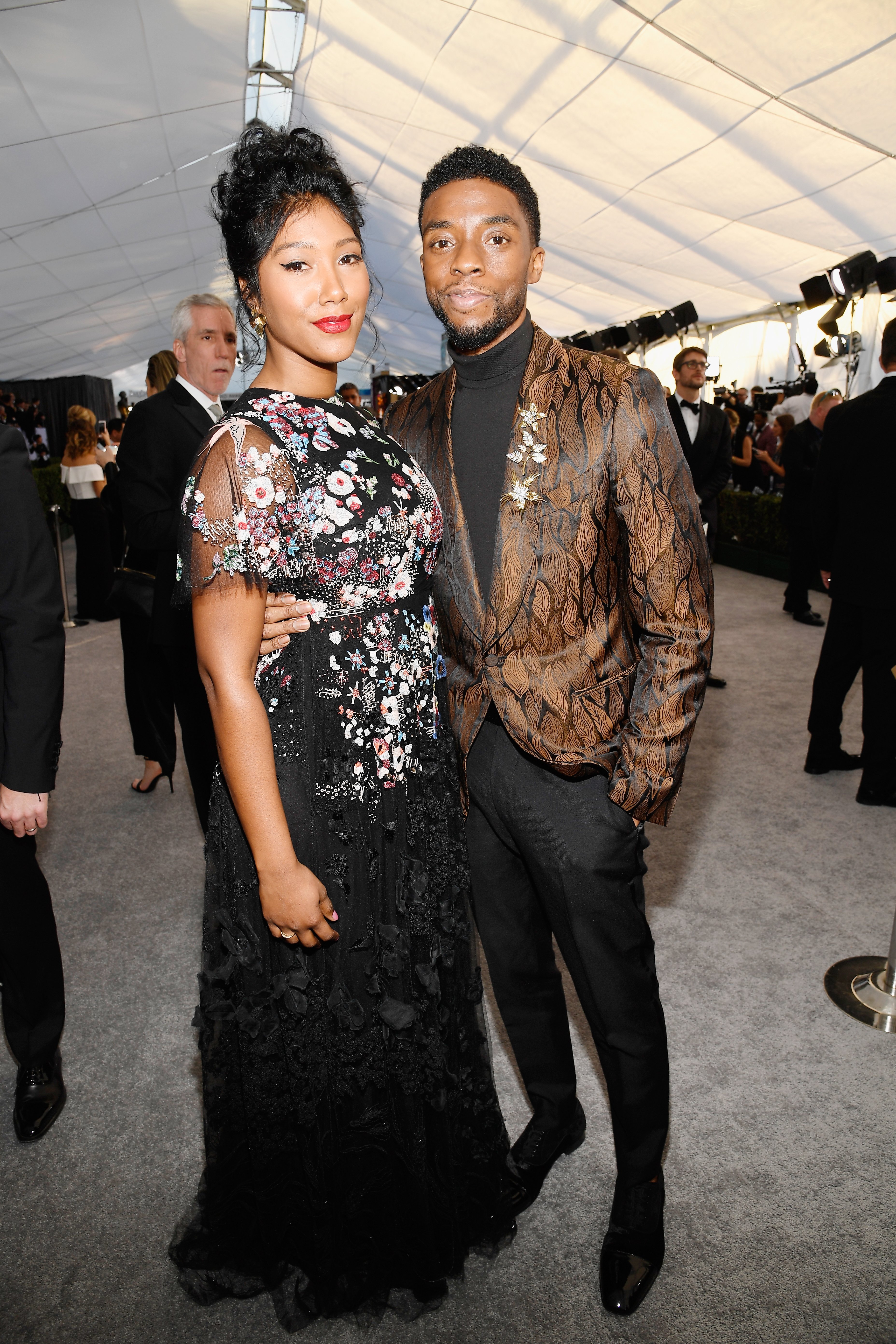 Taylor Simone Leward and Chadwick Boseman at the 25th Annual Screen Actors Guild Awards in California on January 27, 2019 | Source: Getty Images
However, his career skyrocketed after he was cast as the lead in Marvel's "Black Panther." He became the face of a prolific black superhero and stretched his fan base worldwide.
During his climb to fame, Boseman secretly battled a four-year-long colon cancer diagnosis. His wife, Taylor Simone Ledward, was by his side to the end after he died in 2020.
One of his final projects, "What If…?" was nominated for and won a posthumous Emmy. Ledward accepted the award on his behalf, expressing her admiration for her late husband and his determination to his craft despite his illness:
"Thank you so much for the honor — Chad would be so honored, and I'm honored on his behalf."
Who Is Taylor Simone Ledward?
Ledward was a singer who enrolled at California State Polytechnic University Pomona. She was a lead singer in the university's jazz band and graduated in 2014 with a degree in Music Industry Studies. She reportedly auditioned twice for "X Factor"
One of the last times they were publicly spotted together was at the 2020 NBA All-Star game in February; they sat side-by-side and seemed very happy.
The couple had reportedly been together for four years before Chadwick proposed in Malibu. Boseman's cancer diagnosis came only a year into the relationship, and they tried to tie the knot before his diagnosis worsened.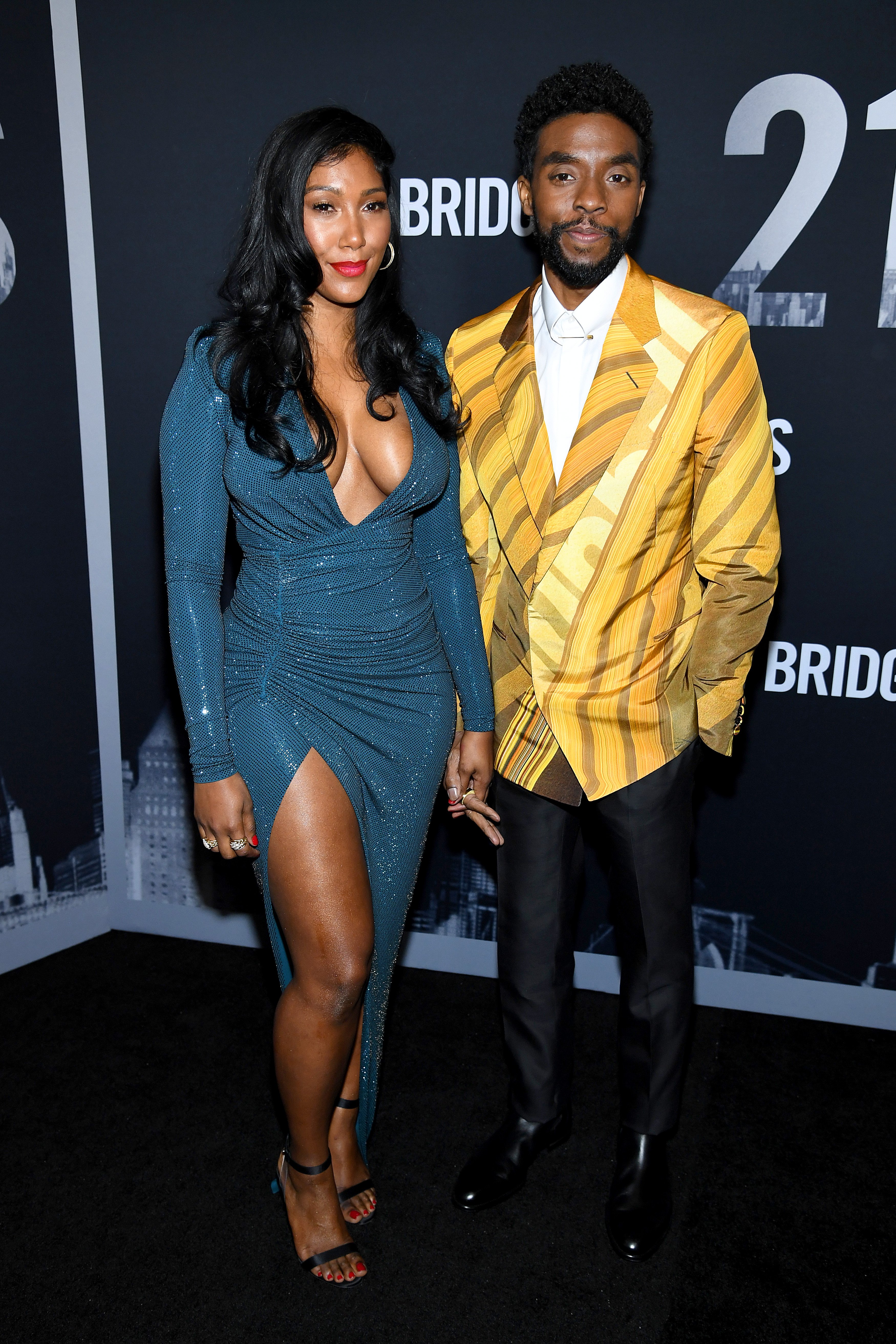 Taylor Simone Leward and Chadwick Boseman at the premiere of "21 Bridges" in New York on November 19, 2019 | Source: Getty Images
Boseman passed away ten months after he was rumored to have proposed. Before his passing, the couple was photographed at award shows and red carpet events.
The couple did not welcome any children, despite Ledward's sister admitting they would have made "some beautiful babies." Boseman's family confirmed his passing on Twitter – he had been diagnosed with stage three cancer in 2016.
The public caught wind of a possible illness and began to worry after he was photographed following a dramatic weight loss. Boseman died with his wife and his loved ones by his side.
How Long Were Taylor Simone Ledward and Chadwick Boseman Together?
Before his passing at 43, Boseman married Ledward. The couple was rumored to have gotten engaged in 2019, and although they were private about their personal lives, they enjoyed making a few public appearances.
They made their red carpet debut at the Screen Actors Guild Awards in 2019, where Boseman received a nomination for "Black Panther."
During his acceptance speech for his Oustsbding Actor award at the NAACP Image Awards in 2019, the actor took time out to thank Leward Boseman. He said:
"Simone, you're with me every day. I have to acknowledge you right now. Love you."
Before his passing, Boseman played a trumpet player alongside Viola Davis in the Netflix film "Ma Rainey's Black Bottom." Many people from the movie had no idea Boseman was sick; the film's director, George C. Wolfe, said he felt "deeply, deeply blessed" to have had the opportunity to work with Boseman.
During an interview on CBS Sunday Morning, actor Denzel Washington recalled watching Ledward and how she took care of Boseman. He revealed they had not married yet, but she would come to set and watch over Boseman.
Washington was so moved by what he witnessed that he thought to himself, "Man, she loves that guy." Washington was the one who encouraged Boseman to propose to Ledward but also admitted that he did not know that Boseman was sick.
At the Gotham Award, where Boseman was honored with the Actors Tribute, Ledward revealed that Boseman was the "most honest person" she had ever met.
What Happened to Simone after the Death of Her Husband?
During a televised special "Stand up to Cancer," Ledward took the stage to showcase her musical talents and honor her late husband with the song "I'll be seeing you." Actor Anthony Anderson introduced her to the stage, calling her late husband an "incredible artist" and a "true hero."
After Boseman's death, Ledward's acceptance speeches at award shows on his behalf became inspiring for many. Tony McCuin, the live television director for the NAACP Image Awards, said that members in the controls room would occasionally drift into conversation during speeches.
But everyone was silent when Ledward spoke. "It was very emotional," he said. Ledward used the platform award shows gave her to urge black men over 45 to get screened so their wives could avoid the pain she experienced after losing her husband.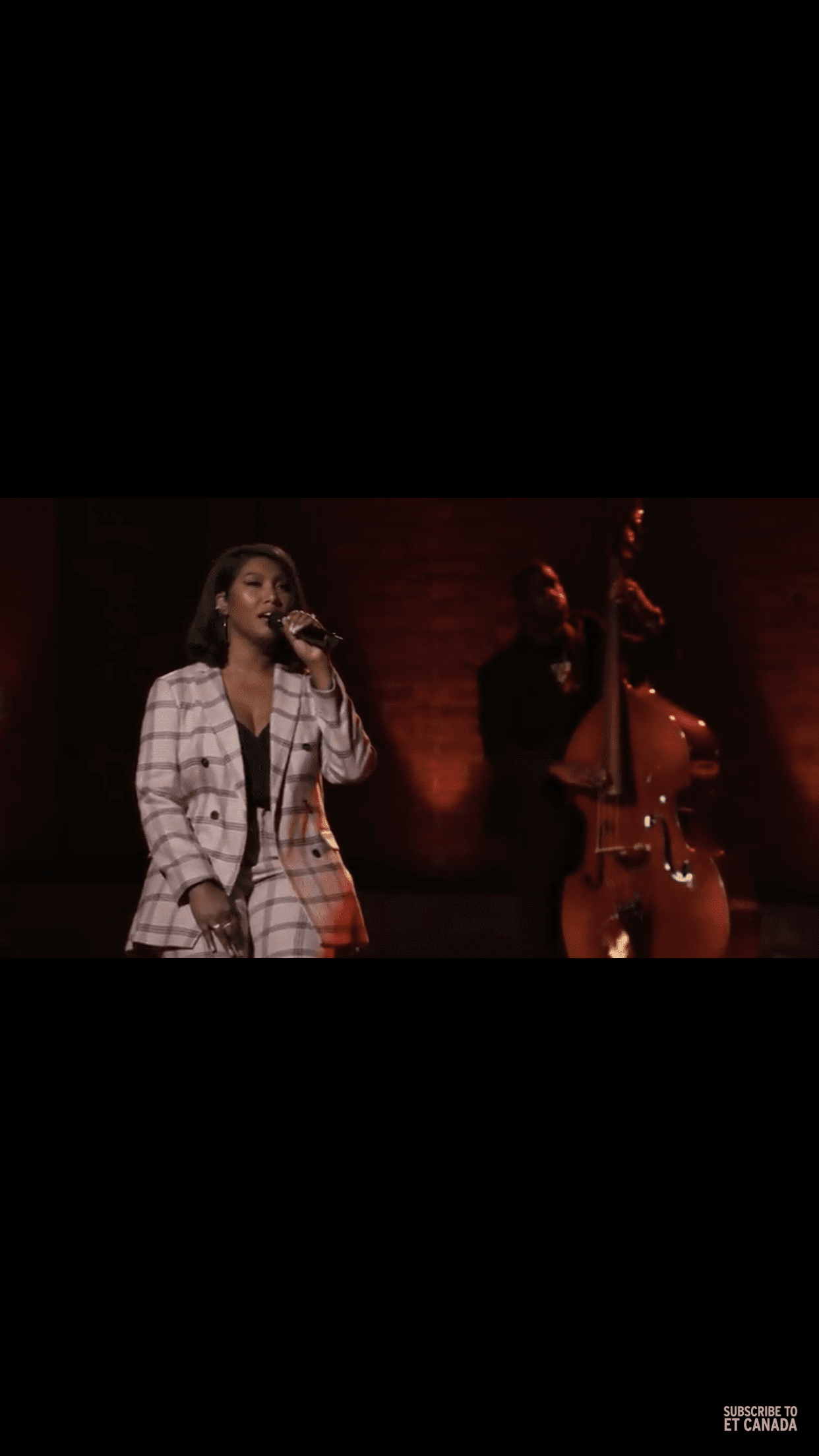 Taylor Simone Leward performing at the "Stand Up to Cancer" event | Source: YouTube/ ET Canada
Although her speeches were moving, friends close to Boseman and his wife said watching the award shows and Ledward's speeches were far too painful.
Makeup artist Siân Richards, who was on sets with Boseman, admitted to bursting into tears and turning off the TV. Before Chadwick Boseman's death, he had not set up a will; however, his wife and parents managed to split his estate amicably.
Please fill in your e-mail so we can share with you our top stories!