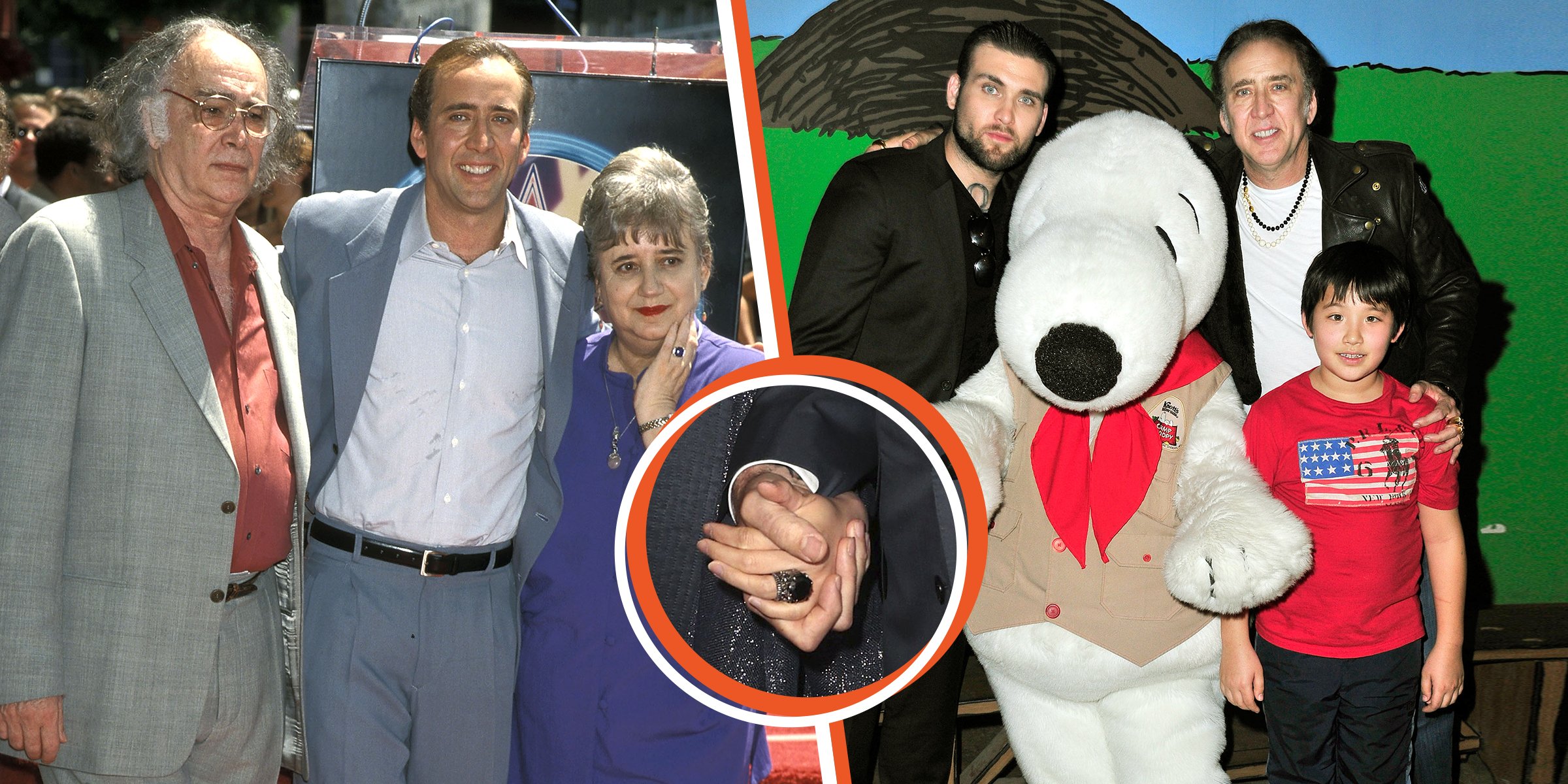 Nicholas Cage with parents [Left] | Nicolas Cage and Riko Shibata [Inset] | Nicolas Cage and his sons | Source: Getty Images
Nicolas Cage Named Newborn Girl after Late Dad — He Honored Him at Small Wedding with the 'Right' Wife

After his father died, actor Nicolas Cage bought himself a tomb in preparation for his future burial. Years later, he visited his future burial place with a mystery woman following the end of his fourth marriage, which lasted four days. Luckily, the actor finally found love at 56 and recently welcomed his third baby, naming her after his late father.
"Mom and Dad" actor Nicolas Cage is the newest dad in town! Cage, 58, and his wife welcomed their first baby together on Wednesday, September 7, in Los Angeles.
Their new baby, named after Cage's dad is the actor's third child, and his wife's first. Cage is also a father to two sons, Weston, with his former girlfriend, Christina Fulton, and Kal-El, with his third wife Alice Kim.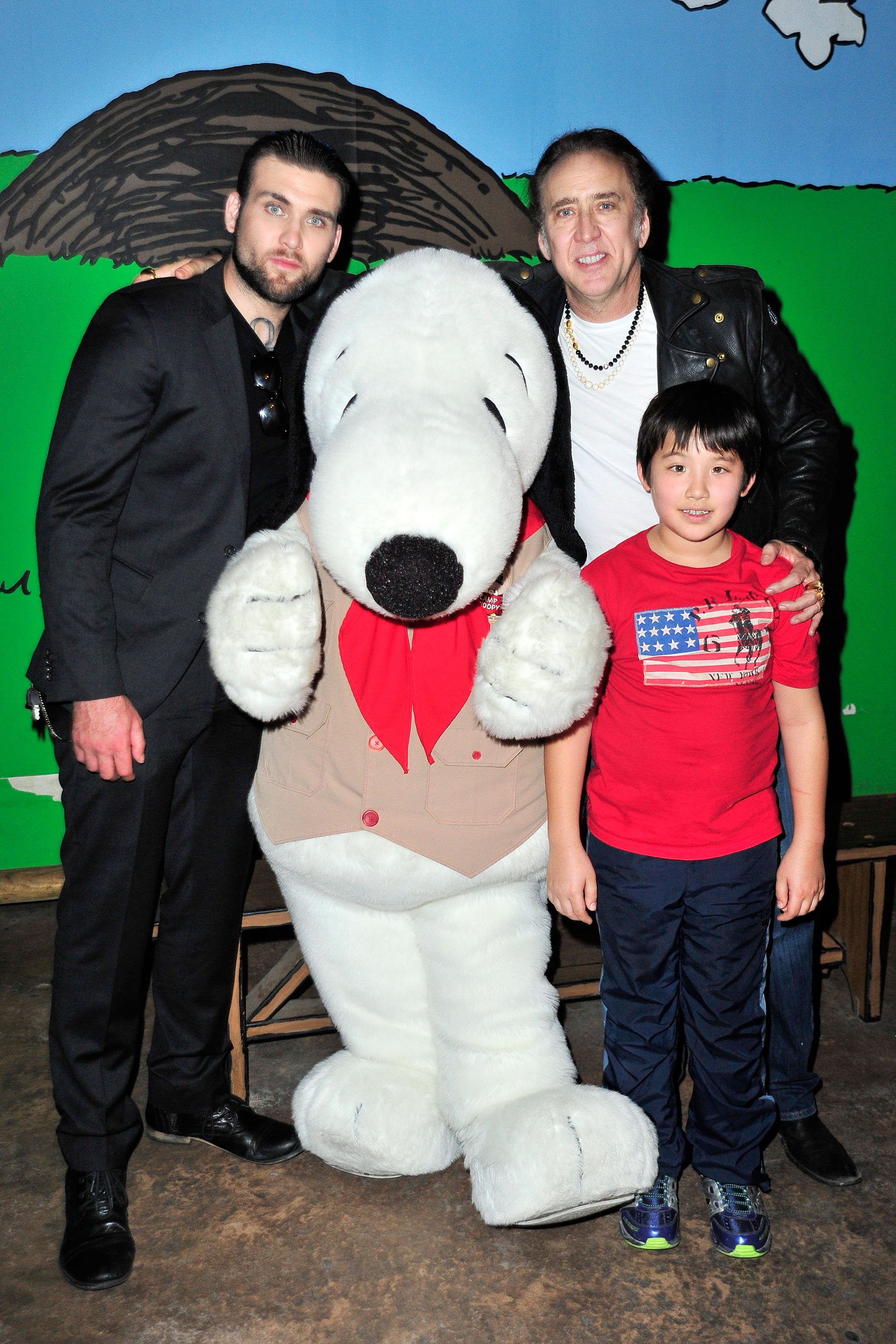 Actor Nicholas Cage visits Knott's Berry Farm with sons Weston (L) and Kal-El on September 12, 2015 in Buena Park, California | Source: Getty Images
Naming their new baby after Cage's dad, August Coppola, an academic, author, film executive, and advocate for the arts is a great honor, will not be the first time that the actor and his wife pay tribute to him.
Cage Bought Himself a Tomb after His Father's Death
Cage was devastated after his father, then 75, died from a heart attack in 2009. The actor buried his father a few days later and planned on going for the screening of his film "Bad Lieutenant: Port of Call New Orleans" only days later.
However, he canceled all his work and dropped out of any public appearances, instead choosing to take some time off and mourn his late dad.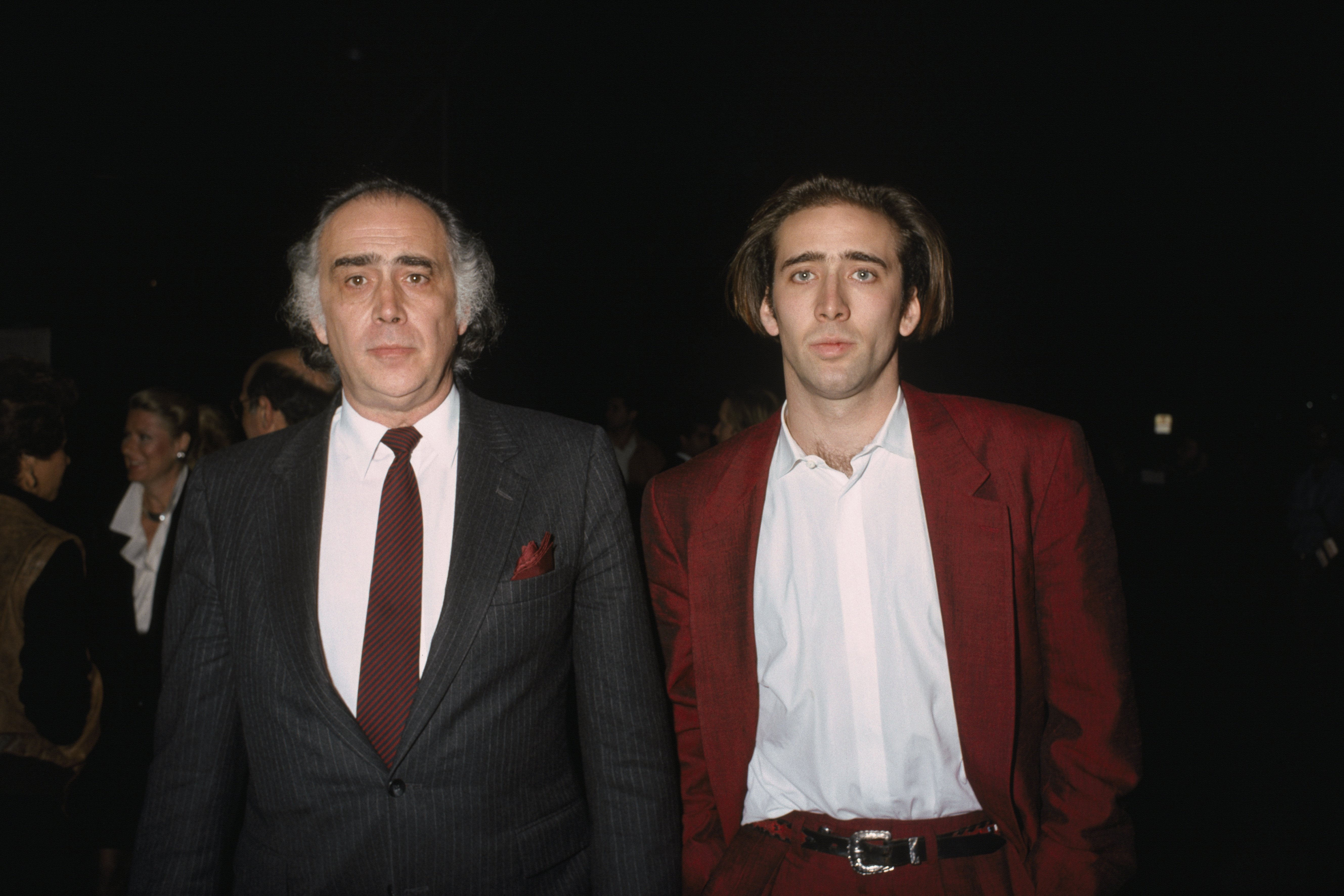 American actor Nicolas Cage and his father August Coppola attend the premiere of Moonstruck in 1988 | Source: Getty Images
A year after the demise of his father, Cage puzzled everyone when he bought a tomb for his future burial. The tomb, a nine-foot-tall pyramid, features the Latin words "omnia ab uno," which translates to "Everything From One," and sits at New Orleans' oldest cemetery, St. Louis 1.
Since its construction, the tomb has attracted numerous tourists, some of whom leave their mark with red lipstick kisses. Ten years after he had the tomb installed, Cage made a morbid visit to the site accompanied by a mysterious woman.
The actor and his companion appeared close and held hands as they left the cemetery and got into a waiting vehicle. The 2020 incident would be the first time Cage was spotted publicly in the company of a woman after his divorce from his fourth wife the previous year.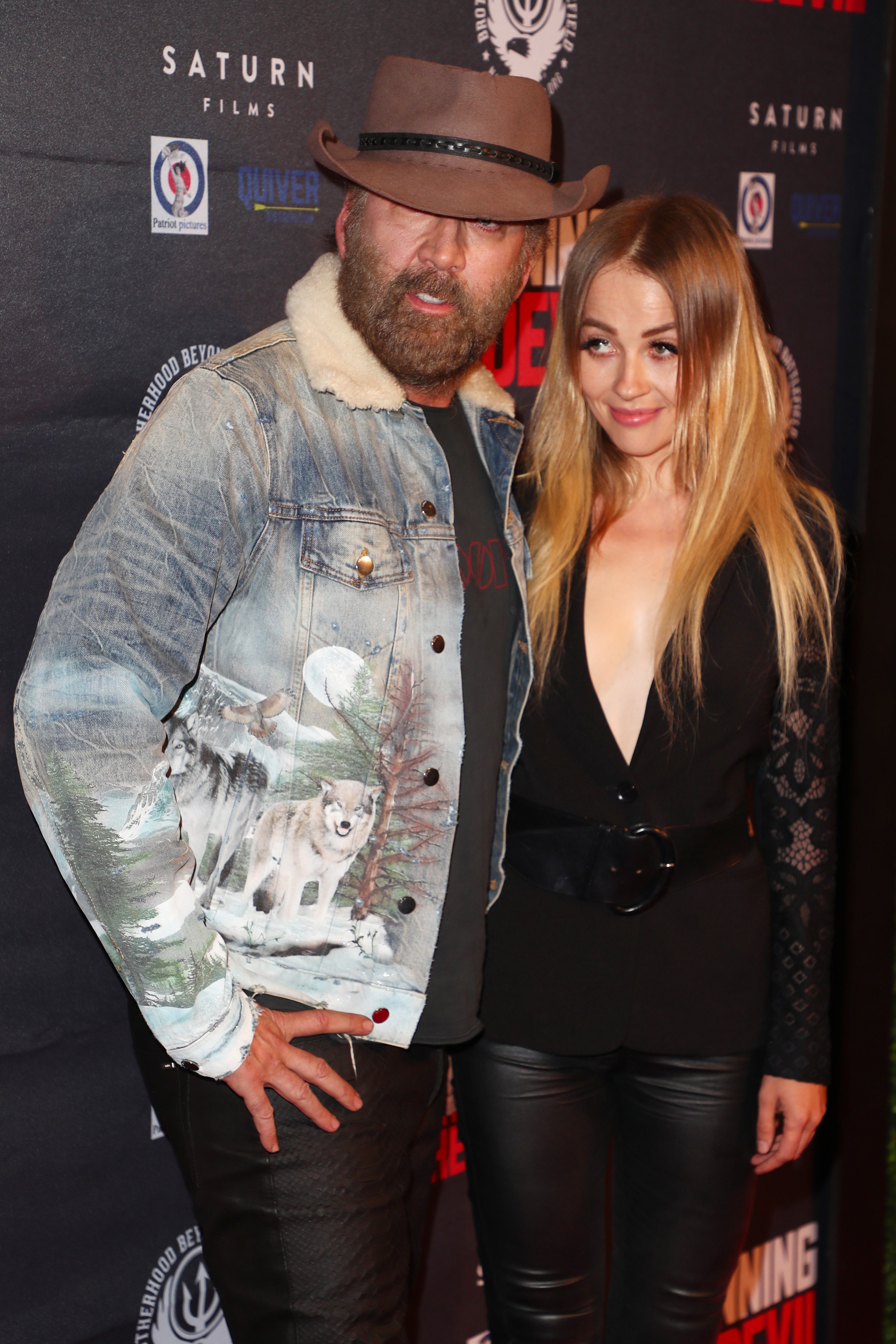 Nicolas Cage and his fourth wife Erika Koike at Writers Guild Theater on September 16, 2019 in Beverly Hills, California | Source: Getty Images
The actor's marriage with his ex, restaurant owner Erica Koike abruptly ended after Cage discovered that Koike had continued having relations with another person after they married, which greatly upset him.
The pair had been spotted arguing outside of Bellagio only hours after getting married and annulled their marriage only four days later. Their divorce became final in July 2020, three months after exchanging vows, yet that would not be the first time Cage ended things with an ex in such daunting circumstances.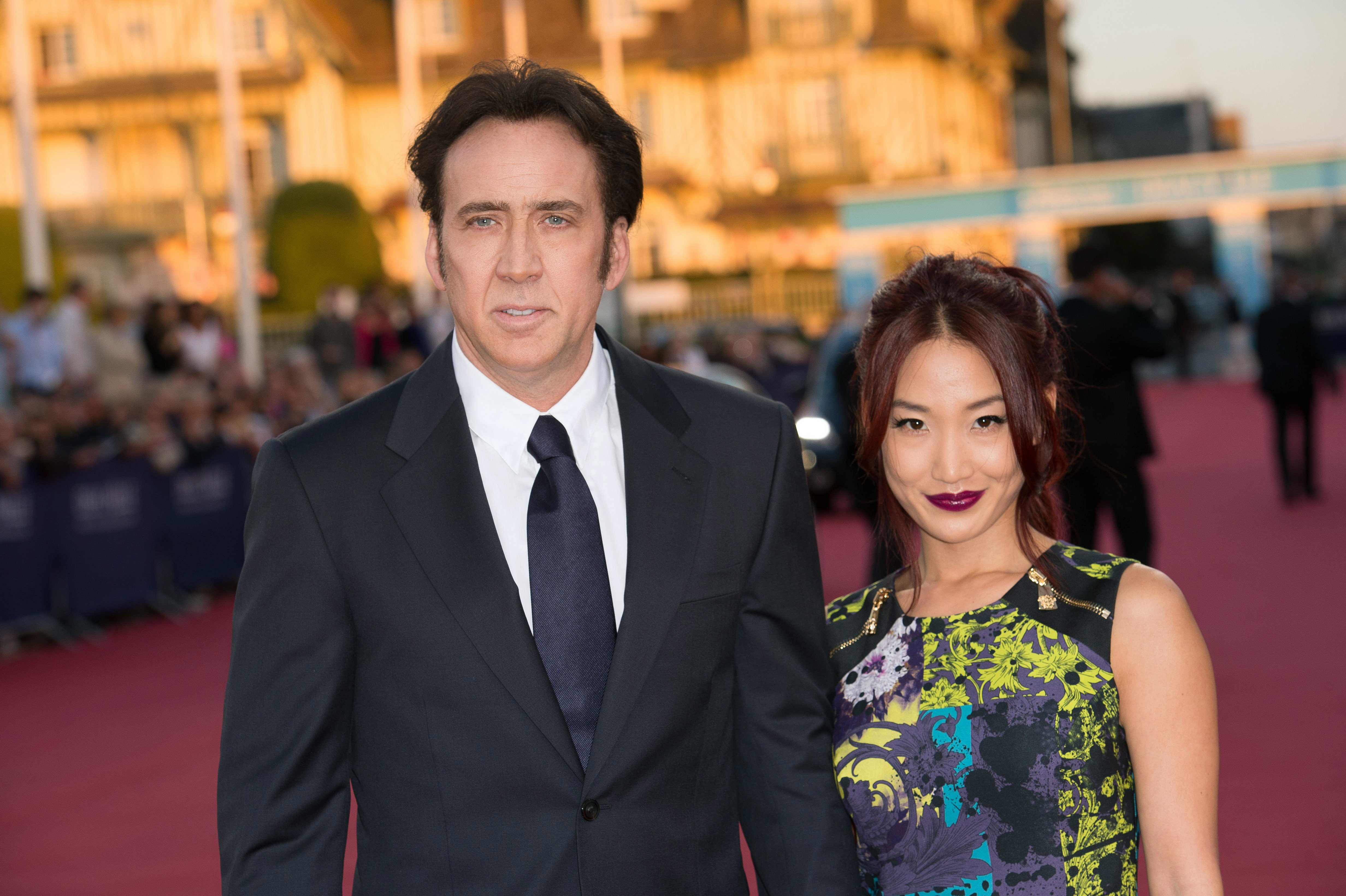 Nicolas Cage and his wife Alice Kim attend the premiere of the movie 'Joe' during the 39th Deauville American Film Festival, in Deauville. | Source: Getty Images
Before marrying his fourth wife, Koike, Cage had come out of his marriage with his third wife, Alice Kim, the mother of his son, Kal-El. Cage and Kim separated in 2016 after Cage discovered Kim had been cheating on him with a Las Vegas bartender.
Though initially unidentified, the mystery woman accompanying him to his tomb turned out to be Riko Shibata, the woman he would eventually marry.
Cage Found Love with 31-Years-Younger Riko Shibata
After four failed marriages, it would be understandable for someone to be skeptical about finding love, but not Cage. After divorcing his fourth wife, Cage soon found love with Shibata.
Cage and Shibata met in Shiga, Japan, in 2020 and instantly hit it off. The actor announced that he had proposed to her during an interview on his brother Marc Coppola's radio show in August 2021.
He disclosed that Shibata had left New York and flown back to Japan, and they had not seen each other in six months. They were looking forward to spending time together, so Cage popped the question during a Facetime session. He shared:
"I got her a black diamond engagement ring. Her favorite color is black so she wanted the black gold and the black diamond."
Shibata made the actor truly happy, and he could not wait to make her his wife. The pair walked down the aisle on February 2021 in a small intimate wedding at the Wynn Casino and Hotel in Sin City.
The bride wore a black, handmade Japanese Bridal Kimono while Cage graced the ceremony in a black Tom Ford Tuxedo with a yellow rose buttonhole to match Shibata's bouquet.
While the wedding date was significant for Cage, it also held sentimental meaning to him as it coincided with his late father's birthday.
Among the invitees to the intimate ceremony was Cage's ex-wife Alice, with who he had maintained a friendship and an amicable co-parenting relationship years after their divorce. Also present was their son.
After-Wedding Bliss and Welcoming Their Baby
After their beautiful wedding ceremony in February 2021, the couple settled into married life, and Cage disclosed that he felt his marriage to Shibata was the one for him. He shared:
"I know; five is a lot, but I think I got it right this time."
"I mean, this is not happening again. This is it. This is it." He mused. After years of searching, the actor finally found the woman that made his heart sing. He has been counting his blessings, even as he continues to be a doting father to his two older children.
As if that was not enough, the actor celebrated even more thrilling news after he and his wife learned they were about to become new parents.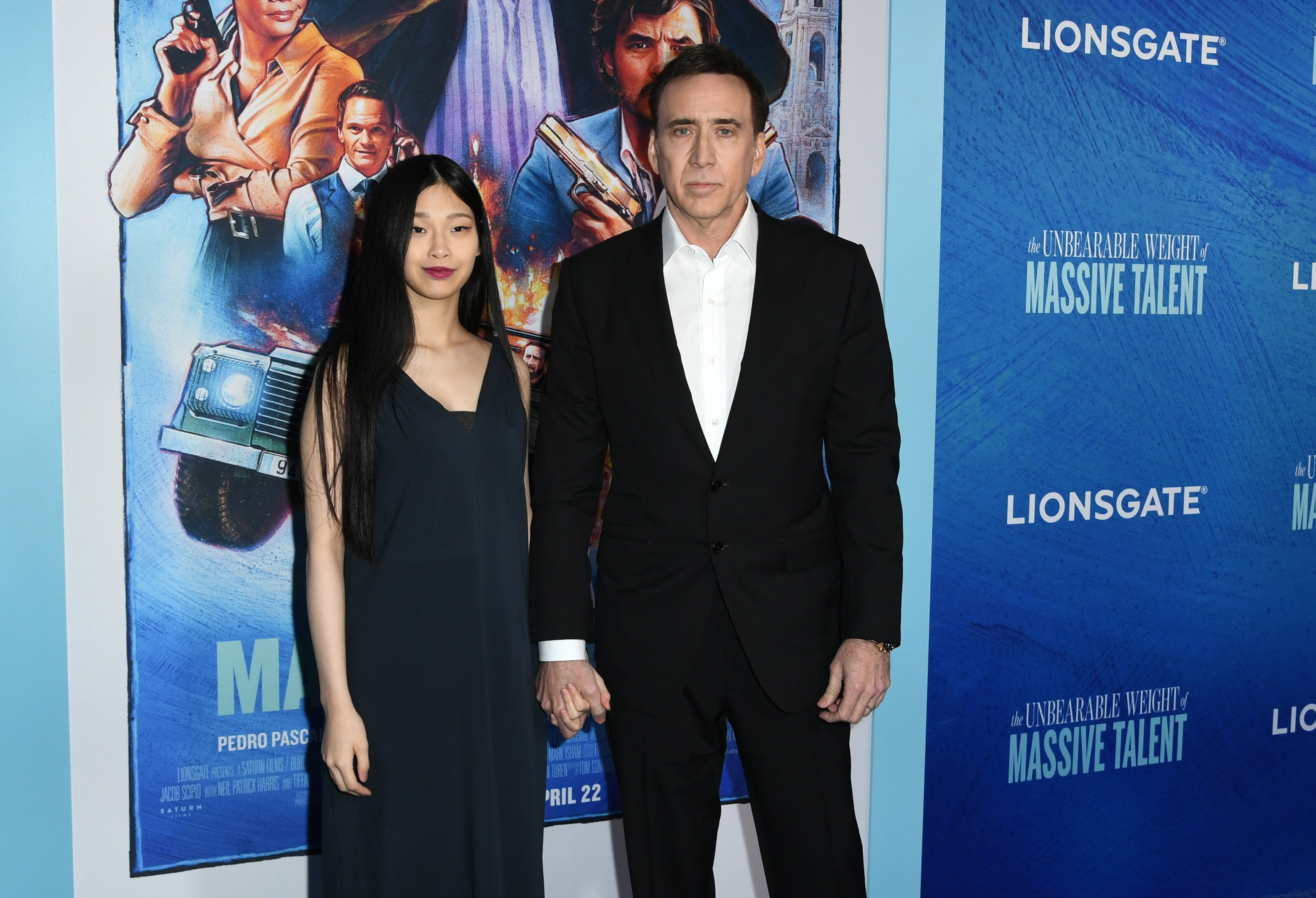 Riko Shibata and Nicolas Cage attend the Los Angeles special screening of "The Unbearable Weight of Massive Talent" at DGA Theater Complex on April 18, 2022 in Los Angeles, California. | Source: Getty Images
A rep for the couple shared the news in January, which was particularly exciting for Cage as their baby would be his first girl. Speaking on the Kelly Clarkson Show in April, the actor revealed they would name Lennon Augie, a tribute to his father August.
Already a father of two boys, Cage was excited about becoming a third-time dad, saying that it would be the biggest adventure of his life. "I'm extremely excited. My boys are all grown up." He said. "I miss going to the toy store and singing lullabies in the rocking chair, and I'm excited to go back to that."
Please fill in your e-mail so we can share with you our top stories!