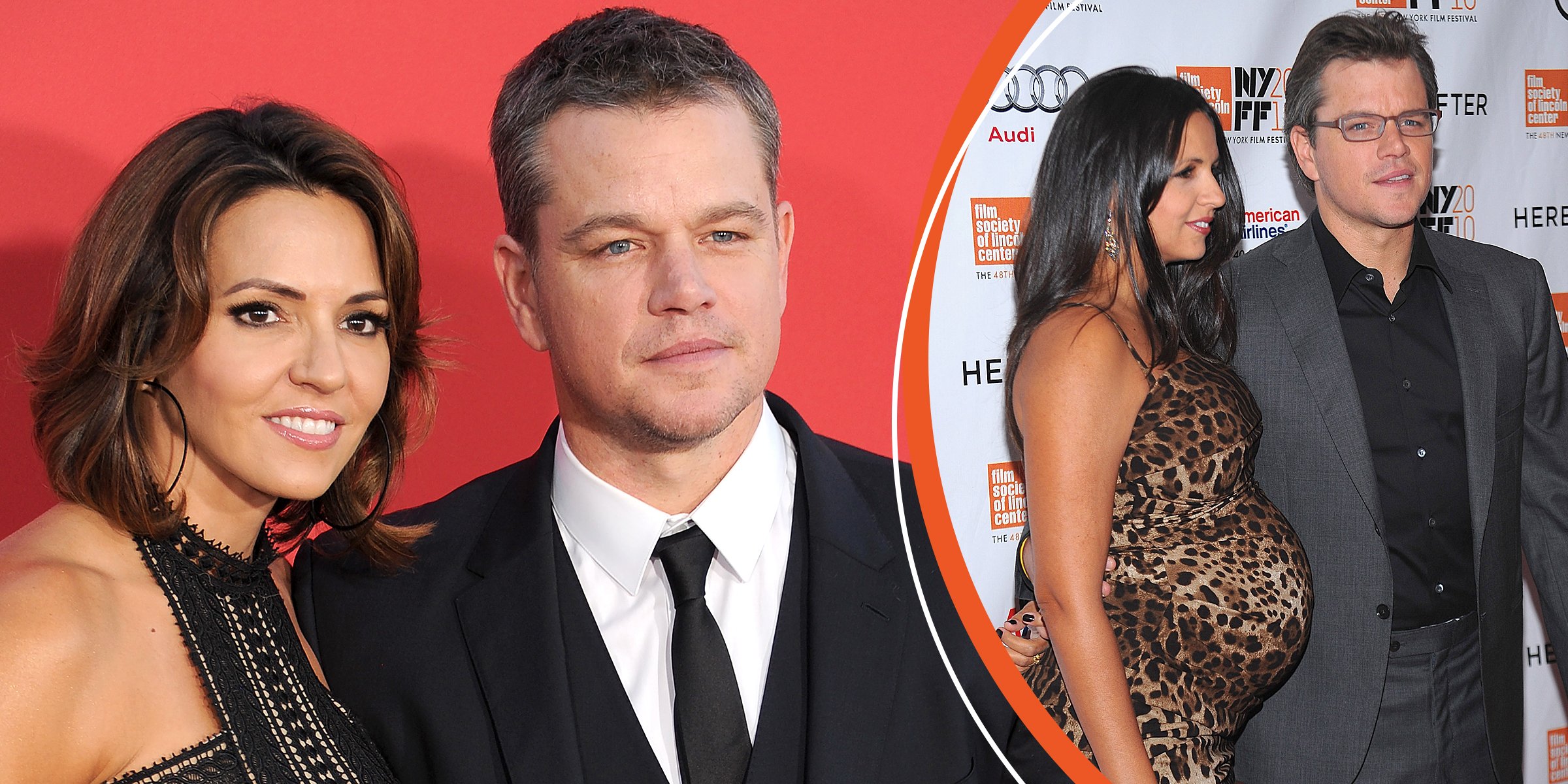 Matt Damon and Luciana Barroso | Matt Damon and Luciana Barroso | Source: Getty Images
Matt Damon & Mom to His 4 Kids Renewed Vows 10 Years after She Nearly Rejected Him Due to Her Child

Thanks to fate, Matt Damon met the woman who later became his wife unexpectedly; behind a bar. Even after they met, their romance was delayed, however, not denied, and it soon blossomed into a fairytale. Ten years later, after four kids, the couple reminded each other of their vows.
America's leading actor, Matt Damon, is blessed with a wife and four kids. The onscreen legend has been married to his Argentine wife, Luciana Barroso, for nearly two decades.
While their relationship is worthy of all the "wows" and "awes," Damon wanted fans to know that their meeting happened by fate, and somehow, they were destined to be together.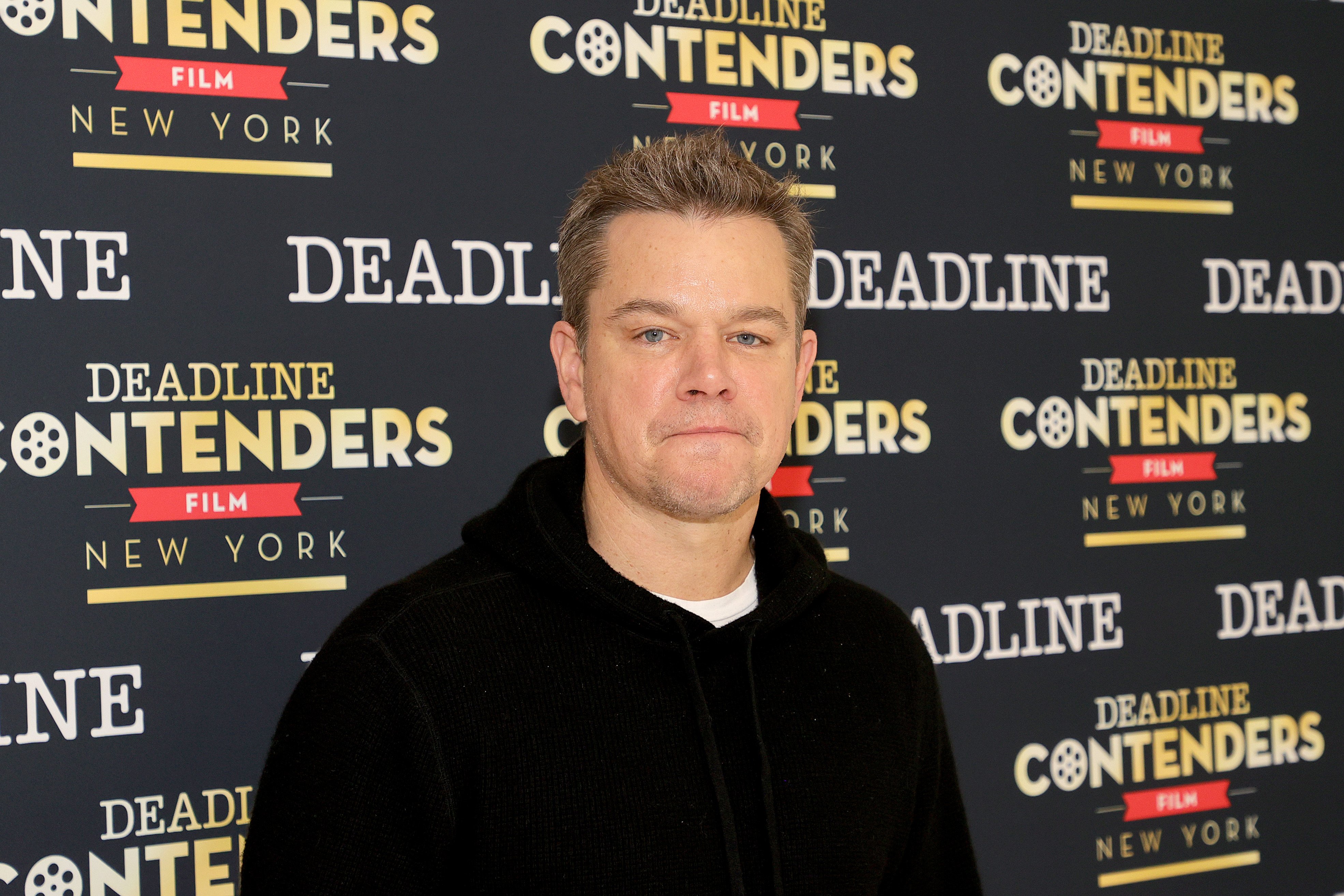 Actor Matt Damon on stage during Focus Features' "Stillwater" panel at the Deadline Contenders Film: New York on December 04, 2021 in New York City. | Source: Getty Images
In a never-before-heard story about their romance, during an appearance on "The Ellen DeGeneres Show," the actor revealed that he was hesitant about starring in the Farrelly brothers comedy, "Stuck On You."
Eventually, after considering appearing in it, he traveled to Maimi with the movie crew. The shooting was changed from Hawaii to Miami. This was his first time in the city, yet he almost did not accept an invite to the bar. Finally, Damon followed the guys, and that was how he met Barroso, the bartender.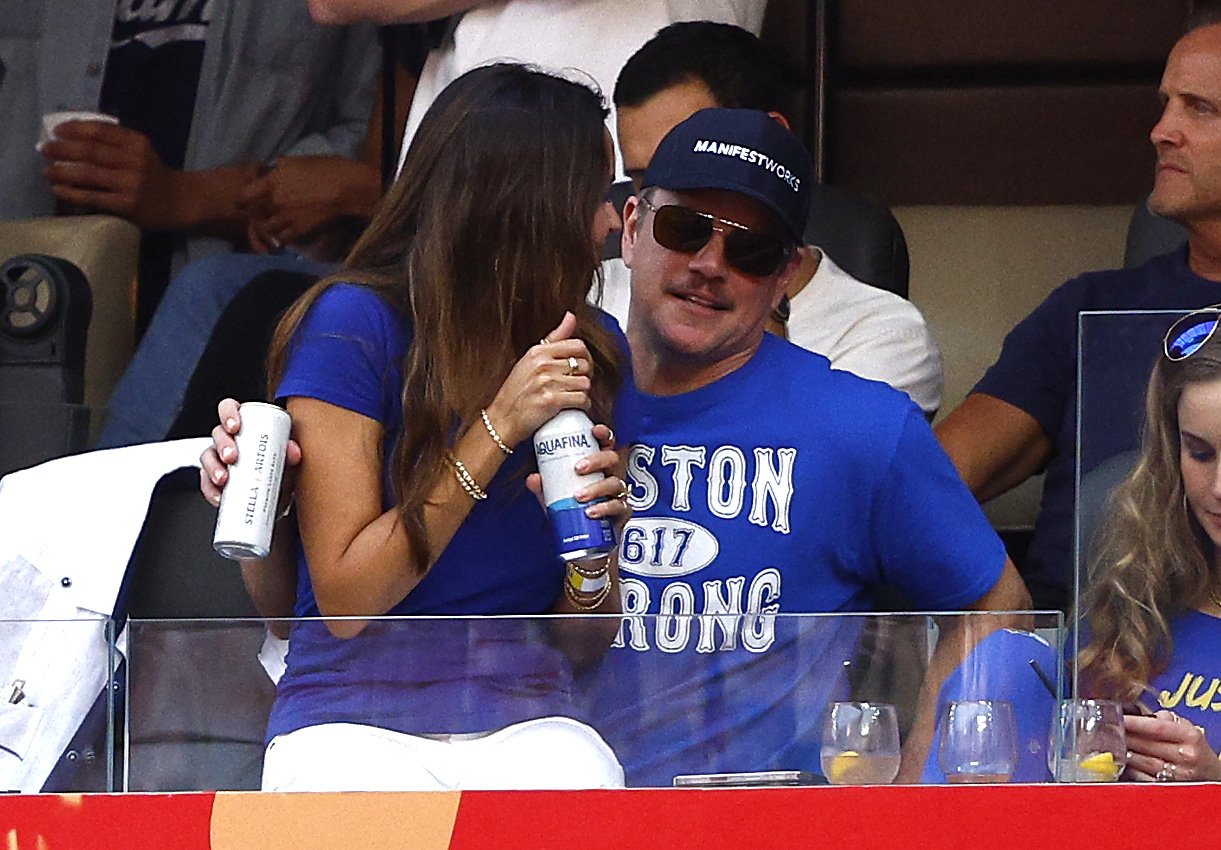 Matt Damon and Luciana Barroso at Super Bowl LVI between the Los Angeles Rams and the Cincinnati Bengals at SoFi Stadium on February 13, 2022 in Inglewood, California. | Source: Getty Images
He gushed about noticing her in the bar despite the crowd. "I literally saw her across a crowded room," he said. He then linked it to fate, adding, "I don't know how else our paths would've crossed if that didn't happen. If all those things didn't happen."
Matt and Barroso's Connection after Meeting
While describing their first meeting, Barroso is rather humorous. She explained that Damon's account about singling her out as there was a certain light on her was because it was a nightclub with many lights.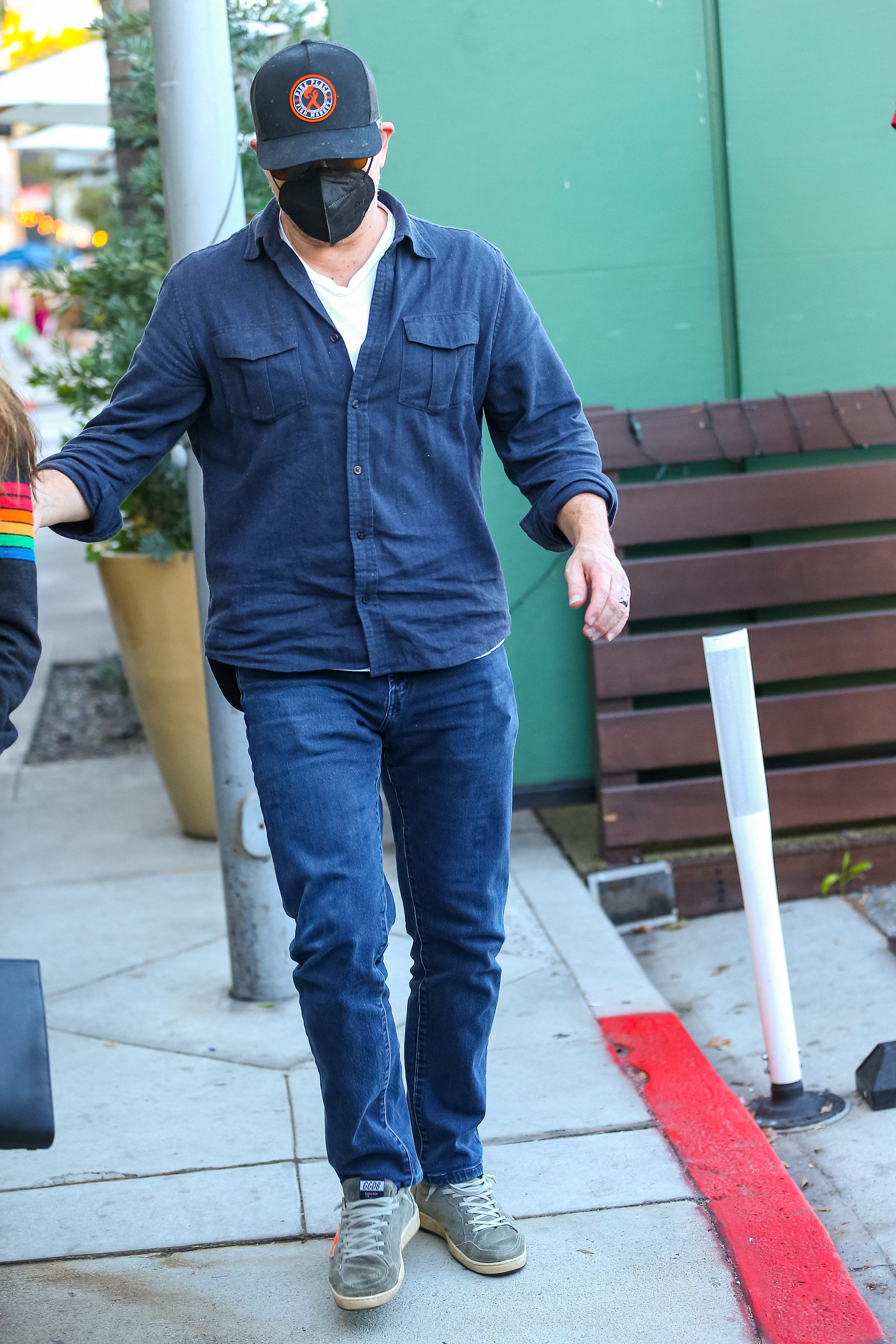 Matt Damon is seen on January 20, 2022 in Los Angeles, California. | Source: Getty Images
However, her description of the event showed that the "Bourne Identity" star was a humble and simple guy who did not allow his Hollywood status to get to his head.
Like many power couples, the actor revealed that their number one secret to a successful marriage is to be close at all times. He said they made a pact never to spend more than two weeks apart.
According to the former bartender, Damon's presence at the bar stirred a bit of an uproar as people who had been drinking recognized him and wanted autographs.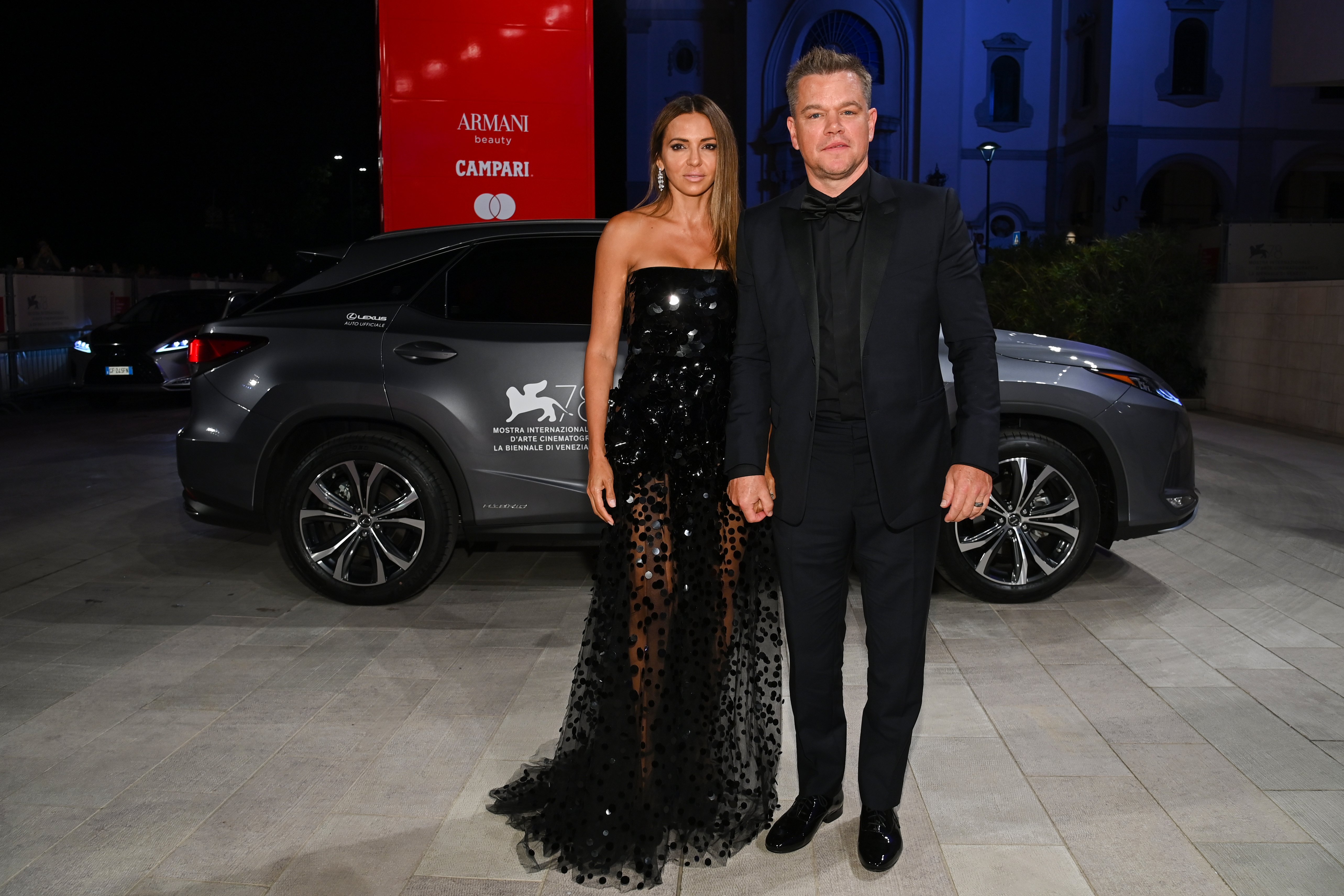 Luciana Barroso and Matt Damon arrive on the red carpet ahead of the "The Last Duel" screening during the 78th Venice Film Festival on September 10, 2021 in Venice, Italy. | Source: Getty Images
The actor opted for an escape route, so he joined the bartender, hiding behind her bar. But Barroso asked him to help, and Damon, who knew about bartending after training for a movie years ago, started mixing some drinks. The Argentina native admitted:
"And he made me a ton of money in tips that night because everyone wanted to see him. So it turned into a really fun night, and then 15 years later, here we are!"
It was not hard to deny their connection after only a few hours of talking and working behind the bar. Barroso acknowledged that they felt comfortable in each other's company and that he invited her out with friends at the end of the night.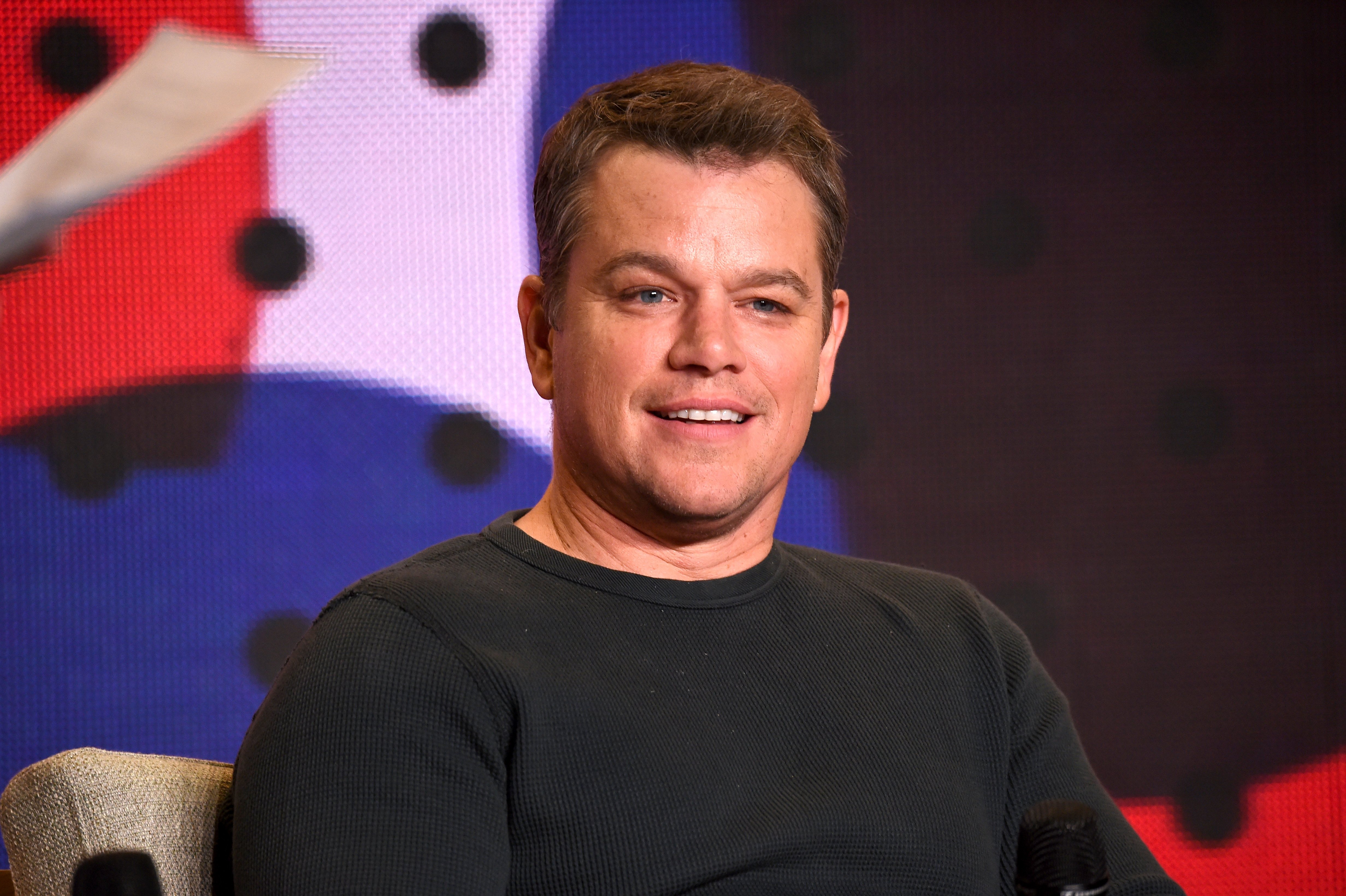 Matt Damon on September 10, 2017 in Toronto, Canada | Source: Getty Images
However, what could have been the first date did not go as Damon had hoped; still, it strengthened his feelings for her. Barroso declined the invite for the friendly outing and confessed that she had a daughter, Alexia, to go home to.
In response, the actor told her he was impressed that she prioritized her child. Barroso mentioned that their connection was undeniable.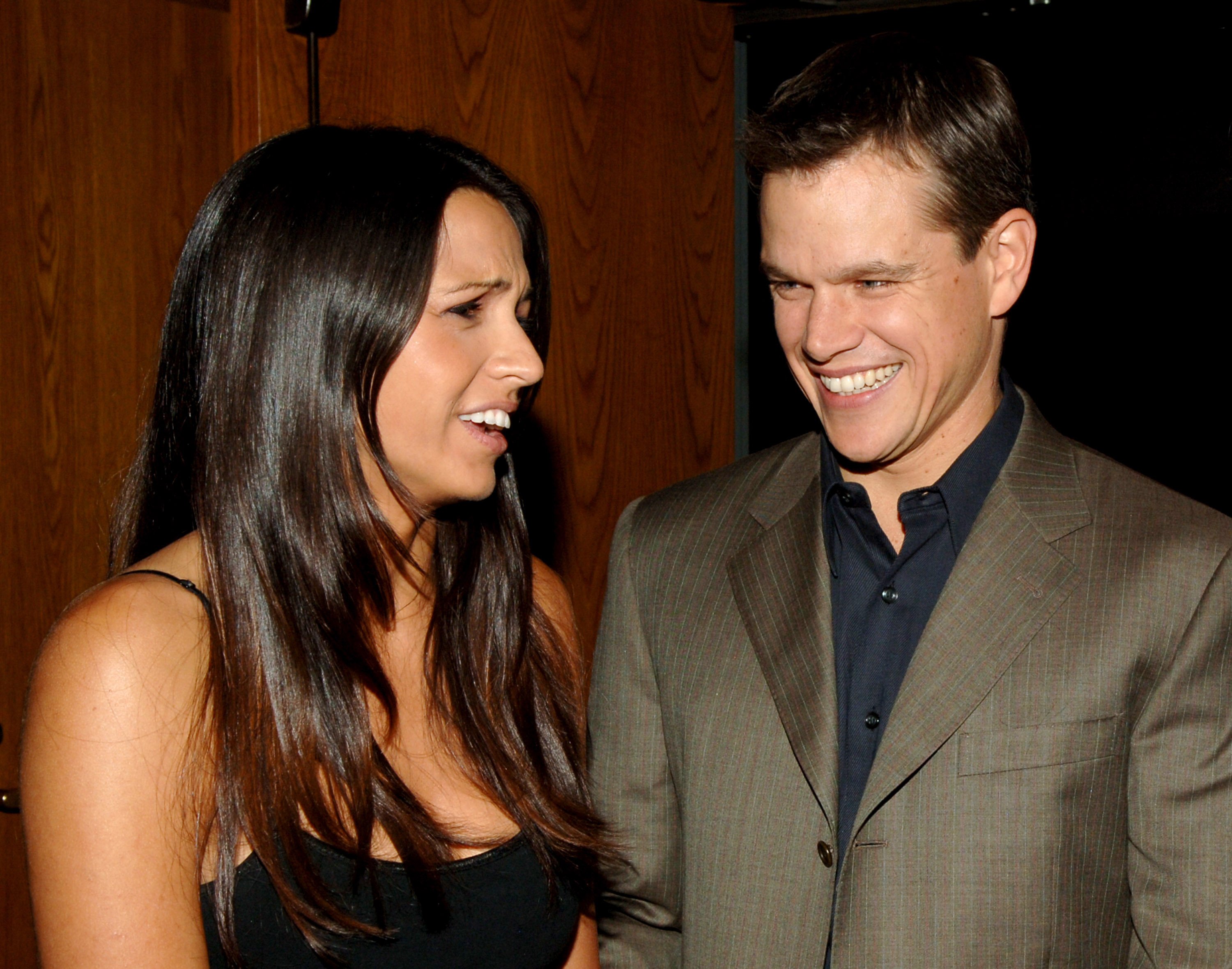 Luciana Barroso and Matt Damon at "The Brothers Grimm" Premiere - After Party in Los Angeles, California | Source: Getty Images
While her devotion moved him, she loved him for being himself and not a movie star; so a love story began. After a few months of dating, Damon took his lover to visit his family and friends in Boston. He also introduced her to some of his buddies at a local restaurant.
A friend noticed that it was a different relationship than his previous romance. However, Damon's pal maintained that he appeared serious about her and did not mind showing her off.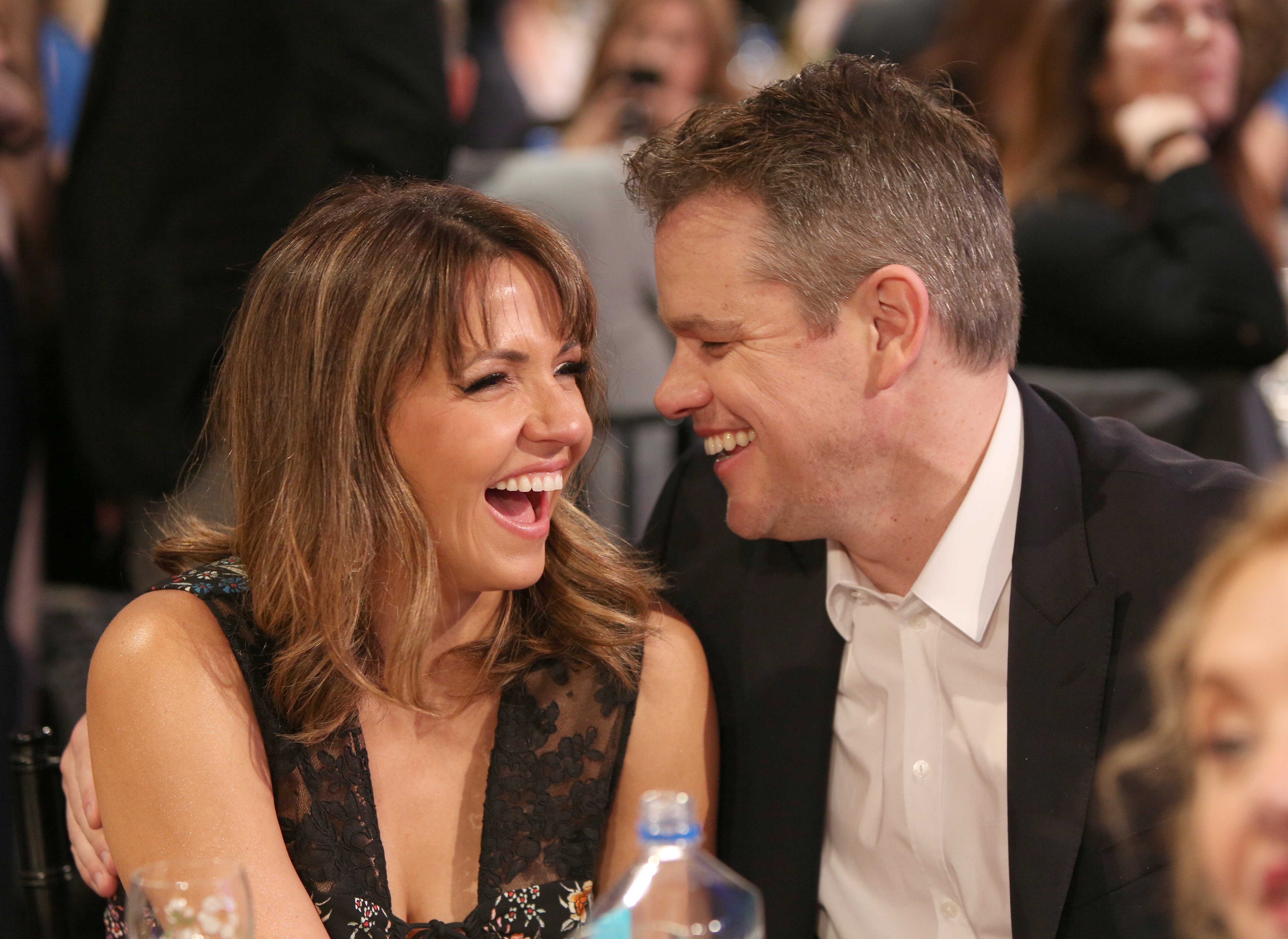 Actor Matt Damon and Luciana Damon are seen during the 2017 Film Independent Spirit Awards at the Santa Monica Pier on February 25, 2017 in Santa Monica, California | Source: Getty Images
Following his family's approval, the couple continued their relationship for another year before celebrating an intimate wedding ceremony at Manhattan's City Hall in 2005.
Damon and Barroso's Life after Their Quiet Wedding
A few months after their wedding, they welcomed their first daughter, and in the years that followed, their family grew larger with the arrival of two daughters.
Despite the change that came with parenting, the couple remained an admirable duo and always found ways to ignite the sparks in their romance.
More than once, Damon has been asked about his long-term marriage with the love of his life and how they have managed to hold it down, especially as a Hollywood couple.
Like many power couples, the actor revealed that their first secret to a successful marriage is to be close.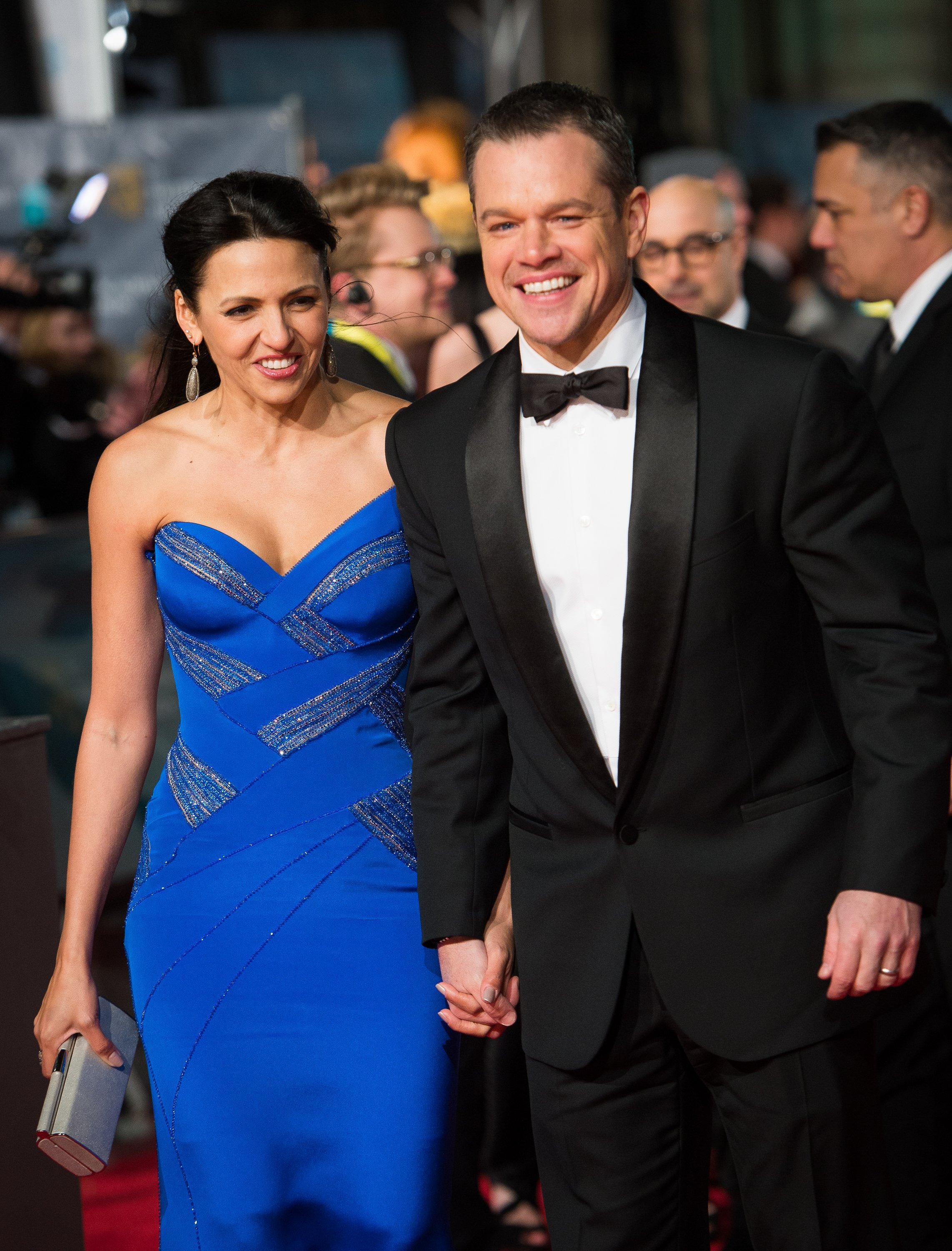 Luciana Damon and Matt Damon at the EE British Academy Film Awards at The Royal Opera House on February 14, 2016 in London, England | Source: Getty Images
He said they made a pact never to spend more than two weeks apart. Damon is so in love with his wife and family that he wears their names on his sleeves.
In 2019, a tattoo expert, Winter Stone, shared one of his best works. He proudly showed the inks on Damon, whom he described as one of his favorite actors.
The actor was photographed wearing the names of his wife and kids on his sleeves. They had been written orderly, starting from the eldest to the youngest and, lastly, his wife.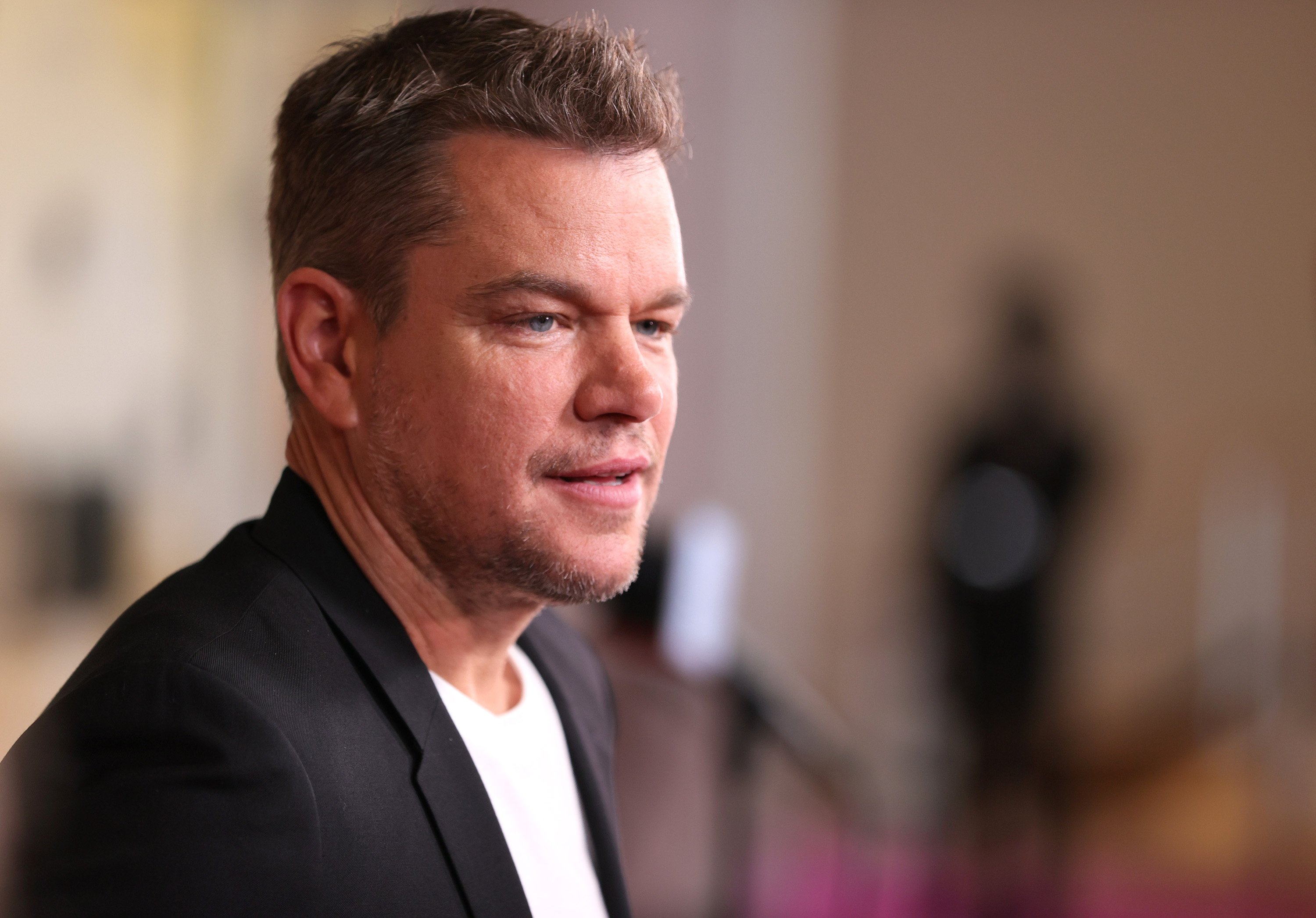 Matt Damon at the "Stillwater" New York Premiere at Rose Theater, Jazz at Lincoln Center on July 26, 2021 in New York City. | Source: Getty Images
Although Damon is very popular, Barroso prefers to remain anonymous as she opted for an under-the-radar lifestyle. Again, this scored her a point with her husband.
While expressing his love for her during an interview, "The Bourne Identity" star explained that he felt lucky to have fallen for a woman who has maintained a civil identity, staying private and not trying to use her husband's success to advance her career.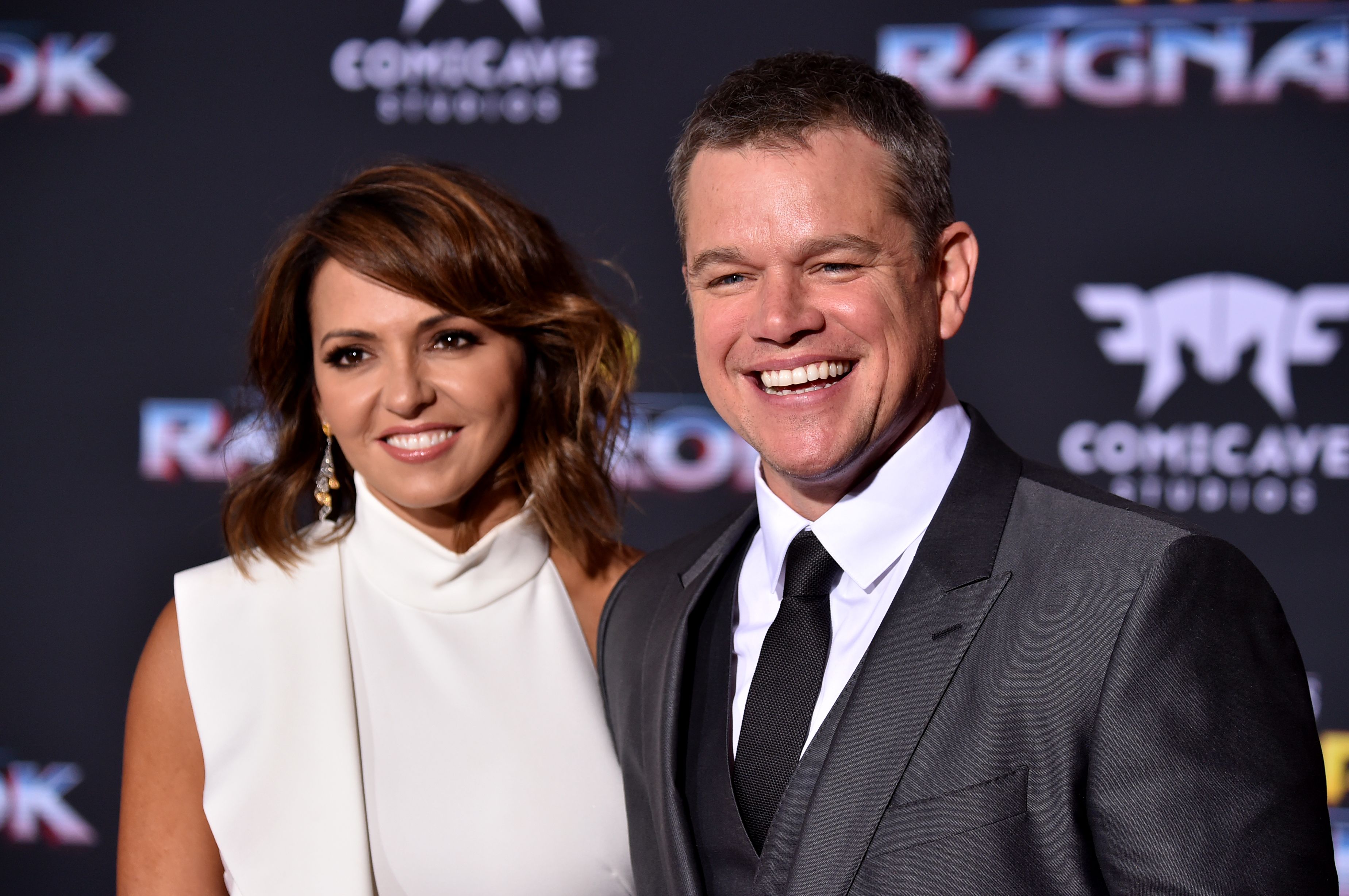 Matt Damon and Luciana Barroso at the Premiere Of Disney And Marvel's "Thor: Ragnarok" on October 10, 2017 in Los Angeles, California. | Source: Getty Images
Damon has often been honest about how complex marriage can be, but he is always ready to stay in it. The actor claimed:
"It's a crazy idea, but I love being married to my wife. I'm lucky I found my wife. And I guess maybe if there's any secret, it's to feel lucky."
Indeed, having a soulmate is the luckiest feeling, no wonder it was easy for the couple to recreate their wedding ceremony ten years after their first meeting.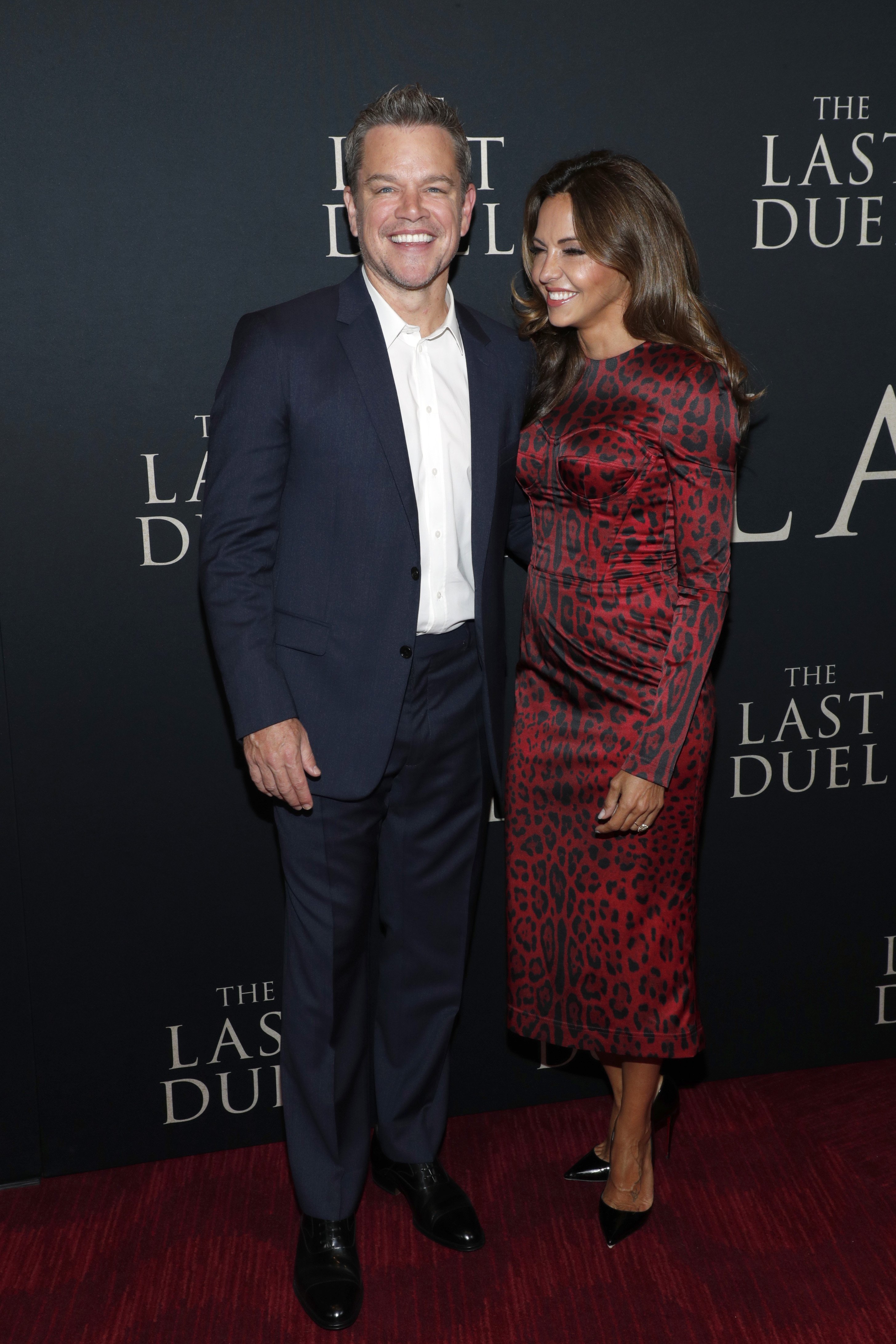 Matt Damon and Luciana Barroso during The Last Duel New York Premiere on October 09, 2021 in New York City. | Source: Getty Images
They honored their decade anniversary by renewing their vows on the Caribbean island of St. Lucia. The party included fifty guests from family: their daughters to friends Ben Affleck and Jennifer Garner. According to an insider, it was a memorable event. The source revealed:
"This isn't a 'Hollywood' wedding. Matt wanted it to be fun, happy, and private. He felt like Luciana deserves this, first and foremost."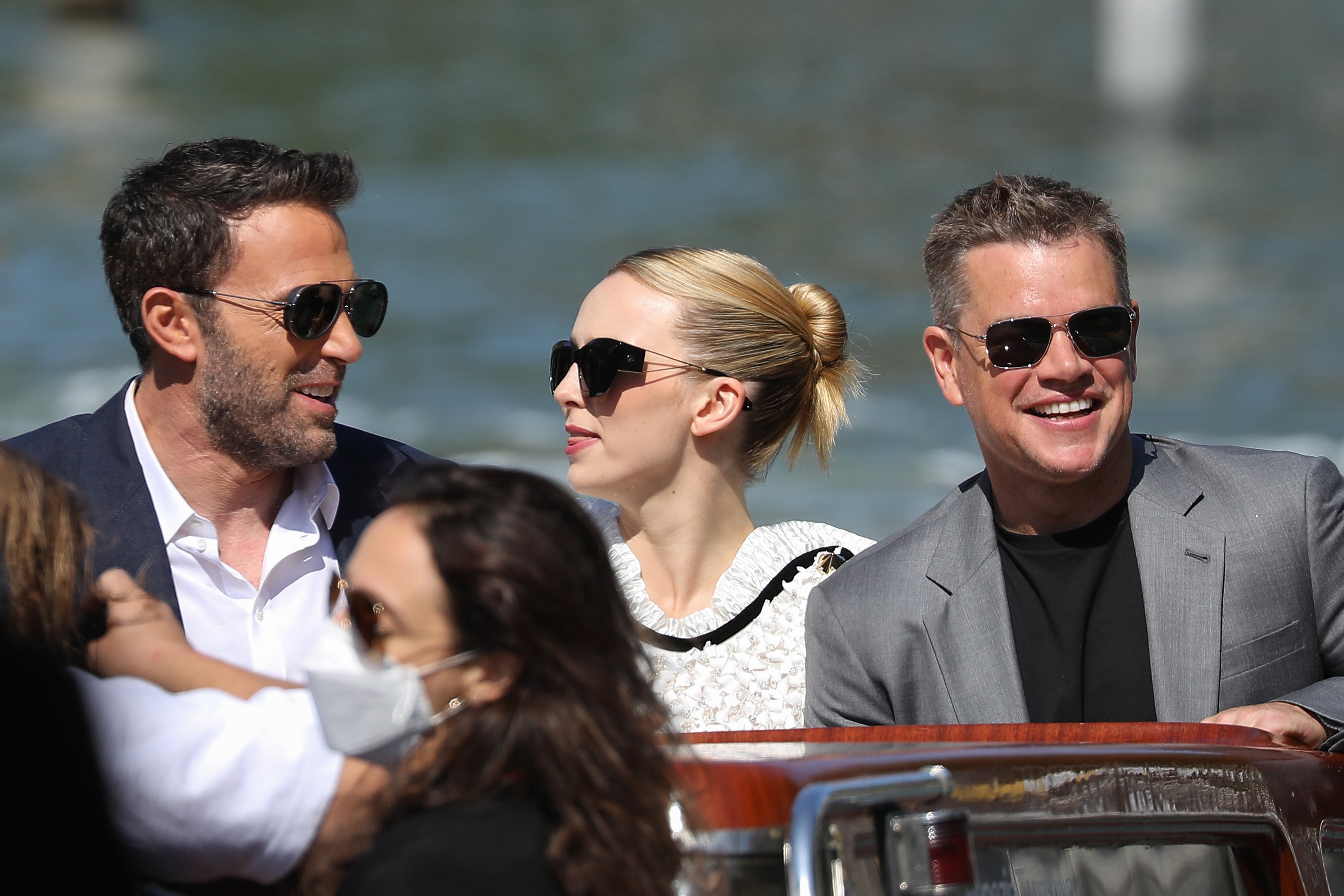 Ben Affleck, Jodie Comer and Matt Damon at the 78th Venice International Film Festival on September 10, 2021 in Venice, Italy. | Source: Getty Images
For the event, the bride dressed in a light-colored dress. Her daughters also donned matching-colored outfits, while the groom opted for a tan-colored suit and flip-flops.
Damon's Fatherhood Journey
Damon is not only a doting husband but also a proud father to his four girls; Isabella, Gia, Stella, and Alexia, the daughter of Barroso's first marriage.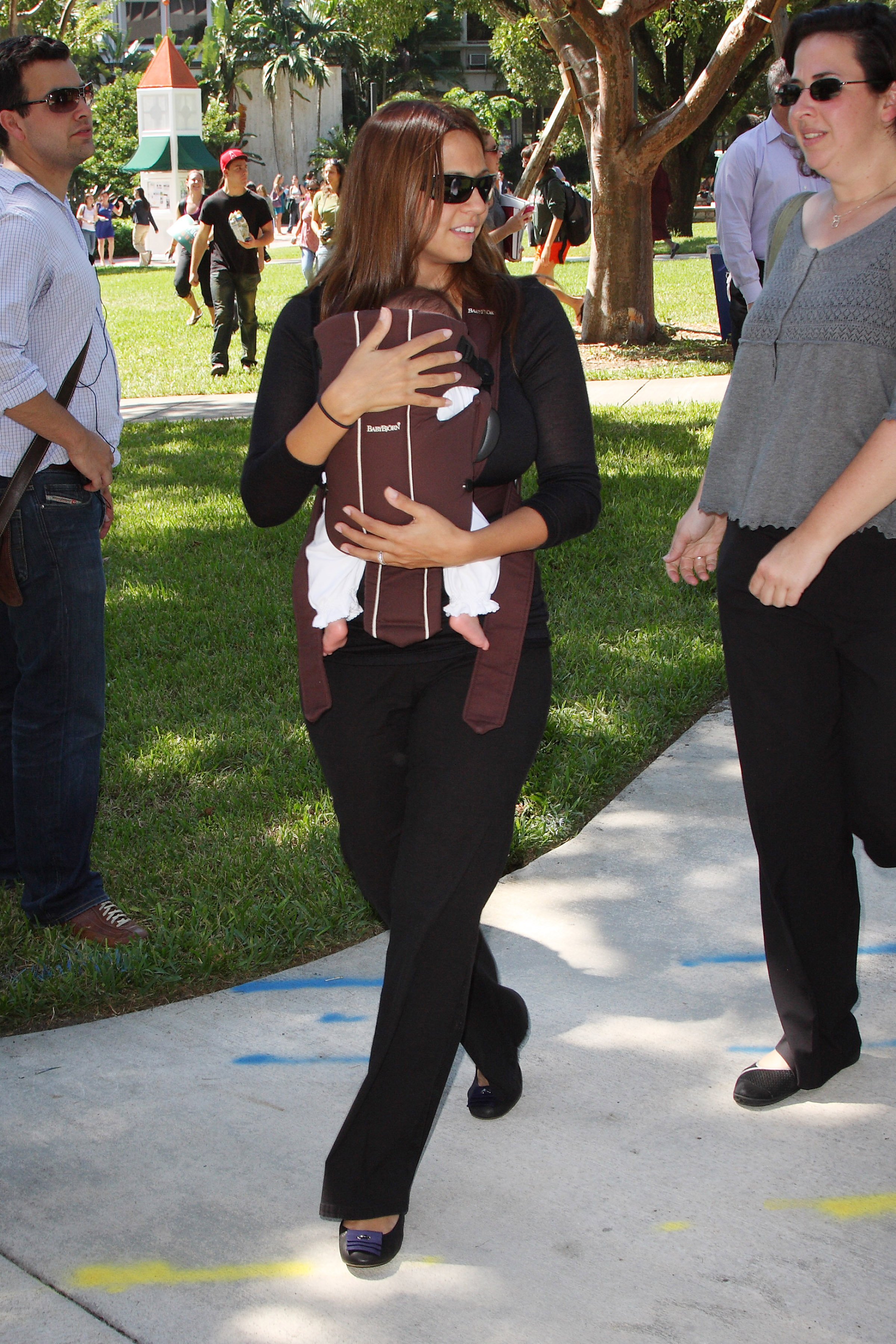 Luciana Damon and daughter Gia Zavala Damon at an Early Voting Rally at University of Miami on October 27, 2008 in Coral Gables, Florida. | Source: Getty Images
Despite being surrounded by an all-girls squad, he revealed that he had learned many new things following fatherhood. In his words:
"It's great… I'm learning so much, not the least of which is how much smarter girls are."
The movie star acknowledged that the change that comes with being a dad is overwhelming and instant, yet he has been able to welcome it.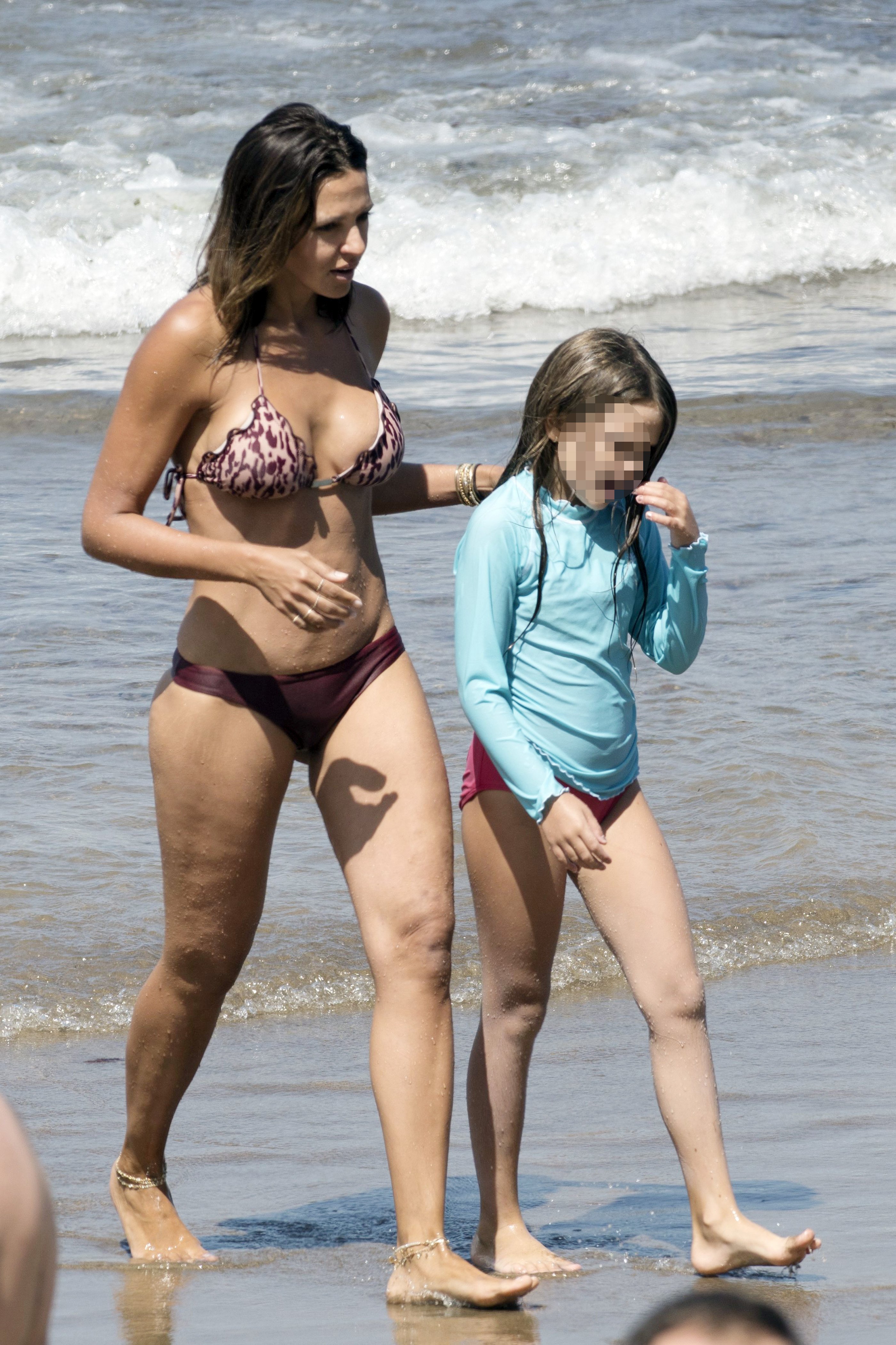 Luciana Damon and her daughter on July 22, 2018 in San Sebastian, Spain. | Source: Getty Images
Before having his child, he adopted Alexia after marriage to her mother. Alexia was born in 1999 to Barroso and her ex-husband, Arbella.
Unlike her mother, Alexia remains in the public eye; however, very little is known about her life except that she featured in a 2011 film alongside her dad. She is an ardent soccer fan and studies at a private school.
Isabella, Damon's firstborn, joined the family in 2006. The actor jokingly expressed that she is his biggest critic and never wants to see a movie where he performs extraordinarily.
Elsa Pataky, Luciana Damon and her daughter are seen on July 22, 2018 in San Sebastian, Spain. | Source: Getty Images
Daughter number three is Gia, born in 2008; not much is known about her. Finally, the baby of the house is Stella, who arrived in 2010. The girls are often seen visiting fun places with their parents.
For nearly two decades, Damon has managed to keep his family under wraps, while he also enjoys the perks that come with it—people are often curious to know about his family. This also makes it easier for him to control the information about them.
Please fill in your e-mail so we can share with you our top stories!