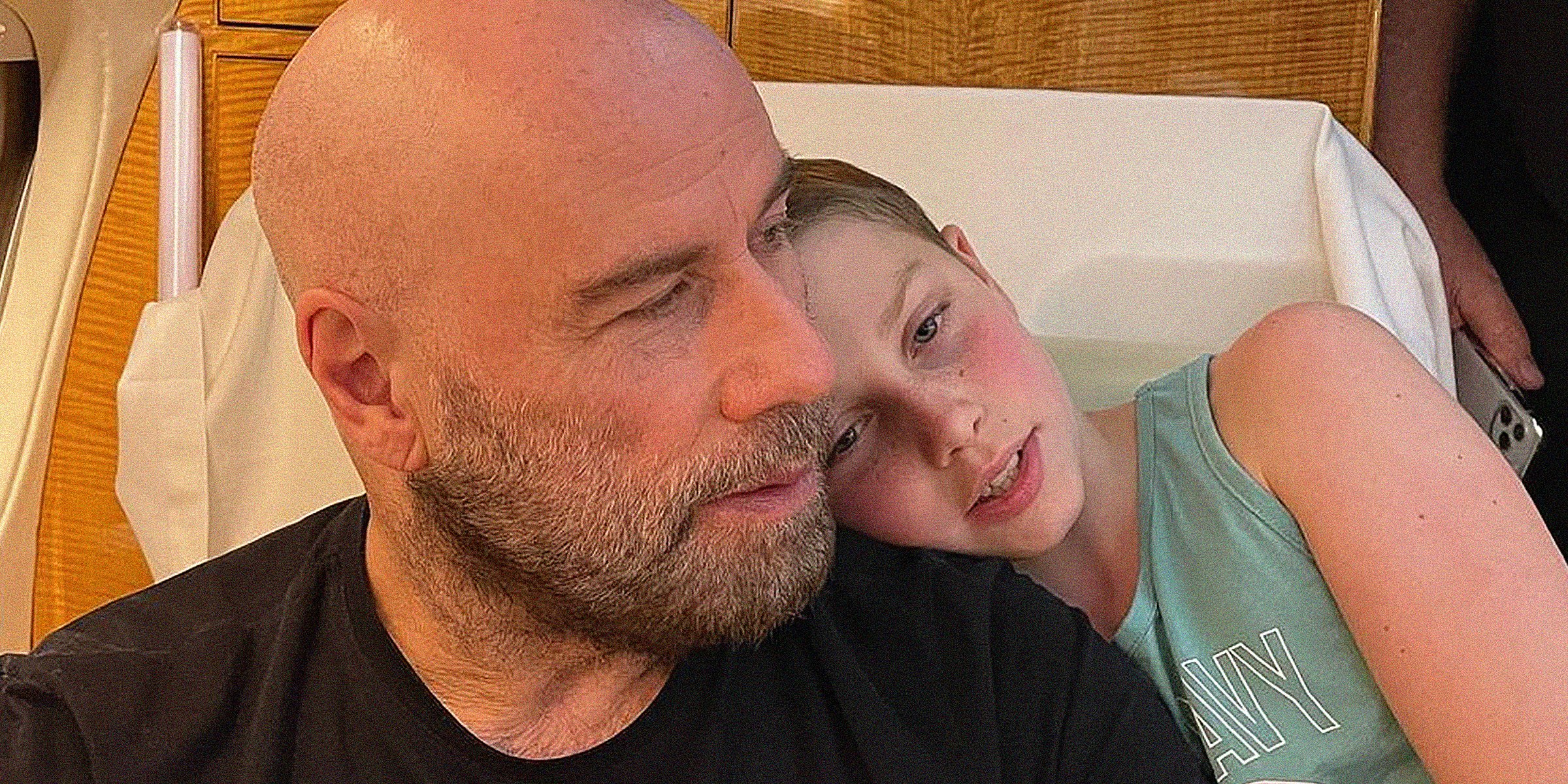 John and Ben Travolta | Source: instagram.com/therealkellypreston | instagram.com/johntravolta
Widower John Travolta Called 'Great Father' after Message about Son with Whom He Discussed the Death of Mom

While John Travolta is known to many as an incredible actor, great singer, and excellent dancer, the "Grease" alum lives a lonely life as a single father. He recently shared an emotional message addressed to his fans.
Just weeks after John Travolta lost his beloved friend, Olivia Newton-John, he has taken to social media to extend a message of thanks to his fans amid the turmoil that he is going through at the moment.
In the post, Travolta mentions that his son, Ben, is now on Instagram and gave the handle at which fans would be able to find Ben's page. Before that, though, he spoke of his appreciation for his fans.
Travolta talked about how vital abilities gained, and achievements are in a person's life and then turned it on the fans, saying:
"And you all have been so appreciative of [my achievements], and my daughter's and my son's achievements, and I wanted to thank you for going out of your way to do so."
The post was met with many good wishes from his fans, and some even commented on how profound his words were. Others simply said he was doing a fantastic job as a single father.
Some fans said they had followed Ben's Instagram page and were looking forward to seeing what he posted. All of the comments were either congratulatory or filled with love from fans.
Although Travolta has thrived in life, he has also overcome significant periods of loss and managed to help his children through them as well. Travolta lost both his eldest son and his wife, Kelly Preston.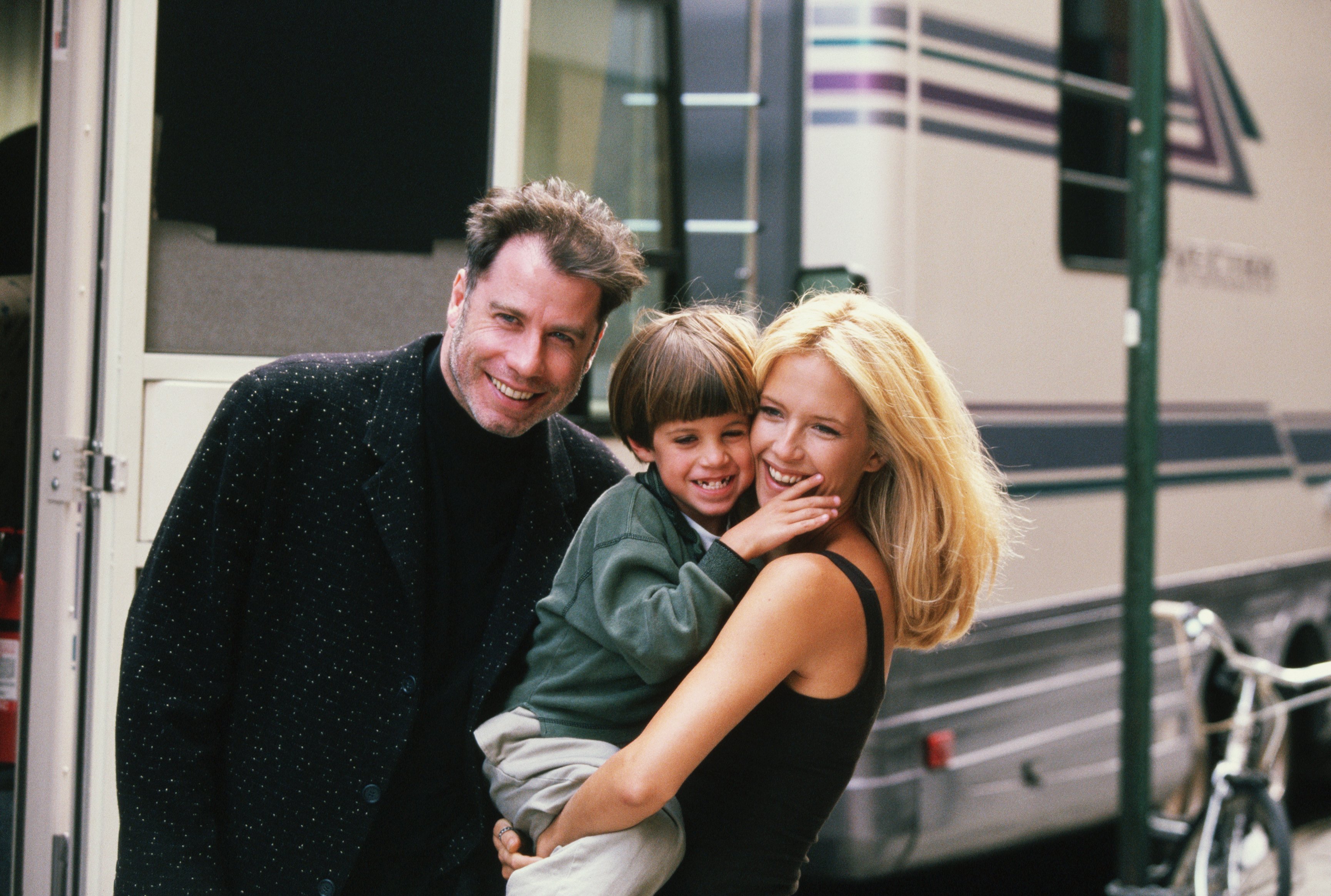 Kelly Preston gets a visit from husband John Travolta and son Jett while on location filming the 1997 motion picture "Addicted to Love." | Source: Getty Images
The pain he felt with each of these losses was immense, and he knew it would be difficult to pull himself through. Yet, he managed to do so with the help of his children and a great outlook on life.
Travolta Had to Explain Kelly Preston's Passing to Ben
Travolta and Preston were married in 1991 and shared a beautiful life. They even starred in the 2018 movie "Gotti" together, in which they play a mafia husband and wife. However, their love story did not have a happy ending.
The couple suffered the loss of their teenage son together early on in their lives and came through the grief together, with their two surviving children in mind. Yet, this time, Travolta had to find his way through the grief alone.
In July 2020, Kelly Preston passed away from cancer. The couple had been together a long time, and it was difficult for Travolta to overcome the death of his wife. He mentioned that mourning was an individual experience, which would be different for everyone.
However, his children saw him through as he knew he had to be there for them. Travolta and Preston had three children together; Ella, Jett, and Ben. Sadly, Jett passed away in 2009 while on vacation.
Jett suffered from a seizure in the bathroom of a hotel room in the Bahamas while he and his family were on vacation. Travolta found him in the bathroom at just 16. This was the first heartwrenching loss Travolta endured.
Travolta said that now that his wife had passed away, he wanted to turn his focus on helping his kids in their careers. He mentioned:
"I will ensure the future of my children, help them with what they want to do with their lives."
The actor then said that his son became scared he would pass away after Preston did, and he knew then that he had to have a serious discussion with the young man. He sat him down to talk to him about death.
Travolta told his son that life is different for everyone, and one never knows when a loved one will pass away. He did not want to lie to his son, so he told him that he would die and it could be soon or far in the future.
He mentioned that his son valued the truth, and he intended to treat him like an adult, even though he was only ten at the time. However, he told his son that he should "do [his] best at living the longest [he] can" while he still had the opportunity.
He shared this information on an episode of "Hart to Heart" with Kevin Hart, where he said that he told Ben both his mother and his brother had died too soon, but they had made the most of life when they were alive.
Ben never knew his older brother as he was born in 2010, the year after Jett was found unresponsive in his hotel bathroom. Travolta was thrilled to have another son and said:
"He's given the house a renewed spirit and purpose."
Travolta Devoted Himself to Raising His Children
Travolta appeared on "The Ellen Degeneres Show" in November 2009, almost a year after he had lost his son. He and his daughter, Ella, sat on the talk show and discussed how their family had strengthened after losing Jett.
Before anything else happened, Travolta turned to the audience and extended a message of thanks to them and people worldwide who had sent messages of love and support to the family during the difficult time.
He then dedicated his life to raising his children and hardly worked. He said he got grief counseling from his church and played tennis at all hours of the day to air his frustrations, but that his life revolved around his children.
At the time, Ella was on her first talk show as publicity for her starring role in the movie "Old Dogs." She has since starred in other projects and is making a name for herself outside her dad's spotlight.
Ben is now 11 and has his own pursuits, and Travolta intends to help him reach any goal he sets his mind on. Travolta has often expressed how proud he is of his children and how much he loves them.
Please fill in your e-mail so we can share with you our top stories!