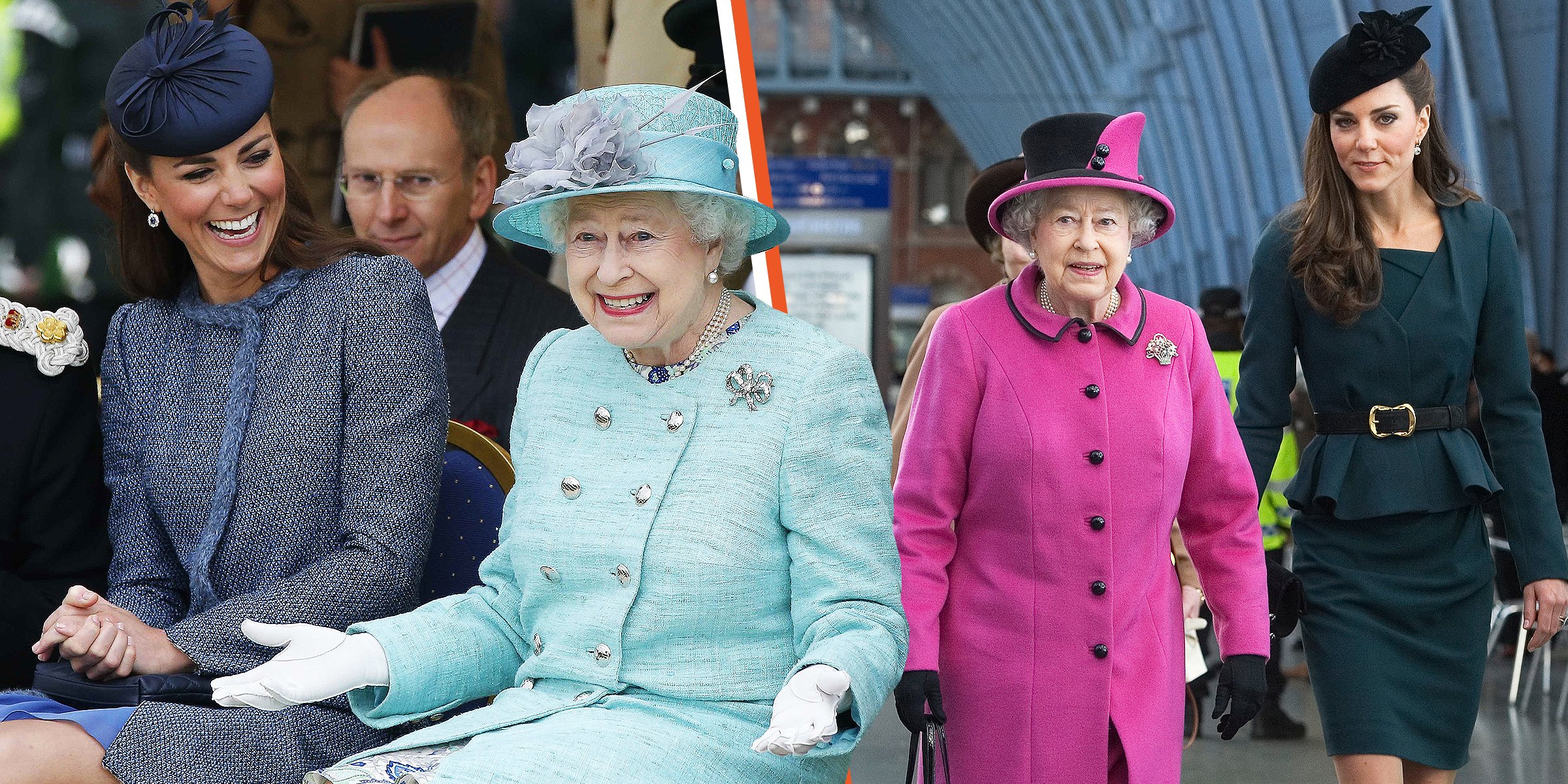 The Queen and Catherine, Duchess of Middleton | Source: Getty Images
Queen's Support for Kate Laid Bare Years after 'Stinging' Remark about Her 'Unpalatable' Life, Claims Book

Before marrying Prince William, Kate Middleton was accustomed to a luxurious lifestyle that The Queen did not think was in line with a future Queen. Because of that, Middleton did not have her first solo event until nine months after her wedding. However, the two grew closer, despite the Queen's first impression of Middleton.
Since marrying Prince William in 2011, Kate Middleton, the Duchess of Cambridge, has been a permanent fixture in the royal family, even undertaking some royal duties alongside her husband.
Away from work, she also built a good rapport with her grandmother-in-law, the Queen, and the two became even closer as the years passed.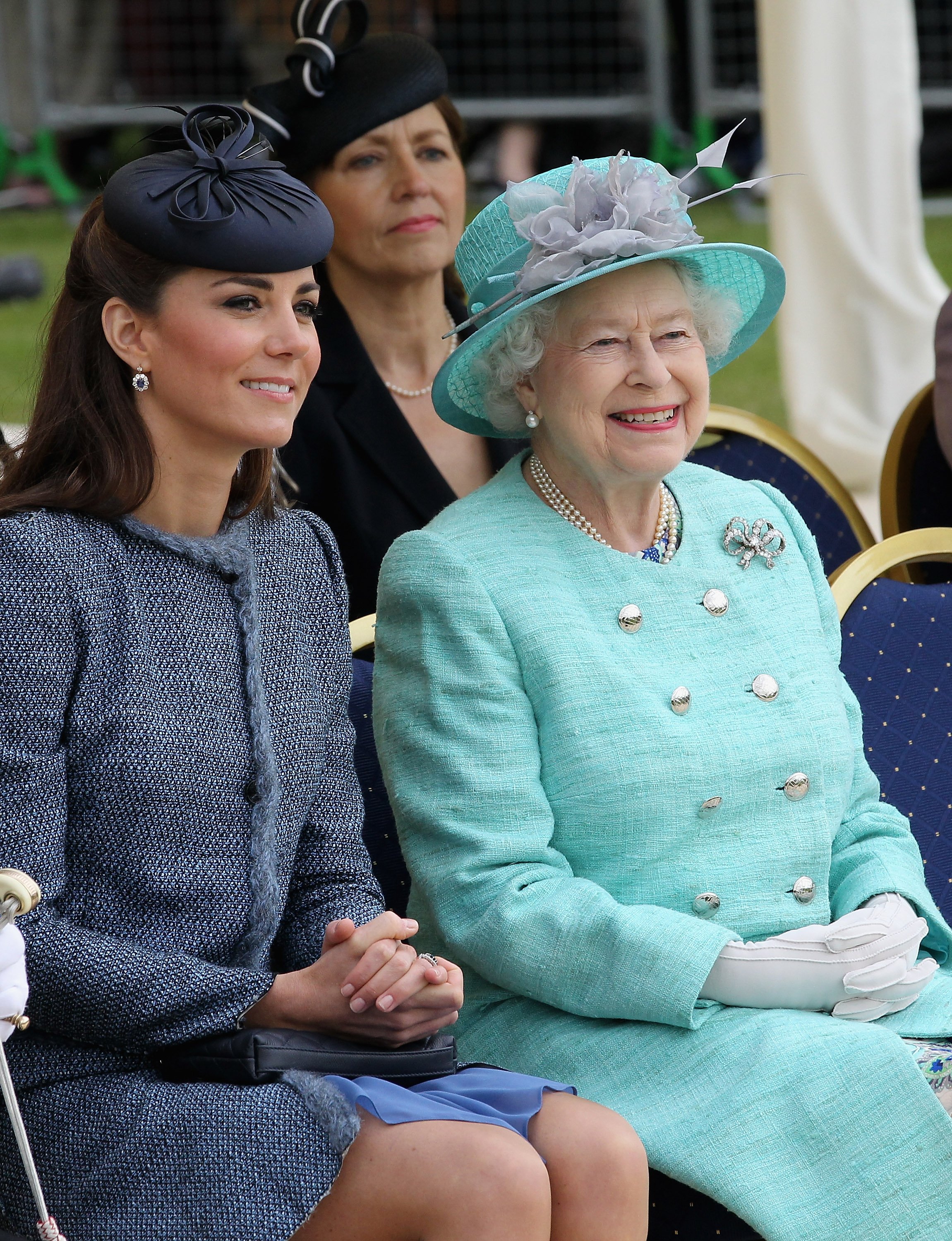 Catherine, Duchess of Cambridge and Queen Elizabeth II smile as they visit Vernon Park during a Diamond Jubilee visit to Nottingham on June 13, 2012 in Nottingham, England |Source: Getty Images
However, the Queen was not always akin to the duchess from the start. According to The Mirror, before Middleton married into the royal family, the Queen had raised concerns about her and her seeming lack of a career.
At the time, Middleton enjoyed some very luxurious trips and holidays on the Caribbean island of Mustique, either with her family or her future husband. The lavish trips and holidays concerned the Queen, who appeared unsure about her future granddaughter-in-law's jet-set lifestyle.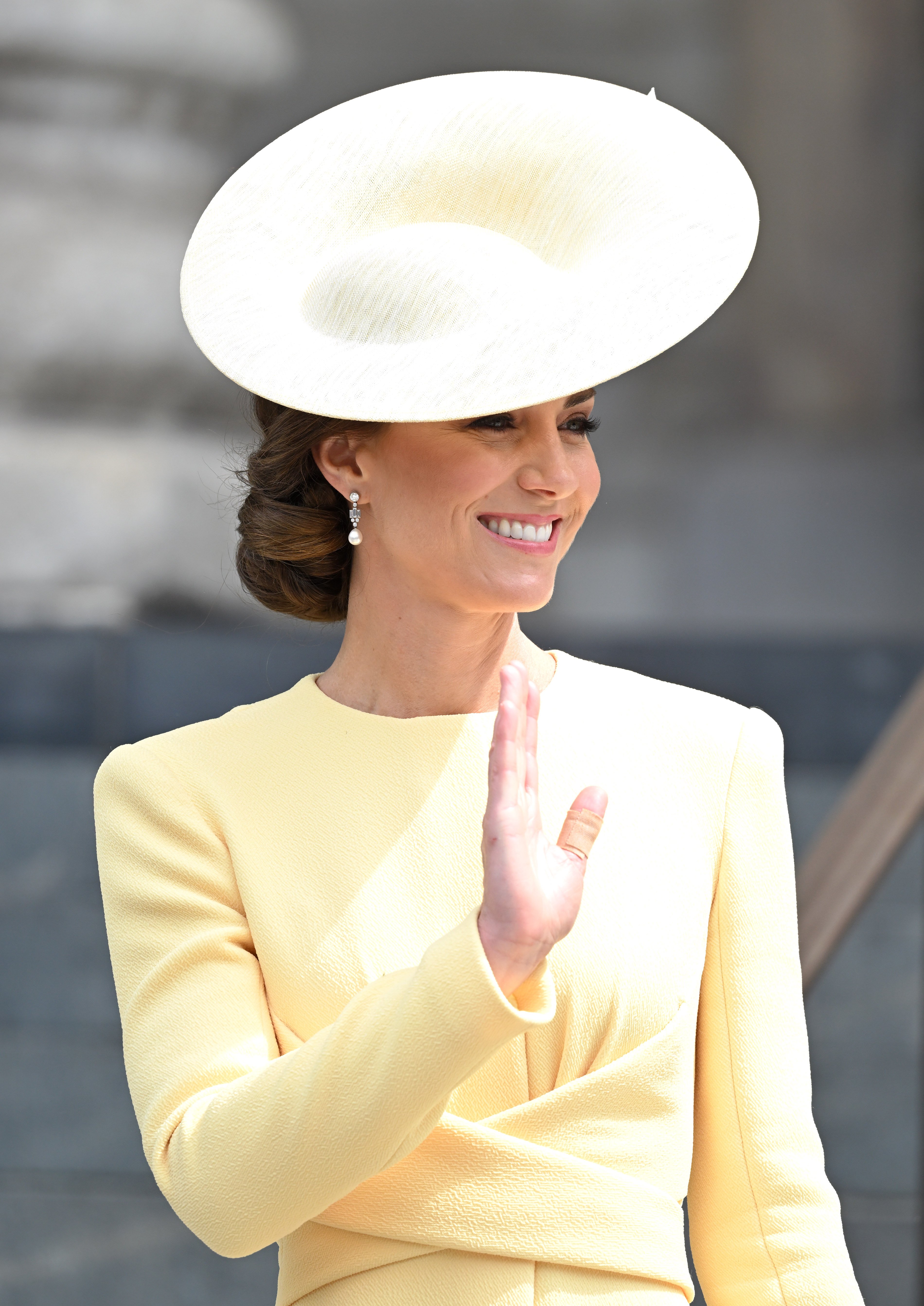 Catherine, Duchess of Cambridge attends the National Service of Thanksgiving at St Paul's Cathedral on June 03, 2022 in London, England. | Source: Getty Images
According to royal expert Katie Nicholl, Britain was in a recession at the time, and such frivolous displays of wealth were "unpalatable" to the Queen. Nicholl writes in her book "William and Harry":
"Kate was there so often the press dubbed her 'Queen of Mustique', a title that had previously belonged to Princess Margaret."
The Queen felt that, in the face of an impending proposal from William, the pair should postpone any engagement plans until Middleton settled in a career.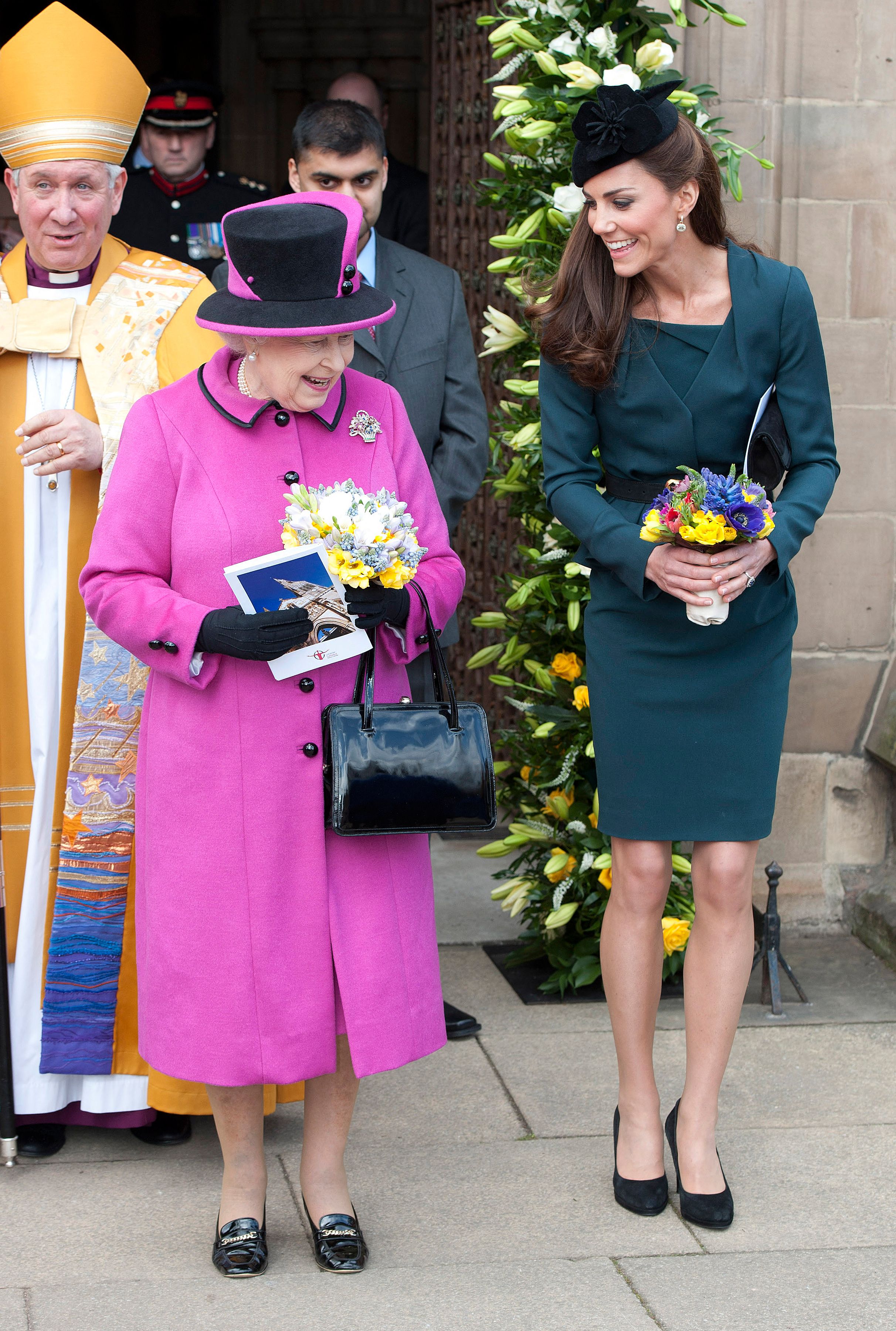 Britain's Catherine, The Duchess of Cambridge, (R) and Queen Elizabeth II are pictured as they visit Leicester Cathedral in central England, on March 8, 2012 | Source: Getty Images
She felt that, for a woman that would one day become Queen, Middleton needed a proper job, as sauntering from one-holiday resort to another was not a prerequisite for a woman destined to be Queen.
The Queen's words reportedly stung Middleton. Based on the Queen's skepticism of Middleton from the start, Middleton did not get to go on her first solo event with the Queen until nine months after her wedding,
In comparison, Meghan Markle got the opportunity less than a month after marrying Prince Harry, when the Queen invited the newlywed Markle to join her for a day of public work.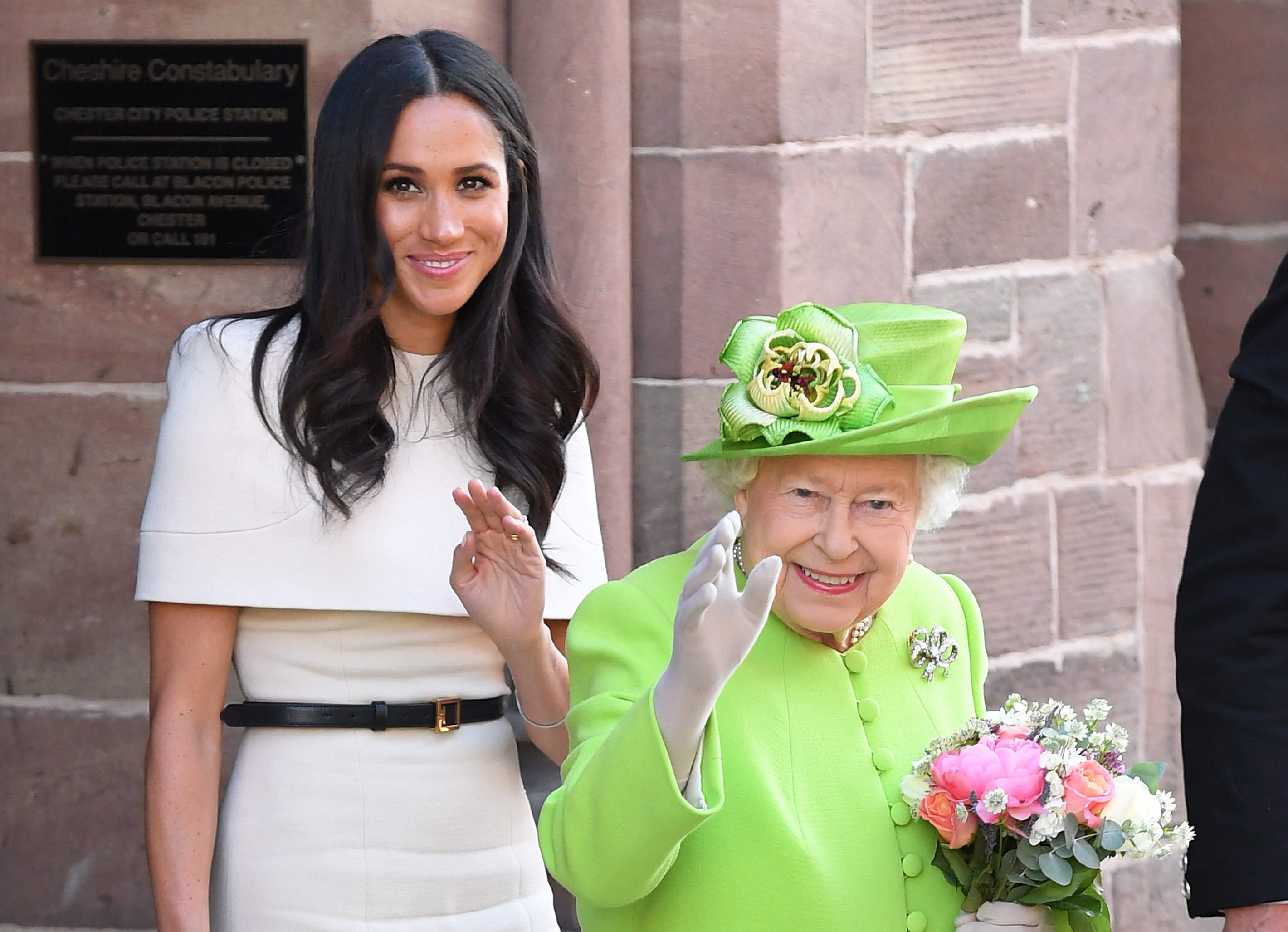 Meghan, Duchess of Sussex and Queen Elizabeth II depart Chester Town Hall, where they attended lunch as guests of Chester City Council on June 14, 2018 in Chester, England | Source: Getty Images
In July 2018, barely a month after walking down the aisle, Meghan also took an overnight trip aboard the royal train for her first solo engagement with the Queen.
Middleton Modeled Herself after the Queen
Even though Her Majesty's perception of Middleton was initially quite off-putting, it appears the Queen should have had nothing to worry about because as soon as she married William, Middleton started fitting into her role.
The younger royal also began creating a more savory rapport with other royal family members and building a bond with the Queen. Soon, Her Majesty became convinced that her grandson had made the right choice, and her support for Kate was laid bare in her final years.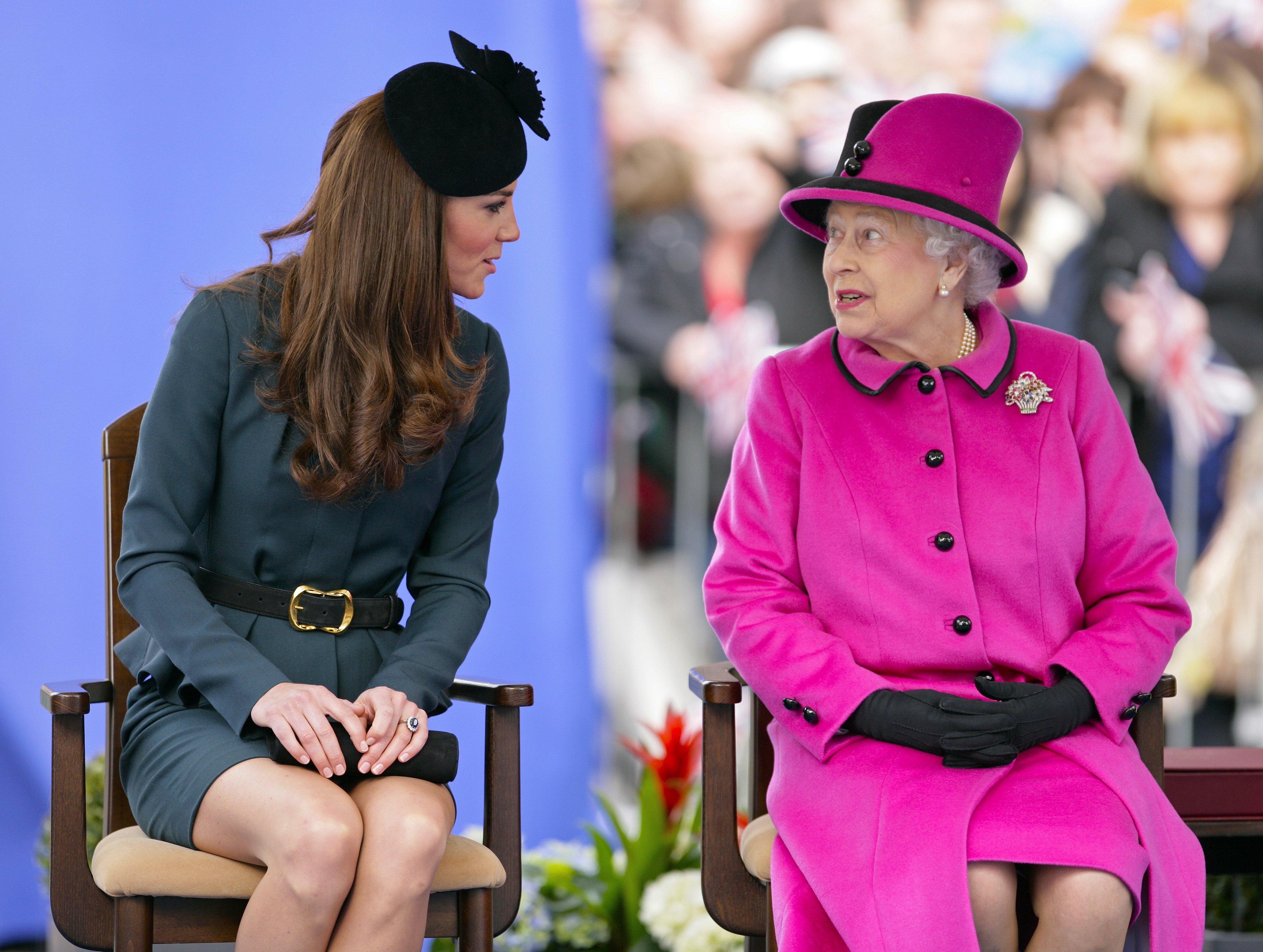 Catherine, Duchess of Cambridge, and Queen Elizabeth II on March 8, 2012, in Leicester, England.| Source: Getty Images
Royal insiders claim that while the Queen never gave Middleton outright lessons about her role, she treated her as she did with her prime ministers, offering to do rather than to say.
The Queen also reportedly spent a lot of time supporting Middleton and William's relationship as a way of trying not to repeat the mistake she made with her son then-Prince Charles and his ex-wife, Princess Diana.
The Queen also acknowledged how impressed she was with Middleton for loving William for who he was as a person and not for the title he carried.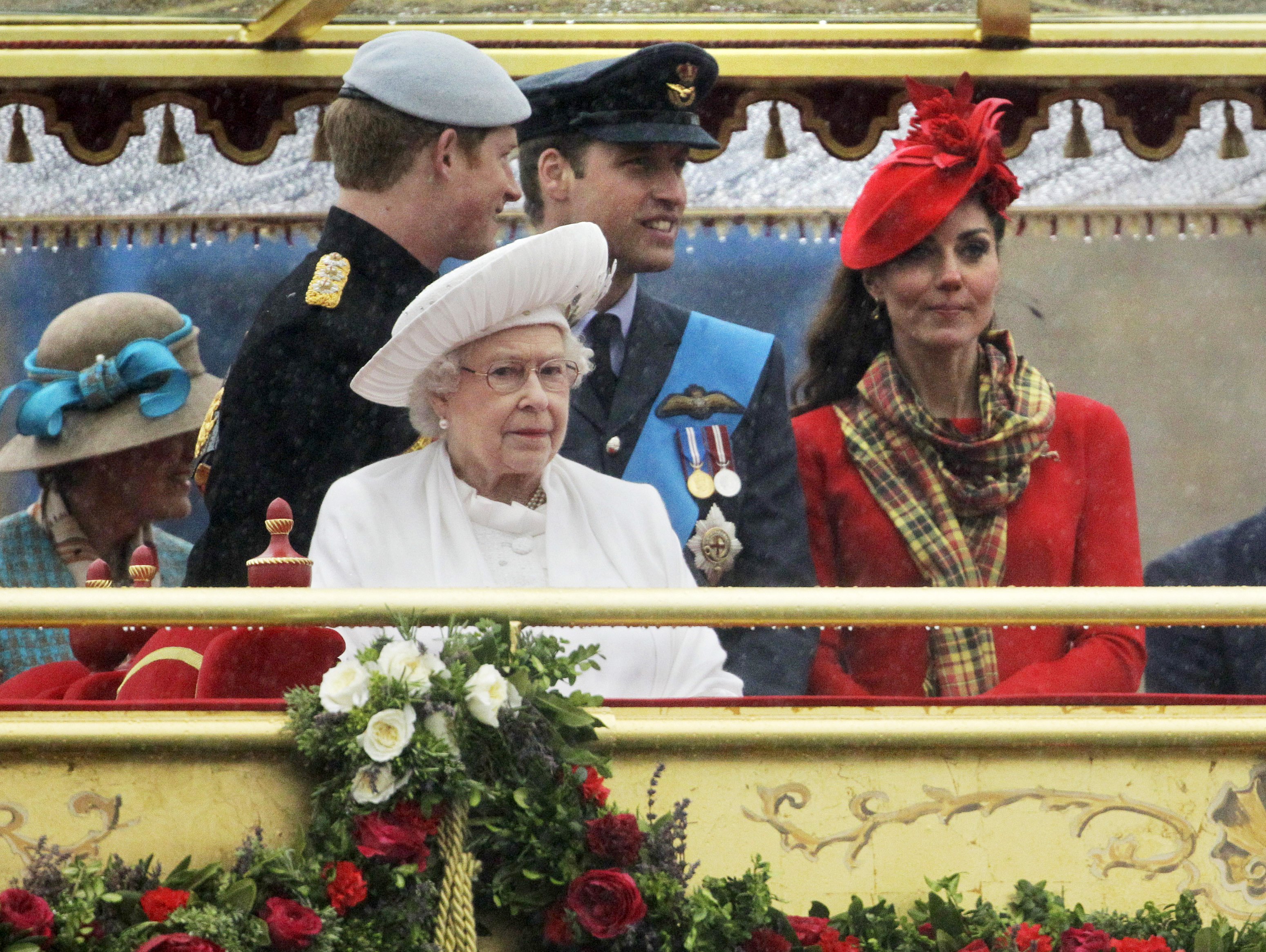 Prince Harry, Britain's Queen Elizabeth, Prince William and Catherine, Duchess of Cambridge, during the Diamond Jubilee river Pageant in London on June 3, 2012.| Source: Getty Images
When it came down to it, Middleton learned plenty from the Queen through observation, and despite a 56 years difference between them, they share substantive qualifications for the job. They realized they had a mutual quiet stoicism, unerring discretion, and were firmly loyal.
Their contended opinions on political matters remained unheard and unspoken, while their commitment to the throne was unmatched. And besides a controlled public image, like the Queen, Middleton also adopted the monarch's unofficial motto, "never complain, never explain."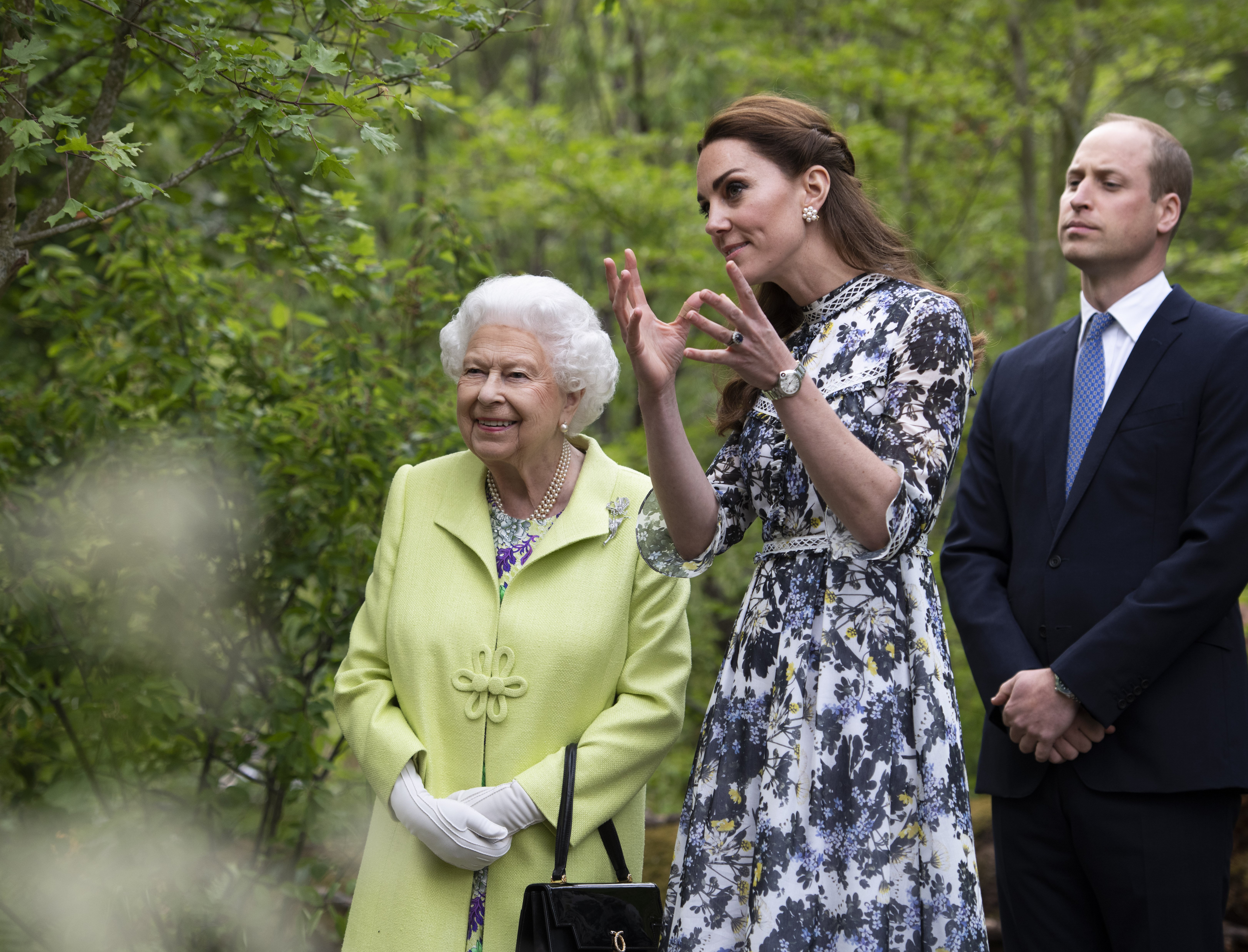 Queen Elizabeth II is shown around 'Back to Nature by Prince William and Catherine, Duchess of Cambridge at the Chelsea Flower Show on May 20, 2019, in London, England.| Source: Getty Images
The "rule" is said to originate from the 19th century, was adopted by the Queen's late mother, the Queen Mother, and has been assumed widely by the royals. The go-to mantra depicts that one should never complain nor explain themselves, especially in today's world that is prone to oversharing.
Middleton appears to have fully adopted the mantra and has never been publicly quoted complaining or explaining herself, a rare contrast to Harry and Meghan, who bared open the royal secrets during their interview with Oprah in March 2021.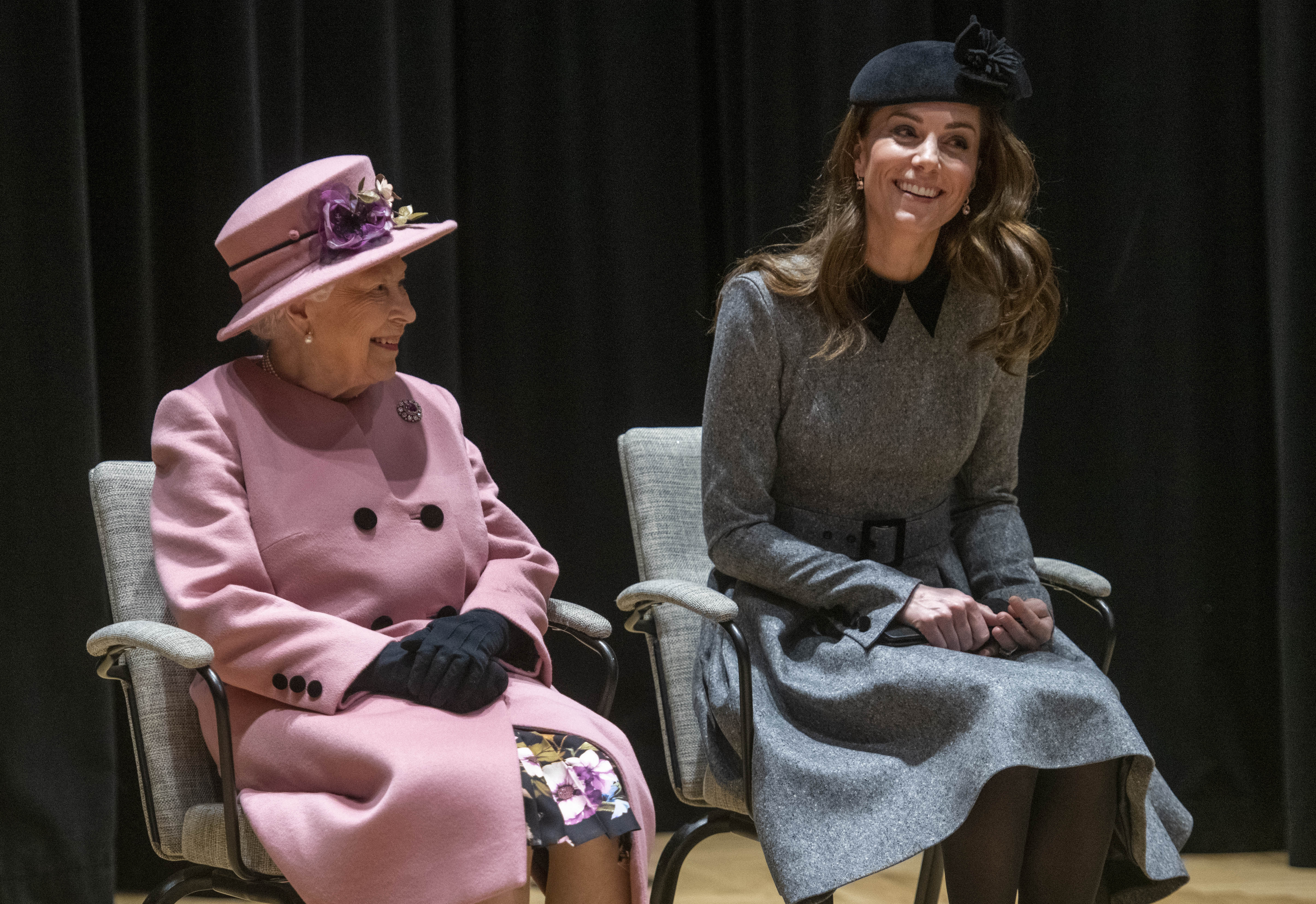 Queen Elizabeth II and Kate Middleton on March 19, 2019, in London, England. | Source: Getty Images
The duchess did not only follow in the Queen's ways of carrying herself but also adopted the monarch's style and regularly wore jewels on loan from her. The Queen would adorn bright colors on royal outings, and Middleton followed suit. A friend of the royals told People:
"The Queen has this definitive style, almost like a uniform, which also works for Kate."
Their Relationship over Queen's Last Few Months
As the years progressed, the Queen and Middleton became undeniably close, and the younger royal often carried out duties on behalf of her grandmother-in-law.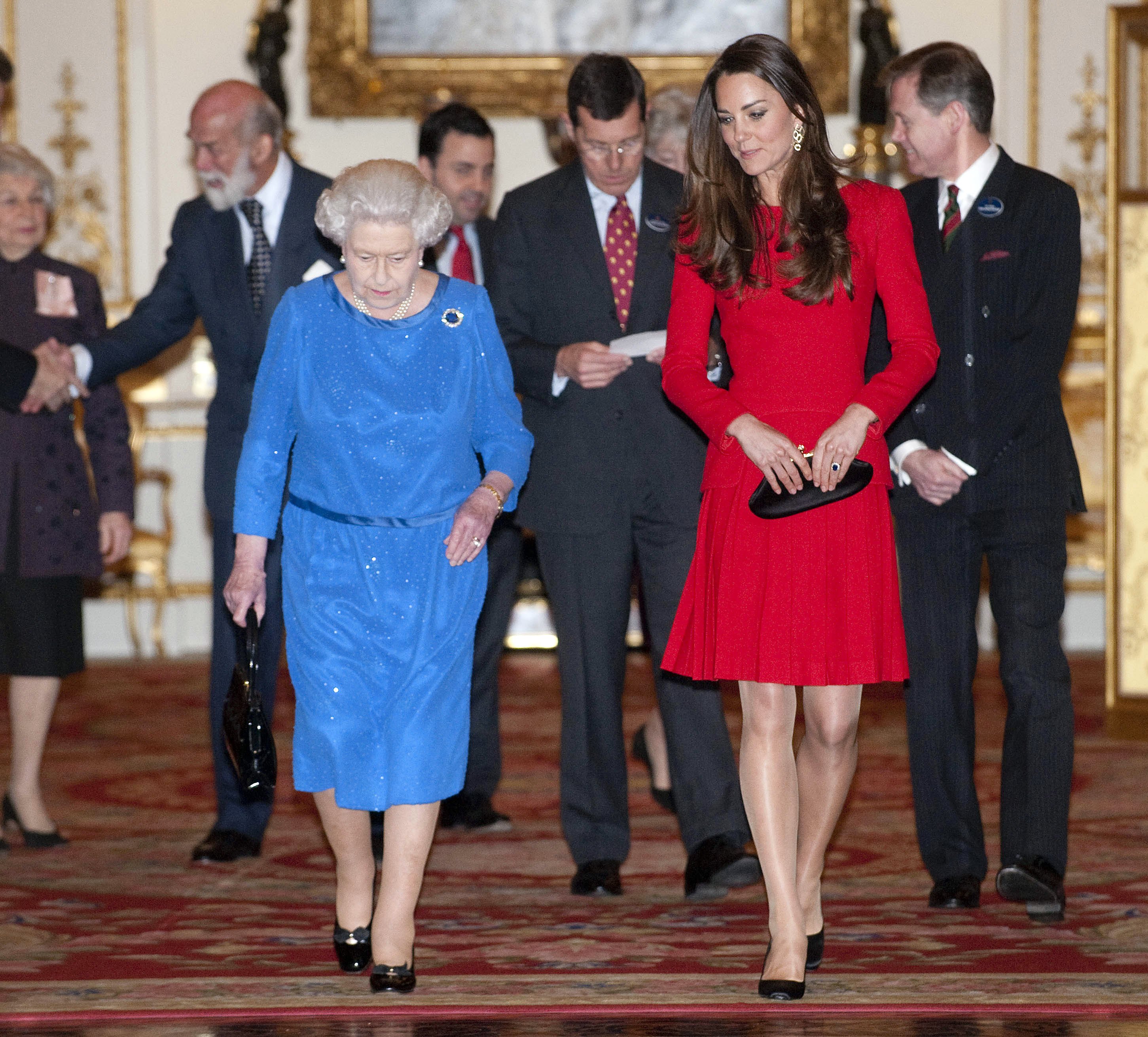 Queen Elizabeth II and Catherine, Duchess of Cambridge attend the Dramatic Arts reception at Buckingham Palace on February 17, 2014 in London, England.| Source: Getty Images
Middleton was actually the first to give the public a rare update on Queen Elizabeth after she skipped church service due to "discomfort" during the Jubilee celebrations.
During a reception at Guildhall, the Duchess of Cambridge told an attendee that the Queen was fine and was just tired from a very tiring day of Trooping the Color. She, however, confirmed that the Queen had had a lovely time the previous day.
The Queen was also impressed by how the Cambridges represented her, with American journalist and biographer Sally Bedell Smith telling People that they showed a kind of dedication that the Queen was exceptionally proud of, which gave her hope. She said:
"They are representing the Queen impeccably. They're showing a kind of dedication she would be proud of. And that probably gives her hope."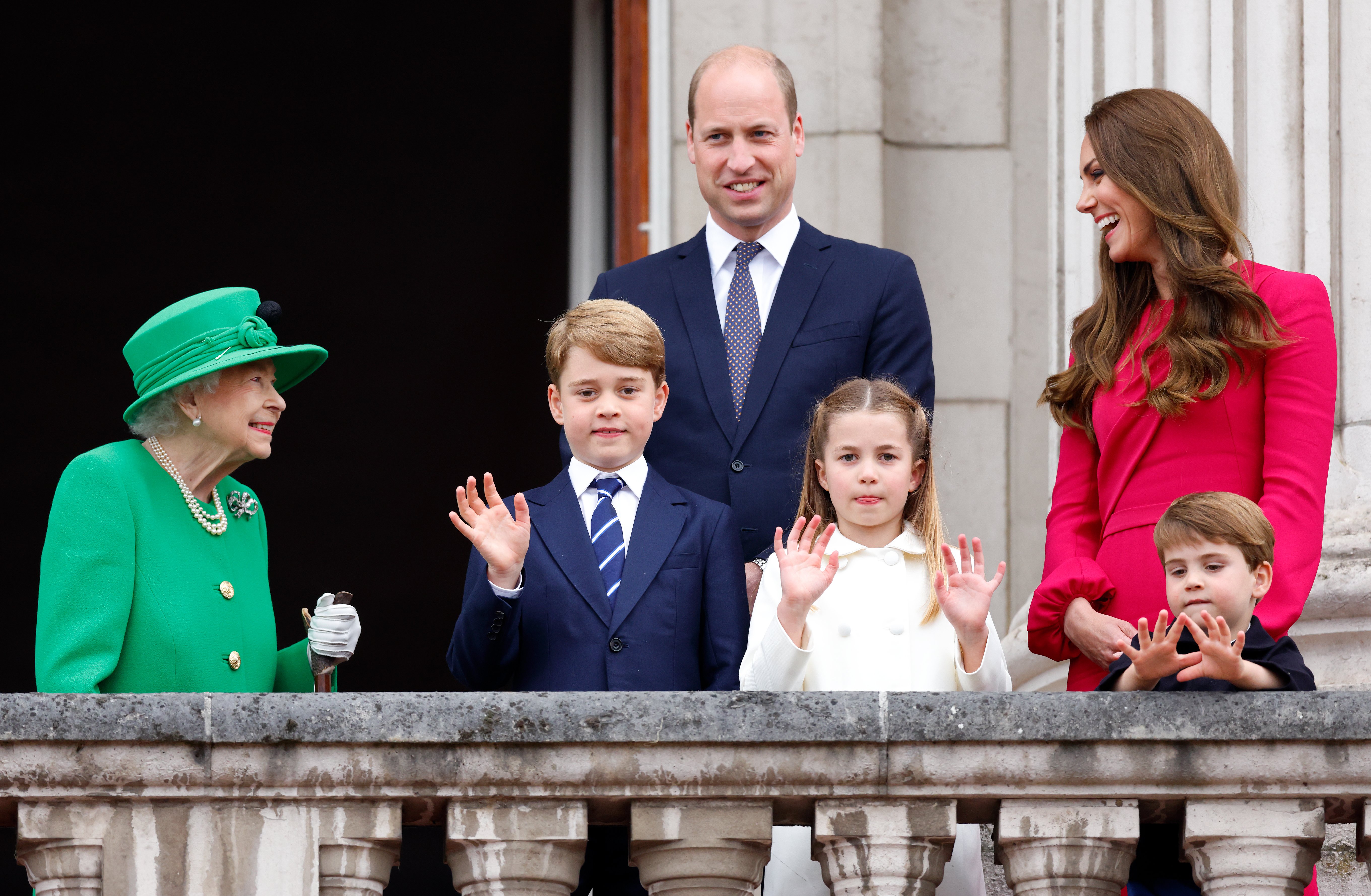 Queen Elizabeth II, Prince George, Prince William, Princess Charlotte, Catherine, and Prince Louis stand on the balcony of Buckingham Palace on June 5, 2022, in London, England. | Source: Getty Images
To be closer to the Queen, the Cambridges also recently relocated from their London home to Windsor, where they occupied the Adelaide Cottage, a short distance from the Queen's primary residence, Windsor castle.
The move, which they had planned for a while, reportedly delighted the Queen, as she would see them and her great-grandchildren more often.
Please fill in your e-mail so we can share with you our top stories!