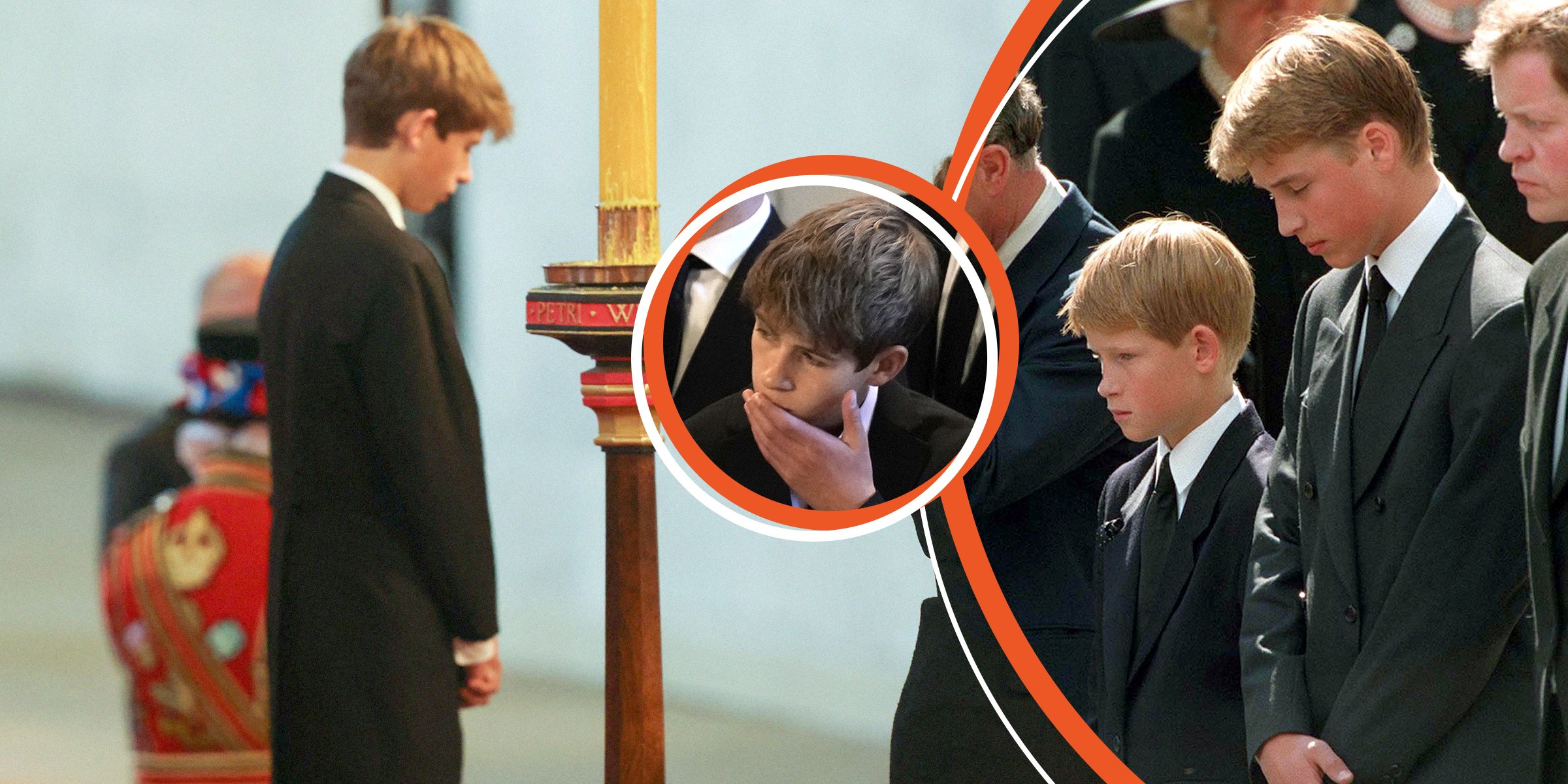 James Viscount Severn | Prince Harry, Prince William and Charles, Earl Spencer | Source: Getty Images
Queen's Grandson Guarded Her Coffin at 14 like Look-Alike Cousin Who Felt 'Pain' at Mom Diana's Burial

The Queen's youngest grandson is unknown and lives an ordinary life like all teenagers.

His first famous appearance occurred after the decision to honor his beloved grandmother.

The young royal guarding his grandparent's coffin triggered memories from Princess Diana's funeral.
Queen Elizabeth II's grandchild, James Viscount Severn, made his rare public appearance only days after her death. His demeanor at Her Majesty's vigil procession was reminiscent of young Prince William at Princess Diana's funeral.
After Queen Elizabeth II died, her grandson, James Viscount Severn, was nowhere to be seen for days. It remained unclear to the public regarding his absence.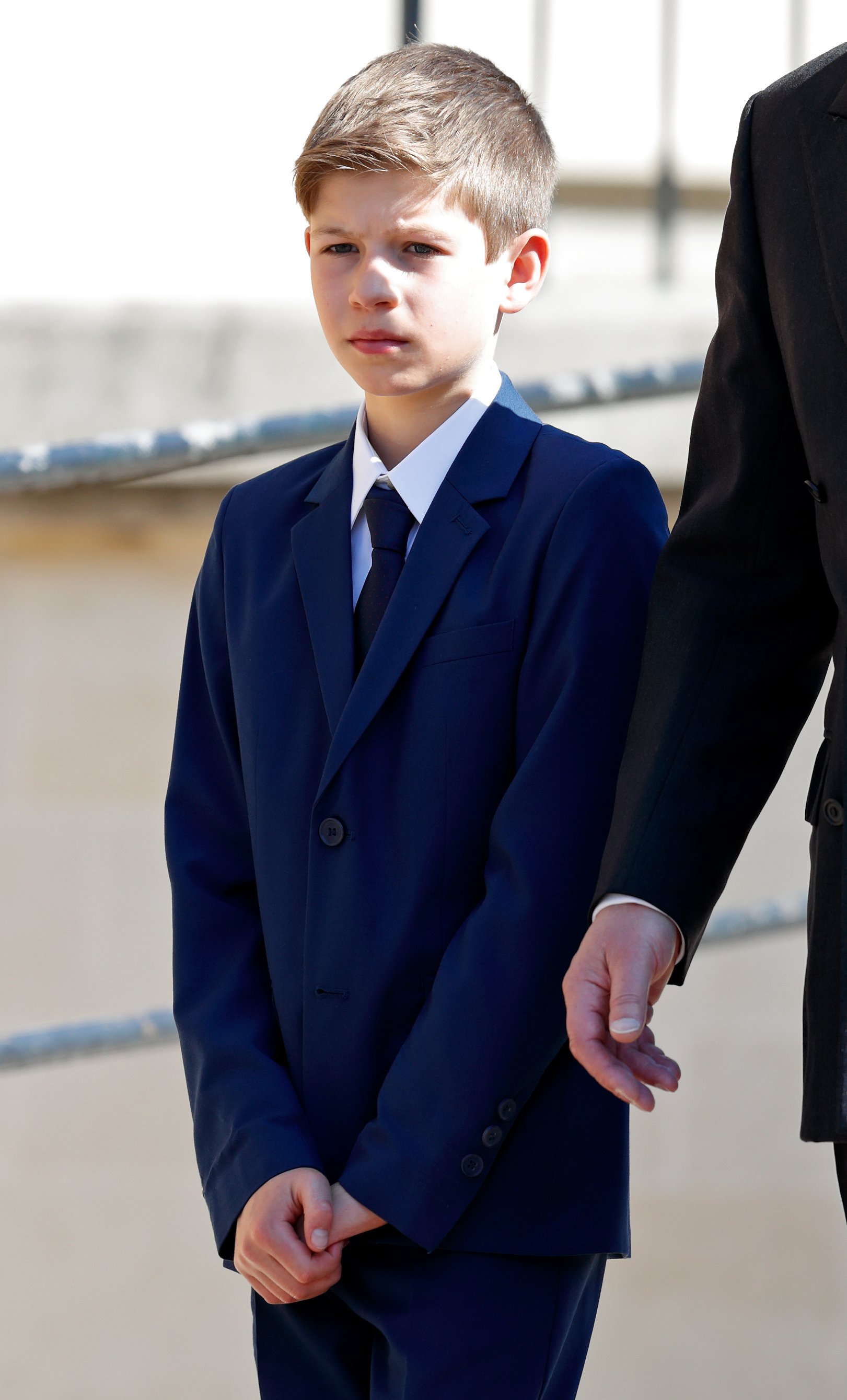 James, Viscount Severn attends the traditional Easter Sunday church service at St George's Chapel, Windsor Castle on April 21, 2019 in Windsor, England | Source: Getty Images
Therefore, it is believed the young royal was coping with the passing of his grandmother away from the limelight. Per Hello Magazine, the youngster's parents, Prince Edward and Sophia, Countess of Wessex, united with other royal members to view tributes to the monarch outside Balmoral, days after the pronouncement of her death.
The royal couple was joined by their eldest child, daughter Lady Louise Windsor, who lovingly held her mother's hand while walking toward the crowd. Only the Earl of Wessex and his wife and daughter partook in the walkabout except for his son, who was notably absent.
At the time, there was no clear explanation as to why James Viscount was not present for the walkabout, but it was likely that his parents decided to protect his privacy and keep him away from the spotlight.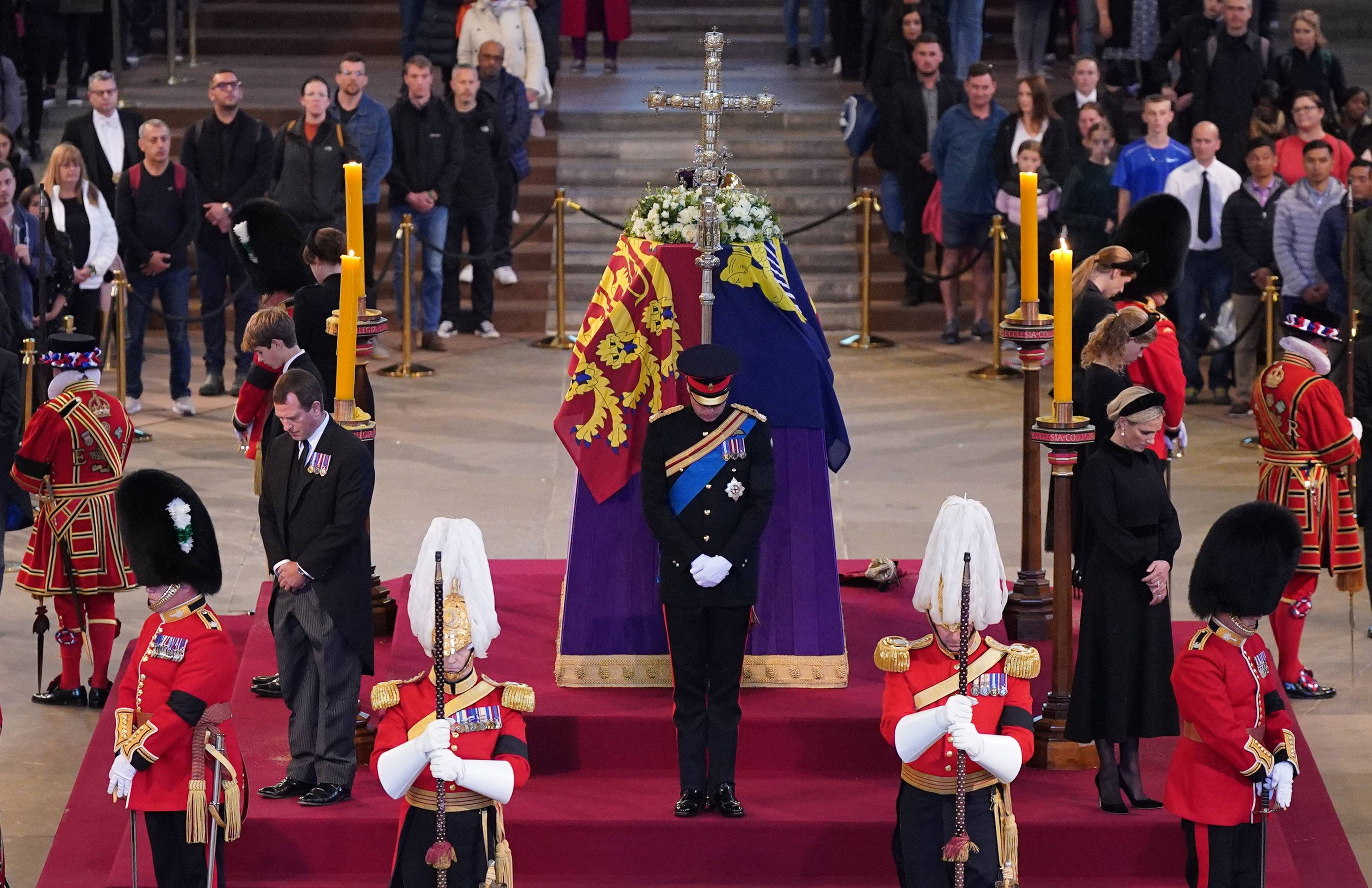 Prince William, Prince Harry, Duke of Sussex, (obscured) Princess Eugenie, Princess Beatrice, Peter Phillips, Zara Tindall, Lady Louise Windsor, James, Viscount Severn hold a vigil in honor of Queen Elizabeth II at Westminster Hall on September 17, 2022 in London, England | Source: Getty Images
However, he joined the family at the vigil procession that included the Queen's seven other grandchildren, who stood by her coffin in her honor as she laid in state at Westminster Hall.
Her Majesty's eight grandchildren, Peter Philips, Zara Tindall, Prince William, Prince Harry, Princesses Beatrice, and Eugenie, including Lady Louise and James Viscount, held a 15-minute vigil for their beloved grandmother.
James Viscount seemed more upset during his first public appearance since the sovereign's death, proving how he genuinely loved his grandmother. However, the royal had not been spotted with the Queen for years.
Why James Viscount Is Less Popular than His Cousins
James Viscount was born in December 2007 at the Frimley Park NHS hospital in Surrey. Upon his birth, his parents had not named him yet.
When Prince Edward was asked about a potential name for their son at the time, he told BBC that he and his spouse were still unsure because they did not know his sex during the pregnancy:
"We didn't know. We had no idea what we were going to get. We hadn't asked. You have to at least get to know the small person who's just come into the world before you actually try and pick a name."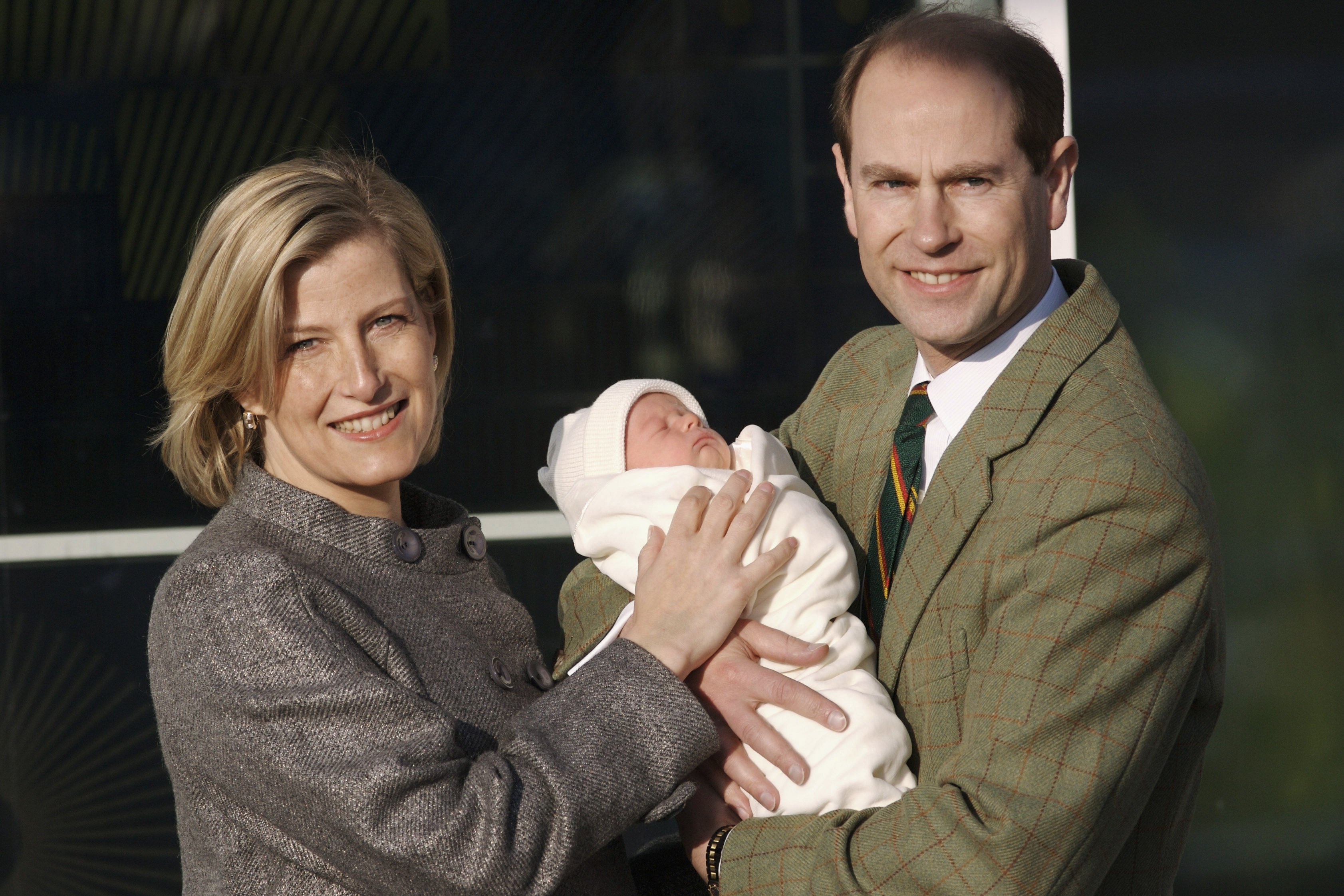 Sophie, Countess of Wessex and Prince Edward, Earl of Wessex leave Frimley Park Hospital with their baby son, Viscount Severn on December 20, 2007 in Surrey, England | Source: Getty Images
Despite that, it was clear that the royal son would take the title Viscount Severn which is one of the reasons why he was not well-known. The Earl and Countess of Wessex decided against giving their children HRH titles.
The mother of two explained during an interview with The Times in June 2020 that she and her husband opted to provide their kids a normal life.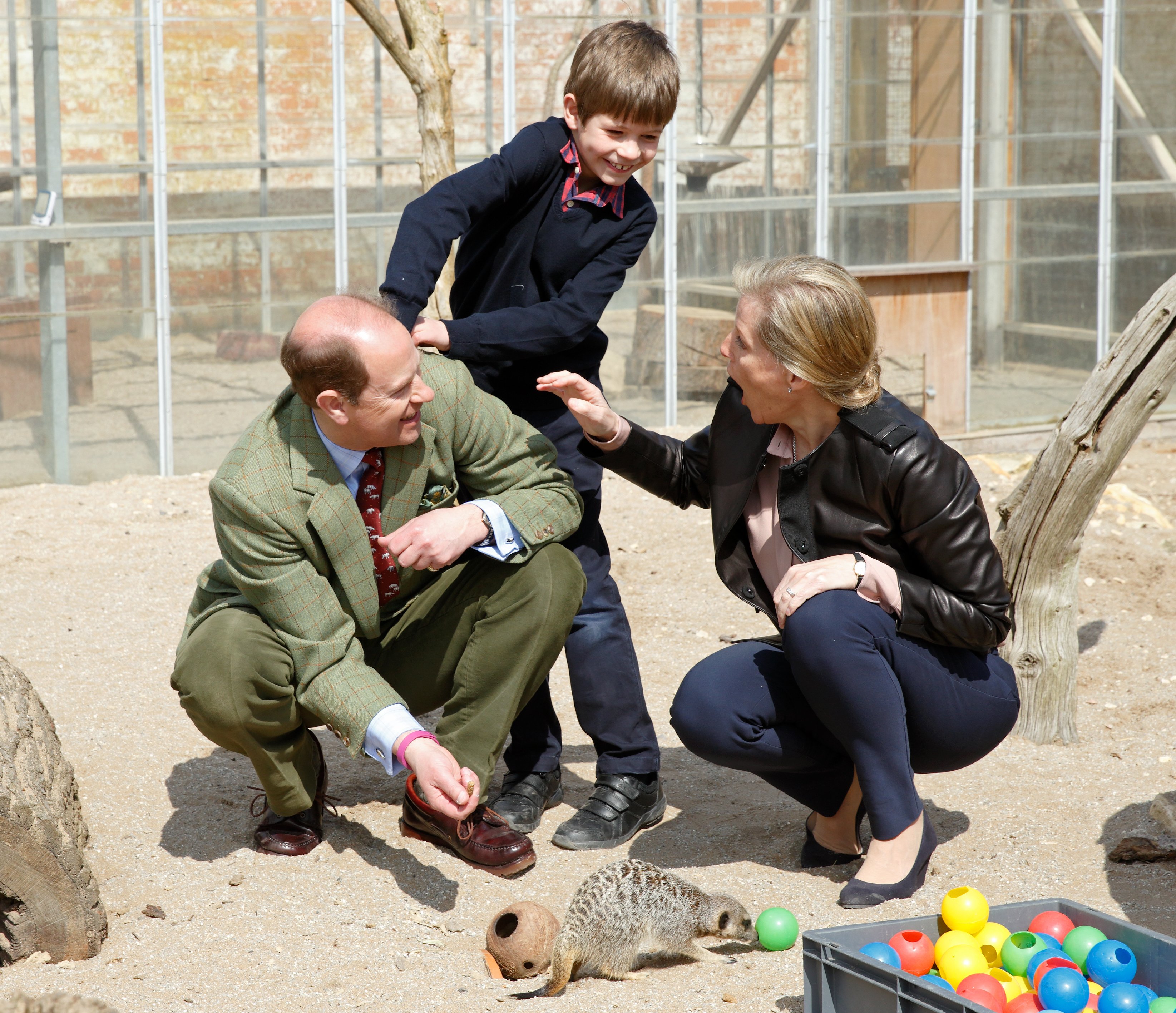 Sophie, Countess of Wessex pictured with her son James, Viscount Severn and husband Prince Edward as they feed crickets to meerkats during a visit to the Wild Place Project at Bristol Zoo on April 14, 2016 in Bristol, England | Source: Getty Images
She revealed that the royal siblings attend regular schools and go for sleepovers at friends' houses and parties. They walk their pet dogs on weekends and spend time with pals:
"We try to bring them up with the understanding they are very likely to have to work for a living. Hence, we made the decision not to use HRH titles. They have them and can decide to use them from 18, but I think it's highly unlikely."
The doting mom noted that although not everyone's grandmother lived in a castle, their destiny was not of importance but who they were was what mattered. The Countess of Wessex emphasized that when her son and daughter spent time with the monarch, she was only their grandma.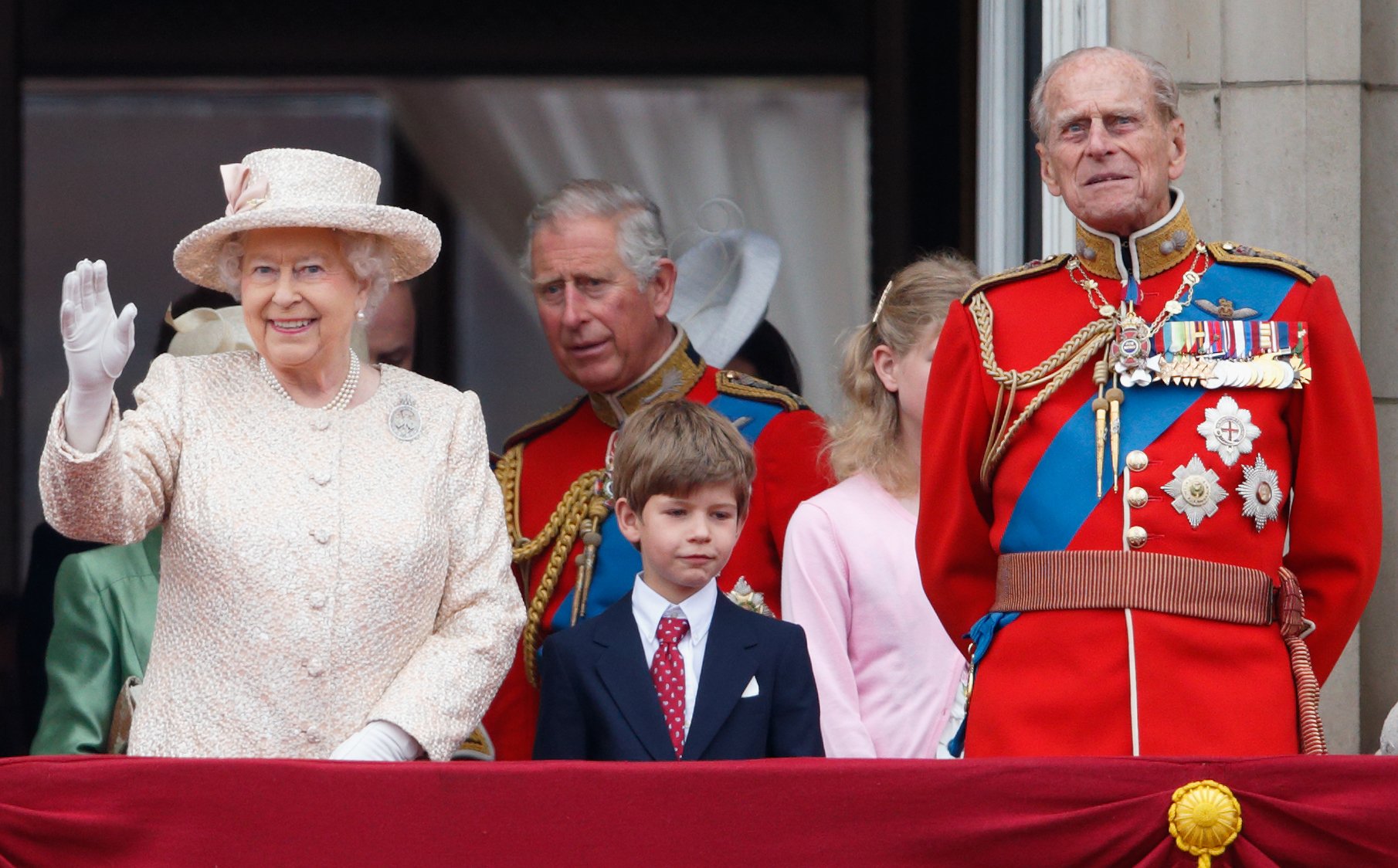 Queen Elizabeth II, James, Viscount Severn, Prince Philip, Lady Louise and Prince Charles stand on the balcony of Buckingham Palace during Trooping the Color on June 13, 2015 in London, England | Source: Getty Images
James Viscount caught public attention after his reunion with the Queen's seven other grandkids, who all, according to a royal insider, wanted to "pay their respects" to Her Majesty.
The young royals, led by the Prince of Wales, stood at the top of the grand committee staircase in the corner of Westminster Hall. While walking, they were tapping, which, per the Daily Mail, signifies the changing of the guarded sound.
Lady Louise and James Viscount's parents, Prince Edward and Sophie, Countess of Wessex, watched the solemn procession from a platform facing the position of the coffin.
James Viscount's Public Appearance Sparked Online Comparisons
James Viscount appeared calm and composed during the service, standing beside the monarch's coffin with his head bowed as mourners passed, paying their last respects. As a 14-year-old, the royal's composure during the ceremony displayed a maturity far beyond his age.
However, per People, the most memorable thing about his appearance was that he triggered memories from Princess Diana's funeral.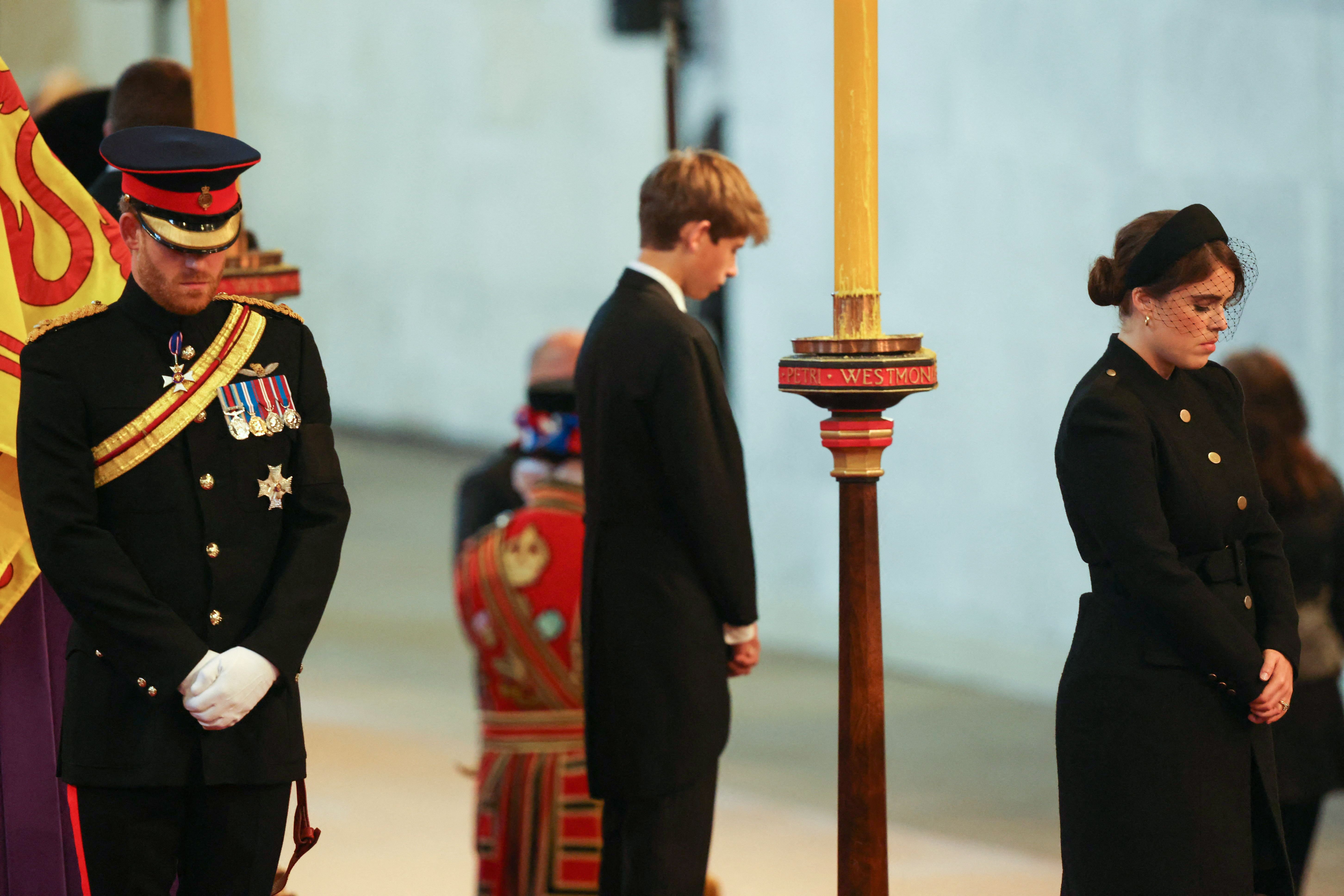 Prince Harry, James, Viscount Severn, and Princess Eugenie mount a vigil around the coffin of Queen Elizabeth II, lying in state on the catafalque in Westminster Hall, at the Palace of Westminster on September 16, 2022 in London | Source: Getty Images
James Viscount has been compared to the likeness of his older cousin, Prince William, who was almost the same age as him when he guarded his mother's coffin.
He is one year younger than the Prince of Wales when he famously walked behind the coffin of the People's Princess on September 9, 1997, at age 15.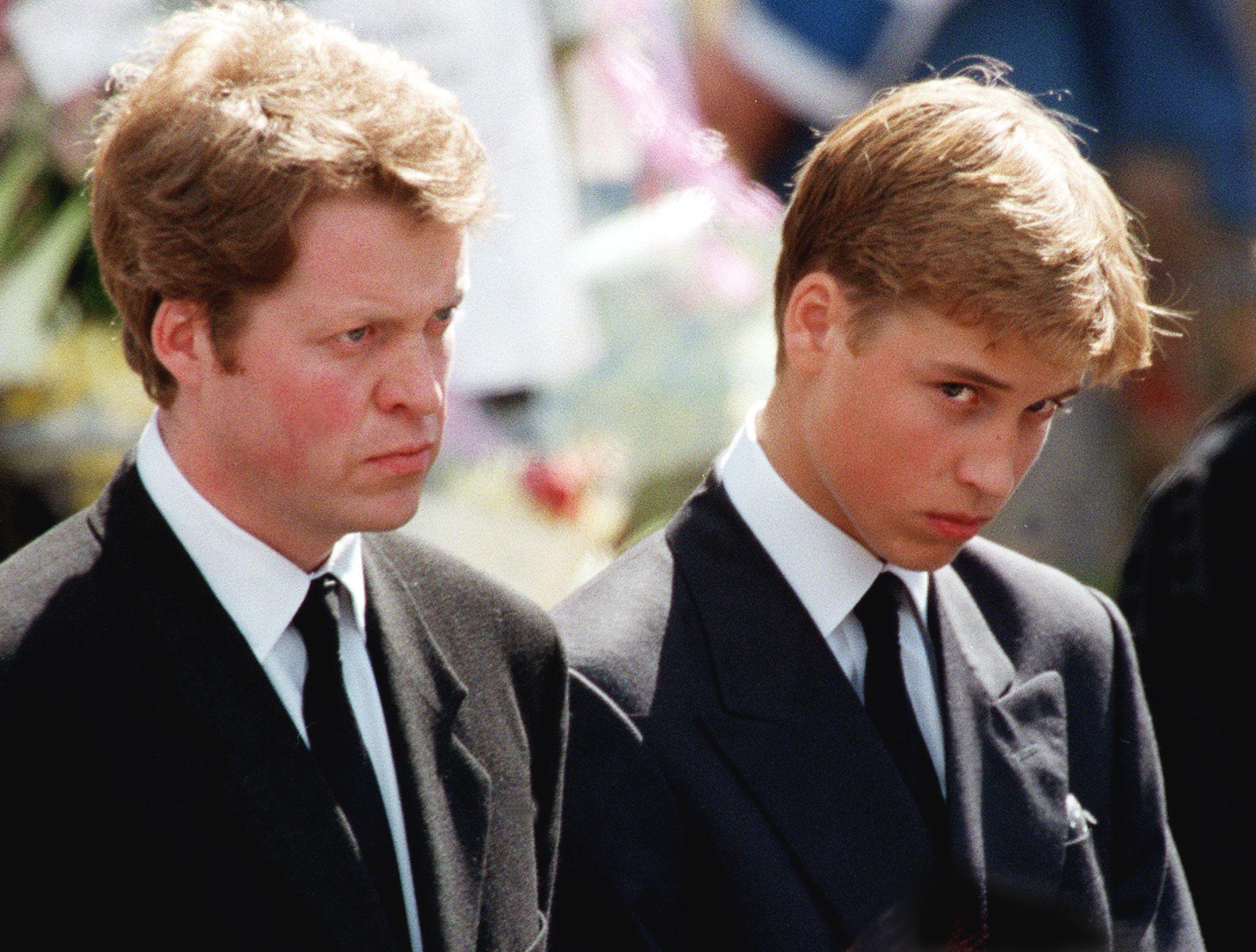 Prince William and her uncle Charles, Earl Spencer wait in front of Westminster Abbey to attend the funeral ceremony of Princess Diana on September 6, 1997 in London | Source: Getty Images
Royal fans instantly picked up the similarities between the separate events and expressed their thoughts on social media. "James, Viscount Severn looks strikingly like a young Prince William today," one person wrote on Twitter, alongside side-by-side photos of the pair.
Another Twitter user stated James Viscount's participation was touching in that not only because of the age similarities to Prince William but also his "hair," which looked the same as the Prince of Wales two decades ago.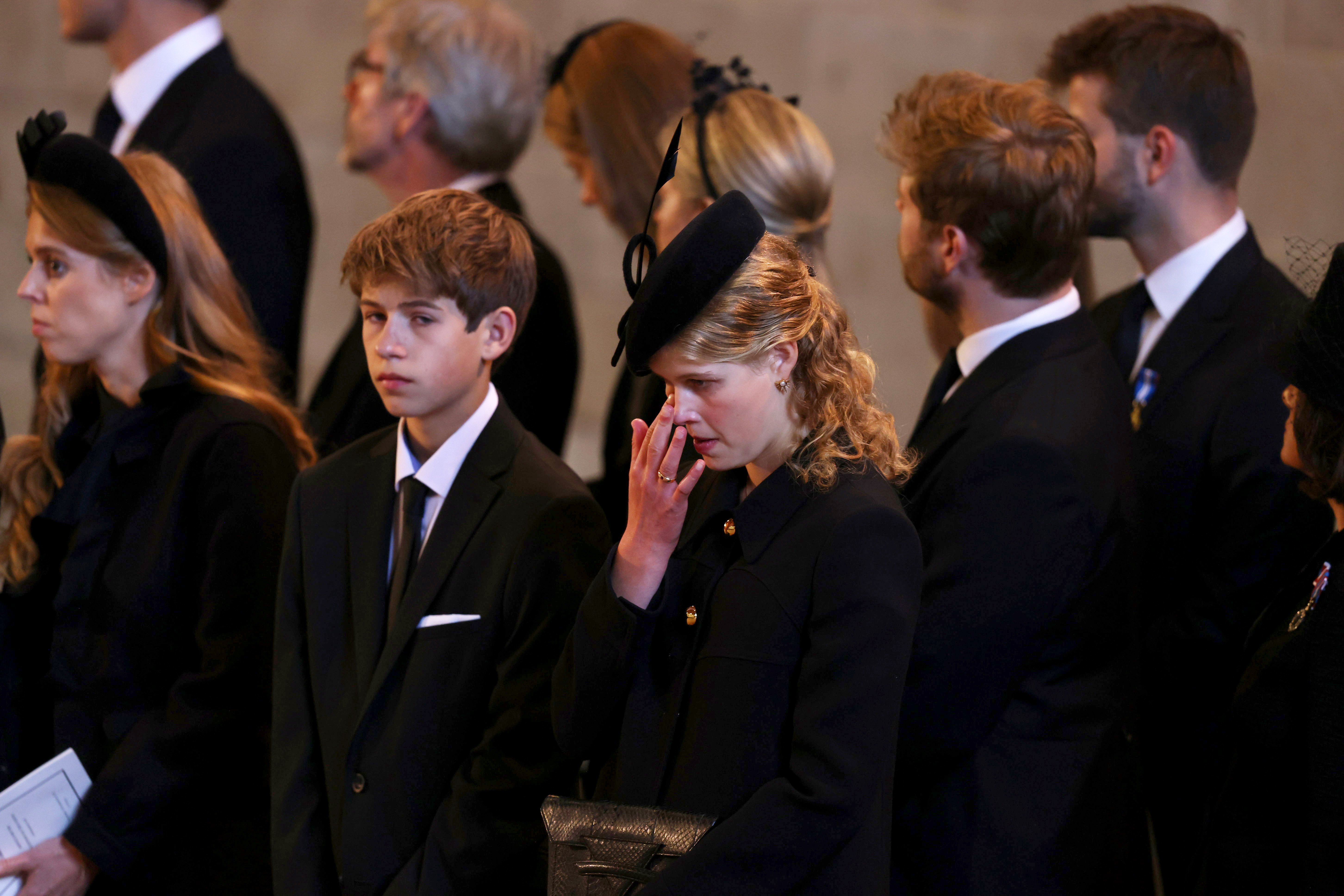 James, Viscount Severn and Lady Louise Windsor pay their respects during the procession for the Lying-in State of Queen Elizabeth II at Westminster Abbey on September 14, 2022 in London, United Kingdom | Source: Getty Images
One individual said Prince Edward and Sophie, Countess of Wessex's son, resembled Prince William when he was his age, adding that having gone through "so much pain publicly" was commendable.
A third individual expressed that the two funeral services with the young royals were "heart-breaking and strikingly similar." One fan applauded James Viscount for a job well done honoring his late grandparent, adding that he was "brave" and that the Queen would be proud of him.
Please fill in your e-mail so we can share with you our top stories!