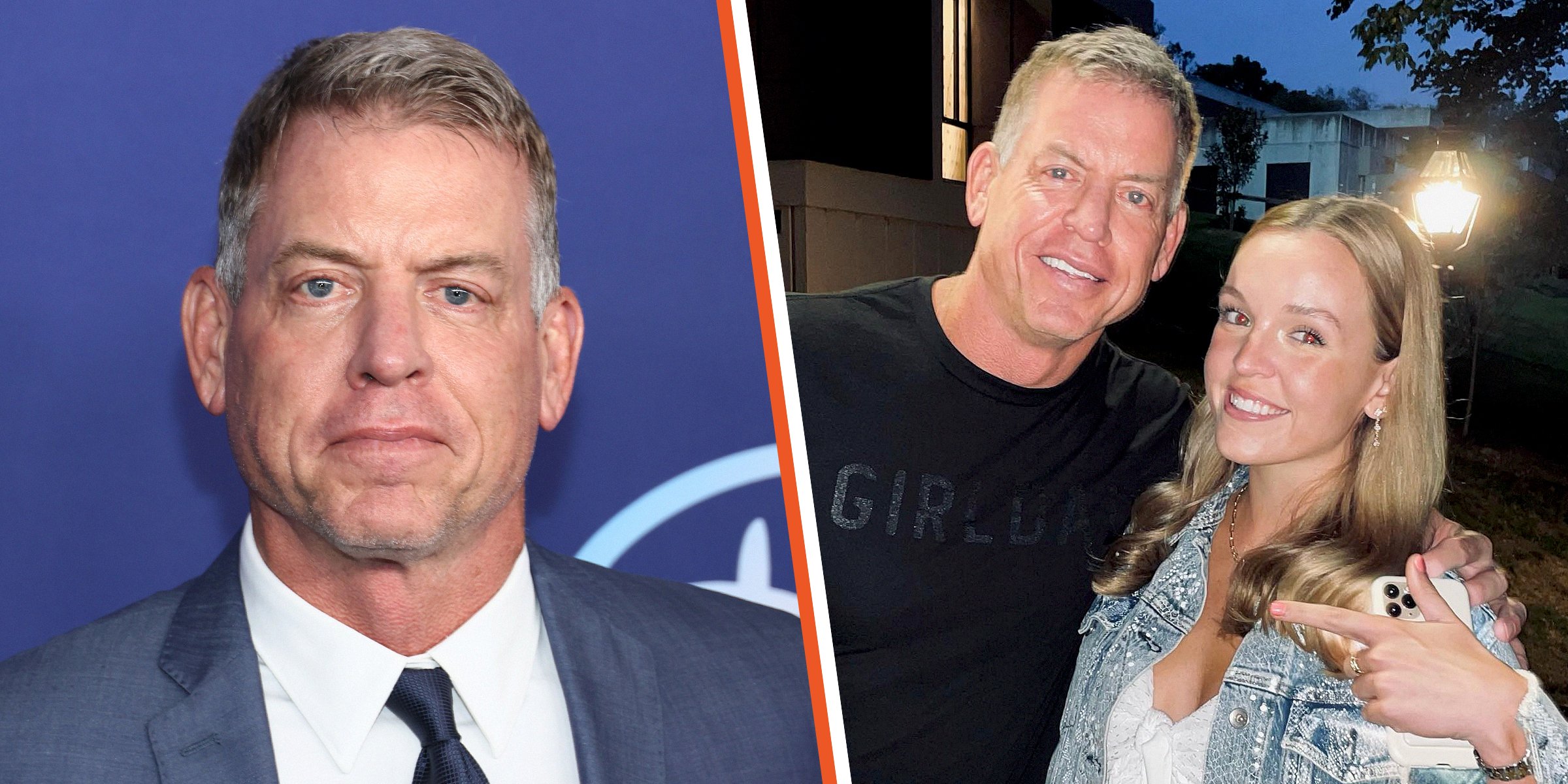 Troy Aikman | Troy Aikman and Jordan Ashley Aikman Pose for a Photo | Source: Getty Images | Instagram/troyaikman
Jordan Ashley Aikman Does Charity Work - Facts about Troy Aikman's Daughter
Jordan Ashley Aikman is the eldest of Troy Aikman's children. Though she engaged in sports during her schooling career, she didn't follow in the former NFL player's footsteps. The youngster chose to lead a career in Strategic Communications.
Jordan Ashley Aikman has been actively involved in charity work while building on her career; she has been interning since 2018 and already has a few notable accomplishments. She is also currently studying at Washington and Lee University.
Though her parents split in the early 2010s, Jordan grew up under the care of a dedicated father who wanted to build her and her sister's confidence. He ensured that they would hold the appropriate standards when it came to their dating lives.
An Interesting Coincidence Happened on the Day of Jordan's Birth
Jordan took her first breath on August 24, 2001, born to former Dallas Cowboys quarterback Troy Aikman and Rhonda Worthey. Her sister, Alexa "Ally" Aikman, followed on July 30, 2002, in Plano, Texas.
Jordan was born the same day her dad's former teammate Daryl Johnston became a dad with his wife, Diane. Like Rhonda and Troy, the couple also welcomed a daughter, whom they named Evan Elizabeth.
Moreover, Jordan and Evan were delivered by the same doctor at a hospital in Dallas. A few months before the coincidental births, in April 2001, Jordan's dad had announced his retirement from the National Football League.
He and Rhonda had married the previous year after meeting sometime in the 1990s. When the former lovers divorced, Jordan was about ten years old. However, her dad found love again and is now married to Catherine Mooty.
Jordan Has Already Worked for Various Organizations
Jordan graduated from high school in July 2020. Her parents attended the ceremony, as her mom revealed on Facebook. Rhonda also wrote that her daughter was "W&L bound" as she celebrated her "next adventure" in college.
Jordan is enrolled at the institution doing a Strategic Communications major and a Creative Writing minor and is set to graduate next year. She already holds a credential from Washington and Lee University, received in July 2022, as part of the President's List.
In July 2017, she worked at the United Way of Metropolitan Dallas to learn about the operations of non-profit organizations and co-founded the Teens United initiative the following year. Per her LinkedIn description, Teens United helped high schoolers in Dallas find ways to give back.
Jordan interned at Mathes and Co. Events in 2018, Allie Beth Allman and Associates in 2019, and SPORTSFIVE last year. She was an Enrichment Teacher at Little Scholars in Charleston in 2022 and co-founded a Fintech Club at W&LU.
Jordan also does charity work with her family. In June 2022, she, Alexa, and Troy partnered with Compudopt, and AT&T president Steve Hahn, to help hand out donated computers to local families in Oklahoma.
Jordan's Father Raised Her to Have High Standards in Relationships
When the former Dallas Cowboys quarterback became a single dad, he acquired books to help guide him as he fathered two girls. He learned that the relationship he modeled between himself, Jordan, and Alexa, would be the foundation of their confidence.
Moreover, he discovered that treating them the way he believed a man should treat his girls would help them set the appropriate standards regarding romantic relationships. Troy felt he'd accomplished that goal, as he said:
"And I think I've been successful in that regard. You know, time will tell. But that's probably been the challenge for me and what I set out to do."
He maintains a loving relationship with Jordan, whose birthday he celebrated with a slideshow of all their adventures. The 21-year-old also maintains a close bond with her mom. Last year in July, Rhonda posted a lovely picture of herself and Jordan posing alongside two other ladies on a night out.
Troy once coached Jordan and Alexa in a few sports for a brief period when they were teenagers but admitted that he was "too competitive" for the role. However, now that his girls are officially adults, he is confident about them taking on the next stage of their lives and him moving onto his own.
Please fill in your e-mail so we can share with you our top stories!