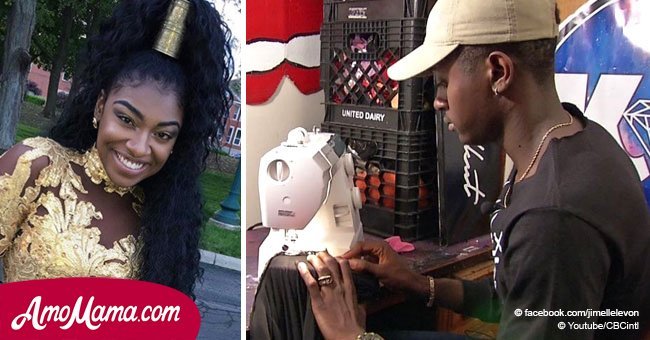 Former homeless man creates a dress for a girl he asked to prom. And it looks amazing

Jimelle Levon, a senior student, used to live with his mother in a homeless shelter. Today, he makes dresses for a living.
The 18-year-old teen from Columbus has since turned his bedroom into 'a sewing lab' and charges between $300 and $450 per dress
As reported by Jesus Daily, his story went viral when he invited a girl to his senior prom and made her prom dress himself.
He started with that one dress but his talent and skill set is slowly becoming in demand as word about his exceptional designs spread through the community.
Jimelle, who was formerly homeless, used to work two jobs to help his mother support the family. He has since resigned from both to focus on his business
"I was always a hard worker, either shoveling the snow or anything to gain money because I didn't want to be in the predicament anymore."
Jimelle Levon, Jesus Daily, February 13, 2018..
The motivated teenager told NBC4 reporters that he hardly has any time to socialize anymore. He designs and makes the dresses from scratch, and by hand.
Jimelle is an inspiration for people everywhere. He worked hard towards his goal and honed his craft to ensure a better future for him and his mother.
He admits that it sometimes becomes overwhelming, but he is determined to make a success and build a profitable career around his passion.
He taught himself how to sew when he was 14 years old and continues to master the craft. Some of his custom creations include a mermaid dress, a monotone gown and a beautiful red dress with flower embellishments.
Jimelle still has to finish high school but will be attending Clark Atlanta University next fall where he will study business management and fashion.
Please fill in your e-mail so we can share with you our top stories!