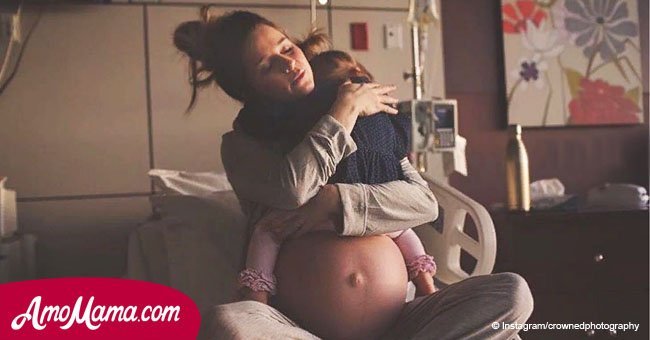 Pregnant mother's last firm hug before saying goodbye to her firstborn little daughter

This blogger shared her own experience after being inspired by a photograph.
As reported in an article published by Goodfullness, while surfing the internet, a blogger named Melissa penned down her experience after came across a heartwarming photograph of a daughter hugging her pregnant mother.
The photograph was captured by Crowned Photography. In the picture, a young daughter was seen hugging her mother one last time before she went into labor.
The mother was seen sitting on her bed at the hospital with her huge pregnant belly as she hugged her daughter back with her eyes closed.
Melissa wrote a heartfelt blog post after watching the beautiful photo that instilled various emotions and feelings in her about her own experience with childbirth.
Melissa was moved by the image and was charmed by the way the photographer depicted a mother's life. The photograph was a beautiful symbol of one chapter ending for a mother as the other one began.
She believed that the hug between the mother and the daughter would be their last before everything around the two changed forever.
The photo reminded Melissa of her second childbirth. The photograph was so powerful that Melissa relived that moment once again.
She was about the relive the moment for the third time as she was heading to the hospital to deliver her fourth baby.
Melissa added that all her daughters share a great relationship with each other and have turned out to be the best of friends. But, there were times when girls were not open to welcoming the new sibling.
For children, it is a very difficult position to be in. They go through a lot of emotions during the arrival of their new sibling and are not able to express it eloquently, Melissa added.
And although a part of them loves the idea of having a new family member, another part of them is sad that the attention received from their parents would be divided.
Please fill in your e-mail so we can share with you our top stories!