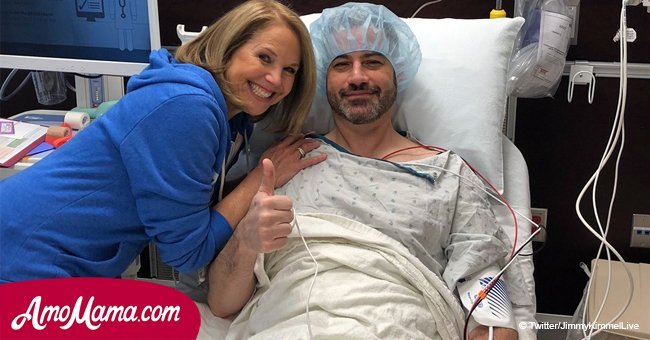 Jimmy Kimmel undergoes a colonoscopy with assistance from Katie Couric

The television host, comedian, and writer, Jimmy Kimmel, celebrated a milestone in his life: getting a colonoscopy.
Kimmel celebrated his 50th birthday on November 13, 2018. His good friend and colleague, Katie Couric, suggested he underwent a colonoscopy.
As reported by Today, it is a cause close to her heart. Couric has been working hard to raise awareness for colon cancer since her first husband, Jay Monahan, lost the battle against it at age 42.
He passed away in 1998, and two years later Couric underwent a colonoscopy procedure on live television. Since them, visits for colonoscopies have increased.
Researchers coined it the Couric Effect, which is no small feat. Colon cancer is 'second leading cancer death for men an women combined,' according to the CDC.
According to a 2014 study, 139,992 US citizens were diagnosed with colorectal cancer. Of that number, 73,396 were men and 66,596 were women.
In 2016, '3.3 million adults were screened for colorectal cancer.' The figure had only increased by 1 percent from the 66.2 percent people who were tested in 2014.
"People say this isn't fun. But I say it's a lot more fun than being diagnosed with colorectal cancer. Believe me."
Katie Couric, Today, March 21, 2018.
Kimmel shared his colonoscopy experience with his viewers on March 20, 2018. When Couric said "we're now going to have the Kimmel effect," he joked that he "always wanted to be associated with [...] the human colon."
While there was lots of bedside banter and hilarity to go around, Kimmel also explained the seriousness of the situation, hoping that his users would undergo the procedure as well.
In the segment, Kimmel appears nervous before the procedure, but his doctor put his mind at ease. She said most people don't even realize when the procedure is over.
When the examination was done, Kimmel triumphantly exclaimed, "I colonoscopied!"
Please fill in your e-mail so we can share with you our top stories!