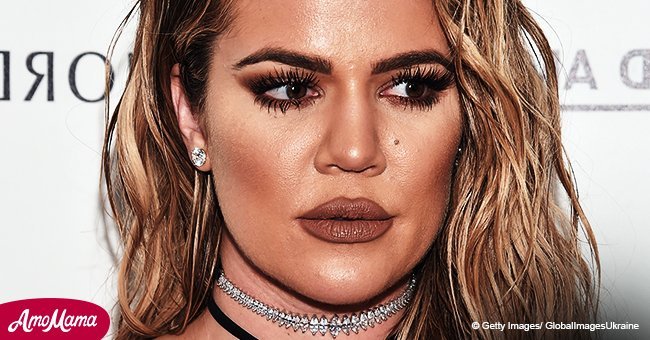 Khloe Kardashian shares a touching photo of her childhood pet after her recent sad death
As her due date approaches, the reality star seems to be more emotional than ever as she mourns for her treasured childhood pet.
It appears that she is still grieving and not over the death of her pet dog, Gabbana, whom she nicknamed Goober. Daily Mail has the inside scoop.
Khloe Kardashian shared on Instagram a throwback selfie of herself with her black Labrador who passed away in January. She simply captioned the snap with, "I miss you Goober." The photo showed the two of them sitting by the pool.
Khloe's boyfriend and the baby daddy, Cleveland Cavaliers basketball player Tristan Thompson, even gave her a paw-shaped flower tribute last month in memory of the beloved pooch.
He also lifted her spirits by giving her a "thoughtful" memorial. With the photo of flowers that she posted on Instagram, Khloe wrote:
"Thank you baby for being so thoughtful! This gorgeous arrangement brightened up my day! You are the sweetest my love (sic)."
The Revenge Body star previously admitted that she was "devastated" by the death of her canine friend, who was always by her side. She wrote on Instagram:
"Last night my sweet Gabbana passed away…She was more than a pet. She was my first child, my companion and my friend. She was incredible! She made sure I was never lonely even during lonely times. The house will never be the same. I never thought I would be this devastated over loosing [sic] a dog but 14 years, is a long time together. She filled a significant role in my life and I'm forever grateful. I love you Goober!! I'll remember you always!"
The 33-year-old's fans were very supportive and sympathetic. She took to Twitter to thank them for their kind messages.
"Thank you for being so loving and kind in regards to Gabbana! It's been such a sad night and an even sadder day. Thank you for the love."
Chime in the comments and tell us what you think about Khloe missing her canine friend.
Please fill in your e-mail so we can share with you our top stories!