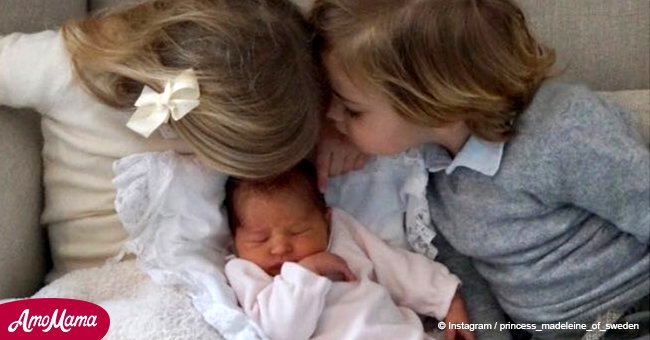 Royal family announce the name of the newest baby
While the one Royal family awaits the arrival of its newest member, another Royal family has welcomed a baby girl.
All Cute All The Time reported that Princess Madeleine of Sweden welcomed her third child on March 9, 2018. The family recently announced the name of their newest member.
Welcoming a baby is such a joyous occasion for a family. The Swedish Royal family experienced this joy earlier this month.
The parents, siblings, and the other members of the family welcomed Her Royal Highness Princess Adrienne Josephine Alice, Duchess of Blekinge.
The family only recently revealed the name of the little Princess. She has an older sister and brother who are already in love with her.
Princess Adrienne was born on the second Friday of the month, weighing 7.5 pounds and measuring 19 inches in length. She was born at Stockholm's Danderyd Hospital and the family could not contain its excitement to meet their bundle of joy.
Her sister, four-year-old Princess Leonore, and brother, two-year-old Prince Nicholas, are ecstatic to have a new sibling and parents, Princess Madeleine and Chris O'Neill are thrilled too.
Just hours after the birth of the little girl, the father clicked a photo of his daughter. The newest Royal was wearing a pastel pink button-up sweater with a softly ruffled white collar framing her cheeks and a plush cream-colored knot onesie underneath.
The couple was excited to take their youngest child to the family's permanent home in London. O'Neill works as the Managing Director of Wilton Payments Limited.
Princess Madeleine is King Carl XVI Gustaf of Sweden's third child. She is seventh in line for the throne, following her two older siblings and their children.
Her third daughter is the 10th in line for the crown.
The name of the little Princess was revealed late as the family was waiting for her grandparents, King Carl XVI Gustaf and Queen Silvia, to return home from their ski holiday in the Swiss Alps.
Please fill in your e-mail so we can share with you our top stories!