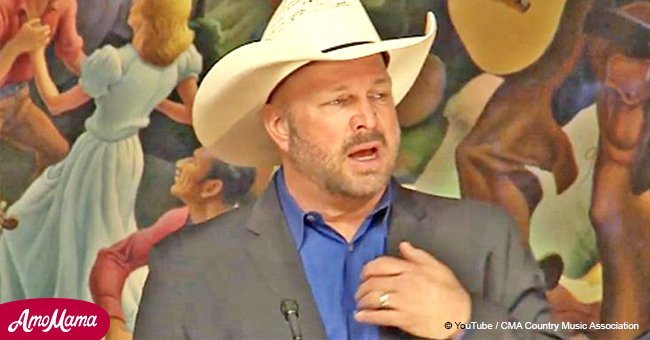 Garth Brooks gets emotional at Country Music Hall of Fame induction

Many people get very emotional with a couple of ceremonies that are important for them. Garth Brooks is one of them.
On March 27, 2018, he and Trisha Yearwood were in charge of revealing the three new inductees into the Country Music Hall of Fame. Year after year, the Hall of Fame inducts three artists in from three different categories.
Classic Country Music described them: Recording and/or Touring Musician active prior to 1980, Veterans Era, who is eligible for induction 40 years after first achieving national prominence, and Modern Era, who is eligible 20 years after doing so.
Johnny Gimble and Dottie West were the chosen ones for the first and second category respectively. Both hosts described their lives and careers in a memorable way.
When they were describing who the third inductee would be, it was clear that Brooks got very emotional. In tears, he told the story of how that person basically saved Bluegrass music by himself.
According to Brooks, he did so when the father of that genre, Bill Monroe, was reaching the end of his life by creating a record label that was strictly dedicated to keep that kind of music alive.
He added that the inductee has got several awards, including 8 CMA Awards, 15 Grammy Awards, and 13 International Bluegrass Awards. He has also worked together with important people from the industry, like Bruce Hornsby, Keith Urban, and Flatt & Scruggs.
'I cannot tell you how big of an honor it is, and a pleasure, to introduce the newest inductee to the Modern Era Artist category of Country Music Hall of Fame, Ricky Skaggs.'
Garth Brooks, Classic Country Music, March 2018.
As Skaggs got onstage, he and Brooks shared a sweet hug and the audience gave him a standing ovation. Before starting his speech, he pointed out that Brooks has always spoken very well and honored him.
He later said that the joy that he transmits with his music is thanks to his father, a man who deeply loves music.
Please fill in your e-mail so we can share with you our top stories!