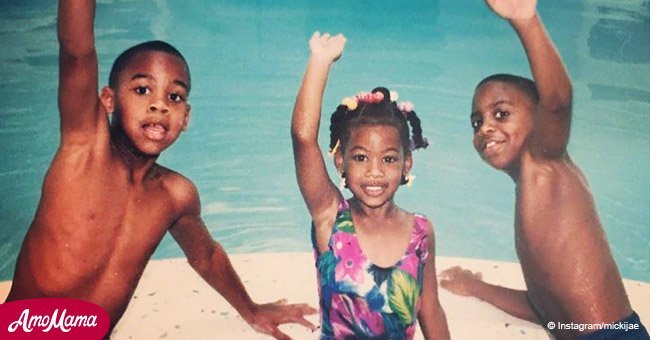 These are the kids of the richest black people in the world, according to Forbes

People say that being rich is one of the best things in life. The truth is that being the children of rich parents is even better.
There are several black people who have made billions working hard, and they have a family to share that money with. Here's a list of the children of some of the richest black people in the world, according to Forbes.
Michael Jordan
Considered one of the greatest basketball players in history, Jordan is one of the richest African Americans in the world with a net worth of $1.65 billion. Marcus, one of his five children, opened a boutique sneakers shop in Disney World called Trophy Room.
Jeff, his eldest son, lives in Oregon and is also involved in the Trophy Room. He works at Nike and got engaged recently. Jasmine, Michael's daughter, is a brand representative for Nike's Air Jordan line in Charlotte, North Carolina.
Mohammed Ibrahim
He was born in Sudan and became a billionaire after selling his telecommunications company. He created the Mo Ibrahim Foundation that helps to improve the lives of African citizens. Mohammed's net worth is more than $1.1 billion.
Hosh, Mohammed's son, is a former actor who founded Planet Developments, a real estate business. He has also helped African people by supporting the film industry and other causes.
Hadeel, his daughter, became executive director of her father's foundation at 22 years old and is now on the United Nations Secretary General's High-Level Panel on Humanitarian Funding.
Folorunso Alakija
He founded an elite Nigerian fashion label and is now the vice chair of Famfa Oil, a Nigerian oil company. His net worth is $1.7 billion and has four sons. Folarin and Ladi, two of them, got married recently in very extravagant ceremonies.
Rotimi, the third one, is the executive director of the oil company and Dele, the last children, often stays out of the spotlight.
Mike Adenuga
He is the chairman of Globacom, a telecommunications company with more than 36 million subscribers. He is also the owner of most of the oil company Conoil. His net worth is $5.4 billion.
Most of his children have kept a life out of the spotlight, including Tunde 'Paddy' Abolade, who works as a group executive director at Globacom and almost bought Chevron's Netherlands business by himself.
There are still a couple of rich people who didn't make it in the list because they have too many children or they just chose a private life.
One of them is Aliko Dangote, who is the richest black billionaire in the world. He has a fortune of $14.5 billion and has 15 children. Little is known about all of them.
Please fill in your e-mail so we can share with you our top stories!