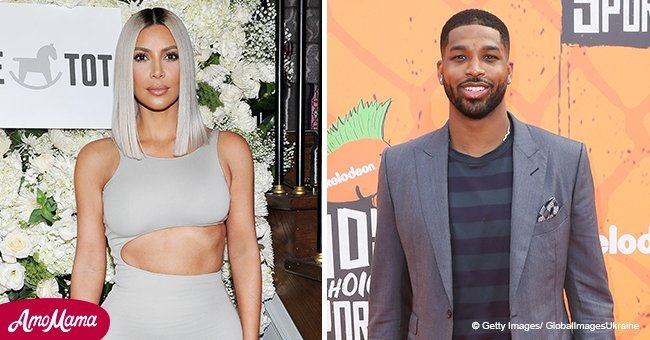 Kim Kardashian reacts to the news of Tristan Thompson cheating, source reveals she's furious
Kim Kardashian is very protective of her younger sisters. A source claim she is furious at Tristan Thompson for spending the night with another woman.
The 27-year-old Thompon, a basketball player, has been dating Khloe Kardashian,33, since 2016. Khloe announced her pregnancy on December 20, 2017.
As reported by Hollywood Life, Kim is furious at Thompson for disrespecting Khloe "when she is weeks away from giving birth to his child."
A source close to the family said this is the "worst possible time" for Thompson to hurt Khloe because the mom-to-be needs to remain calm and stressfree during the third trimester.
According to Hollywood Life, Thompson spent the night out with another woman. The headlines and rumors put Khloe "in full-on crisis mode."
She reached out to her mother, Kris Jenner, and her sisters for support. The family aims to take care of Khloe first and to focus on the pregnancy.
Once that is out of the way, they will reportedly "figure out what to do about Tristan." The couple appeared to have a stable relationship, and Khloe was looking forward to starting a family with Thompson.
They settled in Cleveland, and In Touch Weekly speculated that Khloe might leave the reality show Keeping Up With The Kardashians once the baby arrives.
As reported by Hollywood Life, the mystery woman in Thompson's life has been identified as Lani Blair, a 28-year-old model.
Thompson and Blair enjoyed an evening out in New York and the pair was photographed at the PD-D lounge. Khloe is worried that it is more than just a harmless friendship.
The outlet reported that she is 'not taking this lightly' with Thompson and demanded that he 'own up' about what he did. Either way, she is determined to find the truth.
The source added that Khloe would break up with Thompson if she can confirm that he cheated on her. For now, her family just wants her to focus on the pregnancy.
Please fill in your e-mail so we can share with you our top stories!