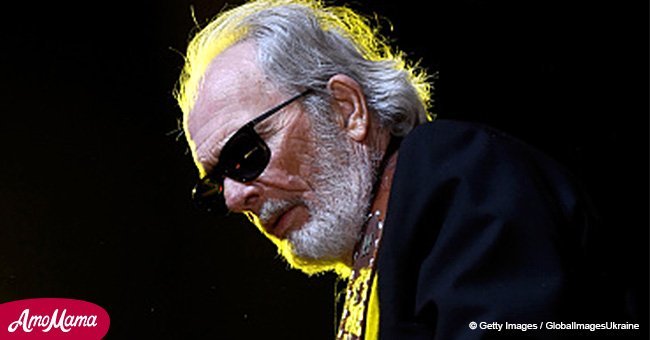 Family of a country music legend is in mourning after his eldest daughter passed away
The 61-year-old daughter shared her father's passion for music.
According to an article published by Faith Family America, country icon Merle Haggard's eldest daughter Dana breathed her last earlier this week.
Dana was 61 years old and is believed to have passed away peacefully in her sleep. Members of the family have shared that she died a natural death.
Dana's sister Kelli Haggard Patterson shared further details of the tragic event. She stated that Dana was still asleep in bed on Tuesday morning when her husband went to work.
When he came back home, he noticed that she was still lying in the same spot in bed. Since Dana died in her sleep, it is estimated that she passed away sometime between Monday night and Tuesday morning.
Dana was the pride of her famous father, whom he shared with his former wife Leona Hobbs. Haggard's first child, Dana imbibed the love for music from him and paved her own path to establishing herself as a singer.
She was often a singing partner to Haggard himself and had sung backup vocals in the early years of her profession. Dana then went on to perform solo.
Dana was a huge fan of her father, and she seemed to understand him on a deeper level.
In a previous interview, the proud daughter of the country legend shared that Haggard was a deep-thinker, and that side of him was not often fully comprehended by people.
She had also revealed how he loved to have engaging conversations with his children, and how he would always challenge their beliefs and thoughts to help them become better critical thinkers.
As a father, he encouraged his children to think freely and express their thoughts, which no matter how unusual, they would not be penalized for.
In the sense of his multi-faceted personality and the many hidden layers of the star, Dana had used the metaphor of an onion to describe her father's personality.
Dana's cousin Jim Haggard shared fond memories of her after she passed away, stating that they got along very well and there was an abundance of love in the family.
The eldest daughter of Haggard passed away around the same time he died two years ago. She is survived by her husband, four children, and nine grandchildren.
Please fill in your e-mail so we can share with you our top stories!