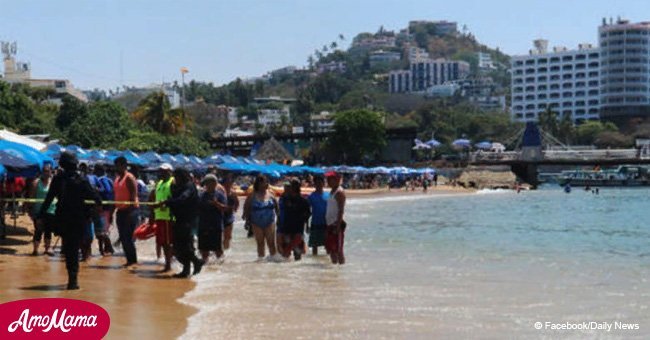 Body riddled with bullet holes washes up on a Mexican beach as tourists look on
Disturbing pictures were uncovered from the beach as the crime-plagued Acapulco became an active crime scene.
As reported in an article published by New York Post, residents in Acapulco witnessed a dead body washed up to the shores face-down in the sand at the Caletilla Beach after a suspected shooting on April 15.
Armed personnel and forensic officials were spotted at the crime scene carrying off the body from the beach on the Pacific coast of Mexico.
A troop member had to stop one of the lifeguards at the beach from clicking photographs of the corpse. The locality has been habitual to such brutal acts in recent times.
The reason for the man's death is unclear. However, the area has been riddled with multiple cases of drug violence.
In 2017, more than 25,000 murders were documented in Mexico on account of violence between rival drug gangs. The rise of numerous denominations of similar gangs has escalated the problem exponentially.
For instance, the Guerrero region harbors multiple poppy fields that are used to manufacture heroin from opium. On the other hand, residents of Acapulco who make a livelihood out of tourism carry guns for protection.
According to The Sun, Acapulco is at its peak in terms of crime with an average of 12 murders taking place every day. Some of the deadly crimes have a pattern where the shooters have escaped after every shooting.
In January 2016, one man swam up to the beach with a handgun and shot one of the vendors at the beach multiple times in the chest. He escaped using a ski jet.
Vincente Fox, former Mexican President, had proposed the legalization of opium poppy production to eradicate the involvement of drug cartels in the transaction across the country.
On April 18, Fox attended a pro-marijuana event and said that the plant is not harmful in itself. The people, especially the criminals, make it harmful by using it for malevolent purposes.
Please fill in your e-mail so we can share with you our top stories!