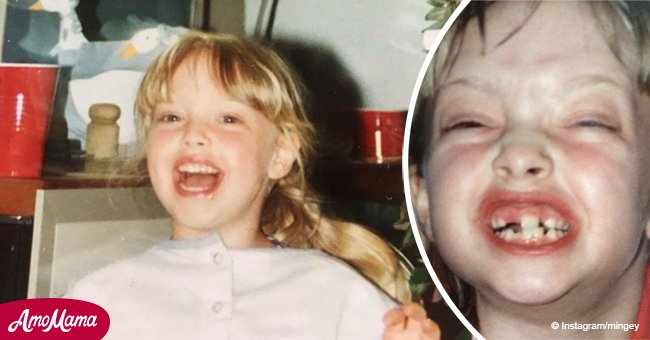 Funny little girl in a photo has grown up to become one of the sexiest Hollywood stars
The movie star shared a picture in which she appears smiling back in the day when she wasn't a Hollywood sex symbol.
Amanda Seyfried, best known for her roles in Mean Girls and Mamma Mia, recently shared a picture of her early days.
The American actress posted a picture of herself in which she can be seen with a funny smile and a Throwback Thursday caption on it.
The post was amazingly well-received by the fans, who thought that the "ugly duck" became one of the current hottest Hollywood stars.
According to Biography, she was born on December 3, 1985, in Allentown, Pennsylvania, and started her acting career via soap operas.
After earning a supporting role in HBO's series, Big Love, the actress started her Hollywood ascension through the teen film, Mean Girls.
After appearing with co-stars Lindsay Lohan and Rachel McAdams, Seyfried later said, "Oh, thank God for Mean Girls! That put me on the map!"
Her first major lead film role was in the movie Mamma Mia!, in which she worked alongside Meryl Streep and Pierce Brosnan.
The actress even sang one of the lead songs, Gimme! Gimme! Gimme! (A Man After Midnight) on the film's album. Since its release, the film has earned over $609 million dollars.
The next year, the actress played leading roles in movies like Jennifer's Body (2008), Boogie Woogie (2009) and Chloe (2009).
She also participated in movies that didn't garner too much attention from the media, such as Dear John (2010), Letters to Juliet (2010), Red Riding Hood (2011) and In Time (2011).
After appearing in major projects as Les Misérables and Gone, she voiced the role of M.K. in the animated movie Epic.
In 2015, she appeared in the comedy Ted 2 and Pan, in which she played Peter Pan's mother. She's a rising star with a sexy aura, but she wasn't all that beautiful when she was a child, and she's brave enough to show it and embrace it.
Please fill in your e-mail so we can share with you our top stories!