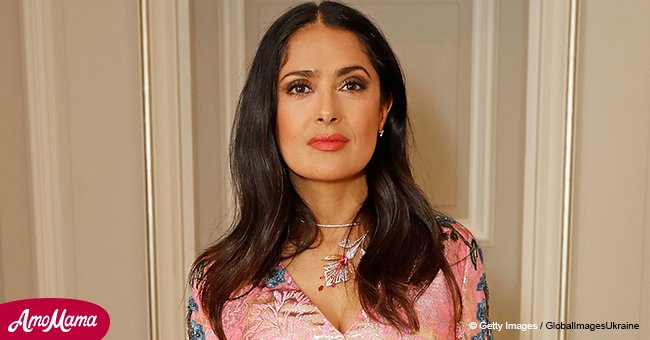 Salma Hayek proves she's an ageless beauty as she flashes her beautiful features in recent photo
The gorgeous looking Salma Hayek shared a picture of herself and her friends in a selfie photo, and her smile is to die for.
AmoMama shares details with you on a recent picture, which showed Salma Hayek and her friends cuddling up for a beautiful selfie picture, and they all looked exceptionally flawless, as reported by Instagram.
Salma Hayek, the American-Mexican Actress, who is known for her adorable accent and beautiful looks in every movie is at it again.
She recently stormed her Instagram page with a selfie she took with two other people, a male and a female, and they looked terrific.
The picture depicted not only happiness, but how graceful and fun looking Salma can be, and how funny she can also be with cool friends around her.
She had a flower made ornament around her hair, and her lips were adorned with bright red lipstick that made her look even more beautiful.
The picture has over 70k likes and counting on it, and so many comments from fans telling her how gorgeous and stunning she looked.
Her fans are no doubt proud of her and everyone is always happy to see that dashing smile on her lips.
Salma Hayek has two Nationalities, which is Mexican and American. Her Mexican side is a known part of her, and she looks and sounds even flawless.
Salma Hayek recently signed a deal with Lionsgate and it is said to be her first-look deal.
She and her partner Jose Pepe Tamez were signed together for the deal, and everyone was happy for her.
The partners would be producing a featured movie for Lionsgate, which would be under Salma Hayek Productions banner.
Lionsgate, however, acknowledged that the deal was as a result of a long time positive relationship between Salma and the Lionsgate.
Other projects are said to be in place, and it seems like Salma would be working with Lionsgate for an extended period.
Salma professed her profound gratitude to Lionsgate for the opportunity and emphasized in how happy she was to be working with them.
'I could not have found a better home'.
Please fill in your e-mail so we can share with you our top stories!