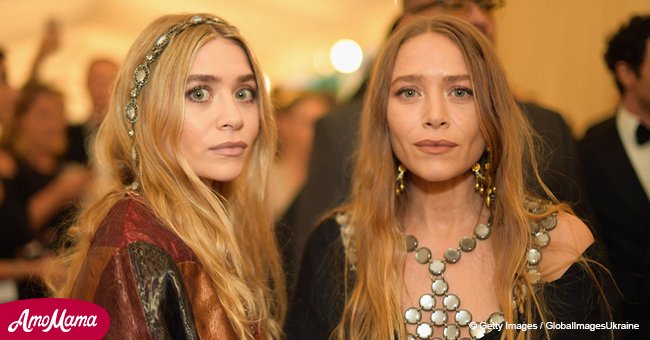 Olsen twins make a rare public appearance proving they are still style icons
The famous Olsen twins, who shared the role of Michelle Tanner on ABC's hit sitcom Full House, made a their presence known at the Met Gala.
Mary-Kate Olsen-Sarkozy and Ashley Olsen caused quite a ruckus at the Heavenly Bodies: Fashion & The Catholic Imagination Costume Institute Gala, on Monday, May 7, 2018, by wearing their own creations.
The 31-year-old duo flaunted their voluminous ensembles to accentuate their small stature and completed the look by sporting big necklaces around their necks, as reported by the Daily Mail.
The glamorous images wouldn't be possible without the contribution of their hairstylist, Mark Townsend, manicurist, Elena Capo, and make-up artist Ana Marie Rizzieri.
Ever since the Olsen Twins left Full House in 1995, they have been working day in and day out to establish themselves as a force to be reckoned with when it comes to fashion.
Thanks to their brand, The Row, the dynamic duo has amassed a combined fortune of $300 million. According to Mary-Kate, that couldn't have been possible without their quick-thinking skills.
"I think we're lucky [working hard] comes quite naturally for us. We don't need so much time to sit and think and ponder."
Mary-Kate Olsen-Sarkozy, Net-a-Porter's The Edit, March 9, 2018
But they don't just work hard at the office. In Mary-Kate' case, she shared that, at the end of the day, she had to go home and cook dinner for her husband, Olivier Sarkozy, and stepchildren, Julien and Margo.
Mary-Kate and Ashley haven't been the only ones making a name for themselves. Their sister, Elizabeth Olsen, has also taken Hollywood by surprise and is having a tremendous success.
Marvel fans will recognize her: she plays the role of Wanda Maximoff, also known as Scarlet Witch, in the Avengers films. Her most recent appearance was in Avengers: Infinity War, which has amassed $1.1 billion at the box office.
Despite the great success of the franchise, which boosted her career as an actress, Elizabeth confessed that she couldn't have done it without her sisters' help and advice over the years.
Please fill in your e-mail so we can share with you our top stories!