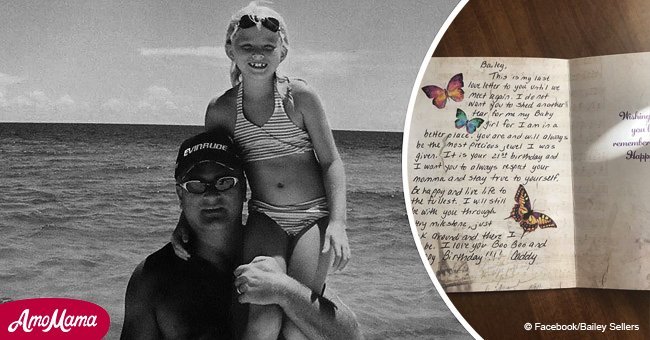 Woman received birthday flowers from her deceased father
The last letter from a loving father arrived with good wishes and an emotional message for the 21-year-old daughter.
Balley Sellers took to Twitter to share the picture of the final birthday bouquet from her father, who died of pancreatic cancer in 2013.
Sellers wrote in her tweet that her father, Michael, sent her flowers on each of her birthdays since she turned 17 years of age. In the first letter he sent along with the flowers, he promised Sellers to keep sending the flowers until her 21st birthday.
True to his promise, Michael's last flowers arrived only two days before her 21st birthday on November 26, 2017.
Michael also attached an emotional note along with the bouquet of purple flowers, writing, 'Bailey, This is my last love letter to you until we meet again. I do not want you to shed another tear for me, my baby girl for I am in a better place.'
According to ABC News, Michael died at the age of 56 on August 25, 2013. He lived for up to six months after being diagnosed with pancreatic cancer.
In his final days, he planned the special surprise for her daughter and Kristy revealed that she was well aware of the plan.
Kristy further explained that it was a month before he passed away when Michael told her about his plan.
"He said, 'I'm going to do it until her 21st birthday. And if she's married, ask her significant other to send her flowers in remembrance of me,'" the source quoted Kristy as saying.
Michael's first bouquet and a handwritten note arrived for Sellers on her 17th birthday only a month after his passing.
Besides Sellers, he also planned special surprises for his other children who age in the range of 21 to 33. For his oldest daughters, he left behind an embroidered handkerchief, which he requested them to use in their bouquets when they walk down the aisle someday.
Please fill in your e-mail so we can share with you our top stories!