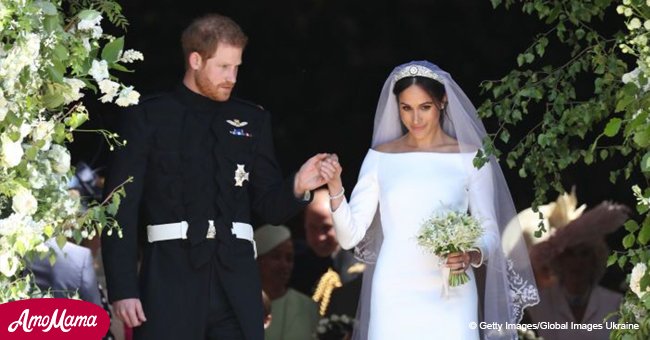 First official photos released of Royal family with newlyweds Harry & Meghan

Kensington Palace shared three official wedding photographs with their online followers. Harry and Meghan exchanged vows on Saturday at St. George's Chapel.
Alexi Lubomirksi was the official wedding photographer. Apart from his spectacular portfolio, he is also a Polish Royal born in England and raised in Botswana.
The first official portrait features Royal family members close to the newly-wedded couple, as well as the pageboys and bridesmaids.
Prince Charles and Camilla, the Duchess of Cornwall, posed next to Prince Harry while mother-of-the-bride Doria Ragland stood by Meghan's side.
Prince William stood next to Ragland, with Catherine, the Duchess of Cambridge sitting on a chair in front of him with one of the bridesmaids on her lap.
The ruling monarch, Queen Elizabeth II, was seated on Harry's side, in front of Prince Charles, with the 96-year-old Prince Philip the Duke of Edinburgh next to her.
'It has been an incredible honor and privilege to document the Duke and Duchess of Sussex's inspiring journey of love, hope, and family; from the engagement photos, all the way through to the official wedding and family portraits on Saturday.'
Alexi Lubomirski, Instagram, May 21, 2018
The second photograph was of Prince Harry and Meghan surrounded by their six bridesmaids and four pageboys, including Prince George and Princess Charlotte.
Both pictures were taken in the Green Drawing Room at Windsor Castle. According to Cosmopolitan, it is tradition to release the official family photographs a day after the wedding.
In another photograph, Prince Harry and Meghan can be seen sitting on the steps of Windsor Castle after their horsedrawn carriage procession through town.
Kensington Palace thanked everybody gathered in Windsor for the ceremony, as well as 'those who watched on television across the UK, Commonwealth, and around the world.'
As reported by Pop Culture, only 18 million Americans watched the broadcast, nearly five million less than Prince William's ceremony in 2011.
Please fill in your e-mail so we can share with you our top stories!