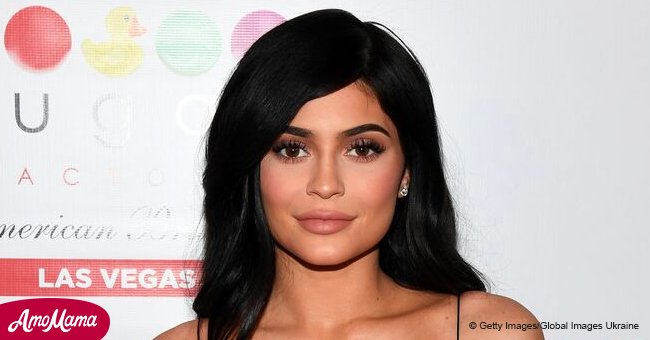 Kylie Jenner posted new photos in nude bodycon dress after recently giving birth
Almost four months after welcoming her first child Jenner was seen out in San Francisco wearing a tight dress that she previously modeled on Instagram, flaunting her post-baby body.
Her first child with boyfriend Travis Scott arrived on February 1, and after a few months adapting to her new life as a mother, the 20-year-old TV personality is back in business, as Daily Mail reported.
Jenner's fans had the opportunity to catch a glimpse of the Keeping Up With The Kardashian's star at the unveiling of her pop-up shop in San Francisco, and she looked delightful with her unbelievable post-partum shape.
For the occasion she wore a spaghetti-strapped nude bodycon dress that accentuated her curves and famous derriere, adding a pair of clear pointed stilettos and a black leather jacket casually on her shoulders.
According to SF Gate, Jenner, the youngest of the Kardashian's sisters is experiencing a huge success as an entrepreneur, as her cosmetics are very popular and they are selling like hot cakes.
After her encounter with her fans at the opening of her cosmetics pop-up shop, she posted two photos of her look on her Instagram account, apparently very proud and confident after feeling the love of her fans, according to Entertainment Online.
'It was so nice meeting you guys. My San Francisco pop-up is open for a few more days at 21 Grant Ave… so don't miss out!' Jenner captioned one of the pictures.
Back in March, while answering some questions from her fans on Twitter, the celebrity shared that she had gained 40 pounds in her pregnancy, although she deleted the tweet soon after, as Insider reported.
In early May Jenner made her first red carpet appearance since giving birth to baby daughter Stormi, arriving in the 2018 Met Gala with Scott on her arm, as reported by Harper's Bazaar.
Please fill in your e-mail so we can share with you our top stories!