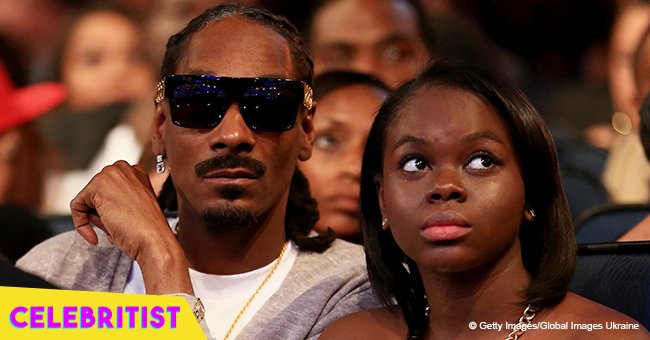 Snoop Dogg shares photo of mother in head-to-toe pink outfit
Snoop Dogg is a family man and he has proven that with actions through the years. Not only is he a dedicated father and husband, but a loving and caring son and he recently shared a beautiful photo of his mother to the world as he took the chance to congratulate her on a special day.
Celebritist was lurking around Snoop Dogg's Instagram account and we stumbled with a beautiful photo he shared of his young looking mother, Beverly Tate, as he joined thousands of grateful sons and daughters across the country in wishing their respective mom's a Happy Mother's Day
The famous rapper takes after his mother in looks, but she's certainly more cautious about her fashion style, and she seems to like the pink color a lot, as she stepped out in an all pink assembly that tells us a lot about her personality.
Wearing a lace top, simple pink pants, and sneakers, Mrs. Tate posed in front of a chicken sculpture while holding a Brown handbag, the only ítem of a different color in her outfit. And she didn't miss her chance to flash a coy smile to the camera, proving that she and her son have the same one.
Perhaps Snoop will invite his gorgeous mom to his new TV show, "Martha and Snoop's Potluck Dinner Party," in which he shares the screen with cooking superstar Martha Stewart, as they invite their celebrity friends for dinner to discuss what's going on with their lives.
The rapper (and now gospel singer) revealed on an interview with "The View:"
"She taught me how to be a real Iron Chef in the kitchen! She's very particular with how you set up the food on the plate, like, I'll usually just rush through it, but she's teaching me how to be more calculated, like a real professional. I'm in the process."
Snoop also revealed that his friendship with Martha is a win-win situation for both of them because while she's teaching him about the finest arts of the kitchen, he's teaching her about bolognese sándwiches and bacon.
Now, that's a hilarious picture that we would like to see someday.
Please fill in your e-mail so we can share with you our top stories!