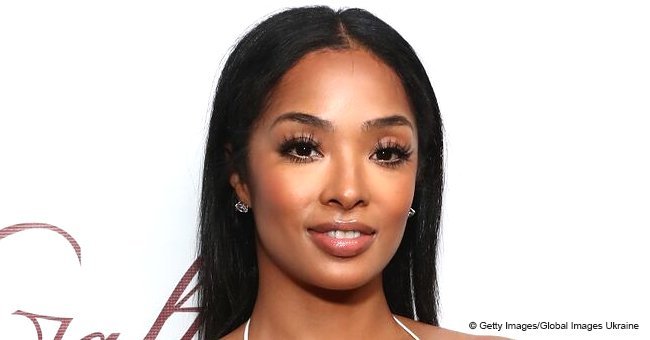 Princess Love & Ray J's newborn daughter sticks her tongue out for the camera at only 3 days old

The new parents share an amusing photo of their daughter proving how "happy and alert" she is.
Ray J and Princess Love recently welcomed their first child, daughter Melody Love and they've been in parenthood heaven ever since. Apart from debuting their newborn's first pics this week, Princess has just released a cute snap of their baby sticking out her tongue.
The adorable pic confirms how "happy and alert" Melody is as Princess also revealed in her caption, proud of her brand new daughter's achievement at 3 days old. The photo appeared to have been taken at the hospital's nursery proving she's well adjusted to life outside of her mother's womb.
The new parents welcomed their baby girl on May 23, after Princess endured 24 hours of labor. And now it seems all the sacrifice has paid off seeing how happy Ray J and his wife are to be first-time parents. The 37-year-old singer was particularly proud of his wife who was the subject of a long message he posted the day Melody was born. He shared a photo kissing his wife during delivery and expressed how grateful he was to have Princess in his life.
"I just wanna say to you @princesslove I LOVE YOU! im so Proud. This has been life Changing for me. To watch you go thru all of this for us to have this beautiful Ángel! I have so much more respect for u in so Many new ways- you have humbled me to the highest level- if I ever doubted you or didnt show it I am so so sorry! You are my heart and soul! I will always be there for you 4LIFE! and even in heaven!!! THANK YOU THANK YOU THANK YOU- and to all the women who have been down this journey I love and respect you- and I promise to show that! and to my beautiful wife this is just the beggining of the best time in our life!!! you are my true soulmate and I love you soooooo much!! #NewParents #BabyLove @rayjnprincess #Godsplan"
Last week, the Ray J debuted a photo of Melody along with a touching message dedicated to her. He expressed his joy over being a father for the first time and promised to be by her side for the rest of her life.
"Melody Love Norwood" the most beautiful girl in the World!!! I Never thought I would feel God move thru me like this!!! You are my heart and soul!! I will die 4 you! You are the true meaning of love! Your sooooo special I couldnt stop cryin when you were born. I will be there 4 you every minute of the way. I will be the best Dad in history! Thank you God for giving me some1 to really live 4! @princesslove I will be with u 4ever and i love you and respect you to another level! (click the link in my Bio) to see more pics of my baby girl- a gift from #GOD #NewDad #DaddyslittleGirl"
That same day, Princess Love also shared their first family photo introducing their daughter and the musical name she gave her. The happy couple showed off the adorable little girl who was asleep when the photo was taken. Both held on to the little one who was snuggled in between them
Ray J and Princess Love were married in 2016 after forging an on-and-off relationship on the set of their reality TV series 'Love & Hip Hop: Hollywood.' The couple kept their pregnancy a secret and only made the big reveal on their second trimester believing it was "bad luck to announce too early."
It seems good luck has been on their side as they're now proud parents of a healthy baby. What a beautiful family they make.
Please fill in your e-mail so we can share with you our top stories!