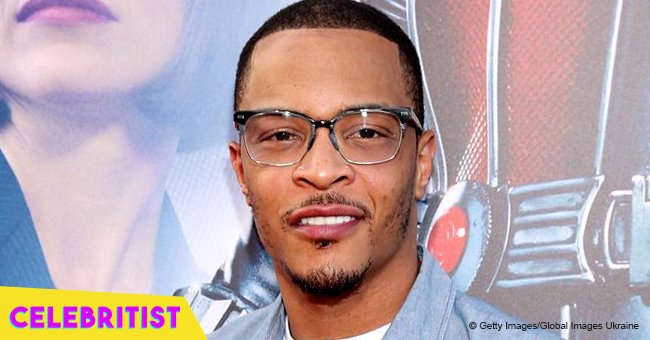 T.I. is a proud dad & expresses much love to his two sons in latest potos
Clifford Joseph Harris Jr., better known as T.I, recently melted hearts as he shared a sweet picture alongside two of his youngest kids, whom he shares with wife Tiny Harris. The rapper was unfairly arrested last month, but he managed to be out in time to celebrate his son's birthday as if nothing.
Celebritist was checking on T.I's Instagram account to see what the rapper and loving father of six has been up to these days and we stumbled with a pair of beautiful photos he shared alongside his two youngest sons.
T.I is a father of six kids, three of whom he shares with Tameka "Tiny" Harris, King, Major and Heiress Harris are often featured on their parent's Instagram, and they are now used to the spotlight since they were put in front of the cameras from a young age.
King, 13, is already a rising star following his parents' steps into the entertainment industry. The boy is already getting bookings to host parties, private events and more. Sometimes, he's in the Company of Major, 10, who just graduated from elementary school a few weeks ago.
T.I is undoubtedly proud of his talented kids, as he let the world know in the caption of his photos, saying:
"Y'all think I'm thrown??? These the Ones you need to look out for!!! @majorpharris @the_next_king10 next generation beware!!! They Hell!!! And I love em!!!"
"They'll never be without the information they need to prevail in LIFE... Pops got you through it all!!! Greatness rests within you both. I know it's in you because I put it there!!!!"
The rapper is indeed a dedicated loving and caring father, and just last month he proved he will do anything for his kids since he went straight from a prison cell to his son Major's birthday party at his school.
T.I was arrested after a misunderstanding with a guard at his gated residence. According to his lawyer, T.I lost his keys and was trying to wake up the sleeping guard so that he would let him in, but the man refused to do so even after calling Tiny Harris.
"The guard continued to refuse entry without justification. Words were exchanged and apparently, the guard and/or a supervisor called the police. When the police arrived, they were not interested in hearing Tip's side of the story and wrongfully chose to end the situation by arresting Tip."
T.I was charged with public drunkenness, simple assault, and disorderly conduct and was released the next morning on a $2,250 bond, just in time for him to make an appearance at his son's school to celebrate his special day.
Despite his legal troubles in the past, T.I seems to be raising his kids to be better than him in many aspects, and we're sure Tiny is also making sure to educate their kids in all they need to know for their future.
Please fill in your e-mail so we can share with you our top stories!