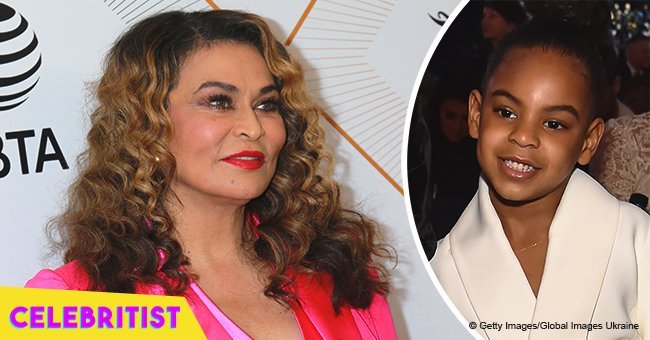 Tina Lawson reveals she had 'the best time' in Paris with Blue Ivy & gushes about twin grandkids
The beautiful grandmother reveals Beyonce's eldest daughter's favorite place to visit along with the treat she insists on having every day following their recent trip to Paris.
Tina Lawson is opening up about her recent trip with Blue Ivy to the City of Lights and she had stories to tell about Beyonce and Jay Z's eldest daughter.
Speaking to Us Weekly at the Ladylike luncheon in Beverly Hills last weekend, the proud grandmother gushed about the fun time she and her granddaughter had seeing the sights in Paris.
"We had the best time. We did something every day. We went to Disneyland in Paris, we went shopping every day at Galeries Lafayette. She loves that store."
Apart from these places, Blue Ivy had one favorite place to visit. She said they would go to the Eiffel Tower every single day but "not the top." She later realized that the 6-year-old's interest in the famous landmark had nothing to do with the actual landmark but the donuts being sold nearby.
"Every day we went to get this donut that she liked, so she's like, I want to see the Eiffel Tower at this time of the day, but really she just wanted a donut."
"It's a little donut with all these sprinkles. It was terrible, tasted like paper or Styrofoam, but she loved it."
During their trip, the 64-year-old also shared an amusing video of her granddaughter reprimanding her elder for filming inside the Paris Ballet prior to the show's start. In the video, the little girl could be heard telling Tina,
"You're not supposed to take videos, grandma. You're not supposed to."
Addressing the video that went viral, Tina told the publication,
"Oh [she was] busting me. She's calling me out."
She added that Blue has a tendency to "correct at all costs." (Remember the time she signaled her parents to tone down on the clapping at the Grammys?)
Tina also dotes on Blue's two other siblings, Rumi and Sir and she revealed being a grandma to the twins is "like double the pleasure." She also describes them as "precious" and "so beautiful," proving how much of a loving grandmother she truly is.
Please fill in your e-mail so we can share with you our top stories!