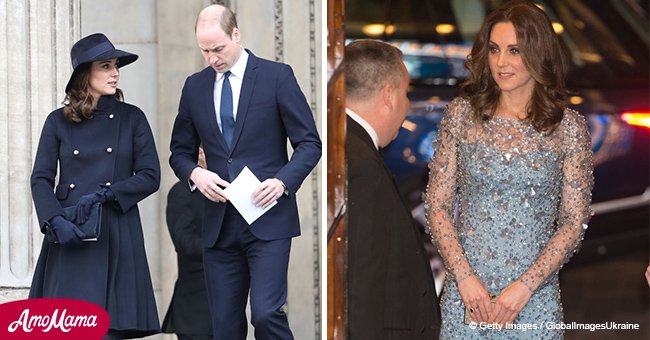 Etiquette expert reveals why Kate Middleton always holds a clutch purse
Royal trained etiquette guru Myka Meier offered an explanation for the Duchess of Cambridge's bag of choice for every public event she attends to or hosts.
Ever since 36-year-old Kate Middleton became a public person since she married Prince William in 2011, she has been praised for her flawless fashion style and her royal manners.
As Rare reported, in the years she has spent being scrutinized to the smallest detail, her watchers have noticed a constant in her wardrobe and behavior: she is always carrying a clutch purse with her instead of any other kind of bag.
Every time she is at an event, she can be seen holding her crutch in front of her in both hands. When she has to free one hand she places it in the other. It never gets tucked under an arm or left on a table.
Good Housekeeping reached out to royal family etiquette expert Myka Meier to address the question of why Duchess Kate prefers this kind of accessory. Meier has a surprising and convincing explanation for this.
Apparently, more than a fashion choice, it serves a more practical purpose. 'When the Duchess is at an event, she holds her bag in front of her in both hands when shaking hands might be awkward,' Meier said.
As one can expect, nothing is that simple for a royal, and there are a number of rules that she must observe. Meier has some advice for someone who wants to follow Middleton's etiquette to stay classy.
'If there's not a stool available, slip it between your back and the back of the chair,' she recommends.
Mystery solved. We can all agree that this is a both convincing and interesting theory about the Duchess' motives to follow such specific rules in public.
Meier, 34, is the founder of the prestigious Beaumount Etiquette school, and says she was trained in the Queen of England's very household. Read more on our Twitter account @amomama_usa
Please fill in your e-mail so we can share with you our top stories!