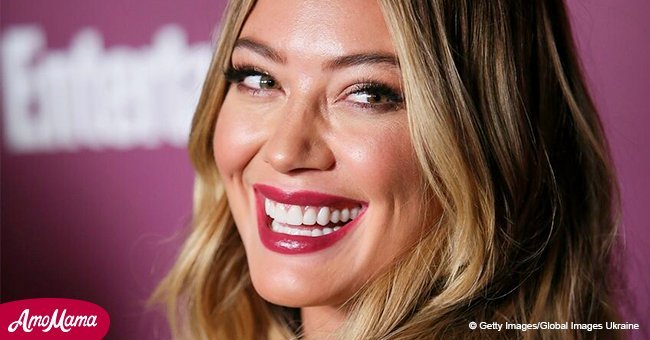 Hilary Duff reveals the hilarious baby name suggested by her 6-year-old
The singer/actress shared her exciting baby news recently, and even told viewers what her son wants to name the baby.
Hilary Duff has announced that she and her boyfriend, Matthew Koma, are expecting a baby, and has also revealed that it's a baby girl.
Speaking on The Late Show With James Corden, Duff explained that her six-year-old son, Luca, has taken the news with a mixed reaction from day to day.
At first, Duff said her son was surprised to hear that his mother was going to be bringing another baby into the house, but he seemed to be warming up to the idea of being an older brother.
"I think it's a girl, [Luca] told a friend at school that he's having a sister who is part red-butt monkey, so we'll see, you never know," Duff told the talk show host.
When Corden asked Duff if she and Koma had any names in mind yet, she shared that they are open to any and all suggestions at this point, indicating that they hadn't yet made a decision.
But she did take it a step further, sharing that Luca has made an interesting suggestion for his little sister's name.
"Luca thinks Cofont Croissant is, like, the coolest name," Duff said. "When I just refer it as 'Cofont,' and I'm like, 'That would be so cool, nobody at school's gonna be named Cofont,' and he's like, 'Croissant. Cofont Croissant.' It like goes together, there's no separating the two."
Corden and his other guest, actor Sam Richardson, tried their best to convince the expectant mother that her son's suggestion is an epic one, and that the baby will have no limits in life.
"No one's ever walking in a call center called Cofont Croissant," Corden nudged. "I don't think you should rule it out."
Please fill in your e-mail so we can share with you our top stories!